The Stiga Prestige Racket was designed as a partner to the now discontinued Stiga Prestige table tennis table. Stiga has USATT approved tables, and they've designed their products with enthusiasts and professionals in mind. So it's pretty easy to find a comparison table to the Stiga Prestige Table.
The Stiga Prestige racket is designed and constructed with Stiga Patented WRB (Weight balance, Rate of Recovery, and Ball sensitivity) Technology. Therefore, by having this racket, you will have super control of your strokes. You won't feel any vibration on it.
We recommend going with the Stiga Evolution preassembled racket if you're looking for more of a game room table. However, the Stiga Roller is a better option if you're looking to prepare for the USATT tournament, as that's the official table.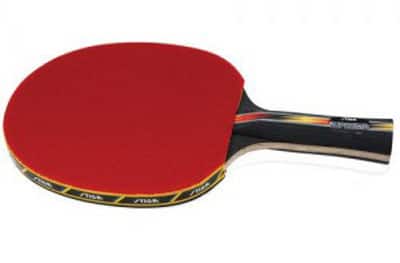 When I first started playing table tennis, I mistakenly thought that all paddles were created equal. I have since learned the error of my ways. There is no better feeling when playing table tennis than to be in complete control during a volley.
Once I realized that the better the paddle, the better the control, there was no going back. I thoroughly enjoy the control I have when playing, particularly on my backhand returns.
The USATT standards for rackets allow players a lot of leeways when selecting their paddles. Many players like the fact that the Stiga Prestige Racket was designed with tournament play in mind.
The Stiga Prestige racket has a 5 ply blade with the regulation inverted surface. The blade is also made of Stiga's Triumph Rubber for greater control. The handle is hollow, which is a big reason why the racket is so light. Overall it's a great little paddle with the smash (pun intended) of much more expensive rackets.
A Good Racket for Beginners
If you start to play table tennis, you can try with this racket as it is a good racket for beginners to start to play with.
The racket is lighter than other similar levels of rackets. The spin and control are quite good. You can get a good feeling when you grip the racket in your hand. It can stay comfortably in your hand, and you can play with your desired stroke effortlessly.
When you try to do a serve with this racket, you will be able to generate a lot of spins with it.
Of course, this racket is only suitable for amateur players. It is just not the right racket for advanced players. Advanced players will want to use more high-end blades and high-quality rubbers to play with their style and improve their skills to an even higher level.
Nonetheless, with the price that is asked for, it is just well worth the money you spend.
Features:
Blade: 5-ply

Rubber: Stiga Triumph Rubber

Sponge Thickness: 2.0mm

Head Shape:- Oval Shape

Handle: Concave

Beam Width:- 22.5 mm

Speed: 80

Spin: 80

Control: 75

Weight: 95 g
Pros:
Spin and control are good.

It is a lightweight racket.
Cons:
It is not suitable to be used by intermediate and advanced players.
My Feel On The Racket
I have tried this racket by borrowing from a junior player from our club. I have used the racket to play for a few games, and I found this racket is quite good and is very suitable for those starting to play table tennis.
It can offer you the perfect combination of spin, speed, and control. You will have an excellent grip and feels when you hold the racket in your hand. The weight of the racket is just nice, and it is not too heavy nor too light.
Overall, I would say that this Stiga Prestige racket is a decent racket that can offer players good value for the money they spend on it.
Where can you get it?
Suppose you'd like to enjoy the pleasures of playing with a reasonably priced racket at a fraction of retail price. In that case, we recommend getting the Stiga Prestige Racket from some reputable online stores that sell ping pong equipment.
Related post: