The STIGA Aerotech Table Tennis Table is perfect for the family who just wants to set up a good table for their family game room or garage. It's simple and won't cost you an arm and a leg. It's very easy to operate and will only take you a few hours to assemble whenever it has been shipped to your door.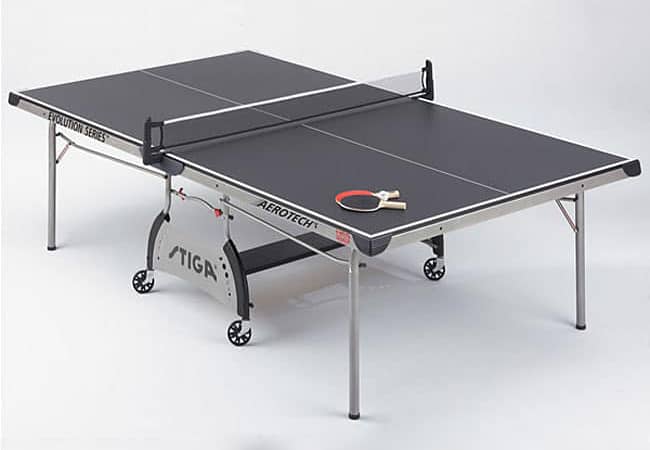 The STIGA Aerotech comes 5/8" black edge banded top and steel legs that are 1-1/2" in diameter round. The legs open up on their own and easily slide to the open position when you're up for a game. Like all STIGA tables, it is very sturdy with support from a fortified heavy duty steel chassis.
The STIGA Aerotech Table Tennis Table also comes extra play stabilization from support panels and its steel apron for a strong predictable bounce every time. It is to move around with it's dual 4" ball bearing mag wheel casters and two of them are accommodated with brakes that lock into place.
The STIGA Aerotech Table Tennis Table comes with padding on the corners keep you from snagging your clothes and silk screened to assist.
While the net and posts are included with the package, you'll need to purchase the paddles and balls separately. I suggest using a sandpaper paddle from my personal experience.
STIGA Aerotech Features, Benefits and Specifications
Table Top Material Make-up: A durable yet lightweight particleboard.
Extra Bracing Around Legs – This allows for a sturdy and extra strong table.
Type of Chassis – There is a QuickPlay option you can elect to use because of the QuickPlay Design Chassis and supportive undercarriage.
Playback Mode – If you want, you can play/practice by yourself
Stowaway Capability – You can store it easily and effectively
Edge banded – Silk-screened protection for extra table life
Extra padding on corners – Protects the players during those intense games.
Extra Storage: There is a separate pocket on the table to store your balls and paddles.
Model# – T8190
Length – 108"
Width – 60"
Top Color – Black
Type of wheel – 2" Dual Wheel Casters
Wheel# – 4
Legs – 1-1/2" around
Net – 66"
About the Table
The Stiga Aerotech Table Tennis Table offers high quality at the price within the reach of most amateur and family players. Loaded with features, this is one of the best mid-range tables you can buy. Read on to learn more about this offering from Stiga.
The Stiga Aerotech Table Tennis table is a very good ping pong table designed by one of the oldest and most trusted manufacturers. Stiga is a Swedish brand which has earned a name for itself by producing premium quality ping pong tables which deliver on all fronts, be it quality, durability, user friendliness or gaming experience.
This table has a progressive streamlined table design which improves the quality of the game tremendously. The basic dimensions of the table are 5ft x 9ft x 30 inches (height) and it weighs 209 pounds. The table can also be folded for storage purposes, taking up less room.
This Stiga table tennis table is the perfect table for a whole family, but at the same time, even serious players can use the table with equal ease and satisfaction.
Stiga have paid extra attention to minute details which increase the strength and stability of this ping pong table. The table comes with a heavy duty steel chassis with support panels for stability. This adds not only to the stability but also the durability of the table.
Its resilience is further boosted by the presence of a two-inch steel apron and cross brace. At the same time, these features also enhance the quality of play by providing consistent bounce during a game.
Easy Opening, Locking and Moving
One of the other impressive features about the Stiga Aerotech table tennis table is just how easy it is to install. It is this feature which sets it apart from many other tables. The table has 1.5 inches round self-opening legs. The legs glide open automatically and assembling the table becomes child's play.
The table top is another key feature to look out for in any table tennis table. This one comes with a 5/8 inch black, edge banded, silk-screened-striped top which is both strong and looks good.
Great Features
There are other features which contribute to making the Stiga Aerotech table tennis table a good choice.
Firstly, the four-inch ball bearing mag wheel casters ensure easy mobility. So, it becomes easy to transport the table from one place to another, say from indoors to outdoors. There are foot brakes on two of these wheels so that the table stays stationary whilst in use.
Secondly, the net and posts are inbuilt into the table design, which means that they stay in place even after repeated folding and unfolding for storage purposes.
Thirdly, the corner protection pads perform the dual function of protecting the table and also of preventing any snags in moving the table. It also protects the players so that they don't get injured due to the sharp edges while playing.
Summary
The Stiga Aerotech Table Tennis table is a great choice if one is looking for a table which is a high standard, technically sound, and has an attractive design.
A lot of attention has been paid to features like mobility and easy assemblage which make the table very easy to maintain. It is priced at around US$550 and comes with a one-year limited warranty.
This is the table that you will want to get for your house if you want to place a standard ping pong table in your recreation room or basement. You can get this table and have fun with your family members. You can also invite your friends to come to your house and play with you if you can't find anyone to play ping pong with you.
This table can just serve you well and offer you the quality of bounce that you are looking for. With the sturdy build, you will expect this table to last for many years.
More Stiga table models: