The Adidas PRO 800 table tennis table is quickly becoming one of the most talked about ping pong tables around. You may have seen your favorite tennis player sporting Adidas gear many times before, but Adidas is also making some serious inroads into the sport of table tennis.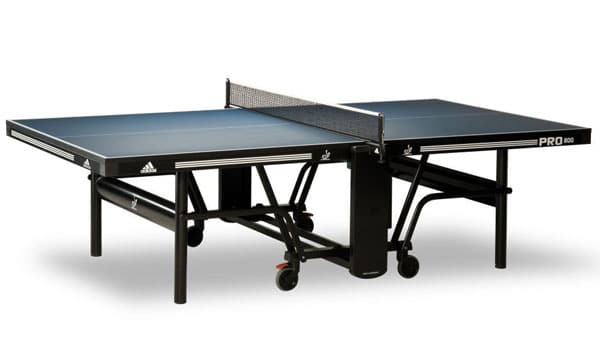 With the high quality, professional table top surface, Easy Fold system for storage, and a perfect 10 rebound factor, the Adidas PRO 800 Ping Pong table is shaping up to be what may very well be the perfect table tennis table for serious competitors, and amateur players who want to invest in top quality equipment.
Just like all other table tennis table that released by Adidas, this table is of no exceptional by featuring with an important double release together with safety and security system which is very effective in preventing the rate of accidents being happened for any player.
Furthermore, for single player, he/she is still able to play the game as the playback feature of the table makes it possible for one half to fold up for solo playing mode. The side table is shrouds with Adidas printing which make the table appearance become even more attractive.
Easy to Store
Professional quality ping pong tables aren't always that easy to fold up and store away. The Adidas PRO 800 Table Tennis Table, on the other hand, makes folding, storage and transporting a breeze.
The best Adidas tables are built with Easy Fold features that make it simple, and nearly effortless to fold these tables up for storage and transport. With Adidas' patented Easy Fold system, each side of the table easily folds up by simply pulling on a small bar under the table's surface.
When it's completely folded up it measures a compact 29" x 72" x 61". And if you are interested in playback, simply fold up one side of the table and leave the other side unfolded for hours of realistic practice time.
Key Features
* The Adidas PRO 800 Table Tennis Table's rebound factor is a perfect 10. This is a professional rating, and is one reason why this model has been used at ITTF professional events.
* Is a professional ping pong table which is ideally to place in clubs for tournaments and halls for international competitions.
* The bounce and shot quality is matches with the highest requirements of the skilled and professional international players.
* Easy to adjust legs allow you to have perfect ping pong play, even when you're playing on less than even floors.
* The legs are rubber coated to prevent scraping floors.
* The table is always ready to play with its fixed net. Once you unfold this ping pong table, you don't have to fuss with attaching a net or worrying about complicated net adjustments.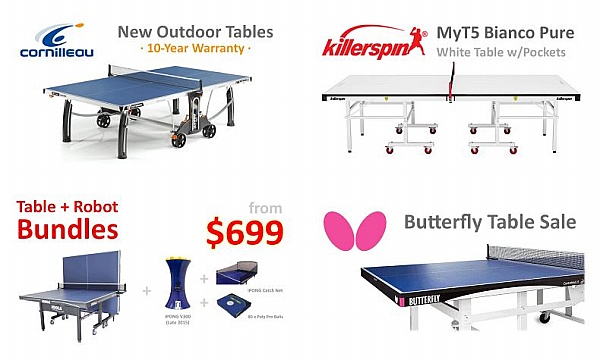 Professional Playing Quality
As we mentioned earlier, the ITTF has used the Adidas PRO 800 ping pong table at major table tennis events. Any time a table meets the stringent ITTF requirements for professional play, you know that particular model is up to snuff in every category and built with the features that you'd expect from top of the line ping pong tables.
Summary
It's hard to find any faults with the Adidas PRO 800 Table Tennis Table. Adidas obviously put some serious engineering and manufacturing skills to work when they designed and created this ping pong table. If you can afford it, this table comes highly, highly recommended.