Many people who have got into table tennis at school or a friend's house want to either buy a table or wish to upgrade an existing table. And if you have recently become interested in playing the game or want to take your game to the next level, we will discuss here what you need to look for when you want to buy a table tennis table.
Spend Your Money Wisely!
Remember, all manufacturers say their table are the best and try to convince you that their product is the best choice for you! It is essential before you make your purchase that you know what you want.
There are a lot of people who choose to play ping pong only to have fun or fitness. Other serious players would wish to improve their skills and become professional players. Either way, unless you have plenty of money, you will need to choose carefully.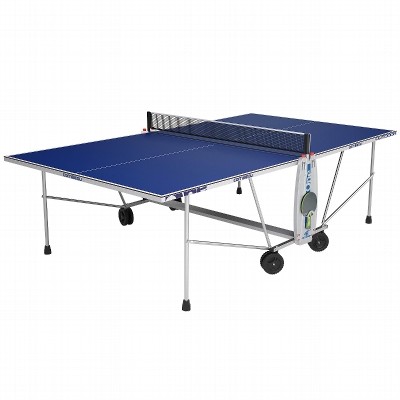 Are you buying a Table Tennis Table for all the family?
If you intend to buy a ping pong table for your family, the first table you should go for is a cheap one. If you want all family members to enjoy table tennis, it might be a good idea to buy a more affordable table first.
All young families will give their first table tennis table a tough time, so if you buy a cheaper table to start, you can upgrade to a more professional model later.
Permanent Vs. Fold Flat Table Tennis Tables
Unless you are sure you will want to leave your table permanently set-up, I would strongly suggest you purchase a Folding Table Tennis Table. It should be very easy to set-up and fold away.
Always check to see if one person can operate it? 
Rollers are a great feature and make the table very easy to use. Roller tables should also be fitted with brakes to stop the table from moving around during play.
There are many factors to consider when making a big purchase, such as this one.
Is Table Thickness an issue?
Tables used for competitions are always 25mm or 1 inch thick and are quite expensive for most users. I think most people will be pleased with a good quality 19mm table. I'm sure even Olympic champions didn't start on top-spec competition standard tables so consider all the options first.
Manufacturers like Stiga make marvelous tables, so unless you can find a 25mm table at an irresistible price, this would be my recommendation.
Don't just look at the playing surface.
Make sure that the table you buy is of good quality. You need to pay particular attention to the support legs. A good feature built into a lot of tables is leg levelers. Leg levelers are very useful for support. Make sure your tabletop is precisely 76cm from the floor. Equally crucial to the overall quality are the small things like the net fittings etc.
Net Fittings
Check that the fittings that attach the net to the table are of good quality and strong.  Paying particular attention to the clamp areas. Will the clamps damage the table? It's not difficult to engineer this. Unfortunately, some manufacturers may overlook this on the grounds of cost.
Check for Warping
It is essential to check the table level and look along the surface both along and diagonally to ensure that the surface is perfectly flat. It shouldn't be a significant problem on a new table, but worth checking all the same.
Finish is Important
Look for an excellent smooth and even finish on the playing area. Look for any rough edges on the top and sides. Don't forget to check the bounce. A good table will allow a standard table tennis ball to bounce 23cm when dropped from 30cm – so take a ruler with you.
All these small points add up, and you deserve to get a good quality product for your money. These days good quality and value for money are essential, and if you follow these points, I'm sure you will find a great table.
Cheap Ping Pong Tables
Ping pong tables are an excellent recreation solution for anyone suffering from a lack of space due to the simple fact that they can fold up for easy storage. Ping pong, or table tennis, is generally scored and results once a player reaches 11 points. The game can be played by two players or four players, depending on your ping pong table's size.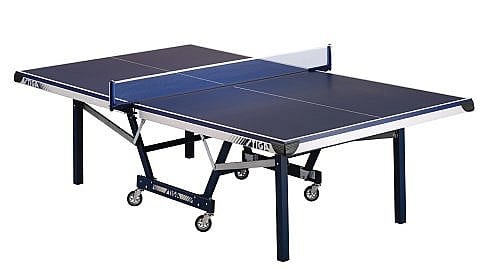 Click for a lot of table tennis table choices
Ping pong tables are relatively cheap compared to pool tables. You can find a quality pool table for two or four players that will easily fold for under $500. Ping pong paddles and ping pong balls come in accessory packs that can be purchased online for about 20$ a set.
So, for under 600$, you have a home gaming system that will store nicely and provide hours of entertainment. Not bad! Plus, table tennis is now an Olympic sport – you may become a gold medalist someday with practice!
DIY Table
A DIY enthusiast may look for ways to make cheap ping pong tables instead of buying them new. According to some online manuals, all you need is a large piece of plywood, a couple of cans of green paint, white electrical tape, some c-clamps, a paintbrush, and a ping pong kit.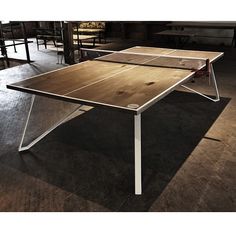 Paint the board, tape the boundary lines, clamp on the net, and place it on a table, set of sawhorses, or as one suggests, a broken air hockey table. Um…ok, that's one way to do it.
It would be a great project to try to start playing ping pong and find out if you like it, have the time for it, or have the room available to play. But as you become more fond of the game, you may be ready to find the next best type of cheap ping pong tables available to you.
You could look on one of the online classifieds for a used table; however, there is usually a shipping question as the item is relatively large. When compared to buying one of the ping pong table conversion tops new or used, you may find that this option would be just as cost-effective.
Another consideration besides price when you are looking for cheap ping pong tables is the question of quality. All things are not created equal, and you may come to find that how your playing ball reacts to different surfaces and thicknesses will affect your game's outcome. Instead of blaming the ball for that bad shot, you may be able to blame the surface on which you are playing.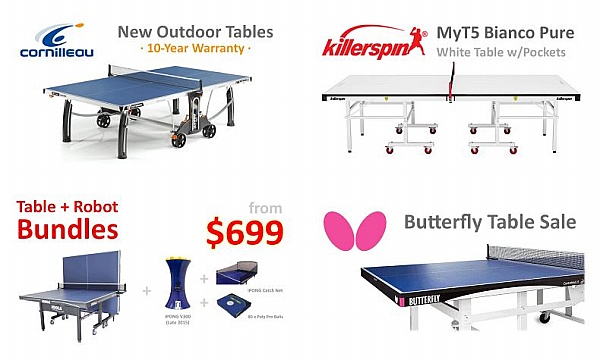 Table tennis rules state that a ping pong ball should bounce up to 23 cm when dropped from a height of 30 cm. Depending on the thickness or material with which the top is constructed, that bounce height may vary on your ping pong table.
Getting affordable ping pong tables may be a good entry point to learning the game. The more you play, the more you will be able to maneuver the ball to land where you want it to, with the amount of speed you wish.
The more skills you have, the more fun that will follow. Whether on a green painted board, or a pro table, ping pong on a cheap ping pong table is fun!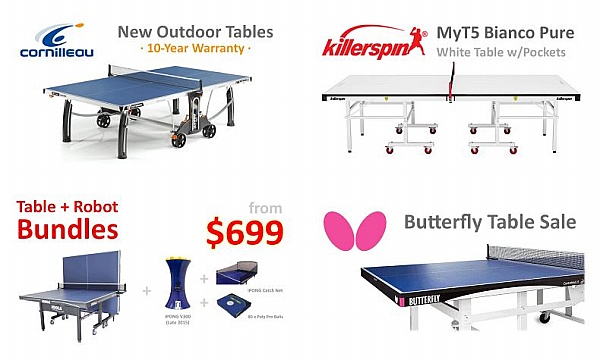 Related post: