Getting a table tennis conversion top or ping pong pool table combo is ideal for those who like to enjoy an occasional game of ping pong while entertaining friends and guests but don't have the space required for a full-size table tennis table in their home.
It can be an attractive alternative that offers hours of fun and family entertainment. All you need is an existing dining room table or pool table, and you can easily convert it into an indoor ping pong table in any room of your home.
Although ping pong top can save a tremendous amount of space and are suitable options for those who live in apartments but still like to play, most pool table topper is not necessarily less expensive than regular full-size table tennis tables.
Ideal for Indoor Sport Lovers
This is an important thing to consider for someone who may have the garage space available for a standard ping pong table but prefers an indoor experience. Many of your standard table tennis tables will also fold or roll away for easy storage, which can also create more space in those shared spaces like garages or basements.
An indoor table tennis conversion top also offers the benefit of easy storage, but on a smaller scale. They are often sold in two different pieces that sit on top of your existing table. Often, the net and other additional equipment like ping pong paddles and balls are sold separately.
Read also: Air Hockey and Ping Pong Table Combo Top
Choose The Right One
When choosing a ping pong table conversion top it is also essential to consider the size of the room where the table top will be placed to ensure that players still have enough room to serve and return.
Also, look at where the net attaches to your existing table and the kind of attachments it uses. You do not want to cause damage to your existing dining room table or billiards table or purchase a ping pong table top only to find that the dimensions will not work.
Another important thing to keep in mind when choosing pool table dining conversion top is the size of the top. Many of these ping pong table tops are much smaller than your standard ping pong table, and this mini tabletop pool table can greatly influence your quality of play. The thickness of the ping pong top should at least ¾ of an inch to ensure a more realistic game.
Here is a brief introduction for various relevant products written with the purpose of assisting you to choose the right one for your home.
Martin Kilpatrick 3/4-inch Pool Table Conversion Top
People like that, it is good for the price. It is light compared to other pool table conversion top and therefore is easy to put away after you finish playing the game.
Features:
Having 1×1 foam protective pads under the conversion top to protect against damage on the pool table.
3/4″ German crafted.
1.5″ metal rail offers added stability.
The exclusive net assembly enables you to use it on a 5′ wide pool table.
Surface connectors make the tops attached sturdily on the pool table.
Weight: 90 lbs.
If you are interested in this ping pong top for pool table, you can get it from Amazon.

Brunswick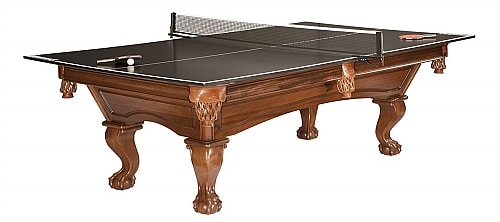 One of the most popular games today is ping pong. If you have a pool table at home and considering getting one conversion tt top, this Brunswick item is recommended. It comes with two pieces of table covers which make it easy to move off and on.
Some people love about this top in particular because it has foam padding underneath so it won't scratch your beautiful table. Because of this, it is rather excited for people to get play the game with it. The net is nice and is heavy-duty.
Features:
Stylish black finish.
Durable foam-backing
Dimensions: 107.8″ x 60″.
Weight: 140 lbs.
You can get this pool table ping pong combo top from Amazon.

Prince Table Tennis Top
This is a recreation model built to last. It meets all entertainment requirements and is ready to serve you for having fun with your friends and family. They design it for robust indoor used. You don't have to worry even when you get aggressively lean on the table during the play.
The table top can be sturdy to hold on it and keep it away from distorting. Unlike other tables that coated with PVC copper, this table is painted 6 times to provide you with sturdy bounce all the time.
Features:
2-piece table construction (incorporated felt pads to provide good protection for the pool table).
Perfectly fit for any 6′ or 8′ pool table.
Dimensions: 108″ L x 60″ W x 5/8″ D.
Weight: 120 lbs.
You can get this ping pong table top for a pool table at Amazon.

Butterfly Ping Pong Table Top

The Butterfly full-size table tennis top as its name suggests is a full-size conversion top with the measurement of 9 ft x 5 ft. The table can be used on either a dining table or a pool table. It is nicely designed and can provide the player with excellent bounce. You won't get compromised in playability by using this model.
It comes in two-halves measuring for half of 5 ft and has croup protectors on four corners. The perfect backing provides partial protection for the surface when you are placing it on.
The table is quite heavy, and if you need to put it on and off, it is better for you to do so by having another one to help to assemble together.
Features:
Green 19mm chipboard top.
Tables come in 2-halves.
Dimension: 9′ L x 5′ W.
Storage size: 4'5″ x 5″ x 1 3/4″.
Weight: 50kg.

Hathaway Quick Set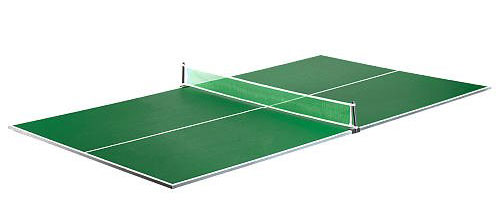 It's worth noting that you should check if you have enough room to place this ping pong top for the pool table. You need to allow a minimum of 3 foot playing space all the way around. The idea of room space would be at least 15 foot long.
This table quality might be just average, but if you want to play for fun and have some good time. Then this is the one you are looking for.
Features:
Come with surface protection pads under the table to protect against damage on the pool table.
4-piece hinged design for easy installation and storage.
1/2″ thick playing surface coated with high-quality PVC laminate.
Dimensions: 9'L x 5'W.
Weight: 88 lbs.
You can get this ping pong tabletop from Amazon.

Olhausen Ping Pong Table Top

This item is the top-quality product that is being released by the company. You can be rather easy with the table top as it won't cause any damage on your billiard table with its two 3/4″ MDF halves. Besides, the table is built with foam padding around the whole bottom of the conversion top.
You will get the relevant equipment to send together if you buy this Olhausen table top. That equipment included a post system, a clip-on net, 2 ping pong rackets, and 6 balls.
Features:
Tournament size: 5′ x 9′.
Fits for all 7′ and 8′ billiard tables.
Play dimension: 107.8″ L x 3/4″ H x 60″ W.
Only available in black.
Weight: 121 lbs.

Joola Table Tennis Top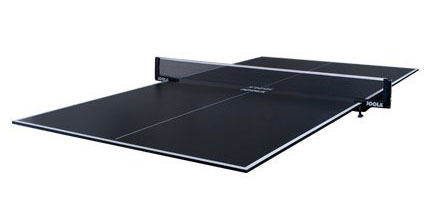 This full-foam backed pool table topper can easily convert your pool or billiard table into a ping pong table in no time. The two-halves pieces incorporate a tender EVA foam padding under the entire bottom area to prevent the risk of damaging the billiard table. 5/8″ thick medium density fiberboard is ideal for the family.
It makes it possible for steady bounces of ping pong ball and avoids the conversion top from getting warping. The surface is coated with charcoal black paint which provides a very sleek look.
However, if you still have little space to cater for a smaller table, then you may consider of getting a JOOLA Midsize Table which is not a bad choice at all if you want to have fun by playing ping pong leisurely.
Features:
Transform billiard table into a ping pong table in a matter of seconds.
Perfectly fits for pool tables of up to 8 feet of the length.
Comes in two separate halves.
Made of 5/8″ thick MDF.
Sleek, charcoal black painted surface.
Soft EVA foam padding underside.
Come with deluxe net & post set.
Playing dimensions: 9′ x 5′ x 1″.
Weight: 118 lbs.
You can get this pool table ping pong top from Amazon.

Stiga Fusion Table Tennis Conversion Top
This Stiga ping pong converter top make is possible for you to transform your billiard table into a ping pong table. You will make your game room complete with this portable table tennis top. It can fit for most 7- and 8-foot pool tables.
This converter top comes with a 1/2″ thick dark green top that coated with top quality paint. It features with center-mounted steel stiffeners which make it very robust when you place it on the pool table.
The sponge rubber strips help to keep the tabletop constantly in place and also provide great protection for the rail of the pool table. The side strips you can find with the converter top enable you to align it adequately.
Features:
Converts existing pool table into ping pong table.
Fits for most 7′ and 8′ billiard tables.
Half-inch dark green table top.
Side strips help align top at the right position.
30″ center-mounted steel stiffeners.
Sponge rubber strips help to protect rails and keep the conversion top safely and securely in place.
Weight: 118 lbs.
You can get this table tennis tabletop from Amazon.

9ft Pool Table Insert – Table Conversion
This is a pool table dining conversion top that is supplied by Ozone Billiards and you can get it from Amazon. It can turn your pool table into a flat surface once you lay this top on it. You can even make it a dining table if you host a dinner at your house for a certain number of guests.
You can insert this conversion top into a pool table with dimensions of 50″ x 100″.
The material that produced the table is heavy-duty vinyl together with foam inserts.
You can fold up the table top folds up effortlessly when finish playing.
You can get this tabletop from Amazon.

EastPoint Sports 87″ Sinclair Table Tennis Top
Remember this table is not of the size of a tournament table. The size is 9′ x 5′ and the top is 4′ x 7′. You may find the top rocks on the pockets and it can be hard for you to match all 3 panels together as they can be jolted out of place.
You may also need to put some efforts when getting the table top to put on the place as it is very heavy like a slate. It is best if EastPoint can split the table and pack into two separate boxes so that consumer can carry it easier.
You can get this ping pong top for pool table from Amazon.

Imperial Table Top
The imperial table top is constructed for indoor use. It has the MDF for its surface so exposure to the outside weather could affect it playing quality and usability.
The features of this ping pong pool table combo including:
5/8″ for its thickness.
Full rubber backing to protect your pool table.
Designed to fit 7-foot and 8-foot pool tables.
The table top has a foam/rubber backing to provide good protection of the table surface so it will reduce scratches and marks on your pockets and table.
Some table comes together with a net, paddles, and balls but some sellers will have these accessories sold separately.
You can get this conversion top from Amazon.

DUNLOP Official Size Table Tennis Conversion Top

buy from Wal-Mart
Dunlop table top is another top of your choice you can place on top of your existing billiard table. It is ideal to place in the room size with a measurement of no less than 16ft. x 10ft.
You can find a thick foam padding that placed the underside of the tabletop. With the presence of the thick foam padding, it can provide great protection against scratches or damage to your billiard table.
By purchasing this tabletop, you will have a 90-day limited warranty. If you need the manual on how to assemble, you can get it  online by visiting www.themdsports.com
The drawback for this item is that even though it comes with a net, but it normally doesn't come with paddles or balls. You will need to buy them separately.

Harvil Table Tennis Conversion Top

Harvil is a company famous for producing games room tables including air hockey tables, foosball tables, pool tables, shuffleboard tables and also table tennis top.
This table top can be of heavyweight and so it is advisable to have two adults to assemble the table top on your existing pool table.
It can be said to be made in good craftsmanship and well-painted. The surface is rather solid and sturdy for you to play ping pong with it and it can definitely offer you with consistent even bounce.
The best thing about getting this table top is that it will come together with free net and post. Thus, you are not required to buy them separately.
You can get this table tennis table top for pool table from Amazon.

PureX Table Tennis Conversion Top
This PureX table top is having the size of 60″ x 108″. The thickness of the table top is 15mm, and the weight is 115 lb. The surface is constructed and coated with scratch resistant material which makes the table can last for many years.
The heavy duty foam backing makes good protection for the table rails from getting scratched and the tabletop to against slipping.
The top is available in 2 pieces. You can take them out and connect them together with the net clamp and play. Most people are amazed by the net system as there is no screw attached to mess up the table. The installation is rather easy where you may just spend about 5 minutes to have everything set.
You will have no problem to lift and move the tabletop on and off your pool table as the weight is not so heavy for you to move them.
You can get this pool table ping pong combo top from Amazon.
Related post:
Hathaway Maverick Pool and Table Tennis Table 7 Feet