KETTLER is a German company that famous in making sports equipment including ping pong tables. There are a lot of quality tables being produced by the company for both indoor and outdoor use. Among the famous and widely used are including of Stockholm, Champ, Match, Top Star and many more.
Learn The Different KETTLER Ping Pong Tables
Now, let's take a look of different KETTLER's ping pong tables and their features.

KETTLER Axos 1 Outdoor Table


This outdoor table is constructed with a 22mm tabletop and is made of wood board that is encased in aluminum. It is anti-dazzle and weatherproof.
It features with 2 wheels steer and 2 fixed direction wheels. When unfolding the table, 2 people are required to carry out the task and they need to release the latch from both sides simultaneously.
However, it only needs 1 person to fold the table after playing. When folding the table, the net needs to be removed first in order for the table to fold properly.
A player can also make a solo play as it has the playback facility by simply fold one half of the table.
The drawback of the Axos 1 is this table does not have brake which may not seem to be too convenient for some people.
You can buy this table in the package where it will include the table, post & net, 2 paddles, 3 balls, instruction manual, and a heavy duty table cover.

KETTLER Stockholm GT Tournament Table
You may read through the review of this table from the link below: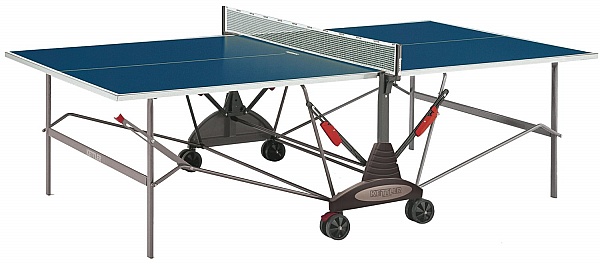 Kettler Stockholm Ping Pong Table
You may learn how to fold and unfold a KETTLER ping pong table from this video.

KETTLER Champ 5.0 Outdoor Table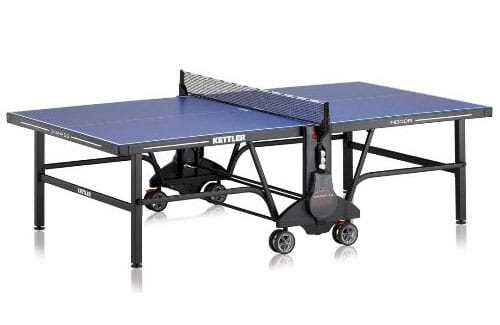 This table has a simple yet useful design. It has an ALUTEC composite top with weatherproof UV protection finish. The double layer coating makes it very robust to play outdoor. You can read the review of this table from here.

KETTLER Topstar XL Outdoor Table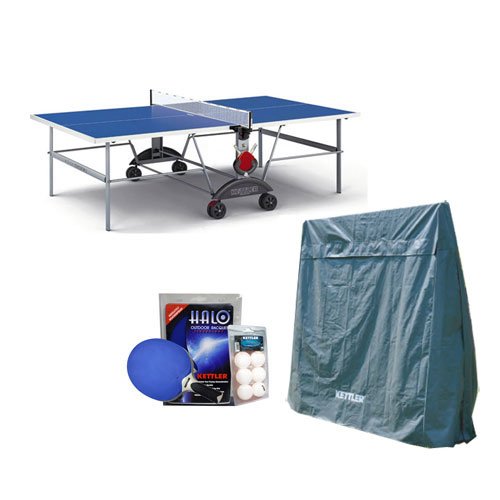 Some of the great features available for this table are included of dual lock safety fold, safety track folding system, aluminum apron, honeycomb aluminum panel and many more. You can read more with the review post in here.

KETTLER Champ 3.0 Outdoor Table
This is a quality outdoor table that can last for long. The playing surface is built with ALU-TEC and the table top is 100% weatherproof with seal aluminum bottom and UV protective finish.
The combination of double layer coating, aluminum board, chipboard, and honeycomb aluminum panel offer players with a great bounce.
You can found safety-fold with the dual safety interlock to prevent unintended opening or closing of the table.
The net that comes with the table is integrated on it and the tension adjuster tabs have the adjustment mechanism for you to adjust the height and tension of the net. Most of the tables have come together with Vario table tennis net and post which is the top quality set that you can get.
It can set in playback position so playing alone is possible. There are swivel wheels with safety brakes so that you can put the table in a fixed position. You can find the height compensation at the bottom of each leg for you to adjust the height to equal level if the floor is not leveled.
Overall, this KETTLER Champ 3.0 Outdoor Table can offer the player with an optimum playing performance and better control.

KETTLER Match 5.0 Outdoor Table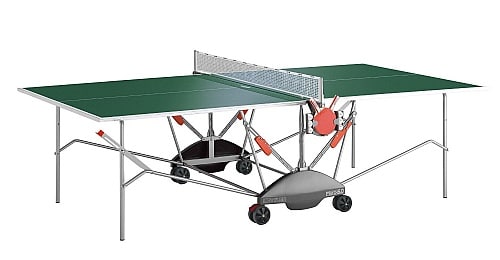 This can be the ideal equipment for anyone who wishes to play the game of ping pong in the basement or in the games room. You may get impressed by the nylon washers, top-notch bolts, the plastic pieces, and many more features. You can read more from this link.

KETTLER Classic 10 Outdoor Table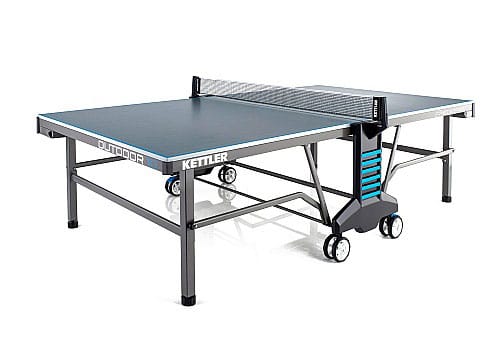 This table is featured with leg leveler. All 4 wheels steer with 2 of them are having brakes to fix the table on the floor. Some cool features that you can get are including removable corner protectors and ball dispenser.
Besides, it also has elasticated storage for you to keep your rackets and balls. You can read from this review to know more about the KETTLER Classic 10.

KETTLER Cologne Outdoor Table Tennis Table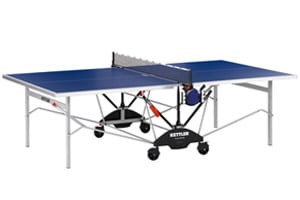 The KETTLER Cologne outdoor table tennis table offers several enhanced quality features and overall play. To know more, you may check out from this link.

KETTLER Outdoor 4 Weatherproof Table
As the name success, this model is a complete weatherproof table tennis table that you can have.
The table is built with the ALU-TEC technology which encapsulates a resin treated board in aluminum. The table top is having the thickness of 7/8″ (22mm) which can offer you with very quality bounce.
KETTLER always takes it seriously when coming to safety measurement. This is of no exception for this table. The table is built with dual lock safety which can help in preventing the open or close of the table unintentionally.
There are soft-touch edge protectors that are placed at every corner of the table. It can help to protect the table from getting damaged or warp. Besides, it can also help to protect the players from getting injured if their bodies accidentally hitting the table edge. The edge protectors are removable. So you can take it off if you think it is not necessary.
The table is foldable where you can fold the two halves of the table in a vertical position and move for storage when you are finished playing the game.

If your table is broken and needs some replacement parts for your KETTLER table, you can search from their spare parts availability online. From there, you are able to make a search for the part that you want to replace by simply key in either the model name, model number or part number in the search box.
If you are looking for a KETTLER table, you may try to buy online or offline from market places like Amazon, Walmart, Sam's Club, Costco, and Sears. If you want to get a used KETTLER table tennis table instead, you may try out Gumtree, eBay or Govdeals.
Some people are trying to get a concrete outdoor ping pong table from KETTLER. However, the company so far got no such product release. Maybe they will do so in the future. Let's look forward to that.