It is a carry-and-play table tennis table. You are always ready for a ping pong match anytime. The table has an exceptional playing surface and durable accessories. It is a fun game table easy to assemble and made of quality materials.
It is preassembled, assuring of constant play and endless fun. Its portability and versatile design make it a recommendable ping pong table. If you are looking for a ping-pong game table that offers satisfactory results, then the Harvil 60-Inch Folding Portable Table Tennis Table is all that you need.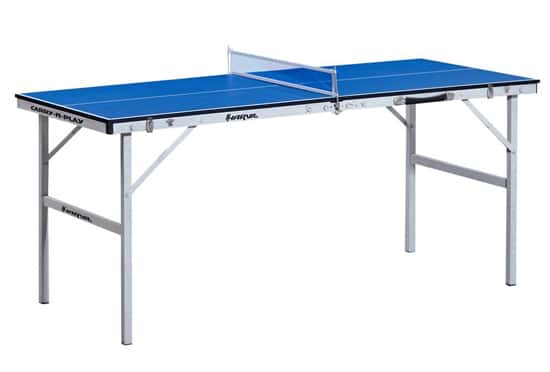 Awesome Features
Its versatile and portable design is a selling point. You can have fun anywhere you go. It is highly foldable into a briefcase-size making it easy to store and transport. Also, Harvil 60-Inch table is suitable for homes with no extra space.
The table does not consume much volume since it is foldable and can be stored even under the bed. It is 60 inches long, 26 and 27 inches wide and high, respectively. It weighs about 31 pounds.
It is durable and hassle-free. It has a sturdy construction. Its steel frame coated with powder supports its play surface. This provides optimal ball bounce. Also, the playing surface is smooth and offers consistent play during matches. It is a perfect table for house parties, apartments, and homes with inadequate space.
The Harvil 60-Inch has handles that help in transport. It comes with all accessories needed for your game including a post set, a net, 3 balls, and 2 rackets. It is an excellent table to offer you and your family exciting game moments. You need none skills to set up this ping pong table. It is convenient for all players despite the level of expertise.
A Portable Table To Carry Anywhere
This portable table is not so heavy and so you can carry it to anywhere you like. Said if you are going to the park for a picnic or camping, you can also put this table in your car and bring to the park or campsite. You can then having fun by playing ping pong with your friends and family members at the park while enjoying the beauty of nature.
What if I purchase and find out it is damaged?
When you purchase Harvil 60-Inch, you are assured of a mini table that has all the essential components without shipping damage or table defects. However, in case of shipping damage, you are always offered a chance to order another table or replacement parts with no cost. It has a 6 months warranty.
During this period, you are guaranteed free replacements or repairs. It is an affordable device that will give you value for your money.
Procedure for set up
Start by placing the parts on a flat surface and take inventory
Lift the Harvil 60-Inch table and ensure that the lock faces up
Unlock the table by raising the lock fasteners
Open the table
Open its legs and lock them into place
Place the table upright and let it stand on its legs
Pick the net and silver poles and insert them into the loops at the net's end
Repeat the same on the next side and place into the white holder
Pick the balls and paddles and enjoy your game
The Harvil 60-Inch Folding Portable Table Tennis Table is a carry-and-play table. It is convenient for homes because of easy to fold and store nature. It also comes with all accessories, getting you ready to play after purchase. It is durable and portable; you can have fun anywhere. If you are looking for an efficient ping pong table, the Harvil 60-Inch Table should be a priority.
My Experience
I drive a Ford Ranger, and I always bring my kids to go outdoors and having some fun times with them. Then one day I think I should let them play some sports and do some light exercises. So I decided to buy this Harvil 60-Inch Folding Portable tablet tennis table.
The table can nicely fit in the trunk of the car and lay flat on the car floor. Since the table is made up of two square halves, it is really easy to unfold and storage. And the single table can be used for other purposes as well like having a meal on the table or make it as a small beer pong table.
This model has a professionally built panel and very good elasticity. The materials used are with environmentally friendly technology.
It has the humanized safety design and the skeletons are constructed with a high-grade furniture-grade pipe.
It is foldable and is easy for storage, no installation is required. It is a quality product and the price is very affordable. I think this is one of the best things that I ever bought to be the best gift for me and my kids. We just having something new to add to our already fun outdoor activities.
Is it Water Resistance?
We once place the table on the ground and go to the nearby river to swim. Then suddenly heavy rain was pouring but we didn't realize that we didn't keep the table for storage.
After about 30 minutes when we back from the river, we only found out that the table has been washed by the rainwater.
Nevertheless, I used a dry cloth to wipe the table. The table is still in good shape without any malfunction. After the sun come out, I just let the table bath under the sun, and about an hour, the table is completely dry and we can start to play ping pong on the table again.
The table was then being used for several times again for our various trips and it is still in a very good playing condition. So I think it is kind of waterproof.
Amazon is having this table for sale. You can check out the price by following this link.
This video explains more about the setup process. The setup is very simple and easy, even a single female is sufficient to set up the table.
Another similar table that you can consider buying would be the
JOOLA Midsize Table Tennis Table
.