If you are looking for an outdoor ping pong table, then you might take a look at The Killerspin MyT-O Outdoor Table which is one of the excellent tables that you can use it either indoor or outdoor. It is very robust to withstand all weather and environment conditions while it also provides good performance if you play the game inside the room.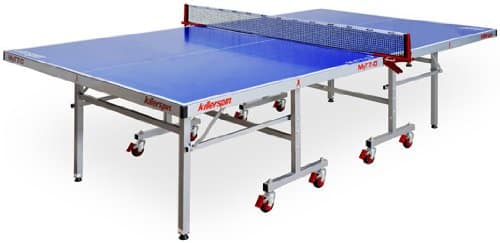 The table is perfect to categorize as quality outdoor ping pong table because of its 6mm aluminum plastic cover top as well as all metal skirt that provide additional support. The plastic top is 50% thicker when compared to conventional outdoor tables.
With such thickness, it managed to offers a sturdy and true bounce for players to play the game at the same time it is totally weather resistant.
The table has come with very secure 1. 5″ all steel metal support legs and 3/8″ wheels which can be locked. Both table halves can be folded up for easy mobilize and storage. If you want to play solo, you can do so by simply fold up one side of the table up.
Specification:
Weather resistant 1/8″ premium quality aluminum-plastic top.
Solid metal steel band around table edge to provide prevention of warping.
4 prime quality levelers support that makes the playing surface remain evenly on the ground regardless of whether you're playing the game outside, on the deck, by the pool, or inside your home.
Folding one of the separated tables to play in single.
Highly safety locking casters.
Once open up the box, you can easily set up the table and be ready to play in about 15 minutes.
Blue tabletop with the measurement of 36″ (W) x 64″ (H) x 60″ (D) when it is folded.
Features:
With the implementation of RRC(Repeat Roller Coating) and 16 layers of protective resilience, it helps to protect the Killerspin MyT-O Outdoor Table and making certain that the table can be used for many years.
A safety locking system helps to keep a secure level for players to play the game. The design of the table is pretty appealing and it can perform just as good as a professional table tennis table. The net can be used for a long period and you do not need to remove the net when you fold the table for storage.

As mentioned before, it is easy to set up which take you just 15 minutes to have the table in working condition and it is ideal to place the table in the backyard.
Drawback
The weatherproof aluminum top design is having some impact on the bounce quality of the ping pong ball. Some people claimed that it didn't bounce evenly like other models of outdoor tables which affect the shot in a certain degree.
Conclusion
The Killerspin MyT-O Outdoor Table Tennis Table is very simple and easy for anyone to set up. In addition, regardless of its soundness, you will be able to take the table and its related parts out of the box and put them all into position without any difficulty.
The play is just like other quality outdoor table tennis tables like Kettler, Joola, and Stiga. I test for myself and I found the bounce is rather good despite the fact that it is slightly different compared to an MDF table. In my opinion, it is simply not true for those who claimed that the table is providing them with poor bounce characteristics as I simply didn't experience any poor bounce by myself.
All I can say is this is an incredibly solid outdoor table tennis table. It is great value for the money by comparing to the money you need to pay to other similar quality outdoor tables.

Other related topics on Outdoor Table Tennis Tables: