If you are looking for an outdoor ping pong table, then you might take a look at The Killerspin MyT-O Outdoor Table which is one of the excellent tables that you can use it either indoor or outdoor. It is very robust to withstand all weather and environment conditions while it also provides good performance if you play the game inside the room.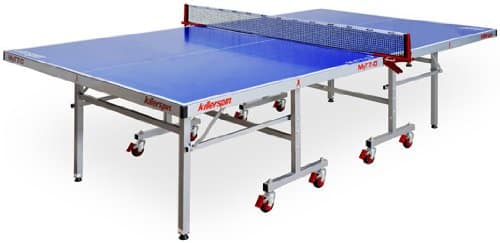 Specification:
Weather-resistant with the 1/8″ or 3mm premium quality aluminum-plastic top.
Solid metal steel band around table edge to provide prevention of warping.
4 prime quality levelers support that makes the playing surface remain evenly on the ground regardless of whether you're playing the game outside, on the deck, by the pool, or inside your home.
Folding one of the separated tables to play in single.
Highly safety locking casters.
Once open up the box, you can easily set up the table and be ready to play in about 15 minutes.
Blue tabletop with the measurement of 36″ (W) x 64″ (H) x 60″ (D) when it is folded.
Playing dimensions: 107.8″ x 60″ x 29.9″
Weight: 150 lbs (approximately 68 kg)
Assembly
This table is rather easy for you to assemble. The table comes preassembly so you may just spend a couple of minutes to set the table up. What you need to do is just assemble the eight nuts and bolts and once it is done, you can start to play ping pong.
Tabletop
The Killerspin MyT-O Outdoor Table is constructed with the weatherproof aluminum-plastic blend playing surface. The material used is great enough to prevent any warping happened to the tabletop after playing for some times.
The table is perfect to categorize as quality outdoor ping pong table because of its 6mm aluminum plastic cover top as well as an all-metal skirt that provide additional support. The plastic top is 50% thicker when compared to conventional outdoor tables.
With such thickness, it managed to offers a sturdy and true bounce for players to play the game at the same time it is totally weather resistant.
The table has come with very secure 1. 5″ all steel metal support legs and 3/8″ wheels which can be locked. Both table halves can be folded up for easy mobilize and storage. If you want to play solo, you can do so by simply fold up one side of the table up.
Frame
The 1.4-inch steel frame design is rigid and strong enough to hold the table in a solid position. It is a great feature especially when you need to placed the table outdoors.
There are also sturdy steels legs that you can find with the table. The width of the leg is 1.25-inc and it is featured with adjustable height. This feature is quite similar to another table of Killerspin which is the Killerspin MyT Street Edition.
Net and Post System
The table includes a premium weatherproof clip-on net and post system. The net can be firmly placed on to the table with its sturdy clamps. it is also easy to take off when you want to fold and move the table.
Nevertheless, the net can be used for a long period and you do not need to remove the net when you fold the table for storage. The hinges are smooth and the available of safety locks are providing great protection for players.
Repeat Roller Coating
With the implementation of RRC(Repeat Roller Coating) and 16 layers of protective resilience, it helps to protect the Killerspin MyT-O Outdoor Table and making certain that the table can be used for many years.
Locking System
A safety locking system helps to keep a secure level for players to play the game. The design of the table is pretty appealing and it can perform just as good as a professional table tennis table.
Wheel Casters
There are durable casters with 3-inch wide with premium wheels and individual locks for smooth rolling on any terrain and secure storage.

Advantages
As mentioned before, it is easy to set up which take you just 15 minutes to have the table in working condition and it is ideal to place the table in the backyard.
The table is constructed and comes in two table halves. Such design is great in splitting the weight of the table. Thus, it makes the table to be easier to carry, maneuver and set up.
The table is built with rigid and quality materials that can withstand all the outdoor elements and weather conditions.
If you can't find a companion to play ping pong with you, you can still play the game solo with the playback feature that is available for this table. You can still enjoy playing the game without the need to buy an expensive robot as well.
Drawback
The weatherproof aluminum top design is having some impact on the bounce quality of the ping pong ball. Some people claimed that it didn't bounce evenly like other models of outdoor tables which affect the shot in a certain degree.
If you want to know how the table looks like, you can take a look of the below video to see what features you can have if you are intending to purchase this table.
Conclusion
The Killerspin MyT-O Outdoor Table Tennis Table is very simple and easy for anyone to set up. In addition, regardless of its soundness, you will be able to take the table and its related parts out of the box and put them all into position without any difficulty.
The play is just like other quality outdoor table tennis tables like Kettler, Joola, and Stiga. I test for myself and I found the bounce is rather good despite the fact that it is slightly different compared to an MDF table. In my opinion, it is simply not true for those who claimed that the table is providing them with poor bounce characteristics as I simply didn't experience any poor bounce by myself.
All I can say is this is an incredibly solid outdoor table tennis table. It is great value for the money by comparing to the money you need to pay to other similar quality outdoor tables.
Other related topics on Outdoor Table Tennis Tables: