Table tennis is among the most watched and played games in the world. To succeed in this game, you need to engage yourself in continual training in order to grasp the basic and knowledge and techniques required when playing the game.
Consequently, many table tennis fans tend to purchase their own table tennis table for playing and training at home. If you decide to purchase a ping pong table, you can consider buying the Stiga Evolution table. It is a good table that can meet most of your needs and requirements.
Before you buy it, let's take a look at this table and see what features and table details that you should know.
About The Table
STIGA Evolution Table Tennis Table is a little bit of a break from the norm with its sleek look and black top but it is perfectly in line with the traditional STIGA quality and functionality.
It's ideal for normal play and practice with its patented playback mode. STIGA Evolution comes with a regulation net and posts. It also quick and easy storage for your paddles and balls located near the wheels.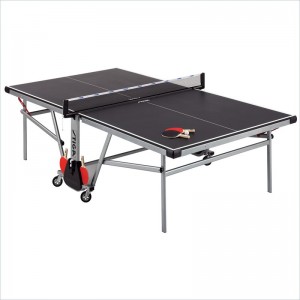 Other STIGA Evolution Table Tennis Table features are the fold up, roll up then store up design. A very sturdy build with two-inch steel apron, four-inch ball-bearing mag wheels casters and weighs in at a hefty 286 pounds.
The STIGA Evolution is not going to be moved easily while in play. Because of the sturdy build and the heavyweight, ball play is very good. The ball bounces high and allows for great topspin.
Who Uses This Table?
People who normally buy the STIGA Evolution Table Tennis Table are those who like regular or just occasional pickup game. They're typically looking for a table that they can get in and out of the way efficiently and effectively.
They don't want to bother to have to follow a half million steps to put a table up or take down. Others buy the STIGA Evolution because it's a whole lot of black awesomeness.
STIGA Evolution Ping Pong Table Buying Guide
The strength and durability of the STIGA Evolution ping pong table legs and supports are one of the main factors to consider. You should check the supports and legs to make sure that they are strong enough to endure the rough treatment to which it will be exposed.
It is important to determine the condition and quality of the leg levelers of the STIGA ping pong table. It is also advisable to look for tables with screwed levelers as this would make it easier to raise and lower the table height when the need arises.
It is also important to determine whether the finish on such tables is smooth and even. You need to accurately inspect the table surface to determine whether it has any rough edges on the sides or the top to avoid cases in which you would be injured by accidentally coming into contact with the STIGA Evolution table during rapid paced play.
You should also try to measure the height of the bounce keeping in mind that ping pong rules (laws) dictate that a standard ball should bounce about twenty-three centimeters high when dropped on it from a height range of thirty centimeters.
You would also need to determine whether you want a portable or a fixed STIGA ping pong table. If you think this table meets your requirements, it is important to check the setup features to know whether it can be set easily by one person without needing professional help.
It is also important to look for tables with rollers and brakes on the wheels as this would ease the work of stopping the movement of the table when in use.
If you opt for a fixed table, it would be recommendable to check its workmanship and quality to determine whether it can withstand the conditions in which it would be exposed to. You need to make sure that you choose a product obtained from solid materials as this would guarantee durability.
Pros and Cons?
Here is a quick rundown of some of the pros and cons of the STIGA Evolution and what other players are saying about it.
PROS:
Very sturdy and solid.
Extremely easy to assemble. There are only a small handful of steps and you can have it set-up for play within five minutes.
Easy to store and set-up for play.
Terribly good looking.
Well worth the inexpensive price
CONS:
The black surface shows scratch easily.
The surface also may discolor the balls.
Cheesy net that can easily be replaced.
So, what are your thoughts on buying this STIGA Evolution ping pong table? We would love to hear from your opinion as well.
More Stiga table models:
Besides of this table, there is also the same name of STIGA Evolution ping pong racket that you can have from this brand model.