First of all, the JOOLA Triumph 15 Table Tennis Table can be categorized as a well-constructed table. This is quite a decent quality fo table that is released by JOOLA.
Alternatively, it is also known as JOOLA Motion 15 or Rally TL 300 for its model. It is ideal for you to buy the table and place it inside your recreation room or basement.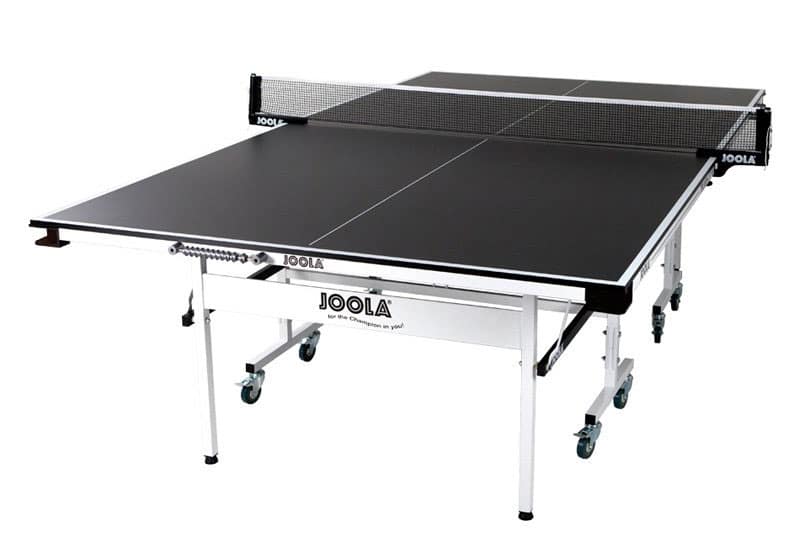 The table features a 30 x 30mm white metal undercarriage, own trolley system, and automatic folding legs. The surface of the table is constructed with superior and top-quality MDF which make it very sturdy and well-performing.
Also, a net and post are sent together when the table is delivered to your doorstep. Also, you will receive a corner ball holders included in the apron as well as a pair of magnetic abacus-style scorekeepers.
This JOOLA Triumph 15 table is especially fit for beginners or family who would love to have some exercise by playing the game during their leisure time. For advanced players, the playing surface isn't of the finest quality as it didn't provide them with good bounce quality as the other higher-price tables do.
Features:
15mm charcoal-painted MDF playing surface.

Two-piece top with automatic folding legs and trolley system for easy mobility.

Corner ball holders and sliding abacus magnetic scorers.

Double Anti-tilting device and fold-up playback mode.

Detachable Magnetic Scoring Device.

Dimensions: 108L x 60W x 30H inches

 Weight: 150 lbs or 68 kg.
Some Details of the Table
If you buy the JOOLA Triumph 15 table tennis table and the table is delivered to your house, you may un-wrap everything and then you will take about 20 minutes to set it up.
Table Surface
The table has a 5/8 inch or 15mm Charcoal Painted MDF Surface which allows a sturdy and recreational play for you and your family. You can get a decent and consistent bounce of the ball by hitting on the surface. The frame is very solid and the tabletop is mounted on a 30 x 30mm white undercarriage.
The extra pieces of equipment like the detachable magnetic scoring device and corner ball holders provide a lot of conveniences when playing the game. The ball holders are very handy to be placed at each corner.
Double Anti-tilting Device
Many people are buying this table because it has a double anti-tilting device which makes the table very safe when handing the table. The double anti-tilting device makes the feet to be adjusted to the level of the table.
With such features in place, it can provide a certain level of safety for the kids when they are handing the table.
A magnetic abacus-style scoreboard is attached to the table which makes it easy for you to record the score during the gameplay.
Net and Post Set
The net and post set that comes with the table is of tournament grade. It is very sturdy and the setup of the net on the table is rather easy. You will also find it is easy for you to adjust the net tension to the level that you want.
Casters
There are 2″ of locking casters that you can have with this table. They are very durable to firmly lock the table to be in an intact position without moving.
Levelers
While not all ping pong tables in this price range offer you with levelers on the legs, you will be grateful that this JOOLA Triumph 15 offers you with such features. You have less hassle to deal with uneven floor surface on carpet or in steep cellars and garages.
After all, it is best for you to bear in mind that the most important decision that you need to make while deciding on which table tennis table to buy would be how well the playing surface can provide you good bounce. If the table can provide you with a great bounce at an affordable price, then it should be a bargain for you.
Pros:
Excellent value for money.

Easy to assemble and install.

Compact and easy movement for storage.

The look and feel are very good.
Cons:
 Not a professional level or tournament level of table tennis table.

 Gives limited bounce.
Even if you are alone, you can still play table tennis. What you need to do is to unfold one table half of the table to be in playback position and you can play your ping pong game in solo play.
The JOOLA Triumph 15 table is foldable. So when you are done playing the game, you can simply fold the 2 halves of the table. The folding is rather effortless. Once the table is folded, you can just move it for storage.
You don't need a spare or a big room to store the table as it only occupies very minimal space. Thus, it makes the entire storage job to be very convenient.
This is a mid-range table tennis table that is more suitable for recreational play. The price is just about $400 and it is rather quite affordable for most of the households. If you just want to play ping pong for fun, then you can consider buying this table.
Otherwise, if you are serious about playing table tennis and would want to have a quality table to practice, then you may want to look for other better quality and professional tables which are meant for tournament play.
If you are interested in getting this table, you can buy from Megaspin or get from Amazon.
Videos of JOOLA Triumph 15 Table Tennis Table
Watch this video and observe all the features that you can get from this table.
If you have bought this table, this video can show you how to assemble the table in a short period of time.
Other Joola Table Reviews: