Last year my wife and my children were besieging me for an air hockey table. It was all they could think about and talk about. In the weeks following Christmas, many of our local stores had extended Boxing Week sales and many, many items were placed on clearance. One of those items included an air hockey table. I immediately snatched it up and rushed it home, absolutely delighted at I find!
The kids danced around while I struggled to put the table together – in our front entrance I might add!! They were so eager to get playing they gave no thought to moving the table to a more practical spot. The game was on!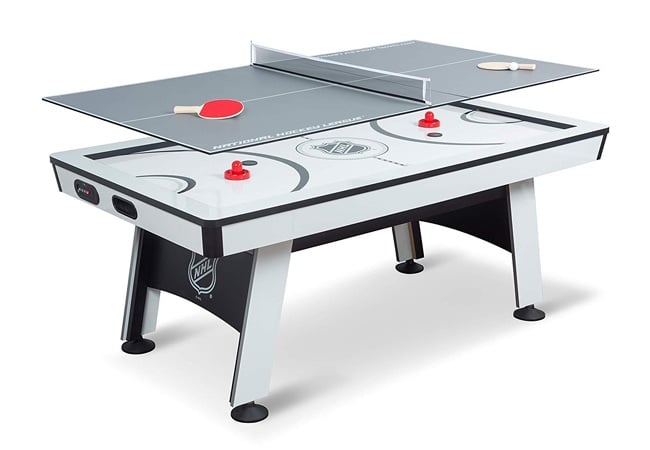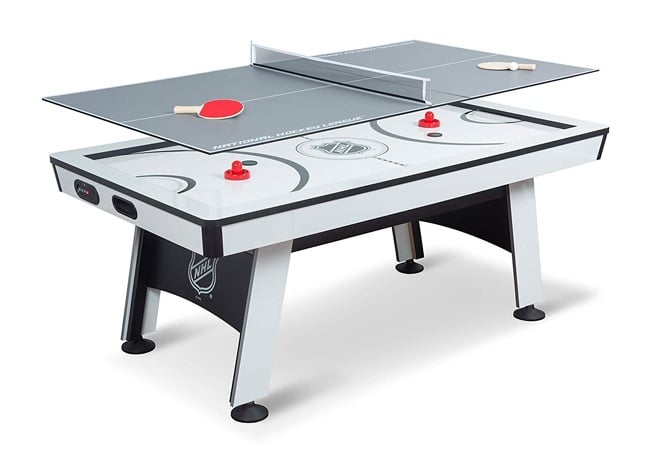 image source: Amazon
I and my son played for hours. Even our little girl who was only about two at the time got in on the action. But as typically happens, within a couple of weeks, the novelty wore off. The air hockey table has been disassembled and is collecting dust down in the basement.
I and my kids have moved on to bigger and better dreams. Now they can talk about nothing but the latest and greatest – a ping pong table. It's so ridiculous! My friend has a ping pong table in his basement. I'm sure that anytime my kids would like to play, they'd be welcome to bop that little ball around to their heart's content. But somehow that's just not the same. They've gotta get their hands on a ping pong table of their very own!
And here we are in the early weeks following Christmas. Everything is on sale and reduced to clear. And somehow I know, that one of these I am going to burst through the front door, absolutely delighted with my latest find – a ping pong table!
I generally will not take the time to find a practical place that the ping pong table can call home. I will most definitely set up that ping pong table in our front entrance. I and my son will join in the fun and play for hours.
And then, the novelty will wear off, and the latest and greatest ping pong table will be relegated to the basement to gather dust, along with the air hockey table that went before it.
So enough of the story. When thinking of how to deal with such a situation, there is a new item come to rescue people who are having such a situation. And the thing is the air hockey and ping pong table combo.
Air Hockey Ping Pong Table Combo
You have probably seen them before online or at your local sports equipment store. I'm talking about the air hockey table. For those who are not familiar with how this game table looks like, it's an awesome game that looks like a mini ice hockey rink where the goal is to hit a thin puck across a perforated table and pushes air out of each hole.
The air acts as a little gliding blanket for the puck to move around and it is very addicting to play! Just when you think that the fun stops there, many game table manufacturers have found a way to integrate a ping pong table and air hockey table together!
A ping pong and air hockey table is basically a hybrid table where you can rotate which game you want to play. This is accomplished by simply putting the ping pong table top on the table's surface where it will then reveal the opposing game of interest.
Having a ping pong air hockey table at home is great for entertaining people who aren't really into playing poker on your card table. The rules of the game are very easy to pick up and anyone can play with it.
If you have young kids who are always watching television and playing video games, this is a great way to have them have fun with everyone in the family. Start inviting your neighbors over and have a fun mini-tournament amongst the group.
After the kids have had their share, the older kids can put the ping pong table top on the table and playing ping pong right away. This is the best thing about having a ping pong table air hockey table combo.
Within seconds you've turned your air hockey table into a ping pong table. Even you may not get the same quality as a standard table tennis table, but you're still having fun and saving a lot of money at the same time.
Price can be varied on these types of tables but normally you can find one anywhere between the price of $300 – $4000 in price. The difference in price all depends on the quality of materials the table is made of and what other features it has. Some tables can even convert to more than 2 games, which will ultimately increase the price.
So if you're looking to find great entertainment without having to drive anywhere, consider getting an air hockey and ping pong table combo for the house. This is such a great way to bring your family closer for a night of fun and excitement.
Some Air Hockey and Ping Pong Table Combo That You Can Consider
If you are thinking of having the combo table to place in your recreational room but you are having no idea which one you should get, then I would love to share with you some of the brands and models that I and my friends are having. You can take a look at their features and make your own decision which one you want to go for.
Lancaster 54″ 4 in 1 Pool Bowling Hockey Table Tennis Combo Arcade Game Table
For many years, Lancaster has been delivering Lancaster air hockey tables with great value and superior workmanship. For the air hockey enthusiast, Lancaster has several products to choose from and in varying prices ranges.
For the player who wants the best of several worlds, Lancaster offers a combination tabled named the Lancaster 54″ 4 in 1 Game Table. This is a combination table that you can play highly active games such as air hockey, table tennis, pool, and table bowling on. For lower impact games, this table offers the options of playing chess, checkers, Yahtzee, dominoes, backgammon, poker, and pinochle.
The air hockey table features built-in storage for accessories and the ping pong table comes with a premium net and durable paddles. The side of the multi-game table offers a pull out drawer which is designed to store all your gaming equipment such as, air hockey mallets, chess pieces, playing cards, and other accessories.
For the serious air hockey players, there are several Lancaster air hockey tables available. You can choose between a six, seven or 8′ air hockey table and you can even go for the airless option, manual scoring, or side or an electronic overhead scorer.
This is an excellent choice if your game room has limited space. This attractive machine offers a high gloss mica tabletop playing surface for you to have fun with.
NHL Power Play Air Powered Hockey Table with Table Tennis Top
If a heavy-duty arcade style is more your liking, why not look at the NHL Power Play Air Powered Hockey Table. This is an 80 inches air hockey table that has it all, including twin fan motors to keep the puck moving fast, over 3,700 air holes, levelers, and adjustable height controls. One of the coolest extras of this air hockey table is the electronic scoring unit which includes sounds of a roaring crowd.
Another excellent product from this air hockey tables is the hardened GlazeTek play surface. This 80-inch table has a superior design with top quality construction. This is a very versatile air hockey table that is suitable for home use, commercial or institutional use. With thousands of air holes in the tables surface and twin heavy-duty air motors creating a 1" air bed, this table was built with playing speed and fun in mind!
For the airless air hockey enthusiast, this is a lightweight and rugged air hockey table that offers a slick and smooth playing surface, aluminum sides and solid Glazetek compound coating legs that is easy to assemble.
These airless air hockey tables are more expensive to maintain because they do include working fan motors. This is an idea for some who want the excitement of playing air hockey and table tennis at once. This table also makes a great gift.
Each NHL game table is built from the best quality materials available and since everyone has different tastes and skill levels, NHL has a selection to match. Why not invest in your family's entertainment with an NHL air hockey table.
You can get the NHL game table from Amazon.
Triumph 3-in-1 Swivel Multigame Table
This table is three great games in a single! You can play hockey, billiards, and table tennis. It includes a swivel cabinet that can quickly become any of the three games. The Triumph air hockey table carries a high gloss surface with powerful even airflow. This will promote great puck float. All accessories are included: pucks, pushers, billiard cues, balls and chalk, table tennis paddles, balls, net and post set. This table will encourage hours of family fun.
This is a standard table possesses a great even playing surface, bounded with a railing to stop the sticks and puck from going away from your table, and small holes at both sides as goals. A puck comes back is established on each side of the table, within the goals.
Moreover, these tables may have some types of machines or tools that create an air cushion about the playing area through small holes by dropping resistance and enhancing the play speed.
Go and get one from Amazon.
Fat Cat Pockey 7ft Black 3-in-1 Air Hockey, Billiards, and Table Tennis Table
This top-rated full-size air hockey desk is in the higher price range and is ideal for the avid player who has the budget, house and wants a tournament fashion expertise. The Fat Cat air hockey table presents an enjoying floor composed of arduous mica lined with a high gloss laminate, and plenty of air holes that push air to the floor and create a smooth cushion of air for the puck to glide alongside.
The table is built with three AWESTri-fold tabletop technology which makes the changing of the games between air hockey, table tennis, and billiard a breeze.
By buying this model for your loved ones' recreation space, you're bringing in an excessive-tech piece of newbie sporting gear with advanced scoring technology on an LED display. The tabletop air hockey table is often the most well-liked fashion for in-house use.
Children will love their air hockey desk and parents will achieve brownie points for bringing house the very best sports game. An air hockey table is a two-player sports activities game which can be used for at-dwelling use, in an arcade or bar.
If you want to buy it, you can get the table from Amazon.
MD Sports Multi Game Combination Table Set
To honor this implausible recreation and allow you to convey home the best air hockey, table tennis, foosball, and billiard, we have now performed in-depth research to offer you one of the very best multi-game tables. MD Sports multi-game table is produced by a company that produces the highest high quality of pool tables, sport tables, shuffleboard tables, and arcade equipment.
The materials that used to construct the table is of premium quality like MDF, ABS, PVC, Metal, and solid wood. Thus, you can rest assured that the tables are very durable and can withstand a lot of wear-and-tear over the years.
This multi-game combination table set gives professional match quality expertise and ultimate for newbies and professionals alike. However, this has all modified and now you can carry this fun-loving sports activities game proper into the consolation of your personal residence.
When you buy this table, all the necessary equipment are also included in the game kit, You will get a pool table, table tennis top, hockey mat, football attachment, 2 hockey pushers, 2 pucks, a billiard ball set, 2 cues, 1 ball rack, 2 chalk, 1 felt brush, table tennis net, 2 table tennis paddles, 2 table tennis balls, and 2 footballs.
Purchasers could be sure that MD Sports tables are built to withstand even the toughest matches. Let your son/daughter showcase their inner hockey participant to their pals at their next sleepover.
You can check the price and availability of the table from Amazon.