The STIGA Advantage Table Tennis Table is constructed with the use of the finest raw materials. It is another entry-level indoor table created by renown ping pong equipment manufacturer with the norm of maintaining the highest standards of quality in the industry.
The craftsmanship of the table is more than good which can provide the player with very good and even bounce when hitting the ball on the table.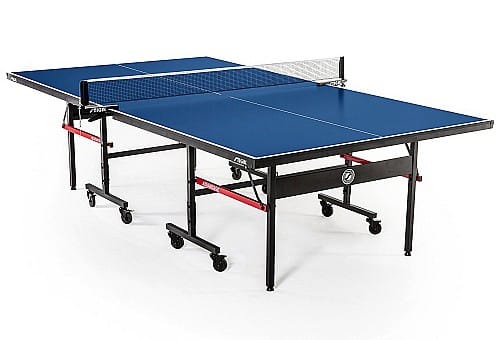 What's Good About This Table?
The table is featuring 1/2″ steel apron providing warp-resistant support. It is a very solid table built with quality materials and being sold for a very affordable price.
An added advantage of this table is the table top is professionally finished by applying the process of automated roller coating; while the silkscreen striped average top creates a perfect bounce for smooth and consistent play.
The table is featured with easy release safety latches secure tabletop and playback in storage positions. The safety latch that being implemented under the table providing a very firm and secure lock in for the top to be in the upright storage position.
Features:
Some great features that you can find with this STIGA Advantage Table Tennis Table are included of:
1.2″ steel legs provide added support for a consistent and level playing surface.
2″ wheels allow for easy and smooth mobility for storage and transport.
3″ lockable wheel casters make the table stand out. By having a larger size compare to another table, moving this table to far distance is not an issue at all.
QuickPlay design with 10-minute assembly and 95% pre-assembled to offer users with easy and quick setup.
5/8 inch thick dark blue tabletop with silkscreen striping.
1.2-inch steel tube aprons.
Independent table halves.
72-inch tournament grade net and post set.
Safety latch system.
Dimension
Play Position: W: 60 inch D: 108 inch H: 30 inch. (152cm x 274cm x 76cm)
Playback Position: W: 60 inch D: 66 inch H: 64 inch. (152cm x 167cm x 162cm)
Storage Position: W: 60 inch D: 28 inch H: 64 inch. (152cm x 71cm x 162cm)
Assemble and Installation
The installing process generally is quite simple without much effort needed. It required you to have a wrench to tighten the bolts so that the table can stay firm on its position.
Playing Surface
The table top is made up of MDF that is painted on both sides of the table. The thickness of the table is 5/8 inches or 16mm. It is painted in a dark blue color with silkscreen striping which makes the table to be smooth to the touch.
Table Edges
The table corners can be hazardous and cause injury occasionally. For the STIGA Advantage table, it is having the 1.5-inch steel apron place at the edges of each corner to prevent the table from getting damaged and also protect a player from getting injured.
Net and Post
Standard net and post included with a table which is very easy to install and take off. These equipment that comes together with the table are pretty good in quality. It is good to see that Stiga is providing quality and professional-spec heavyweight clamp net and post set with this table.
Foldable
The STIGA Advance Table Tennis Table also features playback and storage position. Which mean you can fold the table at 90 degrees and move them away. Besides, you can also play ping pong in solo where you can just fold up one half of the table to make it be in the playback position.
Safety Latch System
One of the good features that you can have with this table is the table is built with a safety latch system. The safety latch will lock the table when they are placed in a vertical position. With such safety precaution put in place, it can prevent hazardous happen to the players and also protect the table from getting damaged.
Without the safety latch system, the table might be unstable when you put it in a vertical position and it may fall down and cause injury. This is especially dangerous if you have kids in your house.
Undercarriage
The STIGA Advantage Table Tennis Table is having four 1.5-inch powder coated steel legs. They are available in a square design which can give strong support to the table.
There are also leg levelers which is adjustable where you can adjust the height to the level that you want. With the availability of this feature, there is no problem for you to place the table on an uneven surface since it can be leveled to stabilize the table. There is a self-opening feature where you can deploy the leg levelers automatically.
Pros:
Can assembly and install very quickly without much effort.
The table is very sturdy and can cater for heavy duty.
A well-built and reliable table.
Come with a quality 72" clamp style heavy duty net.
The price is quite affordable for most households.
Cons:
The disadvantage of this table is that it is not a tournament standard table. Which mean you may not going to have a professional feel by practicing your skill with this table. Thus, this table is only ideal for beginners or intermediate players.
The tabletop only having a thickness of 16mm. This is the thinner level of table tennis tables which may not give you with quality bounce.
Conclusion
If you love to play ping pong very much for your free time, but do not wish to pay too much for a table, then you may consider of buying this STIGA Advantage Table Tennis Table which can be the right choice for you to have it with affordable price and having fun with it.
However, if you are serious about playing table tennis and your skill level is already reach a certain level, then you may want to pick some better tables which are for tournament use so that you can further improve your playing skill to another level.

Click to buy from Amazon if you think this is the right table that you are looking for.
If you don't think this table is right for you, there are still many different models of STIGA table tennis tables that you can choose from.
Related post: