A ping pong table conversion top is also called a portable ping pong table. It is used to transform a billiard or pool table into a playing surface for both games. Most households are not able to buy both a ping pong table as well as a pool table. The best solution is to buy the ping pong table conversion top. It is a great space saver since it is foldable and portable. The table conversion top ensures you can enjoy both games.
Required Kits For Portable Table Tennis Top
Some kits come with all the accessories needed including the net, paddles, and balls. The thicker top is long-lasting and can be used both indoors and outdoors compared to the thinner size.
Storage of the table matters. When not in use, remove the top and store it properly. This will give the tabletop longevity.
Before ordering your tabletop, consider the surface type you will place it on and ensure it will fit. Check the bracket placement that is used for the nets.
Some models have a clamp style where you would need to have access underneath to tighten the net, while some models have a design that eliminates this need.
Renown Table Top Tennis Table Manufacturers
Here is a list of the top table tennis manufacturers. Killerspin, Joola, Brunswick, Butterfly, Stiga, and even Minnesota Fats. Click here to read the reviews of different tabletops.
Some table tennis conversion tops are produced with very high-quality material that makes the table bulky but durable. Some are made with lightweight boards that make them very easy to fold and store. The most common dimensions of conversion top are 9-foot x 5-foot. It offers enough space to maneuver and enjoy a game with friends or family.
Ordering Portable Table Tennis Set
If you want an all-inclusive set with all the accessories, it is advisable to buy the whole portable table tennis set. A set generally will include a retractable net, two paddles, and two ping pong balls. It includes a drawstring pouch for easy mobility and storage.
To enjoy both the ping pong and table tennis games, you should be ready to spend at least $200 for a portable ping pong tabletop. However, the table tennis pool tabletop has some downsides. Firstly the paint used is substandard and the surface top is not the very best for bouncing the ball for good results. Nonetheless, if you are looking for one for pure entertainment then this will do a good job.
More About Table Tennis Conversion Top
People who have a game room with a ping pong table, are likely to have a billiards or pool table. This type of room screams fun! However, if space is an issue, using a table tennis tabletop, will ensure you can enjoy both games.
A table tennis table conversion top is a table that can be placed on top of a snooker or pool table. The beauty of a portable table tennis top is that it can be put on almost any flat surface that supports it. So, if you don't have a pool table but have a large table, you can easily convert it into a ping pong table and start playing.

The table tennis tabletops are easy to store and suitable for snooker or pool tables.
If you intend to put it on top of your pool table don't worry about scratches since most table tennis conversion tops come with a felt or foam backing. It helps protect the underlying surface from scratches.
The tabletops are suitable for both indoors and outdoors. The outdoor tabletops usually have a protective coating that will protect them from weather elements. However, remember that anything left outside will show wear and tear faster than those stored indoors. For this reason, some users recommend if possible, you should keep your tabletop indoors unless when in use.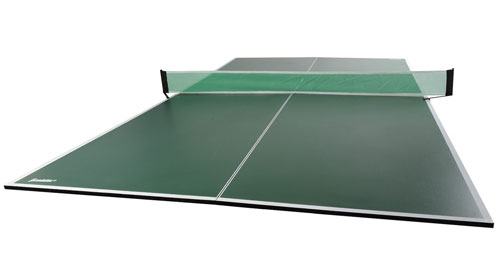 Table tennis conversion tops are for recreational use and not professional use. The professional standard for ping pong tables is often a different size.
If you were planning to become the next champion at a national ping pong tournament, you want to hone your skills on a professional table.
The best time to buy a tabletop tennis set is during winter sales. At this time, you can get thirty to forty percent savings on these big-ticket items.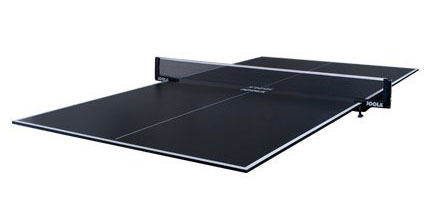 Conclusion
The bottom line is that your choice of the table depends on so many factors, you can buy mini or compact table tennis tables, a table tennis conversion top, indoor or outdoor table.
To avoid making mistakes, follow my advice and I am sure you will definitely choose the best table tennis table that is right for you.
If you want to know more about how to transform your pool table into a ping pong table, you may read this table tennis conversion top for pool tables to find out more.
* Get A Ping Pong Conversion Top For Your Billiards Table
Find out the different table tennis tops in this post which are including brands like Joola, Butterfly, Brunswick, Stiga, Prince, Olhausen. There are brief reviews available for different pool table conversion top and their features to ease your selection when you intend to get one that best suits your needs.
* Various Table Tennis Conversion Tops In The Market