Purchasing a pool table can be a major investment, but it can give you a lot of fun where you can play billiard with your friends and family in your recreation room.
Take Into Consideration Of The Size Of The Pool Table
Billiards tables can run in multiple sizes, anywhere from seven feet up to and which one you should get can depend upon many factors. Firstly, are you looking for a genuine pro-style play, bar-style play, or home recreational play? Most major pool tournaments use nine-foot tables, most bars have eight and a half or eight-foot tables, and seven-foot tables are found exclusively in homes.
Also, what is the size of the game room where you are going to put the pool table? Smaller rooms may have some difficulty accommodating larger pool tables.
Transform Your Billiard Table Into A Ping Pong Table
By gathering all these information, you will have an idea on which ping pong table top that you need to buy that is fit to place on your billiard table if you want to play ping pong as well besides the billiard.
You can easily transform a standard pool table or billiards table and add to your existing game room with a ping pong conversion top. Some families don't have room to store both a pool table and ping pong table. For this reason, a ping pong conversion top is a great way to have twice the fun without taking up too much space.
Many people who are looking to buy a ping pong table for home use or for practice often have questions concerning the ping pong table top and for good reason. The thickness, smoothness, and material of a ping pong table top can all affect the quality of play, and this can be an important decision if you are practicing or trying to improve your game for tournament play.
For competitions, regulations require that the thickness of a tournament ping pong table top be at least three-quarters of an inch. However, most high-quality ping pong tables now have a ping pong table top that is seven-eighths of an inch or more. For maximum play and bounce, this is the best option.
Variety Options That You Can Choose
Today, you can find a variety of pool tabletop and table tennis conversion top for pool tables on the market. They are there readily available to accommodate a wide range of distinctive billiard and pool table sizes. A ping pong conversion top for you billiards table is perfect for anyone who wants to play pool as well as the game of table tennis.
In essence, a table tennis top for a pool table is made use of the body and frame of a pool table so everyone can enjoy playing whenever they want to.
If you are looking at purchasing a ping pong conversion top, be sure to notice whether the model you choose comes with a net and paddles, as most of these conversion tops do not. However, all required playing accessories can easily be purchased separately, and are readily available in a number of ping pong game kits as well.
Aware of Different Thicknesses
Your ping pong conversion top can come in different thicknesses, so it is important to choose one that is the most suitable for your level of play. Those with extra levels of a thickness not only have a better bounce rate that most closely resembles a real ping pong table, but they are also more resistant to cracking.
For outdoor use, aluminum is a common material for a ping pong table top, although those that are made of wood and have a waterproof coating provide for better levels of play and a more realistic bounce.
Most indoor ping pong tables have a wood or wood composite ping pong table top, including the newer ping pong table conversion tops that are suited for changing your dining room table or existing pool table into an indoor ping pong table.
Even with these kinds of models, it is important to measure the thickness of the ping pong table top to ensure the best quality and level of gameplay.
If you plan on using a ping pong table conversion top outside, it is essential that you ensure that the top is always brought inside when finished or that the top has been properly weather-proofed in order to provide protection from moisture.
Before buying your ping pong conversion top, you'll need to measure the surface you plan on using it on, as well as the dimensions of the room to ensure that there is adequate playing space.
Installation
While a lot of lower end billiard tables come totally intact and can be played out of the box with just a little assembly, most pool tables require the expertise of the billiard table professional to install both the slate and the pool felt.
However, for the table tennis tabletop, the installation is rather easy. You just need to place the 2 half of the tables on the top of your billiard table and lock them up, and you are good to go.
Brief Intro of Stiga Duo Ping Pong Table Conversion Top
This is an easy and convenient way for you to convert your billiard table to become a table tennis table in a matter of seconds. Some vendors will only sell you the sole table tennis top without all the relevant equipment for you to play the game.
The equipment is included of net, posts, paddles, and balls. Thus, when you order the table, you need to check with the vendor if these types of equipment are provided with your purchase. If not, you will need to pay extra for all this equipment.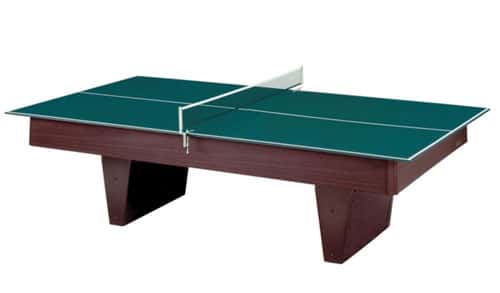 For this Stiga Table Tennis Conversion Top, it comes with 2 models which are T814 and T814N. The different of these two models is T814 comes without net and posts while T814N is included.
Features:
1/2″ dark green top supported by 30″ center-mounted steel stiffeners.
Side stripes help align top properly.
Sponge rubber strips protect rails and hold the top firmly in place.
Playing surface dimensions: 5′ W x 9′ D.
Fits 7′ and 8′ pool tables.
The weight is 110 lbs while the shipping weight is 118 lbs.
Read for more references on related topics: