The KETTLER Cologne outdoor table tennis table is another good table that you can get for you to play ping pong. It can offer you with several enhanced quality features and overall play.
Since it is designed to play outdoor and is weatherproof, the materials that use to construct this table is of great quality which can withstand all sort of weather conditions.
Good To Get a Quality KETTLER Outdoor Table
Table tennis is among the most played games in the world. To succeed in this game, you need to engage yourself in continual training in order to grasp the basic and knowledge and techniques required when playing the game.
Consequently, many table tennis fans tend to purchase their own table tennis table for playing and training at home. If you decide to purchase a KETTLER Cologne table, you should know a variety of things.
Features:
Aluminum tabletop
Thickness: 22 mm
Caster wheel locking mechanism
Rack for Storing Paddles and Balls
Weatherproof
Steel tubing legs
Assembly
You will receive a DVD with assembling manual and instruction inside the DVD. You can follow the instruction to assemble and install all parts of the table. Generally, it takes about 2 hours for you to complete the entire process of assembly.
If you have difficulty to understand the manual, you will need to call to KETTLER support or search yourself online to find further instruction or Youtube videos which can help you to do the setup job.
Playing Surface
The tabletop is constructed with an aluminum top. The thickness of the table is 22 mm. With such thickness, it can offer you with very quality and great bounce when you play with it.
The tournament lines are smooth and flat along with the table. The top coast is four layers of non-glare finish. This helps resist fading and it is also scratch resistant.
Around the table, you will see the aluminum apron goes all the way around that provide good protection for the table from getting chipped or cracked on edges. This feature is really solid to keep the table intact.
Wheels
Down below there are large wheels for moving the table around. Caster wheel locking mechanism with integrated snap touch can help prevent movement if you want to keep the table in place.
Rack for Storing Paddles and Balls
There is a place where you can store the paddles and the ping pong balls. So this makes your life easier where you can just put your ping pong bats and balls in there and you can play ping pong right away when you want to.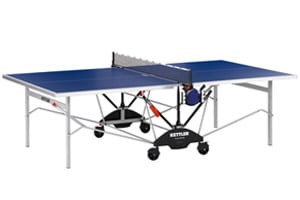 Latch
There is a release latch by the net that put the table into playback mode or places a table into storage. We can set the red latch on the leg when putting the table at an upright position.
Table Legs
The legs on the table are made of steel tubing. They are as solid as the Cornilleau Sport 500M Outdoor Table. But overall the table is solid and is weatherproof. It can hold up quite well through the sun may do a little bit of damage to the table. But overall this table is rather sturdy.
The finish is perfect even you put the table outside for a few years and the table will still remain in good shape. You can fold and unfolds the table easily.
Pros
Play quality is excellent.
When it is being folded, you can move it around easily.
The bounce being offered is within the 'official' bounce regulations.
Aluminum profile apron provides good protection for outer edges.
Cons
The written instructions on the manual may need further improvement and many are found it is so hard to follow.
It can take a couple of hours for you to set the table up.
The bags of screws and bolts are not labeled which can mess up the assembly process.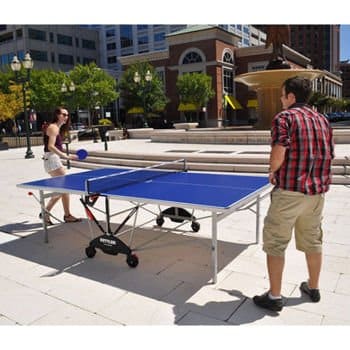 There is 22mm thick sealed Aluminum composite construction. When you purchase this KETTLER Cologne Outdoor Table Tennis Table, it normally comes together with 4 paddles set, 6 ping pong balls and a heavy duty PVC table storage cover.
The table used to be available for purchase at Costco but it seems like the table has been discontinued from there. You may try your luck at Amazon if you want to get this table.
You may need this video to help you with doing your assemble job.
Some Considerations
The strength and durability of the KETTLER Cologne outdoor table legs and supports are one of the main factors that people consider. You should check the supports and legs to make sure that they are strong enough to endure the rough treatment to which it will be exposed.
It is important to determine the condition and quality of the leg levelers of the table. It is also advisable to look for tables with screwed levelers as this would make it easier to raise and lower the table height when the need arises.
Is The Table Smooth Enough?
It is also important to determine whether the finish on such tables is smooth and even. You need to accurately inspect the table surface to determine whether it has any rough edges on the sides or the top to avoid cases in which you would be injured by accidentally coming into contact with the table during rapid paced play.
You should also try to measure the height of the bounce keeping in mind that ping pong rules (laws) dictates that a standard ball should bounce about twenty three centimeters high when dropped on it from a height range of thirty centimeters. This is no problem with the Cologne table since the table thickness is qualified for tournament play.
Portability
You would also need to determine whether you want a portable or a fixed ping pong table. If you opt for a portable table, it is important to check the setup features to know whether it can be set easily by one person without needing professional help.
It is also important to look for tables with rollers and brakes on the wheels as this would ease the work of stopping the movement of the table when in use. Cologne table is met with all these requirements as a portable ping pong table.
If you opt for a fixed table, it would be recommendable to check its workmanship and quality to determine whether it can withstand the conditions in which it would be exposed to. You need to make sure that you choose a product obtained from solid materials as this would guarantee durability.
Related post: