UPDATE: The Kettler Classic 10 Outdoor Table is currently unavailable. We often check and when it is back in stock, we will update this post. Until then, check out our review of the Butterfly Compact Outdoor Table since it is similar and made by one of the sport's top manufacturers. 
The Kettler Classic 10 outdoor table tennis table is constructed with a lot of fantastic features. It offers players with great table tennis playing experience with this premium quality table. It has a lot of excellent features that you can't find on other table tennis tables.
The table is built in the international tournament size of 9′ x 5′. It is a table that is qualified for tournament play.
Features:
One hand locking mechanism.

Weatherproof 22mm anti-glare & warp resistant top.

Double off-road wheels for easy transport.

Professional and detachable net.

Leg leveler for a level top.

Innovative, easy to reach table tennis ball box storage.

Removable soft-touch edge protectors protect the top during transportation.

Playing Size: L=274cm(108″) x W=152.5cm(60″) x H=76cm(30″).

Folded Size: L=68cm(26.8″) x W=183cm(72.1″) x H=165cm(65″).
Playing Surface
The table is weatherproof as the tabletop sheet is made from 22mm (0.87″) Honeycomb ALU-TEC+ Underside composite aluminum. With this feature, you can play the game any time regardless of the weather condition as the ALU-TEC+ can expand and contract depending on weather changes.
Besides, the table features a double-layer coating and resin treated board. It is also built with a UV resistant, weatherproof finish, which can offer you the ball's certified true bounce.
The tabletop doesn't resist scuff marks, but the tabletop's design and construction are very sturdy and durable.
You can have the actual table tennis experience when you play with your friends or family members at the table.
Net and Post
You will get a tournament and professional grade of the net system that comes together with the table. The net is weatherproof. There are adjustable net tension and net height features available for this table.
The durable net and resin post remains in the play position even if the table is stored. Therefore, it helps to ease your folding task where you no need to remove the net and install it back every time you want to close and open the table.
Assembly
It can be relatively easy for you to carry out the assembling work. You can expect to complete setting up the Kettler Classic 10 Outdoor Table Tennis Table in approximately one and a half hours to three hours.
Sometimes, you may get stuck when assembly halfway due to the vague instruction manual that is available for the table. If you are having a problem, you can always refer to the assembly video that you can find on Youtube and follow through.
I have attached the assembly video in this post in case you need it for reference.
Elasticated Storage
The table has elasticated storage for you to keep your rackets and a ball dispenser at each table end, which allows you to dispense and store the ping pong balls.
The implementation of the latest one-hand locking mechanism, making the task of opening and folding the table very simple and easy. It only required 1 person to fold the table effortlessly.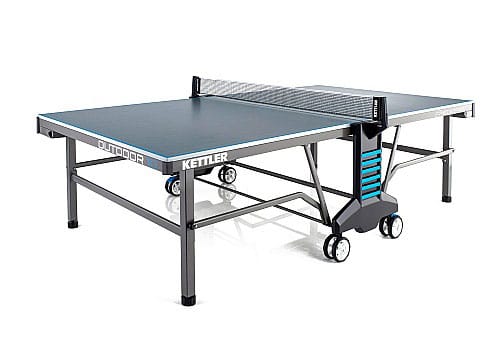 4 Leg Levelers
The Kettler Classic 10 outdoor table tennis table has 4 legs built at the undercarriage. There are leg levelers fixed on all 4 legs, which allow users to adjust the table to their desired height.
There are 4 off-road 5.5″ wheels steer installed, where 2 of them have diagonally positioned safety brakes. It makes the table possible to transport all surfaces with swivel wheels and firmly position and grip the floor by locking the safety brakes.
Outer Edges Protection
One of the best features is the removable soft-touch edge protector on this table. It makes the corner well protected with a removable corner protector.
All the outer edges are well-protected with high impact resin apron. The tabletop with apron design cradles is good in protecting the table from warping.
However, the corner covers can come off easily. It is just not tight enough.
Folding and Easy Handling
With a one-hand locking mechanism implemented on this table, it makes the table folding job to be straightforward and easy. You can fold the table with one hand if the other is busy holding something else.
As the table is foldable, this provides a true playback feature and facility to all players. Even without a partner, you can play the game in solo mode.
Pros:
Easy to assemble the table.

Weather-resistant playing surface that can withstand all sorts of weather conditions.

Very durable construction that will last you for many years.

Opening and closing the table cannot be easier than this one.
Cons:
It is quite an expensive table. But considering the features and quality that the table offers you, it is worth the price you pay for it.

The manual and instructions can be quite confusing. It needs some improvement on it.
My View
The Kettler Classic 10 outdoor table tennis table is ideal for you to play both indoor and outdoor. It is perfect for you to place on a patio that does not too much sun.
If you get this table, you will be pleased with the quality that it offers you. By having such a quality table for the price you pay, you will not regret the unmatched performance and quality you get.

If you happen to buy this table and have no idea how to assemble it, Kettler has an assembly video to assist you. Watch the below video to assist you in assembling the table.
Related post:
If you are interested in buying this table tennis table, you can buy from Amazon.