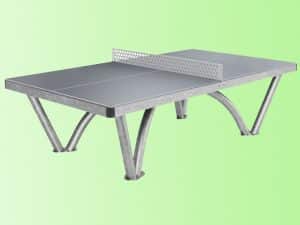 Ping pong has its origins from bringing the game of tennis indoors. The original game of table tennis coined its name through the sound that the ball makes when it hits the table, "ping pong." Today, playing ping pong isn't strictly an indoor or outdoor activity. One of the greatest additions to an outdoor space or entertainment area is a concrete ping pong table. Concrete ping pong tables are structures that can be used in multiple ways with versatility beyond just ping pong, bringing people together for outdoor fun. Built to last, concrete ping pong tables can withstand the seasons for decades of memories, entertainment, and fun. 
The United States has far fewer concrete ping pong tables in public areas than places like Germany, where Berlin alone has 1500, but the opportunity is ripe for expansion. Big cities are always looking for hip and trendy ways to spruce up their parks and recreation landscaping. Tables are versatile, however, they can be enjoyed in community areas as well as the residential comforts of home. If you are in the market seeking a concrete ping pong table, chances are that you're either looking to buy a public structure or residential crossover centerpiece. 
As public structures, concrete ping pong tables are appropriate for any outdoor recreation area including apartment communities, schools, resorts, parks and recreation departments, universities, government institutions, and more. They often become the centerpiece of the area as people congregate to relax and spend time outdoors. Traditional ping pong tables are set up for fun, but they have many drawbacks in comparison. They are often not weather-resilient and are required to be kept indoors, save for theft and damage. They are also much more limited in use, really functioning only for the sport of ping pong. These qualities make for tricky mechanics: they either take up space or require setup and breakdown with each use. Concrete ping pong tables, as their names would suggest, are extremely resilient. Most basic models are formed with reinforced concrete making them theft-resilient structures by nature, built to last for at least 50 to 100 years. With regards to installation, most tables are designed for easy assembly onto an existing solid surface or flat grass. Concrete ping pong tables are usually the neighborhood centerpiece, the favorite feature of any park. Public spaces with a concrete ping pong table are sure to have fans across generations.     
Stone Age Outdoor and Henge are two concrete ping pong table manufacturers with models that are best suited for outdoor public spaces. They produce similar, ultra-sturdy structures that predominantly serve the public be it through schools, resorts, parks, the military, etc. Table dimensions mostly follow the International Table Tennis Federation (ITTF) regulations with the exception that the nets are flush with the table as a safety precaution. The most noteworthy ITTF regulation regards "the bounce:" balls must bounce back 9.5 inches when dropped from 12 inches. Both companies satisfy these regulations in their models. Bravado and Henge both offer at least two models and numerous customization options for clients. In general, concrete ping pong tables made for the public are generally over 1000 pounds, made with specially treated concrete, and require the use of professional installation and tools. The companies do offer paddles. However, due to the likelihood of them getting lost or stolen, public tables usually promote a "BYOBP (balls paddles)" approach. The completely concrete aesthetic is rather industrial and best serves public environments. It's not common to make purchases from these companies for personal use. However, the vendors are nonrestrictive in their clientele. At your neighborhood park, you might find one of these tables dual-purposed for games or a picnic lunch. They are very versatile. The companies are located on opposite sides of the coast, Roseburg, Oregon, and New York City, and tend to serve their respective coastal regions.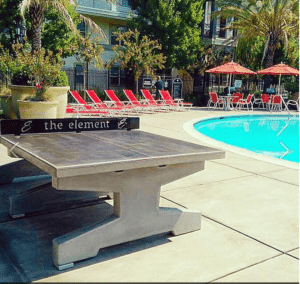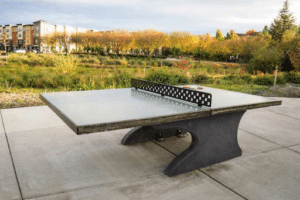 Photos sourced from Stone Age Outdoor company site
Stone Age Outdoor
Price range: $5900 – $6500, plus shipping. 

What customers say on Facebook: "The Best," "coolest and most durable outdoor equipment by far!" "5 stars"

Purchases can be made through the company site: https://www.concretetabletennis.com/products/concrete-table-tennis-table/
Stone Age Outdoor produces three models of concrete ping pong tables that are designed to serve public spaces. These models come in various colors with add-on customization options, and take about an hour to assemble. The models are constructed so that they can be relocated as long as they are laid onto a flat surface. This design is factored into the leg shape, which usually has a wide and sturdy base. The nets are always custom, made of steel, and can be designed with messaging or traditional netting. 
The company was established in 2010 and is based in Roseburg, Oregon. The manufacturing also takes place in Oregon. Of the two public venue manufacturers mentioned, Stone Age has the most experience selling globally. Their pieces are primarily built of reinforced concrete and finished off with anti-graffiti coating. The maintenance on these structures is minimal, requiring just an annual power-wash. Their philosophy states "The ending point is to inspire joy through craftsmanship and to change places into a spontaneous combustion of activity, fun and innovative spirit."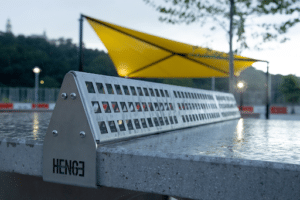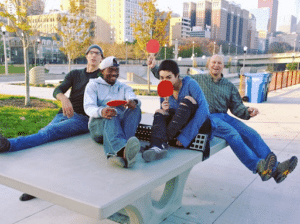 Photos sourced from Henge company gallery
Henge
Starting price: $7000, plus shipping. 

Testimonials: "We are pleased to see that the Henge outdoor ping pong table has held up well through New Jersey's recent rough winter and are confident it will provide years of enjoyment for park users," with clients of the likes of landscape architects and public space designers. 

Purchases can be made through the company site: https://www.concretetabletennis.com/products/concrete-table-tennis-table/
Henge produces two models of concrete ping pong tables that are designed to serve public spaces. Their story began in New York City in 2008 after founder Alan Good was mesmerized by the plethora of concrete ping pong tables littered throughout Berlin. Henge has a young and lively brand that is marketed to city dwellers and their outdoor spaces. Its' mission is to turn "negative space" into "positive space." Negative space is defined as dead space and little activity. Positive space incorporates flow and entires park on setters to engage in activity as they stroll by.  
The price point is slightly higher than those of Stone Age Outdoor, but the design has a more modern feel. The legs feature a circle to round and soften the rest of the concrete look. During installation, the company recommends assembly by a licensed contractor per the installation guide, which also requires a concrete footing and forklift or similar lifting vehicle. Slate grey is the only color offered, but all models are composed of reinforced concrete with an anti-graffiti finish. The two net options are a classic standard net and a prism net. The prism net is not to ITTF standard, however, it's built for strength and life with a 5-inch base. An annual powerwash will do the trick for maintenance. Henge encourages the idea of gifting a concrete table to local parks as a charitable donation. Reinvent negative space!
Amsterdam and James De Wulf are two designer concrete ping pong table brands made for residential buyers. These concrete tables market themselves as a crossover centerpiece catering to upscale homeowners who seek a dual functioning piece of outdoor furniture. In photos, they are often dressed up as a dining table and dressed down as a ping pong table. Residential concrete ping pong tables are usually lighter than their public table counterparts by half. However, they still require professional installation. They incorporate materials that will allow for a more elegant, sleek, and more shapely look through steel, carbon fiber, and fiberglass embellishments. Residential tables, like public concrete ping pong tables, are crafted to ITTF regulation standards for a true game of ping pong. They're also weatherproofed like most outdoor furniture. Residential ping pong tables are carefully designed masterpieces and functional furniture. They are crafted to bring families together through fun and food.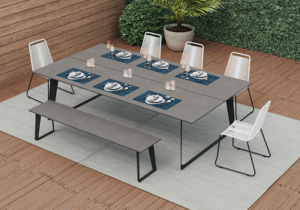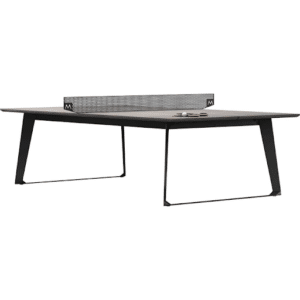 Photos sourced from ModernDigs
Modloft Amsterdam Outdoor Ping Pong Table
Price: $5000, plus shipping. 

What people say: "It boasts a stylish, yet simple design," "Ravishing," Still just wow." 

Purchases can be made through various vendors: https://modloft.com/Game-Tables/Amsterdam-Outdoor-Ping-Pong-Table/INDOOR/White-Sand-Concrete
Amsterdam is a furniture line that includes this pristine residential concrete ping pong table. For those buyers looking to spruce up an outdoor entertaining space or patio, this table is that something for families and their company to enjoy outdoors. The materials used are a blend of concrete and fiberglass with a steel net. The total weight sums up to 400 pounds, by far one of the lightest concrete ping pong tables on the market. Installation calls for hiring a professional service, but most online retailers offer installation as an additional service. 
The Amsterdam Tables combines form and function with a removable net that converts the set into a dining table or other utilities. It caters to a modern design with sleek and angular legs. Families can gather to play board games, read, work, draw, and a myriad of other activities. A compatible bench is not included, but one is featured in the Amsterdam line. The table is only suited for residential use as it would not be able to withstand the full brunt of outdoor exposure in a public space. Also, it would likely be subject to theft. The Amsterdam table can be found at various online vendors as the brand does not have its online store. It retails for $5,000. The table also comes with handcrafted bamboo paddles.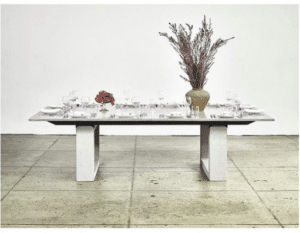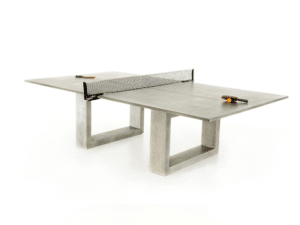 Photos sourced from James De Wulf company gallery
James De Wulf
Price: $13,216, plus shipping. 

Customers say: "Sublime," "Stunning," "Just lovely"

Installation: The standard table comes in four pieces plus a net. 

Purchases can be made through the company site: https://www.jamesdewulf.com/store/about/
Los Angeles based artist James De Wulf has made a name for himself in the concrete craftsmanship space namely through the design of his concrete ping pong table. De Wulf fell into artistry in 2014 after a career in real estate development. His eye for sleek lines and functional form led to the final product of a versatile concrete ping pong table, which was built to ITTF regulations. The table is suited for both indoor and outdoor use and is coated with a weather resilient sealant coating over the concrete base. 
The James De Wulf table itself has a very durable and sturdy look. It suits an industrial design. The legs are 3 inches thick and 8 inches wide, carefully supporting a delicate-looking 1 inch thick top. In total, the weight of the table is about 800 pounds, on the heavier side for a residential table, and would require special handling if it needed to be relocated within the house. De Wulf uses state of the art carbon fiber reinforcement to support the bounce. Each piece is custom-built and models come in four different colors (black, dark gray, light gray, and natural). The table sits at the high end of the pricing scale coming in at $13,216 retail, but could fully function as a dining table. James De Wulf splits his time between L.A. and Berlin, the mecca city of concrete ping pong tables. His design is a master craft of minimalistic utility; an iconic addition to any upscale home.  
There's not much that will last through the ages like a concrete ping pong table. The modern age is going through a phase where people are actively seeking the outdoors again. The focus on climate change and preservation is hotter than ever, and people are attracted to being and enjoying the outdoors. The idea of a concrete ping pong table is simple. They are clean, resilient, sturdy, and a focal feature. They are a great way to lure folks outside. Whether they're in a park area or outdoor patio, they are sure to be the centerpiece of the space. Play a game of ping pong, read a book, engage in a conversation, have a picnic — these are all things that can happen around a table through its mere existence. Concrete ping pong tables cement memories for the families and communities they serve.