The Heinz Kettler Group is a leading world manufacturer of table tennis equipment. The company originated in Germany in 1949 and has grown from a small business into a world wide manufacturing and marketing leader. Kettler employs over 3,000 people and sells its products in 60 countries throughout the world. Kettler also manufactures garden furniture, bicycles and outdoor children's toys.
After many years in business, most of Kettler's factories are still based in Germany, even though Kettler's products are popular around the world. The Kettler head office is situated in Ense-Parsit. Kettler's innovative and high quality products are aimed at gamesmen of all levels – from those who want to keep fit; to those just looking to enjoy their leisure and recreational time.
Kettler's table tennis products are popular with players around the world because of their quality and reliability. They make assorted top of the line tables, paddles, balls, robots and other accessories for recreational, club and serious table tennis players. They also make tables for outdoor use.
A Healthy Sport To Play With
Ping Pong is a very exhilarating game that gives you a full body workout. To play the game, you need rackets, hollow ball and a table tennis table. Ping pong is known as an indoor game, however with the latest designs it can be played outdoor too. The reason why table tennis is so popular amongst people is because it calls for speedy reactions. At the same time, it is a good form of exercise due to a lot of physical movements. If you want to know more about the game of table tennis, it is a good idea for you to learn about the table dimensions before playing the game.
Table Dimensions
The official standard dimensions for table tennis table is set at 9 feet for the length and 5 feet for the width. The table stands at 30 inches from the ground and is made of masonite which is a type of hardwood coated with even and a low-friction layer. In the middle of the table, you will find a net which divides the areas of the two opposing players. The net's height starts at 6 inches from the board. The surface of the table is typically painted in either blue or green.
Ways to Play
There is an assortment of ways to play ping pong. When you are gripping the rackets, you can use the 'shakehand' or 'penhold' way. The shots are separated by two major types which is the offensive and defensive strokes. When it comes to offensive moves, there are many options for you to take like the smash, flip or counter dive, on top of that you can use the loop drives which are the hook, loop and loop kill. The defensive strokes consist of the drop shot, highball and side dive. The kill spin, push-block and chop are other defensive moves that you can use. Playing this sport can be a lot of fun and buying the table can be an easy task if you keep in mind the ping pong table dimensions which would be a good idea for you to write the dimensions down when you buy the table at the store.
Make An Investment in Kettler Ping Pong Table
Many people who started playing table tennis as a pastime end up becoming ardent fans for this sport. The fun side of the game combined with the whole body workout it offers, had made ping pong very popular amongst people of all ages. It is also one game that most family enjoy playing together. If you and your family are huge fans of this sport, then investing in a ping pong table would be a wise investment. Kettler table comes in a wide range of variety. All of their tables come in green and blue finish to fit your personal style. They are also known for their durability. They are built out of a special mix of aluminium composition which makes them the most durable ping pong table in the market.
Kettler SketchPong Table Tennis Table
A Good Kettler Table Tennis Table
When you want to buy a ping pong table, it is good to invest in a branded one since it widely known that branded goods are made of good quality and last longer. Before you buy any of the table, decide where you would like to place the table. The space should be big enough for a Kettler ping pong table and also have enough room for you to move around to play with ease. Take measurements of the room and ask the sales person at the store for recommendation.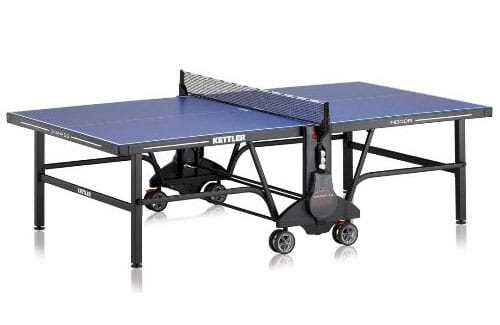 The features of Kettler Table
Those who have bought Kettler ping pong table would recommend the Riga Pro and even though it is the least expensive ping pong table, it does not mean it comes without features. Some of the tables are designed for outdoor placement which can be good for those who love to play ping pong outdoors. These tables have been designed as it should be to endure whatever abuse a player might or could inflict on it. What makes Kettler stand out among the other brands is the dimpled aluminium that makes up the base of the playing surface. Each ping pong table of this brand has an individual folding sides, this means either side can be locked into a playback position which allows a person to practice his ping pong skills.

More relevant articles:
* The Advantage of Kettler Table Tennis Tables
* Get A Quality Kettler Stockholm Ping Pong Table