Prince Global Sports is a company based in Atlanta, Georgia was established in 1970 by Robert H.McClure. It manufactures and distributes sports equipment and apparel.
The company sells products through distributors and resellers. The company currently has no website available.
Among the products manufactured by Prince include ping pong tables. Here is a list of some of their products.
Prince VICTORY (15mm) Table Tennis Table
 It is an example of an official tournament sized ping pong table. The tabletop is reinforced for a consistent bounce. The measurements are 5/8″ for the tabletop and 1 1/4″ for the metal legs.
This table's playing area is 9 feet x 5 feet, with a weight of 143 pounds. The 2″ locking wheel casters offer good mobility and ease of transport. The table is easy to fold and provides an effective space-saving storage solution.
The table is built with durable particleboard and a laminated top. It also comes with plastic support aprons. The table comes with a net and post set.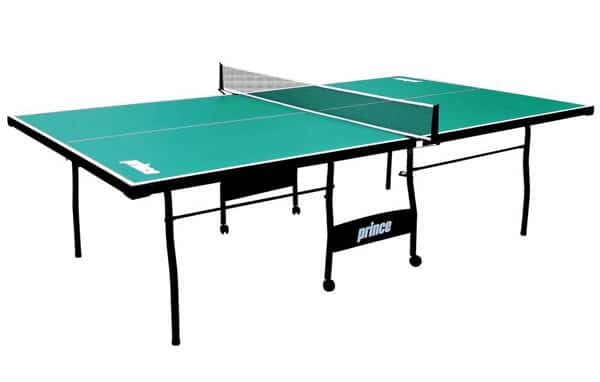 The quality is decent for the price. Overall, it is a pretty looking table.
During the Prince VICTORY table's assembly, I found a gap on the left half of the table. The manual can be hard to understand as it has no clear instructions on which ends the connectors should be installed. It is also not easy to understand the assembly instructions.
Overall, it is just a decent table and very affordable for the price.
The table is available from Sears.
4-PIECE (15mm) Table Tennis Table
This model of the table features a 15mm tabletop playing surface. It has 4 wheel casters with a locking system which makes it easy to carry.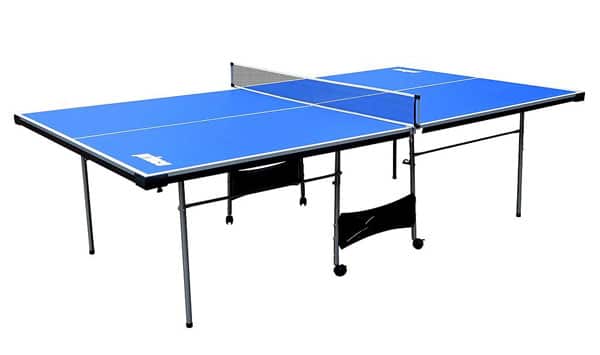 It is supported by a durable steel leg frame which makes it firm and stable. It is made of particleboard with a laminate surface. The weight of the table is about 110 pounds. The table is sold with a net and post set.
It is very effortless to assemble.
This table is suitable for indoor use.
If you are interested in buying this Prince 4-PIECE table tennis table, you can get one from KMart.

Prince Odyssey All-Weather Table Tennis Table
The Prince Odyssey is made with a thick aluminium tabletop. The thickness of the tabletop is 1″ and comes with a two-piece tabletop. It is a high-quality mid-tier table model. It is weather-resistant and ideal for playing ping pong outdoors.
The table measures 9 feet x 5 feet. The 4" caster wheels glide smoothly on any surface. The locking casters ensure safety and ease of transport.
The table comes 50% pre-assembled.
The table is foldable, and it has playback capabilities. It comes with a net and post set.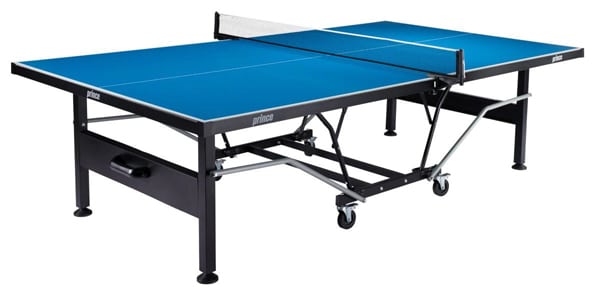 The table is available at Dicks Sporting Goods.

Prince Advantage Indoor Outdoor Table Tennis Table
The Prince Advantage Outdoor Indoor table is heavy.  It is an advantage as the weight comes from a durable, strong frame made from high-quality materials. The table is made of 1-inch metal legs and a 5-inch horizontal crossbar.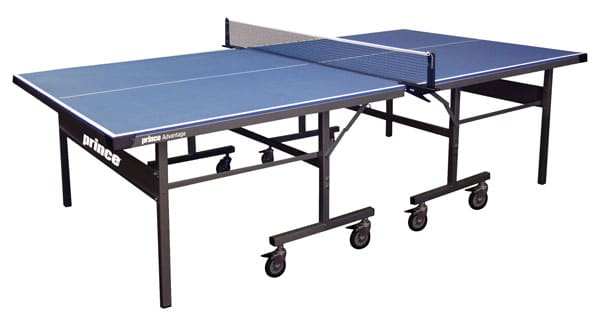 Check out more about this table here.

Prince PT200 Competitor Table Tennis Table
Another table released by Prince is the PT200 tennis table. The table is designed to resemble standard tournament tables. It is cost-effective.
Be assured of professional quality for this indoor ping pong table.
The table requires no assembly.
It has  1.5″ tubular steel and horizontal crossbars built with a heavy-duty material. It is excellent for aggressive playing and is very sturdy to lean on while playing.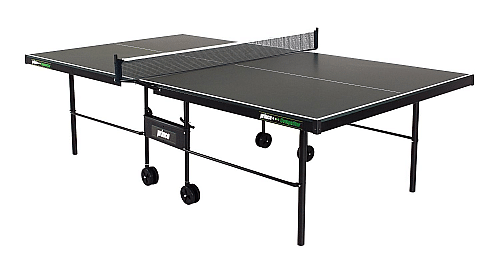 Check out more about this table here.

Prince Tournament 6800 Indoor Table
It is another indoor table manufactured by Prince. The table has a durable 18mm thick medium-density fiberboard (MDF) multi-layer painted surface for a consistent and reliable ball bounce.
The surface of the table is coated with matte grey. It is different from the conventional ping pong table which either comes in green or blue color.
The table is built with swivel wheels that have locking casters in place. These feature keeps the table sturdy and ensures safety and ease of transport.
Dimensions of the table:
Table Dimensions: 108"L x 60″W x 30″H
Storage Dimensions: 32″L x 60″W x 62″H
Playback Dimensions: 70"L x 60"W x 62"H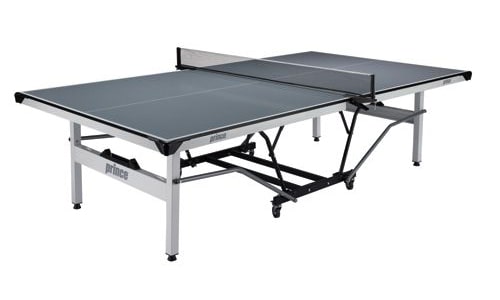 If you are having a problem assembling the table, you can refer to the video below to help you in assembly.
The table is available at
Dickssportinggoods
.