Prince Global Sports is a company that is based in Atlanta, Georgia. It is a manufacturer and distributor of sports equipment and apparel. The founder of the company was Robert H. McClure, and the company was established in 1970. It is based in Princeton, New Jersey. That's the reason they name the company Prince.
I can't found the company website on the internet, therefore I think they are just doing offline by having all the distributors and resellers to sell their products.
Among the products, Prince is also manufacturing of ping pong tables. I would love to list out some tables that are constructed by this company.
Prince VICTORY (15mm) Table Tennis Table
This is an official tournament sized ping pong table you can have. The table is built with sturdy 5/8″ table top and 1 1/4″ metal legs. The table top can offer you with the ideal bounce for the ball.
The playing area for this table is 9 feet x 5 feet and it carries a weight of 143 pounds. The 2″ locking wheel casters make it movable and easy transportation. Thus is ease the task for storage. You can fold the table when it is not in use so you can save the room space.
The table is built with a durable particle board and laminated top. It also comes with plastic support aprons. When you purchase this table, you will have the net and post set shipped together.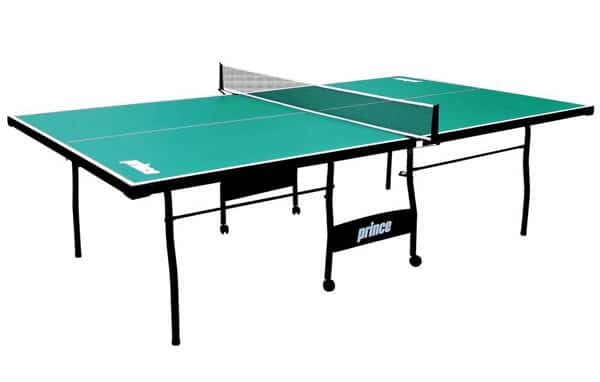 The quality you get is decent for the money you pay for. Overall, it is a pretty looking table.
The net is stretchy fabric and seems not to fit the table quite well. The bow of the net is decent although I think it may get tear off after some time.
There is a rounded hinge for you to put the table up. There is also a sharp edge where they have put a little piece of plastic on it that seems to work somewhat nicely. But the table can hit the piece and may rub on the edge of the table.
When I try to assemble this Prince VICTORY table, I found there is a gap forming on the left half of the table. The manual can be hard to understand as it has no clear instruction on which ends of the connectors should be installed. I do not understand whether I should install the U Leg Tubes on the inner or outer sides.
Overall, it is just a decent table and is very affordable for the price tag.
If you are interested, you can get this table from Sears.

Prince 4-PIECE (15mm) Table Tennis Table
This model of the table features a 15mm tabletop playing surface. It has 4 wheel casters with a locking system which make it easy for transportation.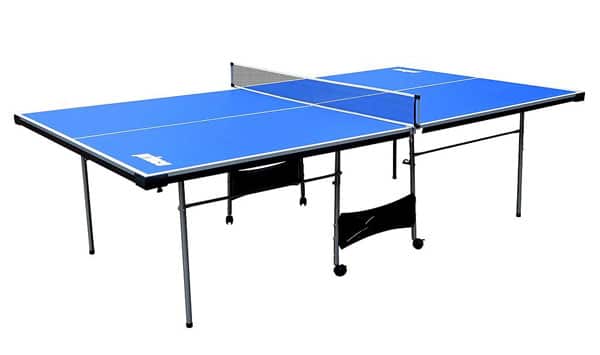 It is supported by a durable steel leg frame which makes this table to be firm and stable. It has a particle board construction with the laminate surface. The weight of the table is about 110 pounds. When you buy this table, it will come together with net and post set.
There is no problem at all if you want to assemble the table by yourself. it is easy and straightforward for you to complete the installation by yourself.
This table is suitable to be used indoor.
If you are interested in buying this Prince 4-PIECE table tennis table, you can get one from KMart.

Prince Odyssey All-Weather Table Tennis Table
They construct this Prince Odyssey with the thick aluminum table top. The thickness of the table top is 1″ and they manufacture it with a two-piece table top. It is a high-quality mid-tier table model. It is weather-resistance and so you can place it outside and play ping pong outdoor if you want to.
The table size is measured in 9 feet x 5 feet. It features with 4″ smooth rolling casters and self-locking system for safe transportation.
When they ship the table to your house, it has already 50% pre-assembled. Thus, you may not face difficulty in assembling this table.
The table is foldable, and it has playback capabilities. When you get this table, you will have the net and post come together with it.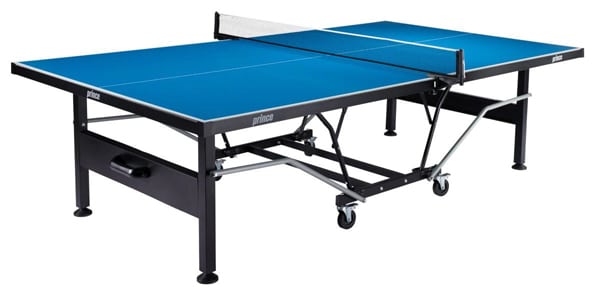 You can get this table from Dicks Sporting Goods.

Prince Advantage Indoor Outdoor Table Tennis Table
The Prince Advantage Outdoor Indoor table is heavy, and while some complaint about this, it is an advantage. Much of the weight comes from a durable, strong frame made from quality materials, including 1-inch metal legs and a 5-inch horizontal crossbar.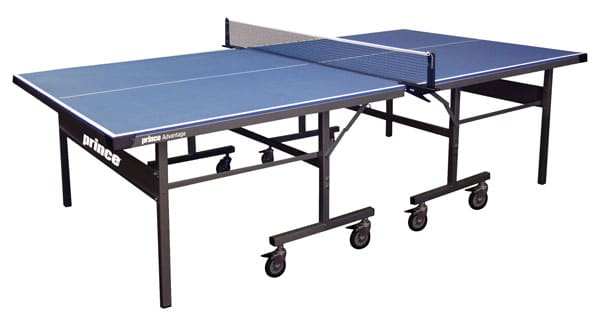 Check out more about this table here.

Prince PT200 Competitor Table Tennis Table
One of the tables that been released by Prince is the PT200 table tennis table. They designed this product to be close to standard tournament tables. It remains to hold on to the cost-effective characteristics of an enjoyable ping pong table specially made for you and your families.
This is a quality table that is built for indoor use.  It has the 1.5″ tubular steel and horizontal crossbars built. So you do not worry if you are using it for heavy-duty or you are playing aggressive and hit the table very often. You can even lean on the table and it won't fall down as they are providing very sturdy support to the table.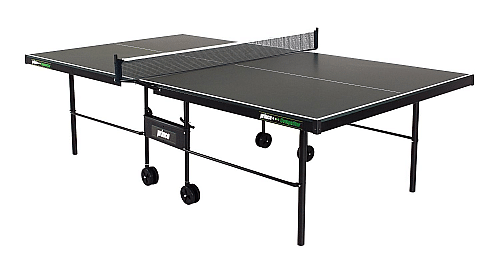 Check out more about this table here.

Prince Tournament 6800 Indoor Table
This is another indoor table that is manufactured by Prince. The table is featured an MDF tabletop and the thickness is 18mm. The MDF material is good in offering you great and even bounce when you play the game with this table.
The surface of the table is coated with matte grey which is quite different with conventional ping pong table which is either green or blue.
The table is built with swivel wheels that are having the locking casters in place. By having such a feature, it can be placed sturdy at the playing area and moving around safely.
Dimensions of the table:
Table Dimensions: 108"L x 60″W x 30″H
Storage Dimensions: 32″L x 60″W x 62″H
Playback Dimensions: 70"L x 60"W x 62"H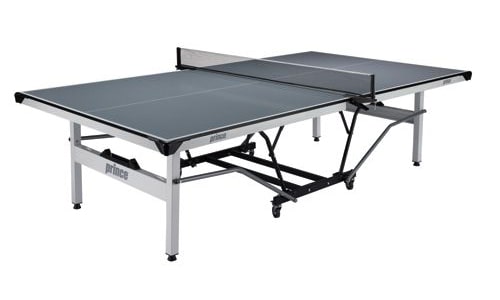 If you having a problem to assemble the table, you can refer to the video below to help you in assembly.
The table is available at Dickssportinggoods.