Many ping pong lovers dream of purchasing outdoor table tennis Joola equipment, but never do because they have too much trouble figuring out which items are right for their needs. Luckily, it doesn't have to be all that hard to choose the right items for your needs, and the tips in this article can help.
Joola Excellent Outdoor Table
The cost of this type of equipment varies widely and some items can be incredibly expensive. Before you start shopping around, you should assess your finances and figure out how much you can spend. There is no point spending money on a Joola TT-Table Excellent if you end up going into debt over it.
Joola TISCHTENNISPLATTE-Tisch City
This brand makes a wide range of equipment that can be used for both professional and at home use. Some of the professional grade products do have pretty high prices, such as the JOOLA TISCHTENNISPLATTE-Tisch City, so only the most serious of ping pong players should consider shelling out the cash for these high-end items.
Joola Tour 1500
For people who are shopping on a budget, the Joola Tour 1500 may be a good choice. The product has a sturdy design that should stand up to general wear and tear and extended playing sessions. It also features wheels, so it should be easy to move around, and an aluminum top that should last for a very long time.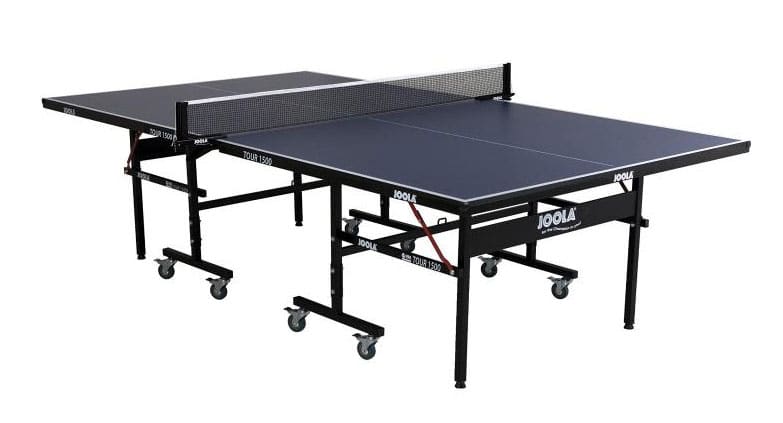 Joola Externa
If you have quite a bit of money to burn, you might want to look into the Joola Externa, which may be a good choice for very serious ping pong players. It has a very sturdy top that is enforced with fiber-glass. It can also be kept outside and is somewhat weatherproof. However, it is always best to bring it inside or cover it up if it is raining or snowing outside.
There are some useful accessories that all ping pong players should consider investing in. For example, a table tennis table cover is a great buy. This product can help protect your equipment from being damaged by water and other elements. It can also prevent scratches and will help keep your equipment clean when it is not in use.
Of course, no ping pong game can be played without a paddle and a good number of balls. Be sure to buy quite a few of these in case anything breaks during your games. You might also want invest in a special type of cleaner that will work well with all of your ping pong equipment.
When choosing an outdoor table tennis Joola, you should take some time and consider the different options. The items that you choose should be long term investments, so you need to select the best products for your needs.