Butterfly TR21 Personal Rollaway Table Tennis Table is a product of Butterfly, based in Tokyo, a leading brand in technical items, worldwide. Highly qualified scientists have worked with the high-class player to develop this classic product with awesome quality of rubber and blade technology.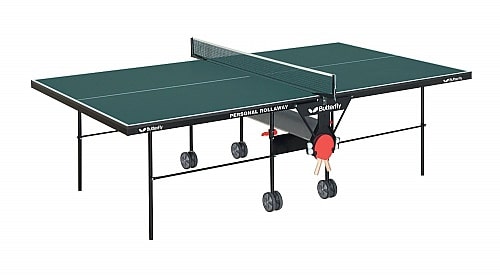 The product can be described best for schools, clubs or even home. It is sturdy and can bear multiple games after game over a period of time without any kind of deep wear and tear. This table provides a high level of performance and durability in the price range. There are two safety levers on each side of the table that acts as an effective child safety product feature.
The arrangement is easy to store and playback without removing the net and the post again and again. The large sturdy ball bearing wheels provide ease of movement while stacking away.
Features and Specifications:
It is an affordable fold and roll table tennis table.
It has a ¾ inch wooden table top with a 1 ½ inches steel railing rim.
Its legs are made of 1-inch diameter steel.
Folds up to 74 inches high and 27 inches wide.
The table is easy to fold and roll away with its 5-inch diameter ball bearing casters.
Dimensions: 60 x 54 x 6 inches (W x H x D).
It weighs around 170 lbs or 77 kg.
The product comes with a three-year warranty.
Assembly
The table will require you to take some time to assemble. It generally takes about 2 hours for you to set up the entire table. You may need to take some time to read the manual and understand the functions of all the parts so that it will make your assemble job easier when you start to set up.
Playing Surface
The tabletop is built with quality wood. The thickness of the tabletop is 3/4″ or 19mm and it is painted in green color.
The 19mm thickness top can offer players with quality and decent bounce. Even though the bounce may not be as good as those table with the thickness of 22mm. But it is good enough if you are an amateur player or beginner in table tennis.
The tabletop is supported by a 1.5″ steel railing where you can find around the table. The steel-rim apron can provide good protection for the table edge from getting damaged and makes a sturdier, warp-free table.
Net and Post
The net and post come together with the table when you purchase it. So there is no need for you to buy the net separately unless you want to have a better quality net.
Once you set the net up on the table, you can leave it there even when you are folding it up. There is no need for you to take off the net so that it can make your life easier.
A Folding Table
The table comes in 2 table halves. With such design, it is easy for you to unfold the table and set them up when you want to play ping pong. After finish playing, you can simply fold them up and move for storage. So you can make room for other activities to take place in the room.
Another feature that you can have with this folding table is that you can set it to be in a playback mode. Which mean you can set one table half to be in a vertical position and practice ping pong alone if you can't find someone to play with you.
Legs and Apron
The table is constructed with 1-inch steel legs. All four legs are indented from the sides and ends of the table. With such design, the player will have unhindered footwork when they are moving around the table.
Pockets for Paddles and Balls
There is a compartment that is built in the middle of both sides of the table for you to place your paddles and balls. This is a great feature where you can just put your bats and balls in there and you can just take them out and play ping pong right away. This is so convenient.
Wheels
There are large 5-inch double wheels that place underneath of the table. It is supported by the side beams. When you set up the wheels, you will need a larger wrench for you to attach the bolts. The wheel is quite sturdy and can help you to move the table around easily.
Pros:
Very hard and sturdy table top where you can get quite quality bounce for this table.
Assembly manual and instructions are quite clear.
The table is offered at quite an affordable price.
Cons:
Required some time for you to assemble the table.
The net is quite cheap and is not of good quality.
The Reviews:
All the users of this product have rated Butterfly TR21 Personal Rollaway Table Tennis Table 5 out of 5 stars and their most preferred choice for a personal table tennis table. Although the product requires a couple of hours to assemble, once ready, customers have quoted to love it completely as a family product. A feature loved by many is the sturdy spots on the sides to hold the rackets and the balls.
Customers have said that the table provides a very good bounce to the ball. This was advised after years of ping pong play on various tables. Butterfly TR21 has been rated to be the best in the particular prince range cap as being affordable, durable as well as perfect for a tournament level game. Some customers have rated this table to be a great gift for growing youngsters.
Overall, this is a pretty good table tennis table that you can get at a very competitive price. The Butterfly brand definitely offers higher end tables that have better tabletop, frames, and legs that can satisfy you.
Most people prefer the Butterfly brand of table tennis table due to the guaranteed of its quality. And the place that is recommended for you to get the Butterfly TR21 Personal Rollaway Table would be at Amazon.
In case you are on the look for other Butterfly table tennis tables, you may check out this post where there are a few other tables that being discussed.
Related post: