Which table tennis bats should you use when you are playing and learning ping pong? Well, let's look at the different bats available on the market.
There are two main components in a bat: the blade and the rubber. For the blade, there are actually two different kinds of styles, known as the shakehand and the penhold. The shakehand is the most popular one that is used by a lot of players. The shakehand is more popular in Western countries, while the penhold is mostly used by Asian players.
There are a few different levels we need to think about.
One of the major issues is that we often see players trying to learn ping pong with table tennis bats that seem to be hollow in the middle. That's a plastic molded type, and it has absolutely no grip on the surface.
It's okay just for hitting the ball nice and flat. But you are going to find that it will not work on any spin that you are trying to do. This is the same with a bat that has no sponge.
When you are trying to learn any of your strokes, it is important to have the ability to put a little bit of topspin or backspin on the ball with your stroke.

1. Killerspin JET 800
Killerspin has made a series of preassembled rackets range from the JET 100 all the way up to 800. The JET 800 is the latest one on the list and it is engineered for competitive play. There is a sponge layer and then the rubber on the outside. It has a flared grip measured at 3.7″ long. It is a bit heavy, giving you more power. If you're playing defensively, this bat is ideal for you.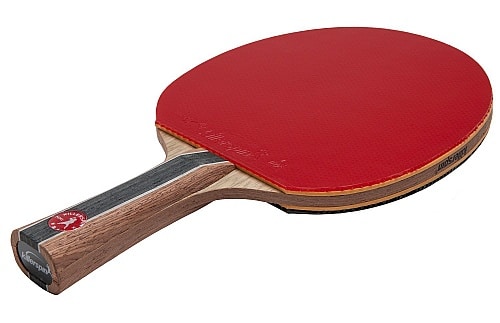 When the ball hits you and you are standing too far away from the table, you can defend easily because the bat is heavy enough for you to do so. If you need more power to hit the ball back to your opponent, but you are using a light bat, you will not be able to serve effectively. When you first use the Killerspin JET 800 to play ping pong, your shoulder might feel a little sore initially. But you will quickly fall in love with this bat once you get used to it.
Pros:
Offer you a massive spin and a good bounce.
It is very durable and is well constructed with great quality material.
Gives you great control of your shot.
Cons:
You can read the further detail of JET 800 here and its previous JET series rackets below.

2. Palio Expert 2
Palio Expert 2 is an exclusive collaboration between Palio and Expert Table Tennis.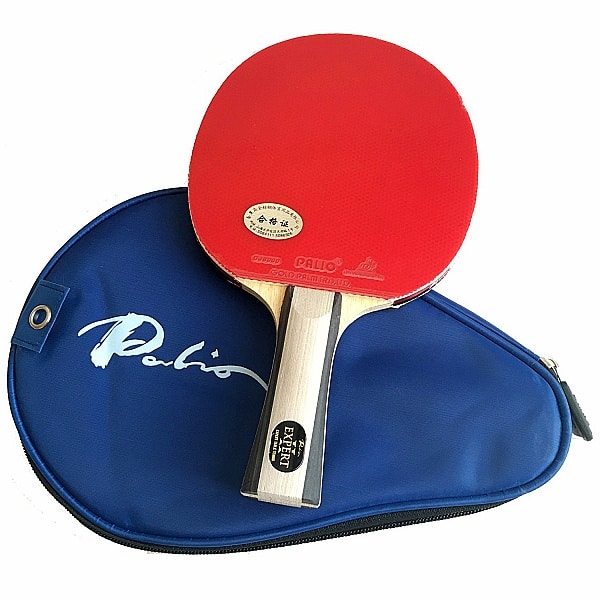 Pros:
Good bat for players to develop the correct technique.
The blade has been redesigned to improve the stability and give even better control to players.
Ideal bat for beginners.
Cons:
You will need to take some time to adapt to it.
Not ideal for intermediate offensive players since the rubber isn't very fast.
You may read the detailed review at Palio Expert 2 Racket Review.

3. Palio Master 2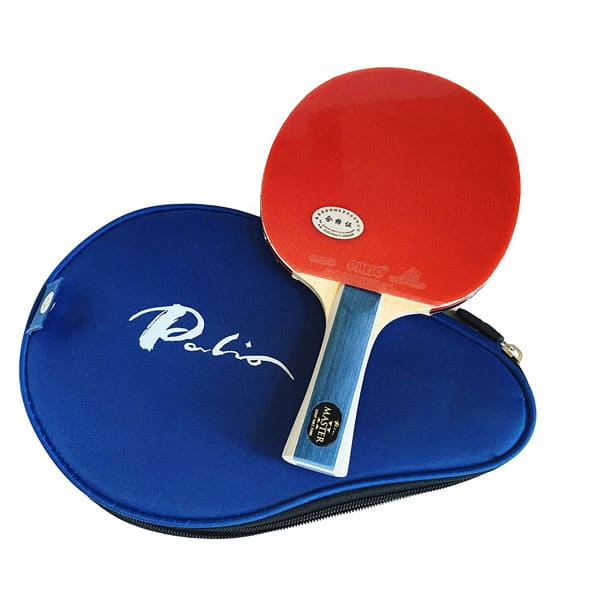 The Palio Master 2 is the improved version of its predecessor Palio Master. It is a pre-made table tennis racket that releases with the aim to help to improve the playing skills of intermediate ping pong players.
Pros:
The bat can offer you a very good spin.
The weight is just right.
Very well balanced.
Cons:
The handle will need to be sanded down for a comfortable grip.
The bounce may not that ideal. You may get a lot of balls getting long and off the table when you first use the bat.
This is another quality Palio bat you can consider buying. You may read more on the Palio Master 2 Table Tennis Bat Review

4. Atemi Pro Line 2000 Table Tennis Racket
If you want to have a ping pong bat that can give you a good paddle grip, this Atemi Pro Line 2000 is the best solution. This intermediate bat is made in Europe and it makes it possible to have total control of the game. It has a high-performance rating and is the lightweight type you can get on the market.
This bat is built with a 5-ply wood blade. It is attached with a 2.2mm fast sponge and IPPON ALL+ rubber.
The most important factor when you are getting this pre-made bat is that the quality of the rubber is really great. It allows you to play with your stroke by giving you the spin you want.
It is an option for the recreational player who is looking for a quality bat at an affordable price. It is especially great for training purposes.
Pros:
Very responsive in the ball hitting.
Great grip with some holes built in the handle which won't get your hands too sweaty.
Cons:
The weight can be quite light.
The blade may sound hollow when hitting the ball.

5. Stiga Pro Carbon
This STIGA Pro Carbon bat is quite heavy and is a bat with superior quality for professional play. Thus, this table tennis bat is great for aggressive players who love to do power shots and spin.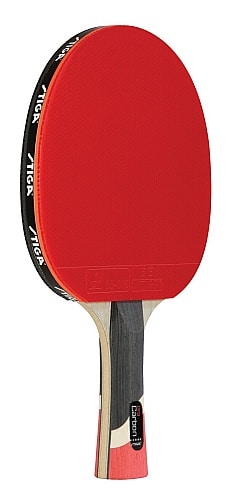 It is not so good if you would love to have more control. So, if you are a defensive player, then this may not be the right racket for you.
One thing that sets this paddle apart from others is the carbon built on the blade. As the weight of the racket is quite heavy, you may need some time to get used to it.
Pros:
Features a sleek outlook.
It has a great handle.
It can give you plenty of spins.
Cons:
The handle may need improvement as it is not so comfortable to hold. You will need to sand it down till your grip is comfy.
Not suitable for long-distance play.
If you want to know in more detail about this STIGA Pro Carbon bat, you can look at the link below:
Stiga Pro Carbon Table Tennis Paddle Review
Other Stiga rackets including of:

6. Butterfly 8826 Timo Boll Table Tennis Racket
This Butterfly 8826 Timo Boll Carbon racket is designed for the needs of the more serious recreational player. The rubber can offer a good balance spin and speed to any player.
This bat can produce a reasonable amount of spin which will enable you to progress your play very quickly. You can make use of this racket in school or at a youth club. The racket can produce decent spin and so you can use it to develop your skills. The additional carbon fiber plies will give you more consistency and more powerful attacks.
You can hit the ball back and forth with some spin by using this Butterfly 8826 Timo Boll Carbon racket. You are going to instantly feel a benefit from this bat with the spin and control it offers you.
Pros:
Returning the smash from the opponent becomes easy.
Offer you great spin and speed.
Affordable price for beginners.
Cons:
Slightly lightweight.
May not give you an overly lively feel.

7. Yasaka Mark V Bat
This Yasaka Mark V features 2.0 mm thick rubber and it is a 5-ply offensive bat. It is a lightweight bat that you can have for yourself. This blade is meant for offensive players.
With this bat, you will find it is easy for you to do a push to any side you want the ball to go.
Yasaka is doing well for the low throw so it suits players who are doing a lot of low throws. This is a racket that can give you good speed and control.
This bat has existed in the market for quite some time, but many people are still in love with this bat. My friend has had this bat with him for almost 4 years. Without putting the bat into a case or having any special treatment, the bat is still in good shape and performs very well.
Pros:
Good speed and spin.
It can help you develop a good push/block in practice.
Cons:
Rubber is not of great quality.
Control is not that good.
If you are looking to get this Yasaka Mark V racket, you can get it from Megaspin.

8. JOOLA Spinforce 900
This bat features with new Infinity Rubber. There is a 2.2mm soft sponge attached to the blade. It is a 7 Plywood carbon blade.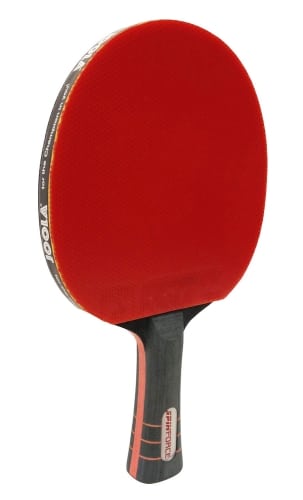 This JOOLA Spinforce 900 is the ideal racket for those who have mastered the basic skills of ping pong and wish to advance their playing to the next level.
When you first get this bat, you may need a few weeks to practice and get used to it. Once you start to adjust to the bat, you will start to fall in love with it.
With the bat in hand, you will have enough speed and control over the ball.
Nonetheless, if you buy this bat, it is better for you to take it and hit some balls in the first place to test out the blade and the rubber. There are players in my area who bought this bat but the red rubber broke off on the side just after a few days of playing.
Pros:
It can offer you great control and spin.
The bat is lightweight but can give you strong hits.
A well-balanced bat.
Cons:
The rubber can be easily worn off from the blade or deteriorate on the edges.
You can get this bat at Megaspin.

9. Eastfield Offensive Professional Table Tennis Racket
This bat is ideal for intermediate or advanced players. The bat is constructed with 7-ply ashwood and the blade is affixed with 2.1mm rubber.
Once you master the basics and wish to progress up to a higher level in playing ping pong, you may consider getting this bat.
The bat can offer you great spin and good speed. Even though the bat is classified as an offensive one, it is still very good at blocking offensive smashes from the opponent.
Some players may not like this bat as its weight is quite light which they might feel it does not really give them a firm grip of the blade in their hands.
Pros:
Offers players great control.
Cons:
You can buy this bat from Amazon

10. Idoraz Table Tennis Paddle Professional
This is a quality bat for the game of ping pong. The bat is really well-made and it has a nice professional feel. The bat comes with a 2.00 mm rubber coating. If you are a basic ping pong player, this Idoraz table tennis bat will help to bring your skills to the next level.
The bat can offer you great spin and balance when playing on the court. When I first held the bat in my hand, I can feel it is slightly heavier compared to the Killerspin Jet 200 that I used before getting this bat.
The grip is pretty good. It is ideal for players who love to do a lot of offensive attacks. When the bat comes in contact with the ball, you can immediately feel the crisp touch. Also, it gives you a very great bounce which can help to improve your game in no time.
Overall, this Idoraz table tennis bat can give you excellent speed, spin, and control.
Pros:
Can help you to improve your playing skills.
The bat is well-built.
Great value for the price that you pay for.
Cons:
The rubber is quite firm. It is good if the manufacturer can provide a softer rubber which can help to generate more spin.
The bat is slightly heavyweight.
You can buy this bat from Amazon

11. GEWO CS Energy Carbon
This ping pong bat is part of the CS series developed by GEWO. The blade is very well constructed and the workmanship is great. It is built with 5-ply wood that is made of 5 specially glued veneers.
There is a 1.8mm thickness for the rubber on both sides of the blade. It is a great ping pong bat for players as it gives you an excellent grip.
With this bat, you can perform very well for your forehand counter and forehand loop. It can generate a lot of spin and speed. Besides, it gives you very good control of the ball. You can use this bat to play short or close to the table shot.
The GEWO CS Energy Carbon racket also performs quite well for the backhand counter, third ball, and fifth ball attack.
Pros:
The bat is ITTF-approved for tournament play.
You can get a lot of spin and power.
It fits very well in the hand.
Cons:
The feel of the grip can be better if there is no plastic logo attached to the handle.

Table Tennis Bats That You Should Avoid
A pre-made bat means that it comes preassembled. It has the blade and the rubber already glued onto it. You don't need to buy any rubber to glue onto the wood; you can just take out the bat from your case and start to play. Generally, a better quality pre-made racket should last you for about a year.
When you are still learning to play, you should choose the pre-made table tennis bats, but don't choose the ones that are of a very low quality. Low-quality bats will not give you the grip, control, speed, and spin that you want. You just can't control your stroke at all. This will not help you to improve your overall playing skills. You should always pick ones of better quality.
Many people are confused about what constitutes a good table tennis bat. Well, the easiest way to determine the quality of a pre-made bat would be to look at its price.
Most better-quality ping pong rackets are in the $30 – $70 price range. Those that are cheaper than $30 tend to be low-quality table tennis bats that are not suitable to be used for practice if you are serious about playing table tennis. They are meant for recreational play only.