Buying a pre-made paddle takes out the guesswork of choosing a blade and rubbers for yourself. Most brands offer a fairly limited selection of pre-made paddles from beginner to advanced. However, Butterfly has a vast selection of rackets to choose from. I've had the pleasure of using their equipment right from when I first started to play table tennis, all the way up to now as I sit here writing this as an advanced player.
In this post, we discuss why you might want to choose butterfly ping pong paddles over others from competing brands, and we select some of our favorites for each skill level.
Why Choose Butterfly?
Butterfly is widely regarded as one of the top table tennis manufacturers in the world. Yet not only are they a leading producer today, but they have also been around for many years and are a pioneer of the sport.
Back in 1954, Butterfly built its first blade factory, and it hired furniture craftsmen to create these blades. Just two years later, Butterfly opened its first rubber factory, and in 1967 they struck gold with Sriver. It revolutionized the industry as one of the first rubbers with a highly elastic synthetic top sheet, but Butterfly didn't stop there. Bryce was later released in 1997, followed by the immensely popular Tenergy in 2008.
Their blades also proved very popular with pros and club players alike. The superior craftsmanship backed by decades of experience helped cement Butterfly blades as world-class. This is a sentiment that lasts to this day. According to Butterfly, a staggering 46.9% of players at the 2021 Houston World Championships used Butterfly rubbers. As for the blades, it's even higher at 54.8%. This shows that Butterfly table tennis bats are incredibly common at the top level, far more so than any other brand.
Recent Developments
Butterfly's newest series, Dignics, has received widespread praise from the table tennis community. As the successor to the Tenergy series, it's aimed at advanced players who need a competitive edge. The new Spring Sponge X technology has improved elasticity and abrasion resistance on the old Spring Sponge X tech.
The most recent addition to the Dignics range is Dignics 09C. Unlike the other rubbers thus far it is fairly tacky and uses a new type of pimple geometry. It's so popular, in fact, that it caused Timo Boll to make the switch from Tenergy 05 — a rubber he has been loyal to for many years.
As for blades, Butterfly has released a tonne of new ALC and ZLC blade variants recently. However, while these are simply gorgeous, they are by no means revolutionary, as the changes are mostly cosmetic on previous models. Instead, the release of the Super ZLC and Super ALC series has been more impressive. The Super ZLC series features double the density of ZLC fibers on the old tech, providing a superior sweet spot. Similarly, the Super ALC material has a higher bounce with the flexibility of the previous range.
But What About the Cost?
The price tag is the only glaring issue across most Butterfly table tennis rackets. As an industry leader, Butterfly produces some of the best equipment on the market. Therefore, they can charge a premium for their products — it's only fair, given how they constantly push the boundaries of table tennis equipment.
While Butterfly's newest releases are wildly expensive, you can bring the cost right down by picking up older but still high-quality equipment. The Nakama S-6 Butterfly paddle is a great example as it features Sriver. That's certainly my recommended buying strategy most of the time. However, the investment for high-end rackets is often worth the price tag when you use table tennis paddles by Butterfly and feel their quality.
Their blades, especially, are a solid investment. This is because blades do not need replacing unless they become damaged. This means a hefty investment of, say, $200 is not too bad if you consider that you can use the said blade for the next 10-20 years. As such, many of Butterfly's more expensive advanced rackets may be better deals than at first glance. These advanced paddles feature some of their best blades, and I, for one, would rather have a Butterfly blade than a blade from virtually any other table tennis brand.
Best Butterfly Ping Pong Paddles for Beginners
Butterfly 401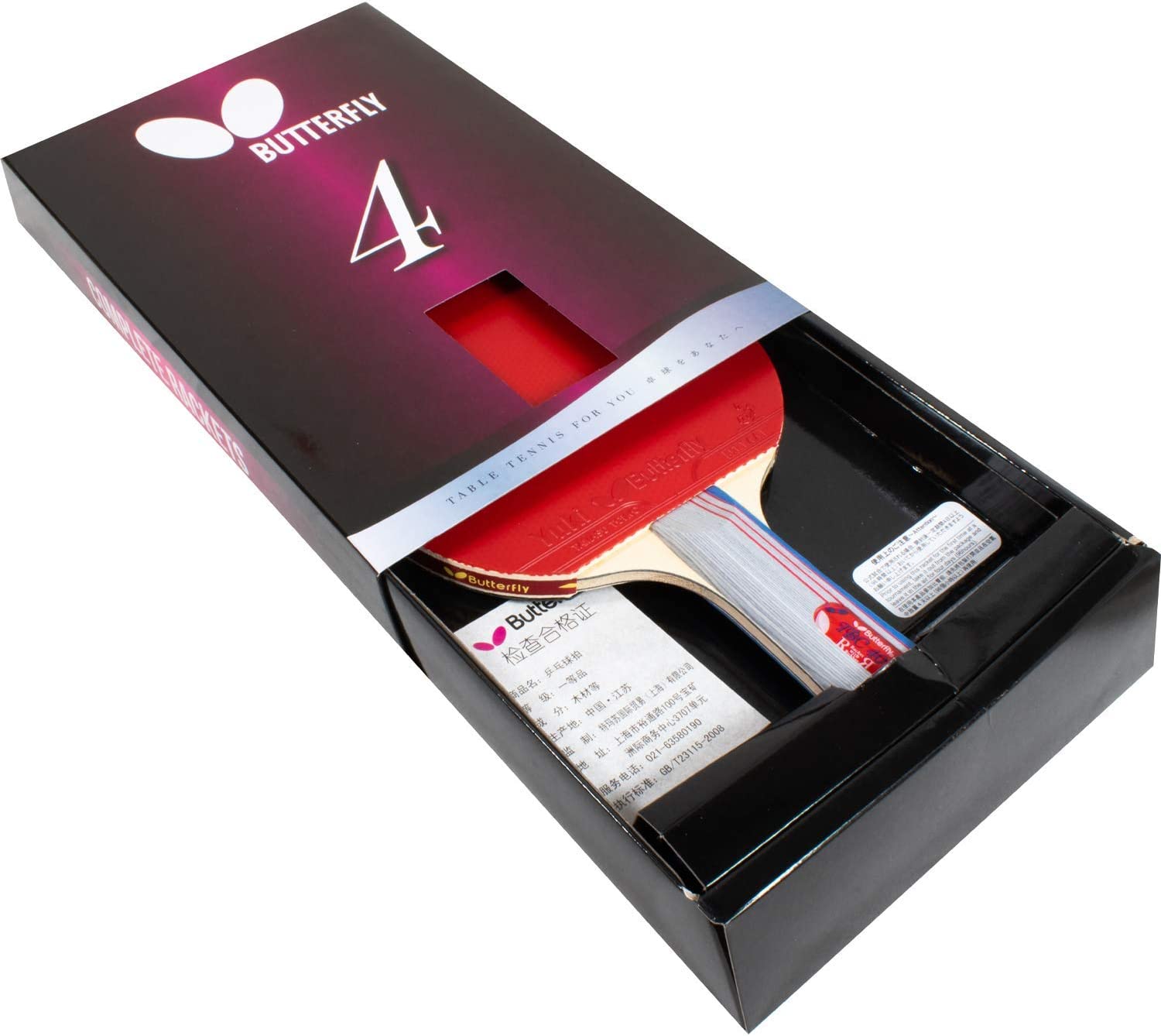 Pros:
Good speed and spin
Perfect for the all-round style
Good value for money
Includes case
ITTF-approved
Cons:
Might be too slow for some players
The rubbers are permanently glued to the blade
Our first ping pong paddle by Butterfly for beginners is the Butterfly 401. As a best-seller, it is simply an option we could not overlook!  It features a 5-ply wooden blade with a comfortable flared handle, and as for the rubbers, it uses Yuki on both sides in 2.1 mm. While this thickness is usually for the offensive style, Yuki is not very fast so don't expect something blisteringly quick. Instead, the 401 paddle has a lot of control and a little more spin than speed due to Yuki's tacky surface, making it the perfect choice for beginners.
Another benefit to picking this paddle up is the price. Butterfly is well-known for charging a lot for its products because of their high quality. However, with the 401 you don't need a deep wallet. It is very well-priced and even comes with a racket case which is one less thing for you to buy. Our main issue with this paddle is the fact that the rubbers are permanently glued to the blade so you cannot swap them out. That being said, this is a common practice for beginner paddles, and by the time the rubbers are worn, you will likely want to upgrade your setup anyway.
To learn more, read this Butterfly 401 paddle review.
Butterfly Wakaba 3000 — Budget Choice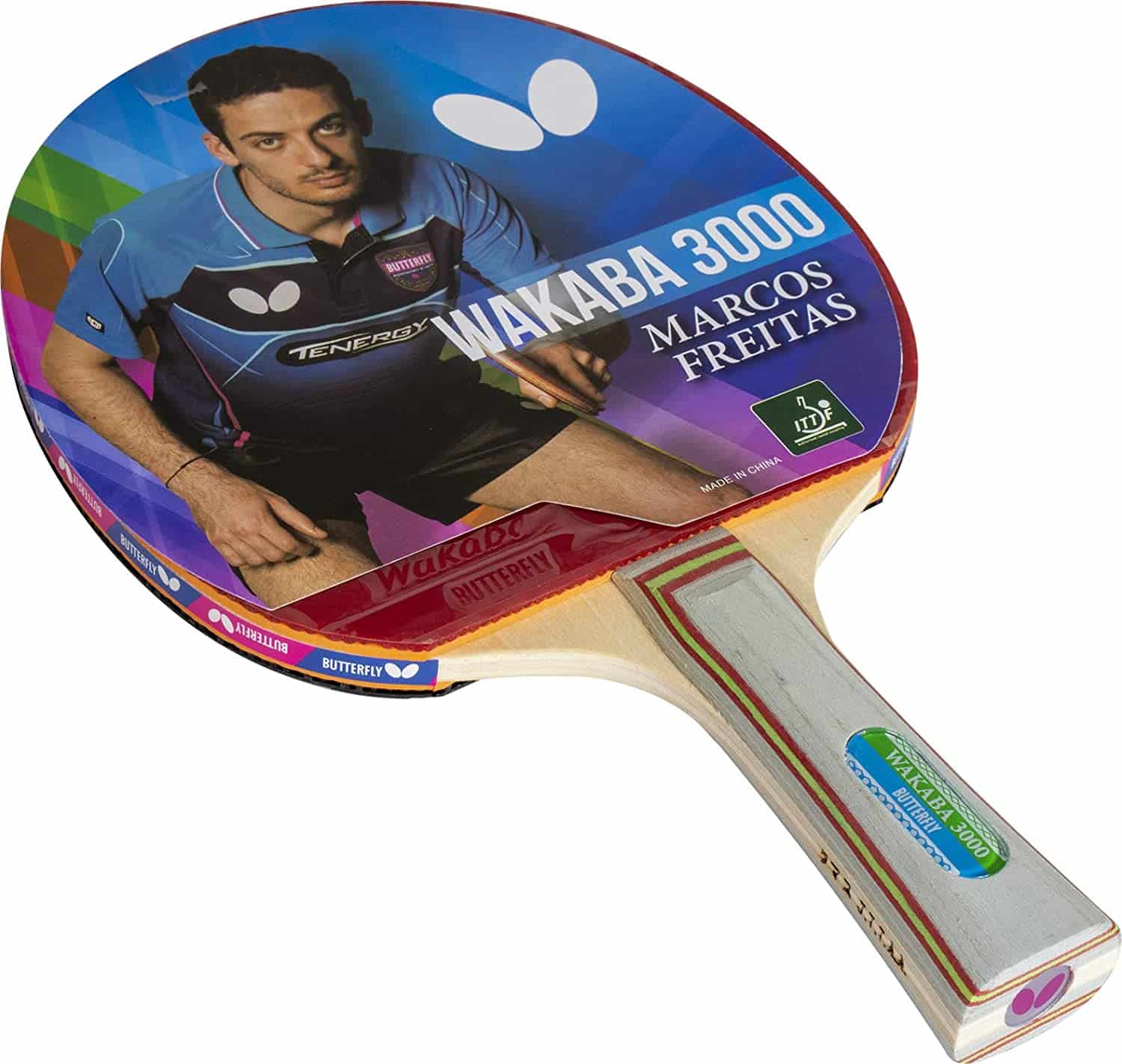 Pros:
Very inexpensive
Perfect for the all-round style
Very high control
Includes 2 balls
ITTF-approved
Cons:
Might be too slow and not spinny enough for some players
The rubbers are permanently glued to the blade
Next up, we have the Wakaba 3000 Butterfly table tennis paddle. This is another racket that is massively popular with players, and it's no surprise what draws them in… it's the price! The Wakaba 3000 is incredibly cheap and has good performance making it a great buy for casual players. Like the 401, it uses rubbers with 2.1 mm sponge thickness. However, this time it's not Yuki, but rather Wakaba. A key fact to note is that you can get a thinner sponge if you so choose. The Wakaba 2000 uses 1.9 mm sponge, and the Wakaba 1000 uses 1.7 mm sponge. The handles of each paddle also differ.
As for the blade, it uses a standard 5-ply all-wood construction, just as you would expect for a beginner audience. Overall, the Wakaba 3000 is a great cost-effective racket option. Sure it's a little on the slow side and doesn't produce much spin, but this is fine for many beginners. It even comes with two training balls, so you can get playing right away!
If you're interested in this Butterfly racket, check out Ping Pong Ruler's review.
Best Butterfly Ping Pong Paddles for Intermediate Players
Butterfly Nakama S-8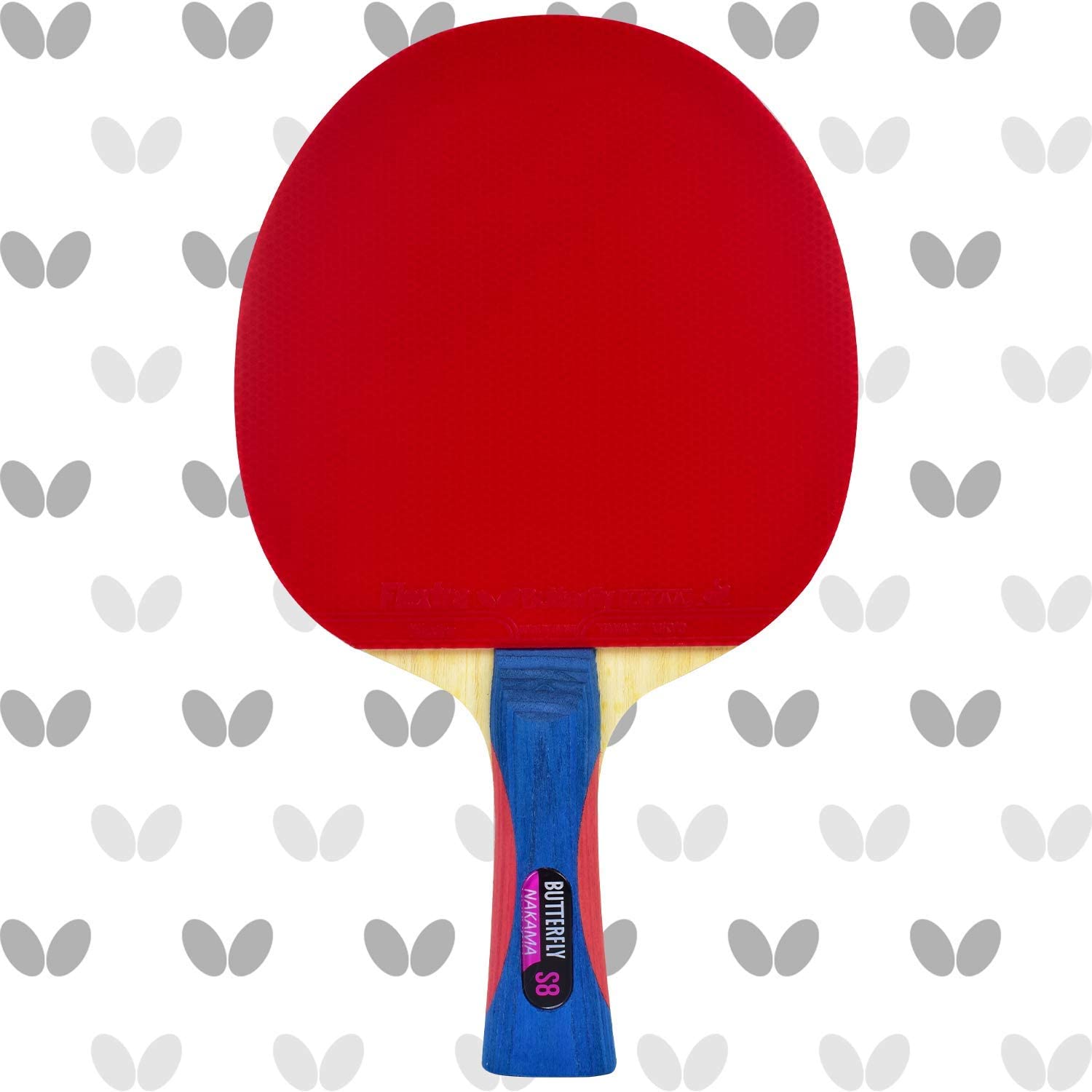 Pros:
Well-priced
Perfect for the all-round style
Good speed and spin
Includes 2 balls
ITTF-approved
Cons:
The rubbers are permanently glued to the blade
The Butterfly Nakama S-8 significantly upgrades the previously mentioned beginner paddles. It is much faster and spinnier, although still very controllable for the intermediate player. Like the others, the blade is 5-ply with no carbon layers for maximum control, and the handle uses a concave grip which is the most popular.
However, the Flextra rubbers are a little more lively. They offer increased speed and spin while maintaining high levels of control. Where these differ from most intermediate rubbers is their hardness. They are very soft, giving you superior feeling, and helps to produce spin on the ball — quality characteristics for developing players.
As before, the drawback to this paddle is that Butterfly uses super glue to affix the rubbers to the blade meaning you cannot remove them. While this isn't much of an issue for beginner Butterfly paddles it is more so for intermediate and up. You are more likely to want to stick with your blade and just switch the rubbers out.
Butterfly Nakama S-6 — Top Intermediate Choice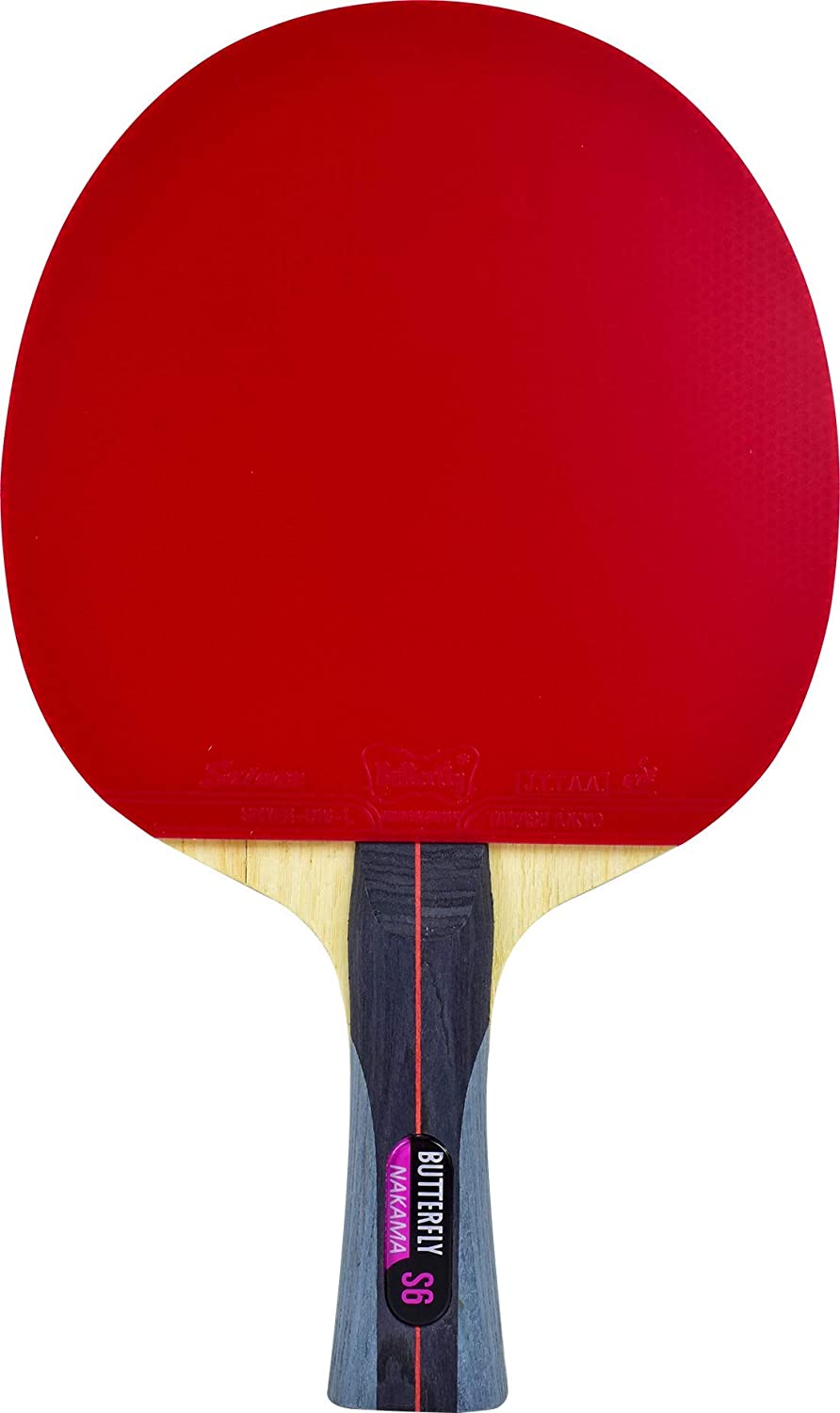 Pros:
Features legendary Sriver rubbers
Perfect for the all-round style
Good speed and spin
Includes 2 balls
ITTF-approved
Cons:
The rubbers are permanently glued to the blade
While it may seem a fair assumption to expect the Nakama S-6 to be a slightly inferior version of the Nakama S-8, this is not actually the case. The S-6 Butterfly racket is more expensive due to featuring Sriver rubbers rather than Flextra. While Sriver is not considered top quality by today's standards, there was a time when Sriver was one of the top rubbers as it helped pro players win over 20 World and 70 European titles. It even ranks as Butterfly's best-selling rubber today which should speak volumes about its popularity.
Sriver has more spin and speed than Flextra, making it a great choice for intermediate players who love to attack. However, you shouldn't worry about a lack of control. Sriver is fairly easy to tame and the Nakama S-6 uses a 5-ply all-wood blade so it is not particularly quick. If it were up to me to choose between the S-6 and S-8 I'd certainly go with the S-6.
Best Butterfly Ping Pong Paddles for Advanced Players
Butterfly Timo Boll ALC Proline w/Tenergy 05 — Most Popular Advanced Pick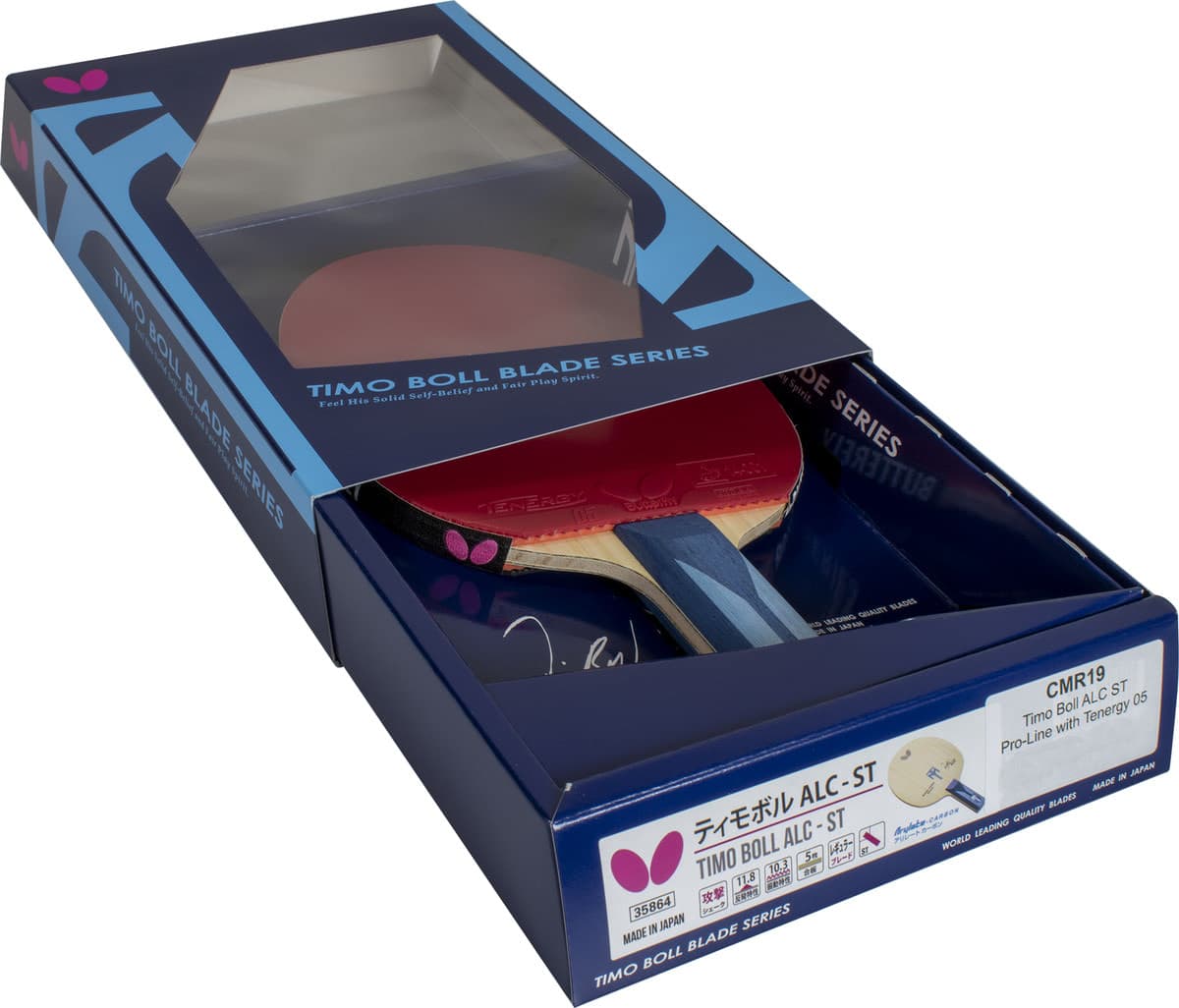 Pros:
Very fast
Very spinny
Hugely popular with professional players
Beautiful blade
ITTF-approved
Cons:
Expensive
Hard to control
If you're an advanced player and unsure of what table tennis bats by Butterfly are for you, it's pretty hard to go wrong with the Timo Boll Proline racket. It features two of Butterfly's most popular products. Tenergy 05 is largely considered the best rubber the company has put out. And the Timo Boll ALC blade, which, again, is one of the most popular blades by Butterfly. If their huge popularity among fellow players wasn't reassuring enough, place your trust in professionals instead. Both products are widely used by the pros, showing that they can perform at the top level. It's just a matter of you needing the skill to effectively control your shots.
Tenergy 05 is a very spinny and fast rubber. It features Spring Sponge technology which causes the ball to kick off your racket when you start entering the higher gears. As such, it's great for offensive play. Equally, the Timo Boll ALC is a quality blade for the offensive style. It features 5 wooden layers with 2 layers of arylate carbon, making the blade faster and stiffer than most all-wood blades.
The clear drawback to this exceptional paddle is its price. While very high quality, it's overpriced for what you are getting when you look at what other table tennis brands are selling.
If you want to learn more, consider giving our Tenergy 05 and Timo Boll ALC reviews a read.
Butterfly Jun Mizutani Proline w/Dignics 80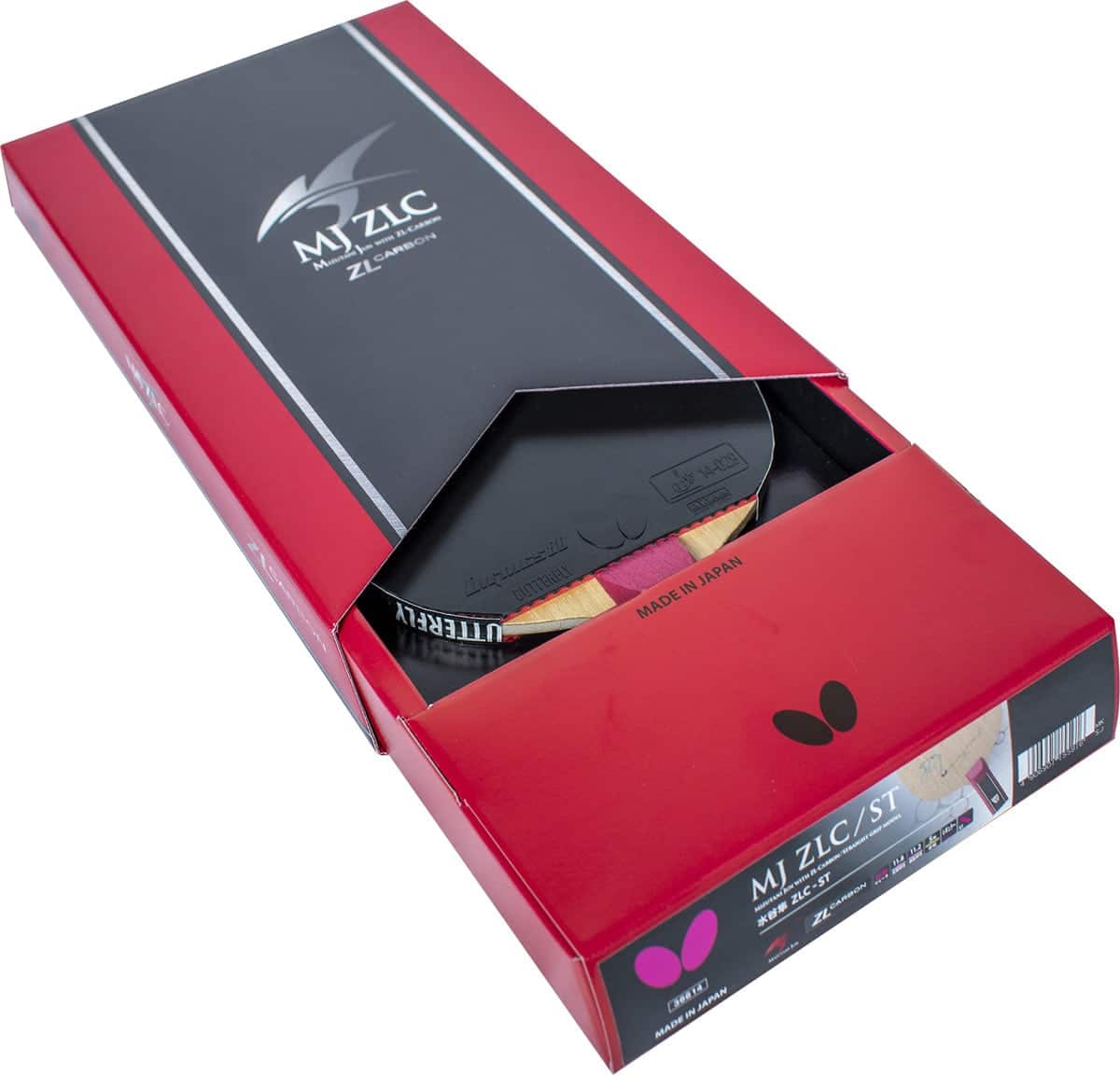 Pros:
Very fast
Very spinny
Hugely popular with professional players
Beautiful blade
ITTF-approved
Cons:
Expensive
Hard to control
Our final advanced ping pong paddle by Butterfly is the Jun Mizutani Proline. This includes the Mizutani Jun ZLC blade with Dignics 80 on both sides. In all honesty, there is little to separate this paddle and the Timo Boll ALC Proline in terms of performance. However, both products for this paddle are a little newer, which is why the racket costs notably more.
First up, let's talk Dignics 80. It's essentially a newer version of Tenergy 80. It features Spring Sponge X tech rather than the old Spring Sponge and is supposedly more abrasion-resistant. That being said, the rubbers perform very similarly, and you may not even be able to tell the difference.
Onto the Mizutani Jun ZLC. Unlike the Timo Boll ALC, which uses arylate carbon, this blade features ZL carbon. The ZL fiber layer increases elasticity and strength while keeping the blade lightweight. While this may be the case, once again, both blades perform similarly. The main difference is that the Mizutani Jun ZLC is a little faster and has less control.
FAQs
Is Butterfly a Good Ping Pong Paddle Manufacturer?
Butterfly is considered the top table tennis brand by most people. This is because they produce high-quality equipment for players of all skill levels. At the top level, their equipment is very common. According to Butterfly, at the 2021 World Championships in Houston, 46.9% of players used Butterfly rubbers with 54.8% using Butterfly blades.
What Is the Best Butterfly Table Tennis Racket?
The best Butterfly table tennis racket is dependent on your skill level. Our favorite for advanced players is the Timo Boll ALC Proline. It features the wildly popular Tenergy 05 with the Timo Boll ALC blade. This is the exact setup Timo used to stay at the top level for decades.
Conclusion
Butterfly ping pong paddles are very high quality, and while their advanced offerings can be very expensive when compared to other brands, they are often good options if you plan on keeping the blade and swapping the rubber when they wear out.
To recap, our favorite beginner Butterfly table tennis racket is the Butterfly 401. It's highly controllable, very well-priced, and has sufficient speed and spin for the entry-level player.
As for our intermediate choice, that goes to the Butterfly Nakama S-6. Featuring a 5-ply all-wood blade with Sriver, it's the ideal build for a capable player looking for good control while requiring increased levels of spin and speed.
And finally, as for our top advanced racket, we recommend the Timo Boll ALC Proline. Choosing this paddle was simple. Both the Timo Boll ALC and Tenergy 05 are some of the most popular advanced equipment Butterfly has made, and speaking from experience, they are both deadly in the hands of a skilled player.