Here are brief reviews of the Killerspin JET series racket. Killerspin makes a series of rackets range from 100 to 800.
For Killerspin, the competition rackets that they produced are very different from the recreational one. Depends on how you want to play ping pong, you can get the type of racket that meets your needs.
Here are the JET series of rackets that being released by Killerspin to cater all levels of table tennis players. You may take a look at the features of each racket and deciding which one is best for you.
Killerspin JET 100
This is the beginner racket and you need not let it dissuade you from this product as it also has a great feel for you to hold it in your hand. The flared handle is measured at 4 inches make it look like a pro one. It is constructed with 5-Ply of wood so it can be considered as a quite sophisticated racket.
It is very reasonable for beginners to practice their skill as the ball that hit with it isn't too fast which make it more controllable. There are 2 protective layers from both sides of the rubbers. After you peel off, you can see the rubber which is green on one side and black on the other side.
The blade thickness is 5.9mm and you can feel the sponge rubber material when you use your finger to touch it. The edge is a drag with a nice logo tape. It is hard for you to find a better racket for the money that offers you the quality to be similar to this one. It surely beat all the low-end rackets that you find at the major sporting good stores. Dimension is measured at 6×6 inches
Killerspin JET 200
This is a racket that is suitable for beginners which come one step up from JET 100. It is a recreational racket as well. The plywood inside built with 5-ply or 5 layers of wood component. This racket can give you a little spin and control compared to the JET 100. It has a flared handle which is measured at 3.78 inches long which is pretty close to 4 inches.
When you order this Killerspin JET 200 racket, it will come with protective layers on both sides. You may just peel the protective layers off and you will have the direct touch with the rubber sheets that have black at one side and blue at the other side.
It is a great feeling racket when you first grip it with your hand. Overall, it is having a blade thickness of 5.9mm. The head dimension is measured at 6×6 inches. For the speed control is quite fair but can be relatively slow since this is just a racket made for beginners.
You may get a higher rating for the spin control. The ball that you hit with this racket will not come out super fast. But the speed is enough for you to play the ping pong at that level. So if you are a recreational player who is looking for a reasonable bat, you can consider buying this Killerspin JET 200.
Killerspin JET 300
This racket is range right in the middle from a similar series. So it is great for beginners and recreational table tennis players. It may perform well for beginning at that competitive. There are 5 layers of wood and a sponge material underneath at the rubber on both sides. This provides a little extra cushion and is great for spin and control.
This racket is getting higher in the series where you will get more spin and control. Flared handle is about 4 inches long and the thickness of the blade is about 5.9mm. There are protective covers on both sides. The rubber sheets are red on one side and black on the other. You can get a really good feel about it.
This racket is weight at approximately 180g. You will be pleased to have this basic racket and play with your favorite game. Money wise, it is of great value and should ramp up your game if you are between the beginner and intermediate skill level.
Killerspin JET 400
The 400 is right above the midpoint among the rackets. It flared handle is about 4 inches long and it is geared for the heavy recreational like competitive use. So if you are competitive players you might find this racket is suited for your playing style.
It comes with a protective film on both sides when you first receive your racket. You can peel it off from both sides before grabbing it to hit the ball.
The blade itself is 6.4mm thick overall and the rubber compound is approved by the ITTF.
You want to make sure that you are using an approved rubber compound so that when you get into the competitive tournament, you will not get disqualified because of using the sub-standard racket.
This is a 5-ply wood racket which is quite durable and can offer a player with a lot of spins. The control of this racket is more than the JET 100 to 300 series because of the rubber compound, thickness and etc.
There is a sponge component which that you can found that is of a yellow layer of 1.8mm which provides some cushion so you are able to swing harder and really attack the ball.
Killerspin JET 500
This is categorized as a high-end racket in Killerspin JET series. It is built for competitive playing for intermediate players. It is not really suitable for recreational players unless you need extra spin and control. It has a 5-ply wood blade and the length of the flared grip is about 4 inches.
It has protective layers for both sides of the rubbers. The rubber is black on one side and red on the other side. You can sense the sponge layer underneath the rubber. The thickness is about 6.7mm. The rubber that attached on the blade is ITTF approved. That's important if you are in a competition where you will need to play with an approved type of rubber from ITTF.
If you take a look at the rating of this racket, you will notice that the control is at 8, speed is 7.5 and spin is 9. So this racket is really set up to offer players with a lot of spin on the ball and you will get better play in a competition.
Killerspin JET 600
Now I am going to review the Killerspin Jet 600 table tennis bat. Killerspin makes the series of Jet racket range from 100 all the way up to the 600. Therefore, this 600 is the top of the line and is designed for competitive play. It is well catered for intermediate and professional ping pong players.
Specs:
Ply: 5-plies wood
Rubber: Nitrx-4z 2.1mm
Handle Style: Flared
Dimensions: 6″ x 6 1/8″
ITTF Approved
Rating:
Speed: 8.0
Spin: 9.0
Control: 8.5
Weight: 182g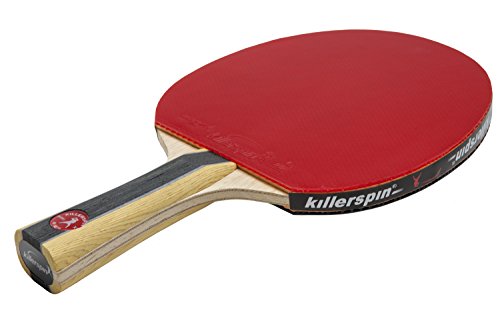 Some Insights
You will notice the bat is having 5 ply of wood inside. There are a sponge layer and the rubber on the outside. It has a flair grip with a length of 3.78 inches long. You will have a very nice feel on the grip overall. There is a protective layer on both side of the bat plastic when it shipped to you with one on the black side and one on the red side.
The rubbers on the outside are the kind of rubber that approved for ITTF play. This is very important if you are a professional player and want to get an approved ping pong paddle for you to play in the tournament.
The sponge layer underneath the rubber is about 2.0 mm thick. It is a really good feel for it if you look at the ratings on this for the speed with 8 out of 10, spin 9 out of 10, and control 8.5 out of 10.
So this racket will allow you to really hit the ball hard. Allows you to put a lot of spin on the ball and that is what you want as a competitive player.
Take It or Leave It
The dimension of this Killerspin Jet 600 is: 6.1 x 10 inches and the weight is 9.4 ounces. With this weight, some players love it but some are not really used to it. Players that love it found the heaviness of this racket provides them good attacking and it makes a good spin on the ball. But for players who not really a fan of it, the complaint that because it is heavier than most of the other rackets, it made their shots hit straight instead of curve one which allows opponents to hit back and rebound very fast.
Thus, it is rather subjective and you will need to know if you are the player that loves the heavyweight paddle of lightweight one before making your decision on getting this racket.
Disadvantage
One disadvantage of this bat is due to the bat is manufactured from the production with adhesive glue to allow a player to play immediately when they take the bat out from the box. Due to the strong glue, it is very hard and is not recommended to remove the rubber sheets and replace with a new one. Some players might feel not comfortable with this.
Get a Killerspin Jet 600 table tennis bat and you can't go wrong with it. You can get the racket for about $70 from Megaspin.
Killerspin JET 700
The racket is built with high-quality material. There are two Nitrx-4Z rubbers at both sides of the blade and the thickness of the rubber is 2.0mm. The rubber is black on one side and red on the other side and it is ITTF approved. The blade is constructed with 7-Ply all-wood and the head dimension is measured at 6 x 6 1/8 inches.
The rating for this racket is quite good. The control is at 8.3, speed is 9 and spin is 9. The weight is approximately 195g.
If you buy this racket, you will need to get it to practice for a while to get comfortable with the weight of the racket. However, once you get used to it, you will be very pleased with every aspect of it.
This Killerspin JET 700 racket is designed for club-level competitive players. It can be of the high price as a pre-made racket for some people, but you will get the speed and spin that you want with the price that you pay for.
Killerspin JET 800
This is a high-end pre-assembled racket that is specially made for intermediate to professional players. There are two Nitrx-4Z rubbers at both sides of the blade and the thickness of the rubber is 2.0mm. The rubbers are of one side black and one side red. It is also ITTF approved.
The Killerspin JET 800 blade is constructed with 7-Ply with 5 layers of wood and 2 layers of carbon. The head dimension is measured at 6 x 6 1/8 inches.
The rating is very high as well. The control is measured at 8, speed is 9.5 and spin is 9. The weight is approximately 190g.
This Killerspin JET 800 is a great racket that can let an advanced player play the aggressive offensive game without working against their skills to return ferocious shots from their opponents.
The Killerspin JET 800 is a great all around paddle you can have if you are an offensive player. It tends to perform very well in a tournament.
Killerspin company logo looks like Ferrari which seems like a little fancy for me. But the paddles that manufactured by this company are always of quality one.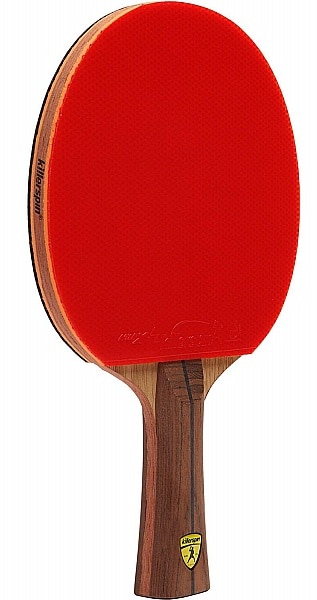 Construction
The blade of JET 800 is built with 7-ply wood: 2 carbon fiber and 5 composite wood. All stacked together to make this beautiful paddle. The paddle is having a nice large sweet spot. It features two 2.0mm Nitrx-4Z rubber which is ITTF approved. Thus, there is no problem for you to use this paddle to play in an official tournament.
Specs:
Ply: 7-plies (2 Carbon + 5 Wood)
Rubber: Nitrx-4z 2.1mm
Handle Style: Flared
Dimensions: 6″ x 6 1/8″
ITTF Approved
Rating:
Speed: 9.5
Spin: 9.0
Control: 8.0
Weight: 190g
First Time Holding Experience
When I first hold the paddle in my hand, I can feel it is quite heavy as the weight is approximately 190 gram. It is heavier than my Stiga Apex by a noticeable amount. When you first take off the cover protector from the paddle, you will have a very sticky feel when you touch on the rubber. The thickness of the racket looks like adding two more layers than the regular racket.
How good is this Killerspin JET 800 paddle
I have tested the paddle for a couple of practices and I can feel it is a very powerful paddle that can give me a lot of spin with very good control. For some players who are not using such paddle before, they may need to take some time to get used to it.
The bounce is great and the paddle can give you a lot of balance. It can give you a lot of forces to your opponent. In addition, it can provide you with the great responsibility of control. You may found it is actually pretty hard to learn how to control.
Drawback
If you are a defensive player, this paddle may not suit your style well as it may give you a bunch of trouble to keep the ball on the table. You will need to stand closer to the table in order to make sure that you are not missing any of your shot.
It is quite a pricey paddle and you may want to take good care of it by inserting the paddle into a case when not in use. This can also prevent the rubber to get dirty real quick.

I must say this Killerspin JET 800 paddle can provide you with the best value for the money that you spent. If you are looking for a pre-assembled ping pong paddle for an intermediate level of play, then this is the one that you can take into consideration. It is one of the good performance paddles in their line up.
 Killerspin JET 800 vs 

Stiga Pro Carbon
Both rackets are well fit for offensive players. If you wish to have more control when playing the game, you should choose the JET 800. However, If you like to play an attacking game and didn't care much about control, then you may consider the Stiga Pro Carbon. The price for Stiga Pro Carbon is about $72.  You can read more about the racket here.
You can buy this paddle for the best price from Megaspin.
The Bottom Line
You shouldn't get any Killerspin JET 100, 200 or 300 if you are playing in a club since the 100 to 300 series are just for recreational players and never can give you good performance in tournaments. Unless you just want to play ping pong for fun during your leisure time.
You should at least go for the JET 400 or 500 if you are serious in playing in competition. If you are experienced enough and at intermediate playing level, you should get at least a JET 600. And if you would love to improve your skill to advanced level, go get the JET 700 or 800.
At the moment, the Killerspin JET 800 is the highest of the series that you can get. Maybe Killerspin will come out another one for this series soon. Just wait and see.
You may also check out the article that discusses various table tennis bats suitable for all players.