Butterfly, DMI, Double Happiness, Joola, Killerspin, DHS, TIBHAR, and Stiga are just a few of them. These may sound like the cast of characters from the latest action cartoon to the uninitiated, but these are some of the big names in table tennis.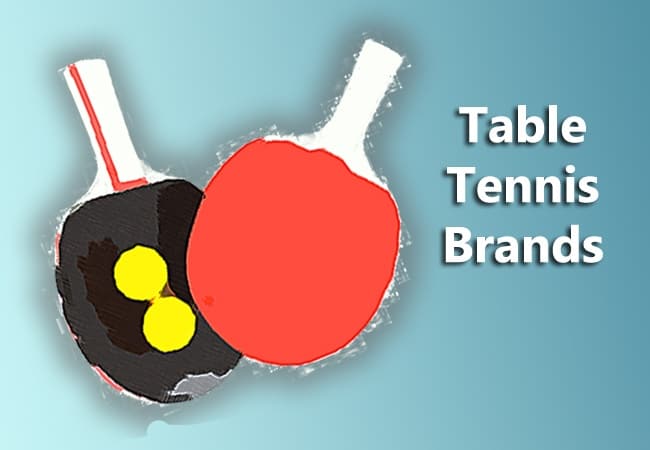 What's the difference between the two of them? That can be difficult to say since much of it boils down to personal preference and brand loyalty. Each table tennis table and accessory manufacturers produce a line of products from the economical up to the highest quality. The following is some information that you can refer to.
Butterfly
Butterfly is a renowned brand for manufacturing ping pong tables, balls, and nets. The brand happens to be selected to provide all appropriate equipment for the Asian Championships, European Championships, World Championships, ITTF Pro Tour Finals, and many other international tournaments.
The company is also the primary supplier of table tennis equipment for the U.S. Nationals and U.S. Open Table Tennis tournaments. Butterfly is one of the largest and complete lines in the world. They are located in Europe and Asia, where table tennis has its largest following.
DMI and Prince
DMI is an American company that began manufacturing professional dart equipment in 1976. They have since expanded to include dealing in Prince table tennis equipment. Prince may be better known as a tennis name, but they make table tennis tables and accessories for every caliber of player.
DHS
The DHS is almost the first brand that every Chinese person knows when exposed to the sport of table tennis. It is the top brand of Chinese table tennis bat.
DHS table tennis has been involved in the supply of equipment for many international tournaments. Since the 4th Olympic Table Tennis Competition in 2000, the DHS has been the game's designated equipment supplier.
Some world top Chinese table tennis players are the spokesmen for Double Happiness. Double Happiness table tennis bats range from blade to rubber, from entry-level to a high level, with a wide range of suitable products and equipment for people to play table tennis. And the good thing is that all these are available at a very affordable price.
Joola
Joola is the major German manufacturer of table tennis equipment. Joola has sponsored the 2004 Olympics, Global Junior Program, the World Cup, and some of the European Championship Qualifying Tournaments.
Killerspin
The company is located in Chicago of the United States and can be said to be the leading table tennis equipment producer in America. As a partner of ESPN, Killerspin works to promote table tennis television programming. They make equipment for players at all levels.
Sportcraft
Sportcraft is a New York-based company that has been in business since 1926. They make a variety of game tables and sports equipment. Their table tennis line is not as complete as the others, but their products are suitable for beginners and intermediate players.
Stiga
The Swedish company Stiga makes a wide variety of table tennis tables and accessories for the beginner up to the professional. They offer decent equipment at a good value for beginners and intermediate players and the top line equipment for professionals.
TIBHAR
TIBHAR was founded in Germany in 1969. It is a global high-quality table tennis product brand and one of the most prestigious tables tennis brands.
The company is the primary sponsor for numerous table tennis national teams, associations, and athletes.
The history of TIBHAR can be traced back to the sports school founded in 1959 in Saarbrücken (the capital of Saarland, Germany). Internationally renowned table tennis coach and former world-class table tennis player Tibor Harangozo opened an international table tennis course in this location.
In 1969, Tibor Harangozo started the company and named the company TIBHAR. "Tib" and "Har" are the first 3 initial characters of his name.
After he died in 1978, the company still uses the name "TIBHAR". Today TIBHAR has developed and become a renowned brand for many players. It is a synonym for high-quality table tennis products worldwide.
Yasaka
Yasaka is famous for its shakehand blade. The blades are known for their excellent control and great feel. The former male single world champion Ma Lin uses the Yasaka YEO.
If you are a table tennis fan of shakehand blade, and you are not price-conscious, then Yasaka is a blade that is worth considering.
Besides, Yasaka's high-end rubber is also excellent. They are flexible, fast, and tacky. They are the best rubber choices for many table tennis professional players to be used as their backhand rubber.
729
729 is the earliest enterprise in China to develop rubber for table tennis rackets.
In 1972, China's first viscous rubber was developed with the perfect combination of "elasticity" and "friction," called the Friendship 729. 729 has since embarked on a glorious historical stage.
With this advantage, 729 has achieved many glorious careers of the older generation of table tennis stars, such as Deng Yaping, Wang Nan, Liu Guoliang, etc.
Today's 729 table tennis brand is not as famous. The company focuses on the low-end market. The price of the equipment offered by the company is low. The performance is enough to meet the needs of junior table tennis enthusiasts.
Yinhei
The company was founded in 1986. It is a company owned by the China Sporting Goods Federation and the China Table Tennis Association Equipment Committee.
The company has always insisted on taking the popular route to make the equipment. The workmanship is entirely satisfactory, and the cost is always reasonable.
The Yinhei table tennis racket is an "enlightenment racket" for many table tennis enthusiasts who gradually improve their playing skills.
It is beneficial to the skills of the players. So if you have a strong interest in table tennis and want to improve your skill level, but are sensitive to the price you need to pay for a racket, then a pre-made Yinhei table tennis bat will be the best choice for you.
And Many More
There are more name brands in the world of ping pong than just these. If you still have questions, the International Table Tennis Federation has established standards and rating systems for balls, paddles, and tables. When in doubt, look for the ITTF seal.
As with most things in life, you get what you pay for. If you're a recreational player, there is no need for professional equipment. On the flip side, if you take table tennis seriously, you should take your equipment seriously as well.