If you want to develop your table tennis skills or merely have fun, a table tennis robot is a perfect device for you. Even if how enthusiastic you are to have a hearty practice, certain situations will not allow you to have one, like the absence of a playing partner or a partner who does not reach the level of training you want to do. It is when a ping pong ball launcher comes useful.
Mechanisms
The basic role of this table tennis gadget is to replicate a real opponent by launching ping pong balls at you, at different locations on the table, and at various speeds and spins. Some models have nets that are used to catch the balls you return to them, and they mechanically feed these balls back for a non-stop match.
Things to consider
Before spending all your cash on one of these gadgets, it is important that you determine first the reason you want to get one, what you will use it for, and the features and functionalities you need.
Single or dual wheel robot heads
The robot head is important because it dispenses the balls and determines their speeds and spins. The single wheel heads are simpler and cheaper, they contact only one side of the ball so the spins are limited. The dual wheel heads make contact on both sides of the ball so the spins and speeds that are produced vary.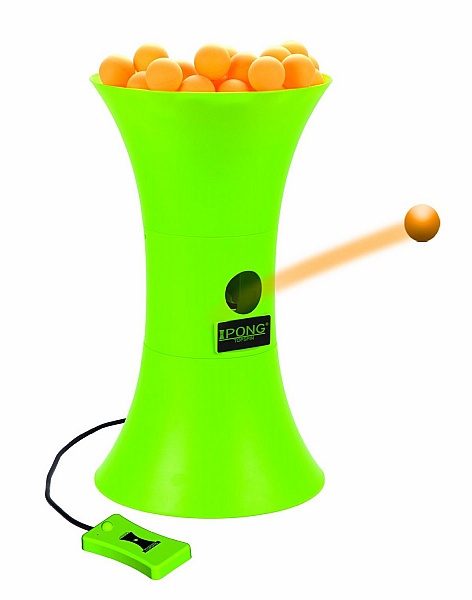 Fixed or free-standing robots
The fixed robots are positioned on a fixed spot either at the end of the table or standing behind it. They have an attached net and a recycling system. The free-standing machines are attached to the other end of the table and can be placed at different angles. They are portable and cheaper.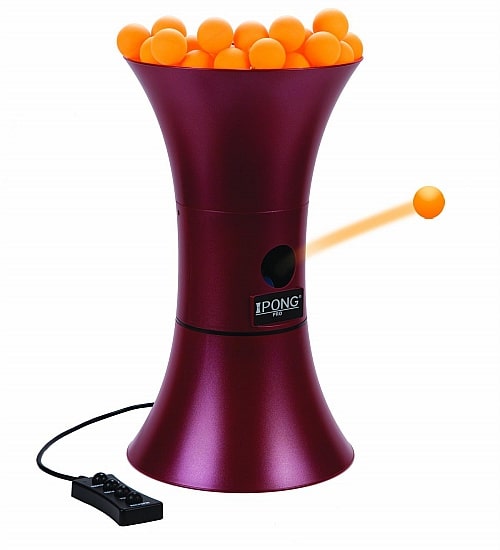 Programmable or non-programmable robots
With programmable robots, you can set the spin, location, and speed of the balls you want to work on. This is best when you want to do a particular technique over and over again. A non-programmable robot does not have these capabilities, but its rotating head will let you receive balls at different spots on the table, with the same speed and spin.
Focus on features and capabilities you find important when choosing a table tennis robot. You also have to take into consideration the price value, durability, ease of use, and the general quality of the product. There are many varieties of table tennis robots in online stores or at your local sporting goods shop–find one that will perfectly meet all your needs.
Ace Your Game: The Benefits of a Table Tennis Robot
So you wish to enhance your table tennis skills by practicing every single day. But something is preventing you from doing that–either nobody is around to play as your opponent, or no one can level with the training you want to do and the skills you want to work on. Good thing our little friend is here to save your table tennis world–the amazing table tennis machine.
Table tennis robots are the latest innovations that simulate a real match by doing the job of your opponent. It launches ping pong balls towards you at different spins, frequencies, speeds, and locations on the table. Attached to it is a net that will catch every ball you return, and will feed these balls back to its compartment for constant game flow.
The advantages of a table tennis ball dispenser
It will help you ace any stroke or footwork by performing the same routine now and then. The machine will launch the ping pong balls at the same frequency, speed and spin you have programmed it to do. This will make every practice day convenient, and you will surely become skilled at various techniques quickly and accurately.
It will aid you in improving your performance by doing a specific routine at a faster pace, with the proper body coordination and reflexes to certain spins. Having a strong foundation on these table tennis methods will help you advance skills with ease and comfort.
You may also read more about the benefits and drawbacks about ping pong machine from this post.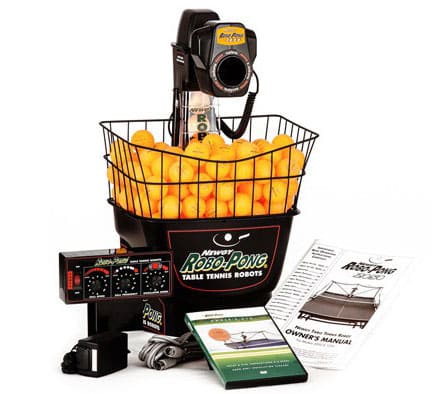 You can set breaks and rests anytime you want to. Gone are the days when your game is constantly interrupted because your playing partner wants to rest or is bored. Since it's a robot, you can continue with your training without distractions.
It is a good alternative to your daily exercise like jogging or going to fitness gyms. You can work out those muscles and shed off those excess weights, all while having fun and doing extremely well in your favorite sport.
It is a fun gadget to play with your children or the kids you are teaching the sport to. Kids of all ages always love robot like the way they are fascinated with these sci-fi movies creatures. So if you want your kids to have a passion for sports, this cool device will definitely get them going.
One piece of advice, especially to those who are just starting out: don't treat a table tennis robot as an absolute replacement for a good ping pong coach or a worthy living opponent. But with all the benefits stated above, this useful gadget should become a part of your future sport improvement plans. It will boost your skills, give you a sound mind and body, and create a lasting passion and love for table tennis. You may be interested in learning how you can sharpen up your skill with table tennis robots.
Brands of Table Tennis Robots in the Market
Newgy
There are few brands of ping pong ball launchers or robots you can choose in the market. Among the most popular one are including Newgy and iPong. Newgy remained as one of the leaders in this item with the ever improving and innovative machines. There are 5 models that were released by the company to cater for different player's need. The model is range from Robo-Pong 540, 1040, 1050, 2040 and 2050. You can read for more detail on different models by referring to Newgy Robo-Pong robots.
iPong
While another big name for producing the relevant product would be iPong ping pong ball launchers. The company also has come out a range of iPong series which are appealing to all ping pong players around the world. One reason people love iPong trainer is that of the affordable price that the company offers. They are cheaper compared to other brands. The machines are range from entry-level up to a professional one which including Mini, Original, Expert, Pro, Topspin, V100, V200, and V300. You can check them out at List of iPong Table Tennis Robots.
Related post:
Multiball Table Tennis Training