Most of the famous trainers use table tennis robots which simulate play with an actual player by hitting balls their way at different speeds and angles. The robot is ideal for players to practice when they don't have an opponent to play with or they need to play with someone who has a certain level of skill.
And when choosing the robot, one of the famous brands would be Newgy. The company been in the market for many years and has constructed with some great robots which provide great assistant to train the players. Better off, the company keeps on improving their robot to cater to the different player requirement.
If you are interested in the table tennis robots and intend to buy one, it is best for you to take a look at their different models and pick the one that best suit you.
| Model | 540 | 1040 | 1050 | 2040 | 2050 |
| --- | --- | --- | --- | --- | --- |
| Top Features | | | | | |
| Control Box | Analog | Analog | Digital | Analog | Digital |
| Recycling Net | - | - | - | Yes | Yes |
| Oscillator Positions | 0 | 8 | 21 | 8 | 21 |
| Pre-Programmed Drills | 0 | 0 | 64 | 0 | 64 |
| Randomness Control | - | - | Yes | - | Yes |
| Ball Speed, MPH (min-max) | < 10 - 55 | < 10 - 60 | < 10 - 65 | < 10 - 60 | < 10 - 65 |
| Ball Capacity | 90 | 200 | 220 | 120+ | 120+ |
| Technical Specifications | | | | | |
| Ball Per Minute (min-max) | 13 - 63 | 26 - 94 | 1.2 - 170 | 26 - 94 | 1.2 - 170 |
| Ball Size, mm | 40 | 40 | 40 | 40 | 40 |
| PC Mode | - | - | Yes | - | Yes |
| Owners DVD | - | - | Yes | Yes | Yes |
| Training Handbook | - | - | - | Yes | Yes |
| Calibration Functions | - | - | Yes | - | Yes |
| Self Diagnostics | - | - | Yes | - | Yes |
| Weight, Boxed (lbs.) | 8.7 | 12.4 | 13.2 | 23.1 | 23.1 |
| Weight, Net (lbs.) | 10.85 | 13.6 | 13.25 | 24.2 | 23.9 |
| Dimensions, Set-Up (w/h/d) | 12"/20"/8" | 13"/20"/9" | 13"/21"/9" | 60"/31"/18" | 60"/31"/18" |
| Dimensions, Folded (w/h/d) | - | - | - | 14"/33"/11" | 14"/33"/11" |
| Dimensions, Boxed (w/h/d) | 27"/15"/14" | 27"/15"/14" | 27"/15"/14" | 37"/16"/15" | 37"/16"/15" |
| | | | | | |
Robo-Pong 540
Newgy Robo-Pong 540 robots are one of the best-selling products from Newgy. Its price is also less expensive compared to other similar products. Robo-Pong robots are quite user-friendly with the fact they are easy to assemble, simplicity to use, and transport ideally.
The major consideration for many people buying this robot is because it comes together with well-written documentation. It is rather affordable and therefore makes it an ideal selection for recreational players. They can buy the product and having fun with it.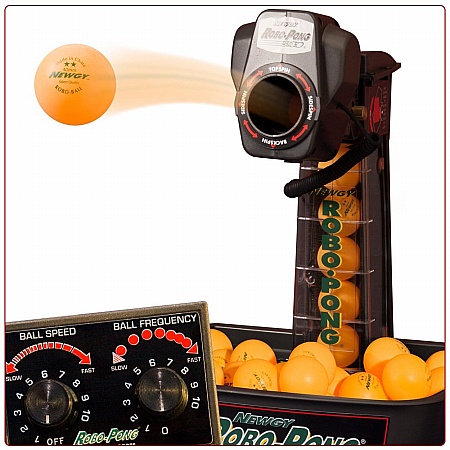 When you first receive the Newgy 540 robot, you should set it up and observe yourself on how this robot performs and get used to how it serves the balls. You will soon find out that it is able to help you to improve your skill in just a very short period of time.
You may start with slow frequency ranges, lower speed, and static delivery. This will allow you to suit yourself with the machine in the preliminary stage. Once you can follow the pace, you can then increase to higher level settings.
The Newgy 540 allows you to place it on the tabletop and do the necessary twist to your desired trajectory. Delicate container design makes the machine being very well-performing for feeding the ball.
Package Includes:
Ball Bucket
Ball Thrower (No Oscillation)
Cable Clip
Mini Control Box
Connector Cable
Transformer
Carton Size 26″ x 15″ x 13
User's Manual
48 Orange 40mm Robo-Balls
NOTE: Robo-Pong 540 is the same as the Newgy 540.
The Newgy Robo-Pong 540 is a superb inexpensive ping pong robot. Even though the machine only has the fundamentals, but it is sufficient for recreation players and skilled players to train in mastering the game.
Being a single head robot, it's got all the typical constraints that all other one head robots have problems with. The limitation is of the speed is connected with a spin which makes it not possible to serve float balls at a fair speed. The capacity to contain the ball is only about 90 balls. Which may be quite less if intensive training is required.
You can buy this robot from Amazon.

Robo-Pong 1040
This Newgy 1040 robot is a pretty fun machine for you to play train your table tennis skill. When you purchase this, you will expect it to deliver together with some ping pong balls as well as 2 sets of paddles.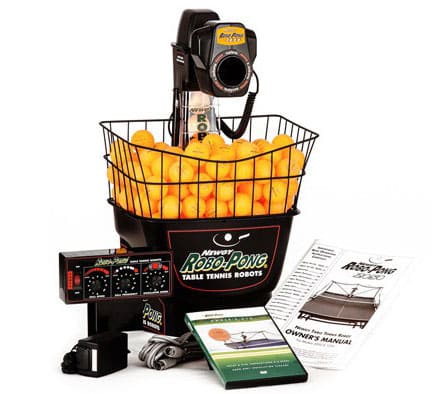 Of course, since they are like free gifts to you, they may not of high quality but is still decent for you to play with the rackets. If you just having this machine for the first time, you should set the frequency of the shots to the lowest and gradually increase the speed to suit the pace.
Some people are having a concern about the robot's head due to there are a lot of plastic gears making on it. However, Newgy been guaranteed the durability of the product and claimed the plastic gears didn't make the performance of this robot to be mediocre.
If you having no idea how to practice your table tennis shots with this, you can always visit Newgy website, download the official rules and training manual for free, read and train according to the manual.
This is an incredible robot for advanced and professional table tennis players. It has all features of Newgy Robo-Pong 540. In addition, it has oscillation & swivel, more powerful speed, and frequency controls. The attached Bucket Extender allows the expansion of more ball capacity so you can load more balls and have a lengthier constant play of the game.
Specifications:
Robo-Pong 1040 robot comes with analog controls for frequency, ball speed, and oscillation.
It can hold up to 200 ping pong balls.
It can fit for all standard table tennis tables and conversion top game tables.
It is easy to set-up, use, take down, store and transport.
No assembly or tools required
Advantages:
Easy to set up and operate well.
Great for shots practicing to improve your skill upon.
The bucket extender is easy to attach.
Drawbacks:
Balls may get jam with strident noise.
It is not possible for you to control the spin and speed separately due to there is just one single roller at the head to produce speed and spin.
In conclusion, the Newgy Robo-Pong 1040 robot is manufacturing with the necessary features to offer players an excellent table tennis training experience at a reasonable price. It may not perform as good as the high-end models of Newgy's robots, but it is sufficient to train a player well to improve their skill if they practice continuously with this machine.
You can get this robot from Amazon.

Robo-Pong 1050
It is an excellent companion in ping pong training. This model has many options for training, including self-program exercises and you can control them from the laptop or PC. About half of the drill slots are replaceable with the use of PC. The oscillator is accurate and the robot responds very well.
Even though you are not able to switch between top and underspin in a drill, but it is still possible for you to develop substantial workout routines to the content of your heart.
The effect can be incredibly adjustable to maximum, which helps a lot when you want to practice receiving serves from your opponent and shooting the ball to the precise spot. Speed shoots are excellent and it can provide great help for footwork practicing. Besides, it can also provide you great help with the counterattacks.
Most players are satisfied with this robot and claimed that it is an excellent robot that you can get at a great price. The only downside is you have to pick up the balls after they scattered around the floor but it should not create a lot of problem for you if you have the ping pong ball collectors that ease your ball picking.
You can buy this robot from Amazon.

Robo-Pong 2040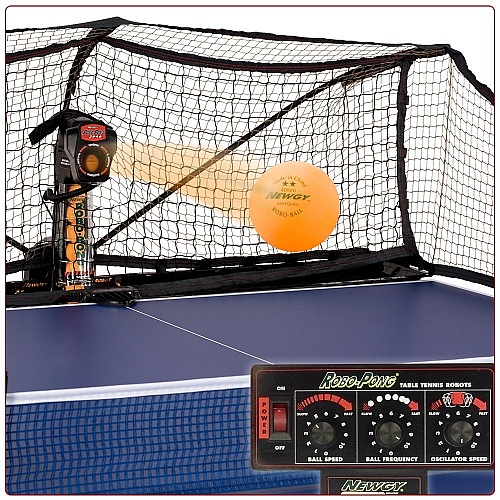 This Newgy 2040 can make a great deal of spin quite possibly on short balls. The height of this Newgy robot's head is quite low to the table, so it can do the serves just like a real player.
It is simple to use for all shots of table tennis. It can chop the balls, performing topspin, adjusting the pace of ball output, automatic recovery of balls, catching the balls and etc. You can have a 1-year warranty under normal use conditions. After the expiration of the warranty, repairs are performed by the authorized company in various countries.
The robot head can send out up to 90 balls per minute with a rate of 20 to 120 km/h. It is adjustable on topspin, chopped, and side-spin. The oscillator can distribute balls on a predetermined area or disperse all over the table.
After all the benefits that you can get from this Newgy robots, one of the most significant issues many players faced with the table tennis robots is the fact that the spins or speeds tend to be not as good as real players.

Robo-Pong 2050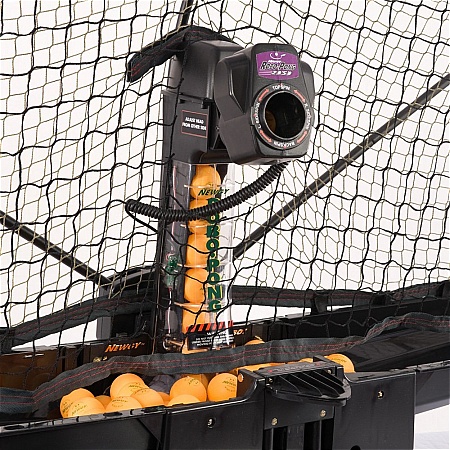 The Newgy Robo-Pong 2050 Ping Pong robot is the high-end machine specially caters for truly serious players. This groundbreaking electronic digital robot gives you uncomplicated accuracy and precision for ball speed, frequency, and placement.
Normal Mode provides you with an effortless manual control across each function. For Drill Mode, you will be able to run any of the 64 drills held on the controller.
The major distinction between the 1040 and 2050 model would be the net and automatic recycling system. Many people may not find any big deal for these differences while they first using the robot. But soon they are going to realize that these 2 features allow you not to reload the robot every 2 minutes between drills and you will feel grateful for having these features with the robot.
Package Includes:
Ball Thrower (w/Oscillation)
Full-Size Digital Control Box
Recycling Net System
Owner's Manual
Rubber Tips Packet
Set-up DVD
Transformer
Side Net Extenders
Connector Cable
Training Book (USA only)
48 Orange 40mm Robo-Balls (USA only)
The robot is easy to set up. It functions effectively with just minor variations in a spin which is not a big deal for most players. You can have yourself a thorough work out depends on the level of difficulty you want to go with the robot.
While all balls are creating just about the same speed and spin within each specific setup, however, the drills tend to really easy to switch plus the regular drills of this robot can be tricky for some players.
Adjustment of the robot head is not difficult but it can be a little soft and loose but still capable of intense use. This may be the room of improvement for Newgy for their future products for the robot head.
Conceivably the only people who may think this robot is useless for them if they are looking for a robot in which the spin and speed of the ball are decoupled. They want it to be like that with the purpose that the spin quick serves will be able to simulate. With such a feature, they can create float balls and slow spin balls.
If you are looking for this model, you can get it from Amazon
Related post: