iPong is one of the leading company that produced a series of table tennis robots with affordable price on the market. For people who love to play ping pong but can't find a partner to play with, table tennis robot will be the best partner that readily to play with you.

The trainer is available for cheap price. You can have this piece of machine to act as your partner and play the ping pong game till you drop. You will be able to set the pace according to your playing style with it, from a casual to advanced level and train yourself to master the skill in short period.
Now, let's take a look of the different iPong table tennis robots.

iPong Mini


It is one of the new training machine that being introduced to the market by iPong. It is also the low end and the cheapest model compare to other models. It has some basic functions and is easy to install. The training machine is perfect for children, recreational and beginner players.
You can get one and place it at your local recreation club and this robot can be very fun to play with especially for kids.
Specification:
Frequency: From 12 Balls / Min – 70 Balls / Min
3 Different Spins: Underspin, Topspin, Heavy Topspin
Max Ball Capacity: 110
Head Angle: Fixed
Setup: Less than 1 Min with no tools or extra equipment required.
Compatibility: Use on all standard sized table tennis tables – 9′ long x 5′ wide
Warranty: Product includes a three-month limited manufacturer's warranty
At the lowest speed you can play ~ 9 minutes and the highest speed you can play ~ 1 minutes 30 seconds.
There is no oscillation for this model. Therefore, sidespin is not possible to be performed by this trainer. In terms of the oscillation, it's not too serious as you can always work on the movements by alternating forehand / backhand.
If you are having doubt about the speed that most manufacturers often overestimate their product, then you should have no worry that the maximum frequency for this machine is 70 balls per minute without issue.
As the iPong that can hold up to 110 balls, once it finish distributing all the balls, you will need to spend lot of your time in picking up the ping pong balls. Nonetheless, it is lucky for you that there are now available of ping pong ball collectors which make the tedious ball picking a breeze.

iPong Original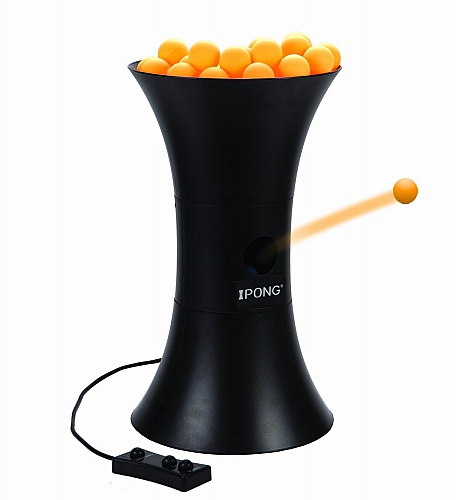 For this model, there is no oscillator feature attach with it. This may not be the ideal machine for those whose wish to train their foot work by moving around when practicing.
The material can look cheap and plasticky but the good thing is it's very simple and easy to set up. The remote control that comes together with the machine is easy to understand and it is long enough for the remote to reach the other side of the ping pong table.
One of the advantages of this iPong Original robot is its lightweight so that you can move it around and place it at the location that you want easily.
While the major drawback of this robot is it occasionally gets jammed. Some time it can place the balls inconsistently or shooting two balls consecutively which would limply plop out.
Thus, the iPong Original is only recommended to those who are in search for an entry-level robot which isn't going to cost them a lot of money.

iPong Expert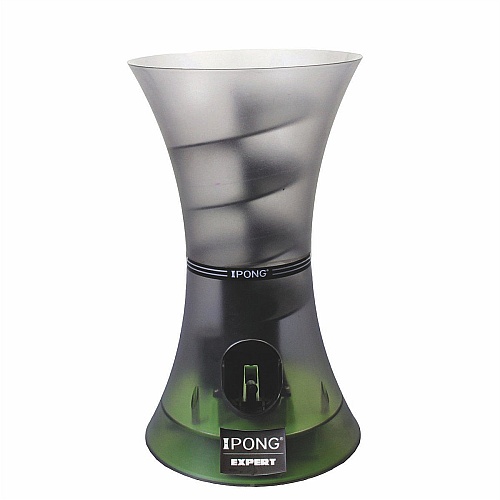 The design of the iPong Expert is revolutionary and it can feed the ping pong balls automatically. One of the great improvement is this machine get rid of the ball-jams issue. The translucent housing makes it possible for you to have a clear view of the amount of balls inside the machine.
Features:
Simple launching technique provides user with reliable and consistent ball trajectory.
Holds up to 20 balls at a time and can feeds 30 balls per minute automatically.
Compact design with the size of 12″ x 7″ which makes it portable, easy carry and place anywhere you want.
Uses 4 x AA batteries.
As the robot is set with a ball frequency of easy-to-hit, it make is possible for players to practice the fundamental shots for both forehand and backhand. Thus, it is recommended for serious player who wish to improve their skill to certain level.

iPong Pro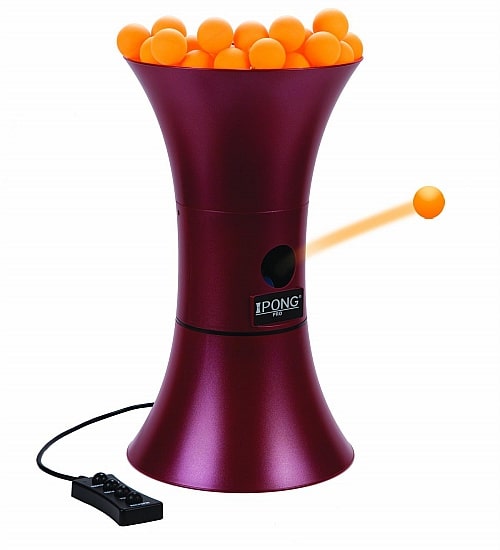 As the previous few models that being introduced are lacked of the oscillation feature, you should get excited with this iPong Pro where it put together all the features you love with the iPong Original but adding the oscillation feature.
The robot is capable in shooting for more than 100 balls consistently before needed to reload. The machine can perform backspin, topspin and heavy topspin. This is very useful in simulating a good backspin and topspin served by opponent.
Assemble of the machine is simple and easy. You can have everything setup in few minute. Then you just need to plug in the power and have it start working in no time.
Features:
Adjustable Frequency
Ball Capacity: 100+
Oscillation feature is implementing.
Package included: Robot body, remote control, instruction manual, variable voltage A/C adapter.

iPong Topspin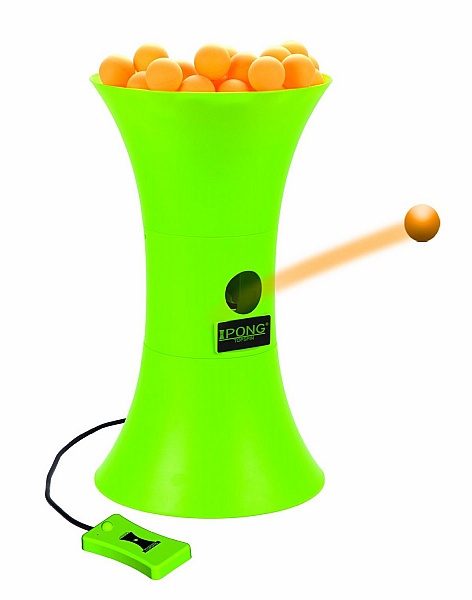 This table tennis robot is simple to install. It is using battery-powered where 6 x AA Batteries are needed to get the robot to hook up and work. The functions of the speed and spin of the balls is adjustable. Since it is battery operated, it can be very portable for you to carry and place in anywhere you want.
It can be a great advantage for using this iPong Topspin to practice attacking a topspin ball for many times until you can handle the playing style well.
The major drawback of this iPong Topspin is that it cannot make any backspin which can be a flaw for those who wish to practice in handling backspin shot.

iPong V100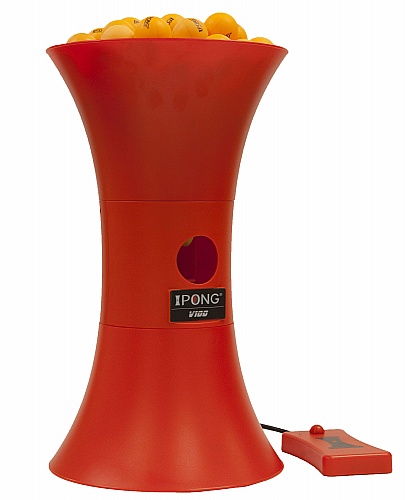 The iPong V100 is an excellent table top robot which can be simple to operate and can be used by all levels of players to train their technique. The machine was launched in 2015 and has receives a great demand since then.
One of the features of this iPong V100 robot is it is compact and lightweight. The body is constructed from plastic and the overall design makes it to be very portable.
Most people love to use this robot is due to it can hold more than 100 ping pong balls and shooting continuously before needed to reload. Thus, you do not have to stop playing after some time to collect the balls and refill in order to play again.

iPong V200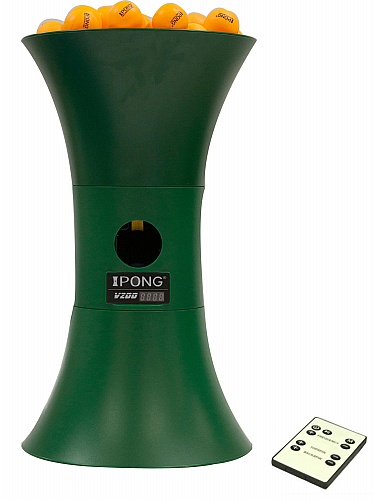 This is more advance table tennis robot in comparison with V100 and it is made in targeting players who wish to use a robot to be their partner for mastering some steady stroke techniques.
This robot is also built with a new and thrilling oscillation feature. The robot that is designed in green color is capable in firing ping pong balls at player desired pace. It can also make very fast and powerful speed for fast shooting. A remote control is comes with the robot and you can use it to adjust between topspin and backspin.
Feeding of the balls is being adjusted with a remote control.
Can continuously fire out 100 balls before reloading.
Great trainer for players to master and improve their skill

iPong V300


Most of the iPong robots are built with very cost-effective conscious, and this iPong V300 is the most high-end model among the iPong series but it just cost for less than $200. The design of this robot is quite simple with sleek look and it is capable to hold up to 100 40mm ping pong balls.
If you buy this iPong Master V300, you will also receive 3 mini iPong Robot shaped targets(each with different size), an iPong tilt stand, a robot with digital display and control.
This machine can works very well and it may well worth the money provided it does not make the noise after some time of playing.
One of the advantages associated with this machine is that the assembly is simple where you can set it up in a minute where there is just 3 pieces that you need to put them together. There is no other tool required and once it is up and running, you can immediate have it works for you.

iPong Carbon Fiber Catch Net


The iPong catch net can be ideal for you if you do not wish to pick up the balls that scattered on the floor after practicing. You should consider of buying it together with your purchase of iPong table tennis robot as most of the suppliers do bundle them and you can get a bargain by getting the bundle.
Box dimensions: 11.8″ X 11.8″ X 2.5″
Assembled dimensions: 66″ X 60″ X 28″
The net is compatible with all Joola tables and it also works well with ping pong tables that have edges up to 2″ thick. The net can be quite useful and it can catch a lot of balls which safe you a lot of time and energy without the need for you to break your back to pick up all ping pong balls every time.