Do you ever hear of ping pong ball collector? Well, it is actually a picker upper which will ease your task to pick up all the balls that laid everywhere on the floor after practice. If you are serious about playing table tennis, you wouldn't want to waste your quality practice time on chasing or picking balls.
Most players start with a bucketful of balls and concentrate on their strokes with table tennis robot. After they hit all the balls all over the floor, they shouldn't use up their energy or worse hurting their back by picking up the balls by hand. Therefore, they will need the picker upper to help them to collect all the balls and put back to the robot.
While in the market, you will only find a few pickers available and most of them are designed in the shape of a tube or a scooper.
Now, let us study some of the ping pong ball picker and see how their performance.
Killerspin Kollect Ball Picker-Upper 612-01 Table Tennis Ball Retriever
This is a one-of-a-kind table tennis ball collector. The tool is built with solid aluminum which makes it easy to pick up the balls from the other side of the court barrier or from under the table. It has both sturdy and light features. You can make use of it either at your home or in the club. You can store and travel with this Kollect picker upper effortless as it is having a removable head and expandable handle. This makes it possible to be used anywhere.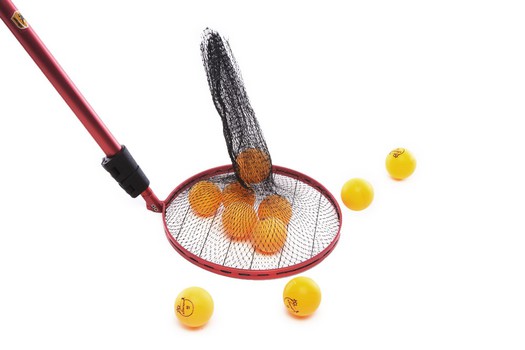 The tool is compact and light to carry. It is very easy to assemble and use. It's well suited for all ages of players.
You can get this gear from Amazon.
IPONG Telescoping Pickup Net
The tool is constructed with nylon and steel. It is having light and strong construction. It is portable and is very convenient to be used by anyone. It can provide players with great help during their training sessions without the need for them to waste their precious practice time on picking ping pong balls on the floor.
The ball pick up net is made of revolutionary technology and it is built with a nylon micro mesh netting, collapsable triangle head, together with a rolltop aluminum handle that accompanied by a secure black plastic grip. It is available at Megapsin.
Newgy Pong-Pal
By having a Pong-Pal in hand, it makes the task of pick up ping pong balls much faster and easier. The special angled end design makes it possible for you to retrieve balls that are laid under the table tennis table. It is also well suited for wheelchair players to place the tool on their seat and use it to pick the ball when they want to. There is velcro strip come with the Newgy Pong-Pal where you can attach it to the side of the table. It works with both 38mm and 40mm ping pong balls.
The tool is designed as a portable device for serious players and coaches. It is can be used at the table tennis stadiums or at private homes. It is perfect for players who enjoy playing table tennis but have difficulty with picking the balls from the floor especially PARA and elderly players. The special design provides great assistant to PARA players during tournament matches.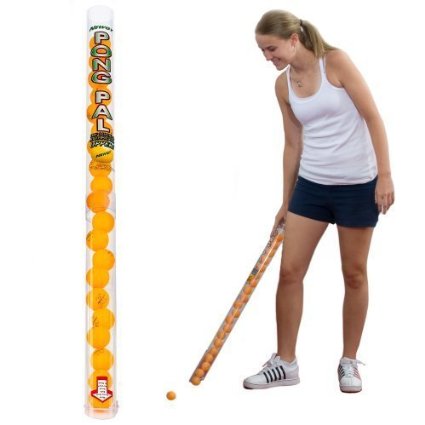 It is court floor friendly as it is made from plastic so it will not mark or screech the floor. It is designed to grip a ball on the floor, and easy removal of the ball with two fingers, after lifting it to a comfortable height. This tool is avaiable at Amazon.
My Ping Pong Buddy Ball Picker Upper
This can be said to be the best table tennis ball collector that you can get. It can provide players with the most efficient and the quickest way to pick up ping pong balls off the floor in volume. With the special design of long reach and extendable aluminum handle, It can reach far under the table to do the job other picker uppers cannot do.
The net of the picker upper is on top. For all balls that laying on the floor, you can just put the tool over them and they will pop right into the net. It makes the tedious job become fun and easy.
If you are practicing ping pong with a robot, this ping pong ball collector will save you a lot of time and energy as it can pick up more than one ball at a time.
The picker-upper capacity is 80 plus balls. So, while you are resting after harsh training, you can use this picker upper to pick the balls on the floor, or balls that are rolling or jumping all over the floor. It picks very quickly and it can dump the load very easily without using both hands.
You can get one from Megaspin.
Butterfly Ball Amigo
This is a ping pong ball collecting tool created by Butterfly. The design of this ball collector is like a handheld fishing net where you use it to hold the fish when you catch a big fish. You can find a front lip of this intelligent tool that can help you to pick all the balls scattered on the floor effortless.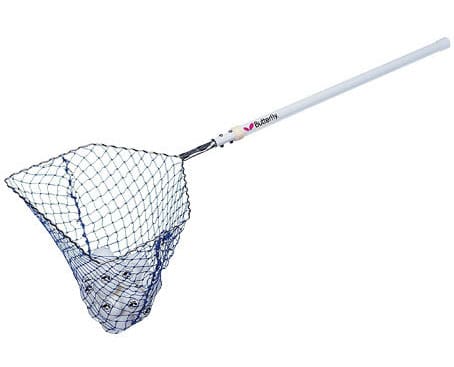 Your job of retrieving all the balls become easy with this Butterfly Ball Amigo. It is really a great buddy for you especially when you are training with multi-ball.
If you love to get one, you can buy this gear from Megaspin.
How to Make A Ping Pong Ball Collector
Above are the 4 different types of table tennis balls collectors that are introduced for you to ease your ball collecting task. However, if you want to save money or you are interested in DIY one for your own use, you can refer to below video and learn how you can make a table tennis ball picker by yourself.
Related post:
Sharpen Up Your Skill With Ping Pong Ball Launcher