Recording table tennis scores while playing can be a bit challenging. It's easy to become engrossed by the game and forget that you are in charge of counting the scores! I can't count how many times I've lost track of the score and had to embarrassingly ask the players. That's why table tennis scoreboards are so useful.
You flip the score of the appropriate card after each point so you only really have to remember who is serving. Easy-peasy. 
Who Uses Scoreboards?
Table tennis scorekeepers are used pretty much everywhere at the competitive level. Even at local leagues. Occasionally a club might not have a scoreboard, but I've found other players tend to complain if they don't have one so they are extremely common.
Why Buy a Scoreboard?
Scoreboards not only make the process of umpiring table tennis much simpler and more enjoyable, but they are also far better from a spectator's point of view. If you are out of earshot or missed the umpire announcing the score after a point you have no way of knowing the game score, let alone who is ahead in sets.
A scoreboard provides a continuous visual reminder of the score. This is ideal for spectators, and I would even say beneficial for players. It helps you visualize how the game is unfolding and strategize appropriately.
Oh, and there's less cheating/mistakes, It's hard to miscount the score when all you have to do is fold one number over. And if you do, either yourself or someone else will quickly correct it.
Types of Table Tennis Scoreboard
Traditional Scoreboards
The traditional scoreboard requires a person to flip numbered cards during a match. They are often cheap and easy to operate. They are also widely available, you can order them from many sporting goods stores, or you could even make one yourself.
For large competitions, traditional scoreboards do not meet the needs of the audience, thereby forcing the usage of another type of scoreboard. 
Digital Scoreboards
In more large-scale competitions, there is a requirement for a larger display of the score. That's where digital scoreboards for table tennis come in.
These often run alongside traditional scoreboards as a secondary means of displaying the score. You often see these during televised table tennis matches. They are usually situated opposite the broadcasting camera so that they are in frame.
I imagine these kinds of digital scoreboards are custom-built as they require on-site construction. Because of this, they are expensive and not feasible for most players. They are also major overkill say for a local club.
Scoreboard Apps for Smartphones or Tablets
Scoreboard table tennis apps are a fun alternative way to keep track of your match scores. What's more, they are free and couldn't be more portable (given they are on your phone).
You can use scoreboard apps both for fun casual play and even if you're organizing competitive matches.
Of course, each app works differently. But many have the ability to program in players' names and cast them to a larger screen. Think of them as the ultimate budget digital ping pong scoreboard!
Moreover, some apps have other handy features such as audio to announce the scores and even prompts for players to change serve.
Our Top Ping Pong Scoreboard Recommendations
JOOLA Point Scorer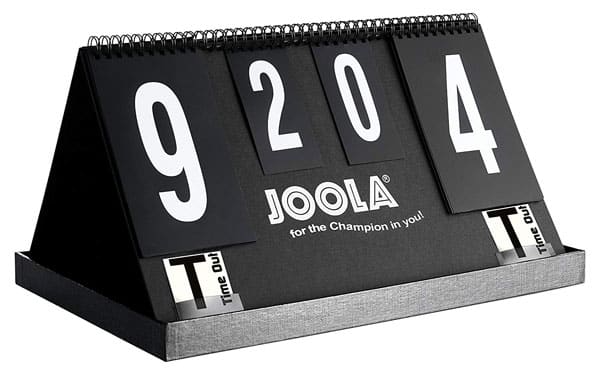 Specifications
Type: Traditional
Size: 14″ x 9″ 7.5″
Material: Unlisted
Weight: 2lbs
Pros
From a top table tennis brand
Sleek
Storage box system
Cons
The JOOLA scoreboard is lightweight and foldable and it comes from one of our favorite brands that make the incredibly popular Inside table tennis table. It comes with a storage box system to help keep it standing when in use and to protect it when it is not. The JOOLA point scorer sports a spiral notebook style build and has a black and white color scheme which gives it a very slick look. It is certainly the most professional-looking scoreboard on this list in our opinion.
JOOLA Time Out Scoreboard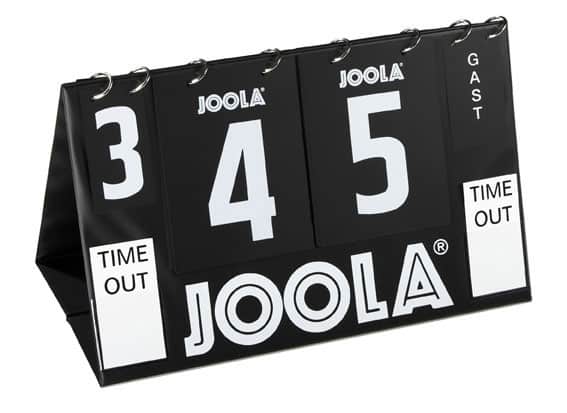 Specifications
Type: Traditional
Size: 20″ x 10″ x 11″
Material: Plastic
Weight: Unlisted
Pros
From a top table tennis brand
Cons
The Time Out scoreboard is our second favorite scorer by JOOLA. We like its black and white design but it doesn't look and feel quite as good as the JOOLA point scorer. It is, however, very big, so it's a great traditional scoreboard to use if there are lots of spectators.
yiwoo Scoreboard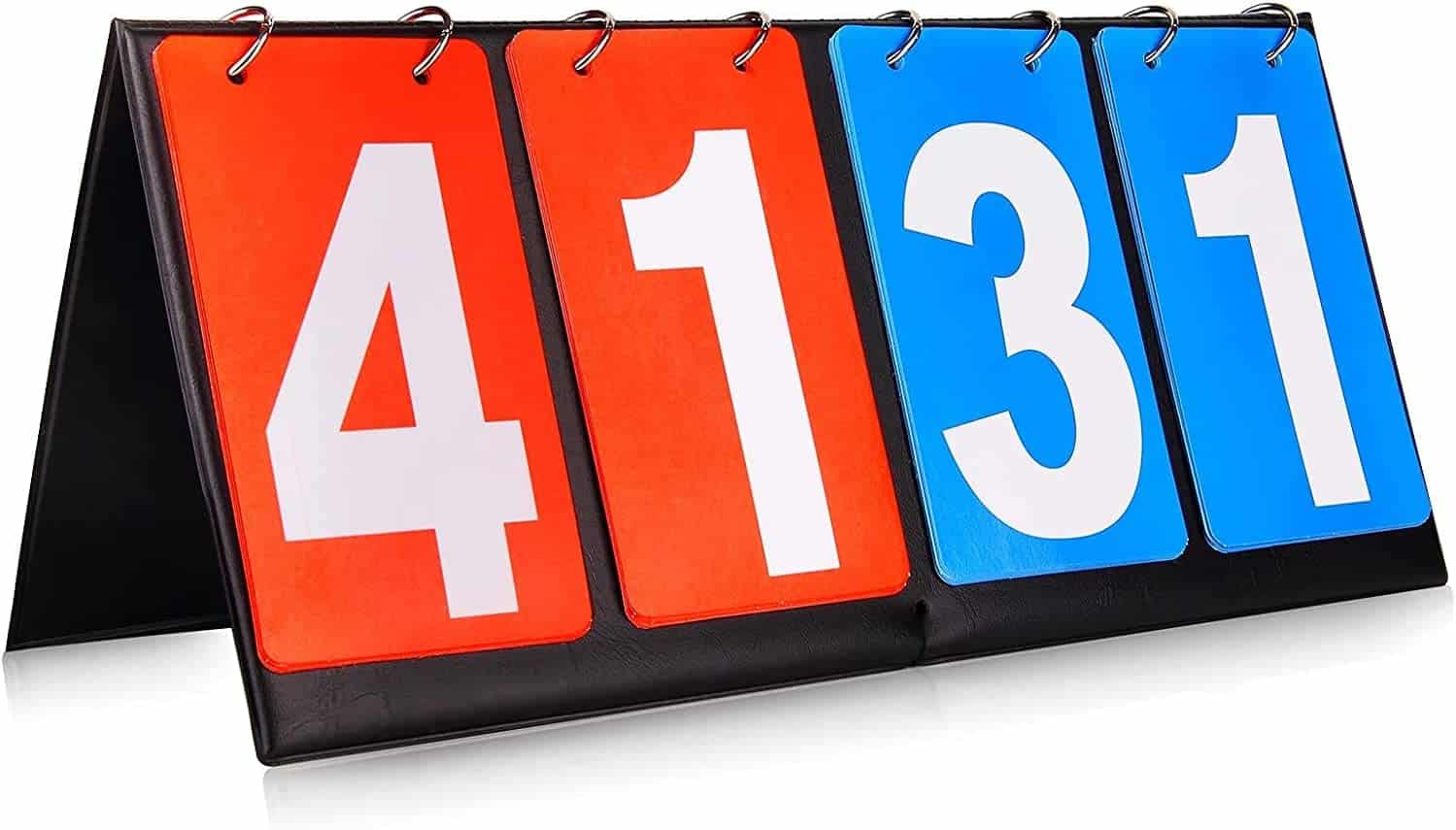 Specifications
Type: Traditional
Size: 14″ x 6″
Material: Pu+ membrane paper
Weight: 0.8lbs
Pros
Very affordable
Highly portable
Cons
The yiwoo Sports scoreboard is a good buy if you're after something small and portable to keep track of your matches. The biggest selling point of this particular scorer is its price. It's very cheap so we'll do our best to overlook the fact that it doesn't have a counter for the number of sets. Definitely a more casual scoreboard as opposed to one for more serious competitive play.
Crown Sporting Goods Scoreboard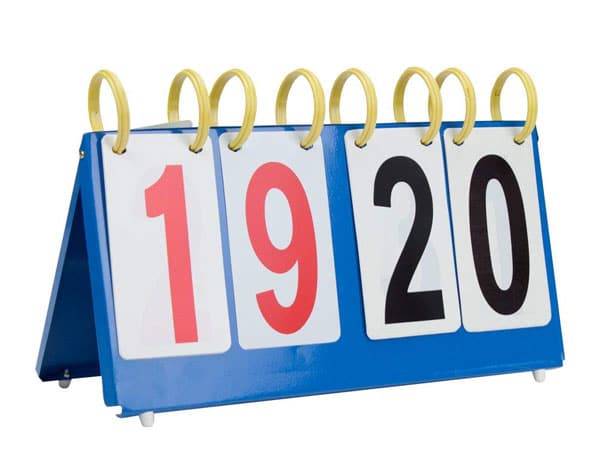 Specifications
Type: Traditional
Size: 14.5″ x 7″
Material: Plastic
Weight: <1.38lbs
Pros
Very affordable
Highly portable
Cons
Numbers are only viewable from one side
No set counter
Small
This table tennis scoreboard from Crown Sporting Goods features bold and precise numbers. It also uses large 2″ rings for smooth and easy scoring. However it does have some issues, the first is that the numbers are only viewable from one side. This means the umpire can't see the numbers from their position unless they sit sideways on. A very poor design flaw if you ask me. The other main issue is that it doesn't have a set counter like the yiwoo scoreboard. 
On the bright side, it folds to less than an inch thick so it is very easy to carry around.
Sportable Scoreboard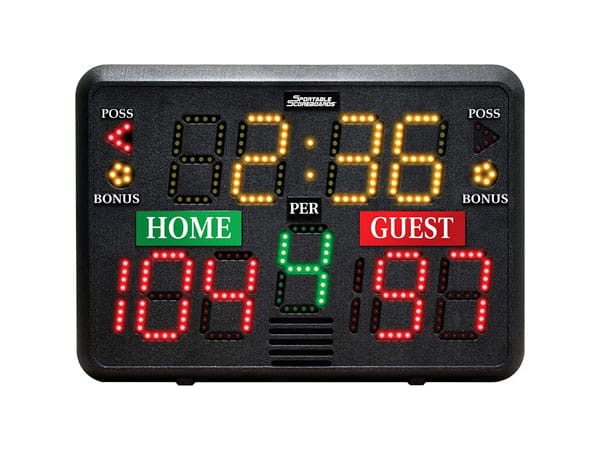 Specifications
Type: Electronic
Size: 22″ x 15″ x 8″
Material: Plastic
Weight: 10lbs
Pros
Cons
Very expensive
No set counter
Not the easiest to read
Hard to operate
If you're in the market for an electronic table tennis scoreboard then this model by Sportable could be a good fit. It's not a perfect option as it's more designed for other sports like wrestling rather than table tennis but it does the job. The super-bright LEDs display the point score and the various figures display in yellow, red, and green. The LEDs are also 100,000-hour rated, so the scoreboard should certainly last a long time.
Of course, the main drawback to this scoreboard is the price, it's very expensive for what it is and I would never personally choose to go for it. I'd rather sink my money into some quality rubbers. But hey! Some of you might like it.
Stiga SensorScore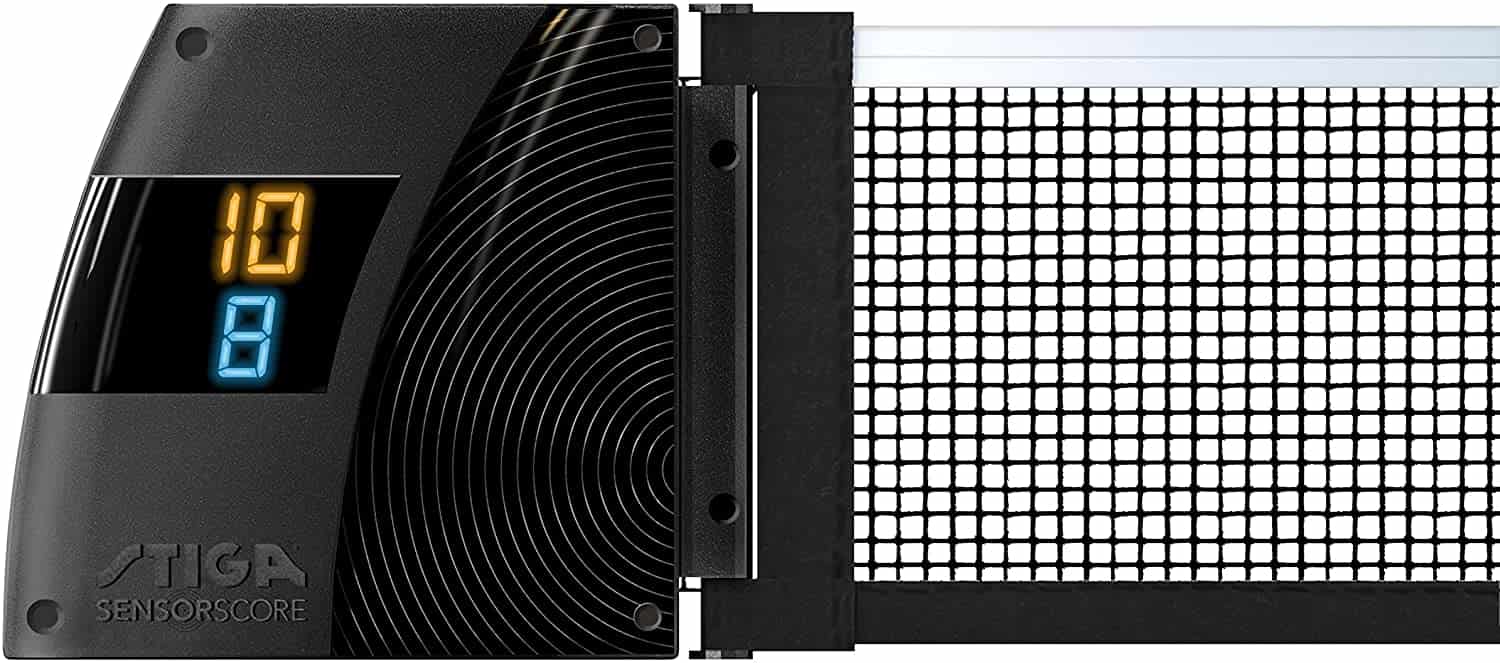 Specifications
Type: Electronic
Size: 12″ x 9″ x 7″
Material: Not listed
Weight: 4.5lbs
Pros
From a top table tennis brand
Counts the score for you
Tells you when to change serve
Cons
The score is very small
No set counter
Some accuracy issues
This scoreboard is one you probably haven't seen before, I for one have never seen it. It's a scoreboard that is built into the net. It uses special technology to detect nano vibrations along the net and table. This in turn allows it to calculate and display the store. Pretty neat! Unsurprisingly it does have a few caveats, namely its accuracy, but you can tweak this within the sensitivity settings. The scorer is also pretty small and you have to use the included net which isn't the best quality.
However, that being said, it's a very cool table tennis score counter, and it's nowhere near as expensive as I thought it would be. In fact, it's priced the same as the JOOLA point scorer which kind of blows my mind. This is definitely one to try if you're table tennis mad like I am!
Table Tennis Scoreboard App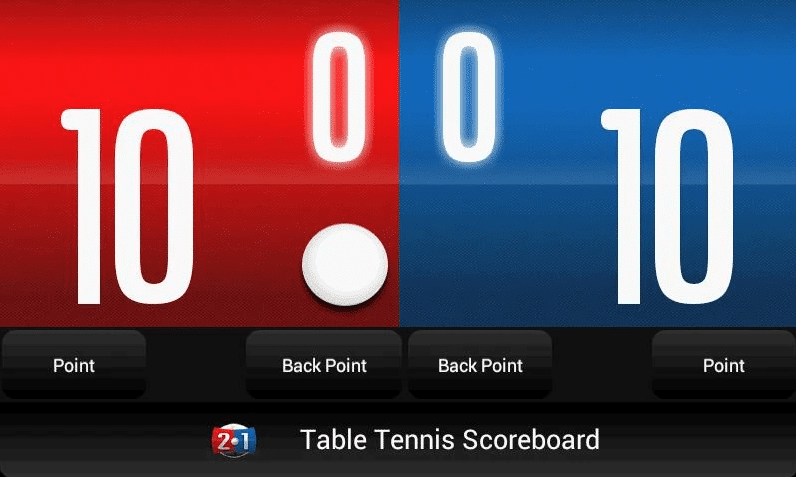 Specifications
Type: App
Size: N/A
Material: N/A
Weight: N/A
Pros
Free
Very portable
Easy to use
Cast to a larger screen
Cons
Small score if displayed on the phone
The first mobile app on our list is the scoreboard for table tennis by Leonferrer on the Google Play store. Of course, there are many different apps you can use. We chose to go with this one because of its clean UI. The benefit of using an app over a traditional scoreboard for ping pong is that you don't have to lug around a foldable scoreboard with you as this one is on your phone! Apps are also pretty simple to use and we think they're a great choice for fun games with friends.
As a tip, we recommend casting the scoreboard to a larger device such as a monitor or tablet. This way the score is far more visible, and the game, more immersive.
Score Table Tennis App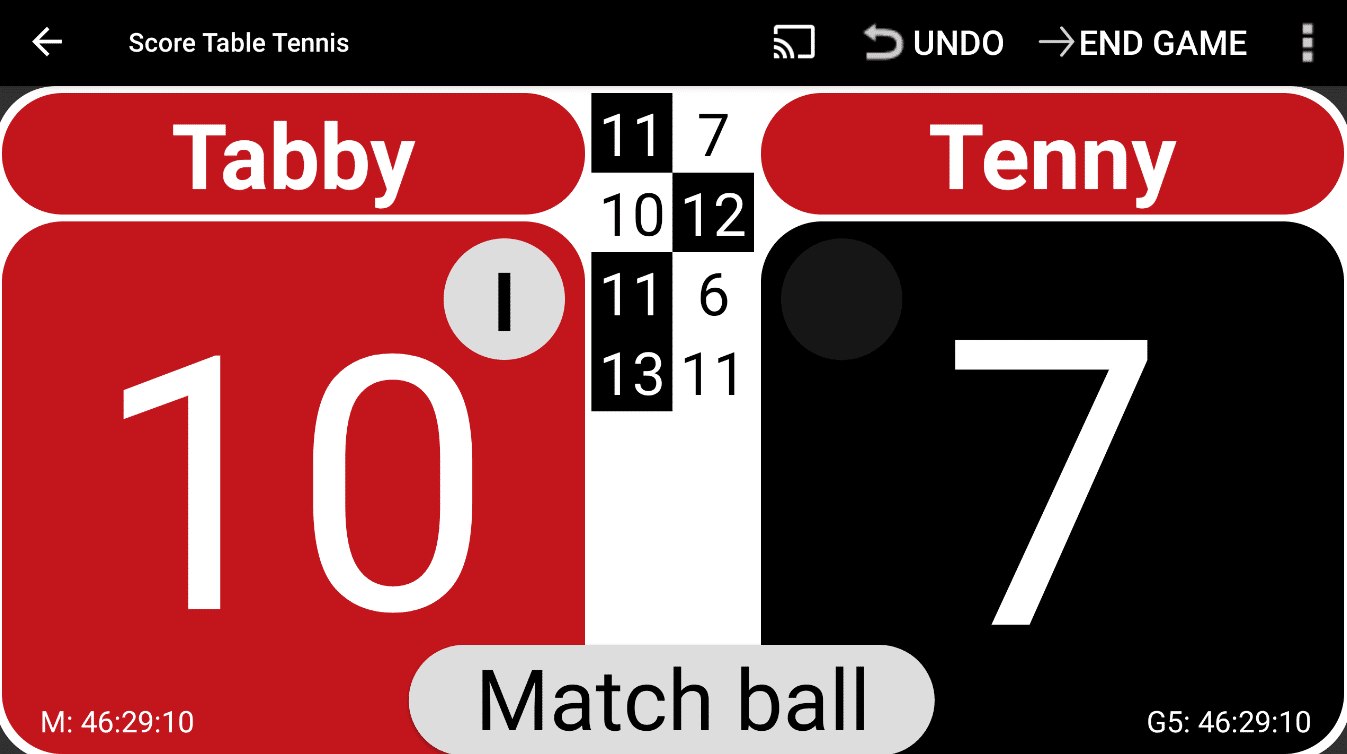 Specifications
Type: App
Size: N/A
Material: N/A
Weight: N/A
Pros
Free
Very portable
Easy to use
Cast to a larger screen
Cons
Small score if displayed on the phone
The second scoreboard app we recommend is "score table tennis" by Iddo Hoeve. It largely has the same functionality as the app by Leonferrer but the UI isn't quite as clean. However, it is still regularly receiving updates and the developer is very attentive to proposed recommended improvements which is a huge plus. The table tennis scoreboard app by comparison was last updated 8 years ago.
FAQs
What do All the Numbers on a Table Tennis Scoreboard Mean?
The numbers on a table tennis scoreboard represent the points in a game. Although you play games first to 11 points most scoreboards go way beyond this. Take the JOOLA Time Out scoreboard for instance. Each side counts to as high as 30 points.
What Is Table Tennis Deuce?
Deuce occurs when both players are tied at 10-10. This signifies the point when players switch to alternate serving. The first player to achieve a 2 point clearance wins.
Closing Thoughts
Table tennis Scoreboards are a very useful tool in the sport of table tennis. And we strongly recommend using them even if you are not competing in league matches and tournaments. They just make the game more enjoyable for everyone involved.
Our favorite scoreboard that we looked at is the JOOLA point scorer. It's sleek, highly visible, and just the right size. We prefer it immensely over generic scoreboards which don't count set scores. This almost defeats the purpose of a scoreboard as you have to remember what the score is!
Related post: