Are you a professional table tennis player looking for globally approved table tennis equipment? Or do you desire to become a pro at table tennis? It is recommendable to use equipment from a certified supplier of Olympic table tennis equipment. DHS table tennis is the leading supplier of Olympic equipment. The supplier stores modern equipment that meet the standards laid out by ITTF.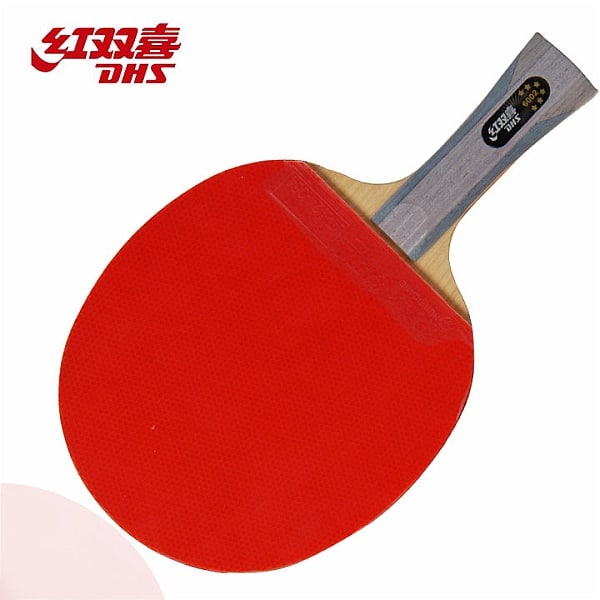 Why Buy DHS Table Tennis Equipment?
Not all Table Tennis equipment is worth your money. Many online suppliers sell, store or market products not tested and proven. Here at tabletennispot.com, we review our products and ensure that you only get quality at an affordable price. We bring you a review of why DHS Table Tennis Equipment is worth every coin in this spirit.
They are ITTF approved.
DHS Table Tennis has been the leading table supplier of the Olympic Games in 2008 and 2012. It is also the official table supplier of table tennis global championships of 2010, 2011, 3013, 2015 and 2017.
It is also the official supplier of table tennis balls in 2008, 2012 and 2014 global championships. It means one thing. DHS Table Tennis is of high quality and meets international game standards.
High quality and high-tech equipment that meets players' needs
DHS (Shanghai Double Happiness) Table Tennis, a Chinese company established in 1959, has a long history of offering quality table tennis equipment. The company works closely with the Chinese National Team to design tables, blades, and other sports equipment that meet modern TT players' needs.
Their products are tailored to meet the needs of the team. At least 90% of the players in the Chinese team use equipment from DHS. International table tennis stars such as Li Xiaoxia, Zhang Jike, and Ding Ning use DHS equipment. It is a brand of global champions.
Categories of DHS Table Tennis Equipment
Balls: DHS is the supplier of balls such as DHS D40+ 3***, DHS 3*** 40+, DHS D40+ 1* and DHS D40+ 2**

Rubbers: The rubber equipment ranges from DHS Hurricane, DHS Goldarc, DHS Skyline to DHS Tinarc and many others

Blades: DHS Hurricane Long, DHS Power G8 OFF C and DHS FANG BO CARBON CH.PEN, among many others

Tables include Net DHS P118, Table DHS T-1223 ITTF 22mm, and Net DHS P145

Accessories such as referee sets, 

edge tape

, rollers, and net gauges, among others

DHS Bats include DHS Racket 1002, 2002, 

4002

, 6002, and 3002 FL and DHS Set Wang Liqin Classic, DHS Set Wang Hao Classic and DHS Set Wang Nan Classic
A Strong Brand in Table Tennis
Instead of saying DHS is a sports brand, I think it is more appropriate to say that it is a table tennis brand.
Let us first take a look at the DHS in table tennis to know at which level the company is.
To figure out this, I went to find a professional table tennis player and asked her how much she knows about DHS.
She told me that DHS is the best performance table tennis brand in China for the rackets. Take the finished rackets as an example. The rackets are divided from 1 star to 6 stars according to the star rating of DHS standard.
My friend recommended her 5-star racket, although there is nothing particularly prominent. But the five-layer pure wood blade, match with DHS Hurricane 3 rubber, make the racket balanced in all aspects, which is good enough for a starter to use for a long time.
For relatively advanced players who know their playing style, they will choose from different blades, forehand rubber, and backhand rubber according to their playing styles.
DHS does have some blades that are in the high-end product lines. But the names of these blades are a bit chic.
The blade produced with the cooperation of Wang Hao is called Hurricane Wang Hao, and Wang Liqin is called DHS Wang Liqin, and the blade that cooperated with Ma Long is called DHS Ma Long.
As far as table tennis series products are concerned, the DHS is indeed one of China's best table tennis brands. After all, the company began to produce rackets in 1959, coupled with the "Ping Pong Diplomacy" policy. Everyone is shouting their slogan, "use the small ball to spin the big ball". Because of this, the Chinese began to play table tennis.
A company that entered the professional field earlier has accumulated a large sports mass base, coupled with government support, and it is a virtuous circle of business. So, it is not surprising that DHS is the most famous brand in the table tennis arena.
How to distinguish between genuine and fake DHS table tennis ball?
The DHS is a brand relished by most table tennis players, and it is also a brand that many people trust. But there are plenty of fake DHS table tennis balls available on the market, so how can you distinguish the real and fake ones among them?
Well, here are some ways to distinguish between a real and fake DHS table tennis ball.
1. Anti-counterfeiting strip and font comparison
For the packing, the genuine goods' security strips are clear and evenly arranged (can be seen in the fluorescent light or facing the outdoor light), and it has 6 to 8 stripes.
The anti-counterfeit strips of counterfeit goods only have 2 to 3 stripes, and the stripes are relatively thick.
For genuine DHS, the fonts are protruding, while fake ones, the fonts are flat.
2. See the clarity of the ball print
The authentic DHS table tennis ball is printed. For 3-star balls, they are printed in two colors. The fonts are arranged neatly, and the characters are evenly spaced. The orange ball is printed in blue and black.
3. Purity and Uniformity
Look at the purity and uniformity of the ball color. With multi-ball contrast, authentic DHS balls have higher purity and better uniformity.
4. Uniformity of the Joints
Get the ball and face it to the light. The seam of the ball can be observed through the light. The authentic double happiness table tennis seam is neat and uniform in thickness.
5. Production date is printed with a special code
The production date on the DHS 3-star balls package is printed with special code using digital printing technology.
By referring to the above five points, everyone will be able to buy genuine DHS table tennis balls.
How to Buy DHS Table Tennis Equipment
The company's equipment is sold online. You can purchase directly from this website. It guarantees you quality, affordability and high-tech DHS products that do not disappoint.
DHS table tennis equipment stands out from the crowd, and their names start with DHS. However, it is essential to be careful not to land on counterfeit products purporting to come from the DHS. Always buy from trusted online sellers like Amazon or megaspin.net.
Recommendation
DHS Table Tennis Equipment is tested and proven. It is for those who want to excel in table tennis game as a career. Do not be left behind! Try DHS tables, balls, rubbers, bats, blades, and accessories.