Butterfly Company has been manufacturing table tennis equipment since 1950. They design products using the latest technology that assists in making the game enjoyable. One such new invention is the Butterfly Zhang Jike Super ZLC blade.
Product details
Butterfly Zhang Jike Super ZLC is a first model with super ZL -carbon in the market. The main feature of this blade is, it makes control and powers possible. It is of class- Off Plies, 5w+2SZLC, and the weight for this blade is about 90g.
The thickness of the blade is 5.6 and the size of the blade is 157x152mm. This blade has two types of handles one is ST handle of 100x25mm and the other is the FL handle size if of 157x150mm.
World-class athletes use butterfly products because of the quality. This racket is made of wood. The wood floors are five-floor style. Attacking speed is fast and the feeling of the same on the hands is medium.
Butterfly Zhang Jike Super ZLC
This is an offensive blade. It is mainly composed of two sides of the arc. The blade can exert its power near or far from the table. It is very easy to get used to the blade.
The speed that generated from this blade is very fast and this is an advantage.
Butterfly Zhang Jike SUPER ZLC is a good blade to have. Although the material is also made of ZLC fiber, the double weaving method reduces the anisotropy of different fibers.
The overall performance is good though the hand feel is very delicate. Although the area of the sweet spot does not seem to increase much, it improves in the vicinity of the commonly used hitting area. This improves fault tolerance and defensive ability.
I have used the blade and liked it. However, it is too expensive.
It comes with two kinds of handles, you can go for both or choose the one that suits your hand condition and playing skills.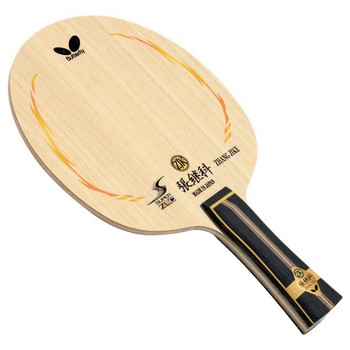 Rating:
Class: OFF
Speed: 96
Control: 76
Plies: 5W + 2SZLC
Thickness: 5.6mm
Head Size: 157x150mm
Anatomic Handle Size:102x24mm
Flared Handle Size: 100x25mm
Straight Handle Size: 100x23mm
Weight: 90g
Reaction: 123
Vibration: 111
These product has been promoted by top players of the world like China, Germany, Japan, Ireland, and many other countries.
You can buy Butterfly Zhang Jike Super ZLC blade, at Megaspin.
Compositions of the products
Butterfly has almost four Zhang types of products which are all unique. Butterfly Zhang Jike Super ZLC is a first model with super ZL-carbon.
They created this one with the latest technology to suit all kinds of players.
It is of good quality and is known worldwide.
The other three Zhang Jike models are, Zhang Jike ZLC  weighs 86g. It is very flexible. The second is Zhang Jike ALCis designed for players who wish to have a balanced powerful attack. Finally  Zhang Jike T-500 model with TAMCA 5000 is suitable for explosive-like players. It has thin blades.
Other similar models to Butterfly Zhang Jike blades include;
Butterfly Zhang Jike Super ZLC Proline w/Bryce High Speed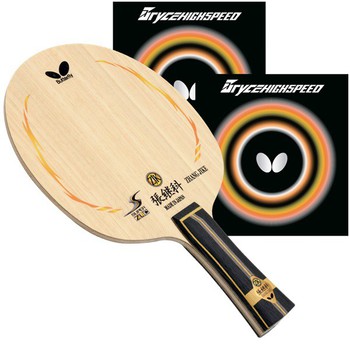 This is a pre-assembled rackett. It comes with the Zhang Jike Super ZLC blade. It has a Butterfly Bryce High Speed 2.1 rubber attached at the forehand and backhand of the blade.
The racket uses VOC-free glue. There's no strong smell when you open the package. You can change the rubber in the future if you get another piece of rubber that you want to attach to this blade.
If you want to buy this blade pre-assembled with Bryce High-Speed rubber, get it from Megaspin.
Super ZLC – Chinese Penhold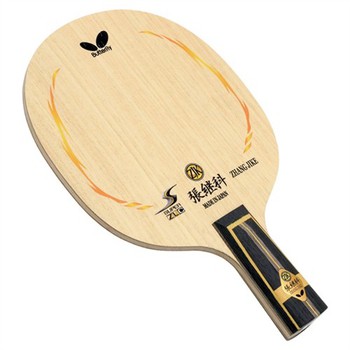 Information about Super ZLC – Chinese Penhold:
Style: Attack
Plies: 5W+2SZLC
Thickness: 5.6mm
Head Size: 161x150mm
Handle Size: 82x24mm
Weight: 84g
Reaction: 123
Vibration: 111
This blade is quite popular and widely used in Asia countries. The power is solid and helps save energy when you play with your shots. It also has a good feel.
The elasticity and vibration performance is very good.
The product is high quality and durable.
If you are interested in this blade, you can get it from Megaspin.
Related post: