Last Updated on
I compiled a list of top 10 best table tennis rackets which I think is ideal for most people, especially for an intermediate player. The list will covered those famous brands of best table tennis racket companies and manufacturers by picking one model out from each brand and provide a brief review on each of them. The review majorly will cover the racket ideal for the spin, speed, and control. Hope you will know how to choose your ideal racket after reading this.
List of The Table Tennis Rackets

1. Andro Temper Tech ALL+
This is the top blade released by Andro. The blade is response very fast, and can offer a player with great control and feel. It is appreciably more effective in most parts of gameplay. This fast blade can perform great if you attach the matching rubber to it. The ideal one is softer rubber like the Butterfly T05 FX and you will have a great touch and playing experience with it.
When you first using the racket, you need to play carefully to get used to it very fast speed. The blade features with a large sweet spot but there is no problem for you to handle it and have good control over it.
During the play, the racket can provide you with tremendous flexibility and you going to master it after some time of playing with it. You will achieve the power level and control ability you never imagine that you can achieve.
Rating:
Speed:87
Control:97
Play Style: ALL+
Weight:70g
Wood Feel: Medium Soft
Pros:
A lightweight Hinoki layer blade with very low vibration and can offer players with superb control.
Comfortable FL handle grip which can perfectly fit into your hand.
You can have the good feeling of the bounce the blade give you. It can help you keep more balls on the table.
Cons:
When doing smashing, it seems like not able to offer players with enough power.

2. Xiom Vega Euro
XIOM presents a sturdy highly effective blade which is known as Vega Euro. The blade features with revolutionary enlarged attack window which is well matched for aggressive players.
This is a great weapon and a very nice blade for the professional spin. They make the top ply of the blade with Limba wood. It is of the lower end that not give you a quick shot but the speed is still quick enough. You can get a lot of touches and feel when holding this racket in your hand. It can let you play looping game well and also the blade is very flexible for you to play blocking and big strokes. Besides, it allows you to perform closed-angle stroke and playing the short game. It can be very controllable with full arm swing.
The XIOM Vega Euro blade is an OFF – blade made with 5-ply wood 2-ply carbon, the thickness is 6.1 mm.
Zephylium/X-Carbon construction.
Zephylium: For Maximum spin and control
X-Carbon: For maximum catapult
Jointless Wood
They make each veneer of a single piece of wood. They are not jointed from two to one. The cost might be high, but through jointless wood, the blade would give better feelings and vibration to the player.
Rating:
Speed:91
Control:96
Play Style: OFF
Weight:90g
Wood Feel: Medium
Pros:
Nice speed,  control, and feel. Medium heavy.
Huge sweet spot.
Great blade. Control is a little ahead of speed.
Cons:
Sometimes you may not find inner power, particularly when you try to loop the ball.

3. STIGA Carbonado 290
The STIGA Carbonado 245 and 290 are live up to their name. They are constructed with thicker TeXtreme® with 200 grams of carbon per square meter.
This means the blades are having a double amount of carbon when compared to the previous carbonated series.
With such a substantial amount of carbon that used to build the blade, STIGA is focusing on increasing the blade speed to make it fast response when playing table tennis.
The build quality of these 2 blades is great. The speed that generated from this blade is incredible. You can get a really satisfied control with it. If you play offensively, you will get a great feeling every time you hit the ball with the blade.

Rating:
Speed:99
Control:58
Play Style: OFF+
Weight: 97g
Plies: 7 (5 ply wood + 2 ply carbon fiber)
Pros:
They construct the blade with great quality wood and nice finishing.
Can give you great blocking even with a strong loop drive.
Cons:
Not perform well if you use it to chop with long pimples.
The price can be quite expensive.

4. Donic Ovtcharov Carbospeed
This is the fastest blade model that is being released by Donic. The veneer construction of the blade is of 5-plies which is comprises Hinoki, Kiri, and 2 Carbon Plies.
The Donic Ovtcharov Carbospeed as its name suggests is a very fast blade that can offer players with exceptional stiffness and hard to break. You will enjoy to plays with this blade as it can keep on providing you with tons of high speed.
You may drive and hit with this blade close to the table easily. The throw is of the straight line when compared with most other blades. It can be tricky for you to play the loops in medium dwell where you need to use your wrist strength and have a swift movement to avoid over table. This blade is ideal for offensive players.
Rating:
Speed:95
Control:80
Play Style: OFF+
Weight: 85g
Wood Feel: Hard
Pros:
Delicacy craftsmanship with exquisite finishing for the handle.
Easy to use and can offer players with great control.
The blade is not only hard but can achieve its optimum performance with fast rubber.
Cons:
Not perform well for chop and block stroke.

5. Tibhar Xeon Sensitec
This is a blade with pretty looking and is designed for good control. Tibhar has 3 different blades for this series. The other 2 models are Sigma and Icon. 3 different are released to cater for different player levels. We will just discuss the Tibhar Sensitec Xeon over here.
For this Sensitec series, Tibhar is focused the design and development on the shape of the grip. The grip can be innovative which provides incredible ball sensation and feeling for players.
If you buy this blade, it is best for you to attach a fast rubber sheet on it and you can immediately get the power and speed you want. You will play the game well off the table. Besides, for the blade to provide you with the soft feel and flexibility to a certain extent, it can also give you great concave handle and nice control. Overall, the racket will let you play extremely well in short game.
Rating:
Speed:75
Control:88
Play Style: OFF
Weight:85g
Wood Feel: Medium
Pros:
Features with the lightweight concave handle that can offer players with a very good amount of control.
The modern design can give you a very sleek look.
Cons:
It will give your lesser power if the distance is far from the table.

6. JOOLA Rossi Emotion
This is the original offensive blade from Joola.
It built with 7-ply with 2-ply HINOKI, 2-ply KOTO, 2-ply carbon and 1-ply of AYOUS. This produces an extra large sweet spot in a high position.
They categorize this blade as fast speed and high control. The weight of the blade is carrying about 85 grams.
They generally consider the Rossi Emotion being evenly balanced. However, the rubber sheet that uses with the blade is important.
They use a classic fiber among its carbon to increase the sweet spot and speed to the blade at the same time reducing vibration. It meets the high demand for impressive players.
Rating:
Speed:86
Control:88
Play Style: ALL/OFF extreme
Weight:85g
Wood Feel: Medium Hard
Pros:
The blade can offer you a great balance between looping and driving and the wonderful feeling of stability.
It is a very quick blade for offensive players with superb control.
 It is a well-balanced blade for its playing characteristics.
Cons:
Didn't perform well with soft rubber where the blade won't add much power to your loop and drive.

7. Yasaka Max Carbon 3D
They construct this Yasaka Max Carbon 3D with 7 wooden veneers and two carbon layers. They also build it with the Yasaka 3D technique. With the technique in place, it makes the blade to be a powerful one that features with a large sweet spot.
The blade is a powerful blade that can do fast attacks. Besides, it also can give you with added flexibility to the rigid plywood.
The carbon layers is well designed with the purpose to add more speed to the blade. The sweet spot is massive which make this Yasaka Max Carbon 3D be a very consistent blade.
It is recommended for you to use hard sponge rubbers with the blade as it plays great with hard sponge rubbers instead of the soft one. It did extremely great with the DHS rubbers.
Rating:
Speed: 100
Control: 69
Play Style: OFF+
Weight: 90g
Plies: 7 (5 ply wood + 2 ply carbon)
Pros:
This blade is a state-of-the-art product you can have with reasonable price.
An ideal blade which is performed well in looping, drive, blocking, and counterattacks.
Cons:
Not suitable for beginners as it can be a little hard for them to master the blade.

8. Killerspin Diamond CQ Premium
This Killerspin Diamond CQ Premium is the latest blade that being released by Killerspin. It is the premium edition of the RTG blade. The blade comes with superior rubber sheets which can give you a great amount of spin.
However, if you are not like the rubber sheets that are pre-assembled on the blade, you can still take it off and replace with your favorite rubber. You can take off the rubber sheet effortlessly since the rubber is attached to the blade with VOC-free glue.
They construct this Killerspin Diamond CQ Premium with the purpose to provide a superb blade for offensive players who are playing with an aggressive style and do not want to lose spin and control.
If you are a serious table tennis player and wish to improve your skill, you may consider of getting this blade as it can assist you to improve your game to champion status.
Rating:
Speed: 98
Control: 80
Play Style: OFF+
Weight: 178g
Plies: 7 (5  ply composite wood + 2 ply carbon fiber)
Pros:
The blade can offer players with a steady control and powerful spin.
The blade is built with ergonomically grip.
Cons:
It won't offer players with a lot of dwell time.
When playing loop in the game, it's hard to do a smooth loop.

9. Stiga Infinity VPS V
They consider this as the brand new VP technology that is being built in this blade with the veneer precision system.
It is treated by having the distinctive heating and cooling process. The time for processing and the temperature are being measured precisely.
The Diamond Touch technology used to make the extra harness and combine the VPS technology. As a result, this is an offensive blade that will provide you with solid touch and feel.
By getting this Infinity VPS V, you will see all the possibilities and key elements in today's modern game with aggressive receives that you can gain from. This lets you have the feasibility in making quick and powerful topspin shots.
They develop together the blade with top players from the Chinese national team. It's specially designed for players with offensive-minded to produce powerful topspin strokes.
I have played with it and I love this blade very much. It's smaller than the other of Stiga blades but it offers me with incredible control and feeling. It is ideal to play near the table or a step away from it.
Rating:
Speed: 95
Control: 80
Play Style: OFF
Weight: 85g
Wood Feel: Medium Hard
Pros:
You will get the solid touch and feeling with this blade.
You still receive sufficient power even playing at mid-distance of the table.
It is a lightweight blade.
Cons:
The wood is soft. You may get damaged on the blade if you accidentally hit it on the table.

10. Butterfly Primorac Carbon
The combination of Cypress layers and carbon fiber makes the Butterfly Primorac Carbon an excellent blade for offensive players. It can offer players with the great amount of topspin and fast speed.
If you get this blade and practice for a while, you will find your hit became faster and more powerful. It is a blade that is well fit for offensive players.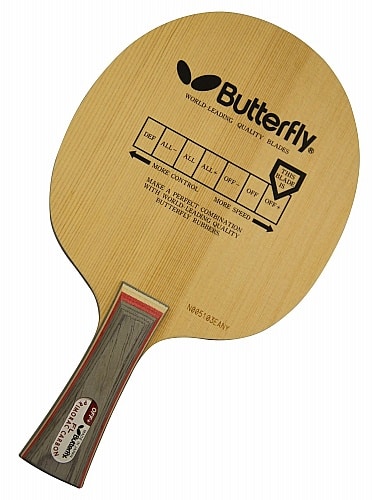 Rating:
Speed: 93
Control: 74
Play Style: OFF+
Weight: 88g
Wood Feel: Hard
Ply: 5 (3 Plywood + 2 Carbon)
Pros:
The blade can offer players with great control, speed and spin.
It can fit almost any rubber.
Cons:
Not a blade for professional players. It only suits for beginners and intermediate players to develop their skill further.
You can read the detailed review of this blade by following this link.
So, this is it for all 10 table tennis rackets that being introduced and recommended. Just remember there is no such best racket in the world you can. But it does have the racket that best suit you. You may probably find one that well suits your playing style and go to buy from an online shop. Other than this, for junior players or beginners who are looking for a decent bat that suit for their practicing, I would highly recommend them to read this:
Table Tennis Bats For All Players Guide
Related post:
Butterfly Table Tennis Bats and Rackets