Baracuda is the first cake sponge rubber released by Donic. The matte texture is fine and the friction is very good. It has received very good response since the release of this rubber to the market.
What to Expect From This Rubber?
The newly formulated Donic Baracuda rubber has its unique properties. The rubber has a high-speed glue component, which makes this rubber to have an incredible spin.
It allows more dwell time for the ball to stay on the surface of the racket to generate more spin. At the same time, it increases the speed of the ball and stability when doing the spin.
This rubber not only copes well with the violent arc attacks, but it also provides extra strength in the case of saving some hard-to-receive shots from the opponent. This has helped to minimize the chance for you to lose the point when playing in a competition.
It Is A Very Durable Rubber
In addition, Donic Baracuda is the top-of-the-line rubber for the new structure. It reduces the edge wear and destructiveness of the rubber and is very durable.
The most encouraging result is allows a player play for long hours without losing their strength and power.
As the rubber is very durable, it will remain intact and in good condition.
There are many players using the Donic Baracuda rubber to play the table tennis games and they just think that this is the best Donic rubber that suits them very well. If you are wondering how good the rubber is, now you can focus on this brief review to get some insights.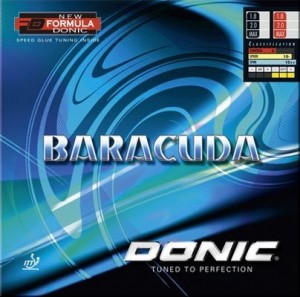 Product Information
Surface: Spin-Elastic
Type: Super Spin
Hardness: Medium
Thickness: 1.8/2.0/MAX
Speed: 91
Spin: 98
Control: 71
Donic Baracuda is the rubber with fabulous spin ability. It comes with built-in speed glue effect to enhances even more speed and spin with a higher throw angle.
The surface of the top rubber is newly constructed to minimize abrasion and damage to the edge which greatly enhances its durability.
Donic Baracuda offers a forgiving feature that allows you to return the ball with an extra margin of safety. Take a look at the Donic rubber chart below and see how's the performance for its speed, spin, control, consistency, gears, and overall.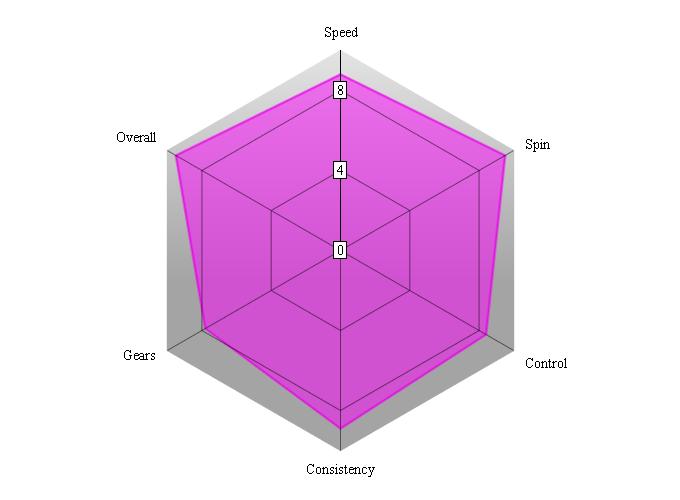 Donic Baracuda Performance
More Information About Donic Baracuda
Donic Baracuda is a world-class rubber with a very cost-effective price (approximately $50). It is suitable for all round to offensive players who are fascinated in monstrous spin. This is one of the most effective spinny rubbers in the market.
It provides significantly higher throw angle than other high-end spinny rubbers, such as Nittaku Narucross Ex-Soft, Yasaka Rakza 7, or even Butterfly Spin Art. This allows you to lift the ball significantly higher and will be more difficult to return.
It also helps you to generate a crazy spin with relatively less effort. Regarding controllability, this rubbers is unbelievably easy to control. It is one of the easiest blades to control among the crazy spin rubbers.
You can perform smash, drop shot, or block with decent weight and direction even when against an incoming spin ball. It is also very forgiving rubber that allows you to return the ball nicely even with imperfect technique or stroke.
Donic Baracuda vs. Tenergy 05
| | | |
| --- | --- | --- |
| | Donic Baracuda | Tenergy 05 |
| | | |
| | | |
| | | |
| | | |
| | | |
| | | |
| | | |
You may read in more detail about Butterfly Tenergy 05 rubber.
One minor drawback seems to be its speed and power. Even though it performs quite decent speed, it is still relatively slower than other super fast rubbers, such as Butterfly Tenergy series, or Yasaka Rakza 7. Some very offensive players who prefer killer smashes may not love it.
On the other hand, its slow speed makes it significantly easier to control and defend especially for beginners to intermediate players.
Overall, this is a very excellent rubber from Donic. It is highly recommended for all-round to offensive (ALL to OFF-) player who is fascinated in the spin over power.
Donic Baracuda vs. Bluefire M1
| | | |
| --- | --- | --- |
| | Donic Baracuda | Donic Bluefire |
| | | |
| | 91 | |
| | | |
| | | 10++ |
| | | |
| | | |
| | | |
The speed and spin of the Baracuda are not as good as the Donic Bluefire M1, but Baracuda can offer better control than Bluefire M1. And the durability is the highlighted characteristic for the Baracuda rubber. It is more durable than the Bluefire M1.
You may read in more detail about Donic Bluefire M1 Review.
Conclusion
It is a good choice for you to place the Donic Baracuda rubber at the backhand of your blade. The small force is solid and thorough. It can give you good traction with the ball and help to maintain a stable arc. Such playing strokes are suitable for stable players.
If you put the rubber at the forehand of your blade, you can play a forehand arc and spin easily.
While playing with the rubber on your backhand, You need to be careful on the speed especially when you are playing the loop. If you can't penetrate the sponge to exert the strength of the rubber, you will play with less speed, and it is easy to create a chance for the opponent to make a killing.
Therefore, when you are having this rubber on your backhand, it is ideal for you to play close to the table when playing with your backhand strokes. Try not to step back from the table so that you can play a fast stroke with it.
Baracuda is a stable type of rubber that focuses on friction and rotation. Its speed is basically enough but not so aggressive.
It is a comprehensive type of rubber that is relatively inexpensive compared to the selling price of other rubbers in a similar range.
If you are looking to buy this rubber, you can get this rubber from Megaspin.
Recommended Blades for Donic Baracuda
Butterfly Sardius, Butterfly Amultart, Xiom Hayabushi, Yasaka Malin Extra Offensive
Overall Rating: 4.6 / 5