How many types of DHS Hurricane 3 rubber?
There are several types of DHS 3 rubbers available on the market. Since they are almost having the same name, it can be quite confusing for many people.
Many people are just having trouble to differentiate which one is suited for them. Many are having the experience where they have tried the DHS 3 rubbers by borrowing the racket from other players. They are satisfied with that particular rubber and decided to get one for themselves. But when they go buy a rubber, they tend to buy the wrong one.
To help you out, I will list out in here for all the DHS Hurricane 3 rubbers and hope after you read the explanation, you can know how to differentiate them when you are going to buy a DHS Hurricane 3 rubber in future.
The rubbers mainly can be divided into:
Ordinary DHS Hurricane 3
Provincial
National
NEO
NEO Provincial
NEO National
In addition, you can find other similar series rubbers like the DHS Hurricane 3 Provincial Blue Sponge or DHS Hurricane 3 National Blue Sponge. These two rubbers are rare and only manufactured in very small volume. The materials used to produce these types of rubbers are rare and therefore the price is also more expensive.
DHS Hurricane 3
First, let's discuss DHS Hurricane 3. This is a very popular ping-pong rubber for many people. The reason why it is popular is that this rubber is user-friendly for both beginners and advanced players.
It is a rubber that suitable for players who are not picky in choosing the rubber for their blade. Basically, the rubber can offer a great feel for most of the people. So, many people are just like to pick this rubber since the price is cheap and it is easy to use.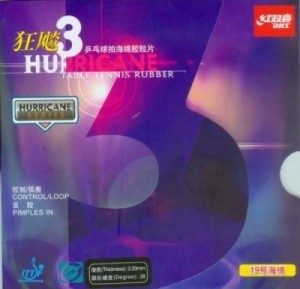 DHS Hurricane 3 rubber is developed for table tennis players who focus on control strategy. The rubber enhances your agility of powerful strokes. It produces a long trajectory that will be beneficial to controllability for a fast hit, punch and loop drive near the table.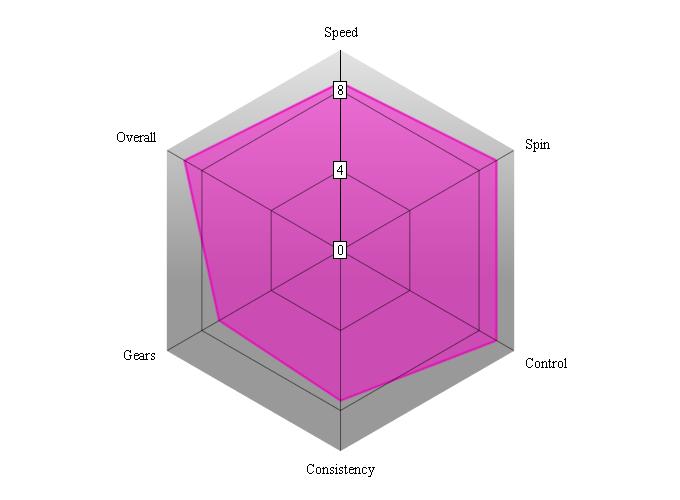 More Information About DHS Hurricane 3
DHS Hurricane 3 is one of the most popular table tennis rubbers in the market. It offers very high performance with the unbelievably cost-effective price (under USD$20). Physically DHS Hurricane 3 comes with a very hard surface and heavyweight (approximately 100 g). So it is commonly paired with light and flexible blades. It is quite a durable rubber since it does not lose its tackiness easily after using for a while.
Speed
In terms of speed, even though, DHS Hurricane 3 is not the fastest table tennis rubbers in the market (even slower than Hurricane 2), it still offers you a pretty decent speed for the standard offensive rubbers. If you are looking for a crazy fast rubber, this rubber may not be the best option.
Spin
Regarding spin, this blade offers you fascinated performance for spin strategy. Given the fact that DHS Hurricane 3 is very tacky rubber, it offers you significantly more spin power than average offensive rubbers with a higher throw angle. You can perform heavy topspin and backspin serve superbly. It performs very well on opening loop and pushes especially close to the table strategy.
Dwell Time
However, given the fact that it is a hard surface table tennis rubber, its dwell time is relatively low which makes this rubber unforgiving. In other words, the proper technique and stroke are required for brushing the topspin ball, which may not suitable for a beginner.
Control
In terms of control, the controllability of this rubber is quite phenomenal (which seems to be the highlight of this product). I would say DHS Hurricane 3 is one of the best controllable offensive rubbers in the market. Its controllability is significantly upgraded from the DHS Hurricane 2 in sacrifice with its speed and spin.
Attack and Defense
You can perform attack, counterattack, and defense with high precision for both direction and weight. This enables you to make a magnificent killer shot with relatively low speed. You can also block well with this rubbers especially when it is paired with the flexible table tennis blade like Nittaku Violin, or Butterfly Korbel 7.
Overall, this rubber is a high-performance weapon that shines on controllability and spin area with a very bargain price. It is highly recommended for high-level all-round players who love control and spin over power.
Product Information
Type: Super Spin, All-round (control)
Thickness: 2.15/2.20 (mm)
Hardness: 39, 40, 41 degrees
Surface: Hard
Recommended Table Tennis Blade for DHS Hurricane 3
Butterfly Balsa Carbo X5, Butterfly Korbel SK 7, Nittaku Violin, Nittaku Acoustic, Yasaka Advance 3D
DHS Hurricane 3 Provincial
Thickness: 2.2 mm
Hardness: 39, 40 degrees
Spin: 12
Speed: 12
Control: 11
The rubber used to be a non-marketing product. It was the special rubber only to be used by the professional provincial team members in China. But now you can also get the rubber in the market. It has a better overall performance compared to the ordinary DHS Hurricane 3.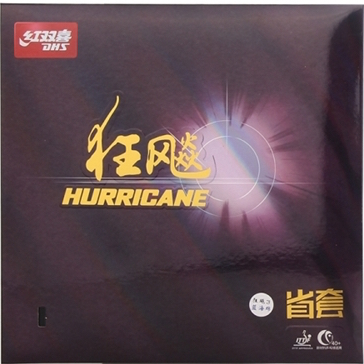 DHS Hurricane 3 is designed to solve the technical impact of the 40 mm ball. The rubber is being produced especially target on the players who need good control the ball or who are having relatively less power to do a powerful shot.
The rubber can help to reduce the heavy feeling when playing doing the serve. They also can get a long arc of spin which is beneficial for players to have good control over the ball. Players can play the fast attack and make a powerful shot close to the table.
You can buy this rubber from Megaspin.
DHS Hurricane 3 National
Spin: 11
Speed: 12
Control: 11
Thickness: 2.2mm
Each rubber is having a specification with the use of a unique bar code.
For example, a barcode with "GH3-39-2.2-R" stands for DHS Hurricane 3 rubber that is used by the national team.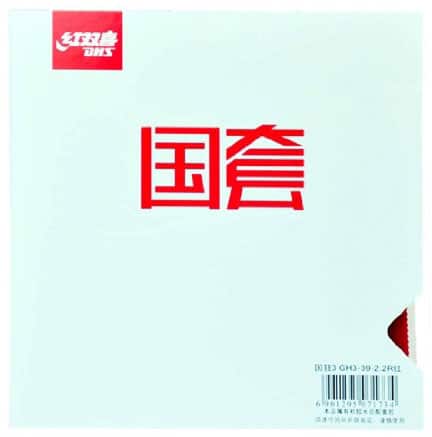 The DHS Hurricane 3 National is the secret weapon used by the national table tennis team in China. It used to be the secret weapon that most of the foreign players are very curious and keen to know. But now, you can also buy the rubber on the market and feel yourself about the "secret".
It is a special rubber for many China national table tennis players. The superior control of the ball can let the player do a longer trajectory. It is especially powerful when doing a close table fast attack and short-distance spin.
Read more about this rubber here.
DHS Hurricane 3 Neo
For players who play table tennis very often should know that most of the rubbers produced by DHS required you to refill the glue after playing for some time. This is because of the sponge material and technology used to produce the rubber.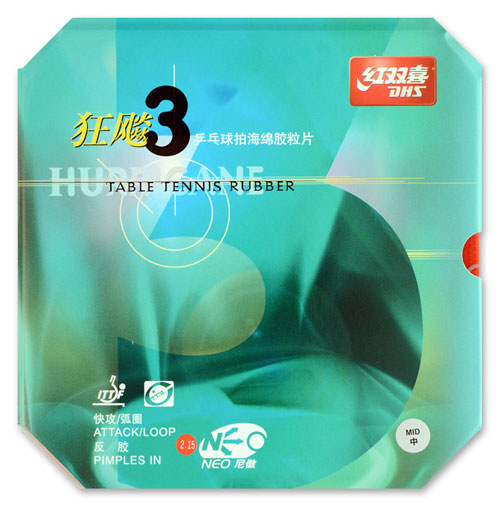 Re-glue a rubber is a cumbersome work. Especially for beginners, even using a brush to brush the glue on the blade is also a problem for them, let alone asking them to re-glue the racket from time to time?
Therefore, DHS has come out with a solution for everyone with the introducing of the DHS Hurricane NEO series of rubber. By having this rubber, you no need to glue it at all. What you need to do is just paste the rubber on the blade as the sponge is processed in advance.
After sticking the rubber onto the blade, you can use it until it is tearing off. This can save people from the trouble of filling glue.
Thickness: 2.15mm/2.20mm
Hardness: 39, 40, 41
The energetic "NEO" sponge blends well with the unique viscous DHS 3 rubber.
It presents a very stable and high-speed technology, which improves the user's ability to consistently winning in a rally.
DHS Hurricane 3 NEO can offer a player with a very speedy serve. The spin is very intense and the curve can be transformed in different positions.
You can buy this rubber from Megaspin.
DHS Hurricane 3 Neo Provincial
This is a higher quality version of Hurricane 3 Neo.
Thickness: 2.10mm
Hardness: 39, 40, 41 degrees
You can get a truly satisfying speed and spin with this rubber. Besides, you can do a really good block. For me, what I really impress with this rubber is the control that it gives me. I never have a rubber that can offer me with such amazing control.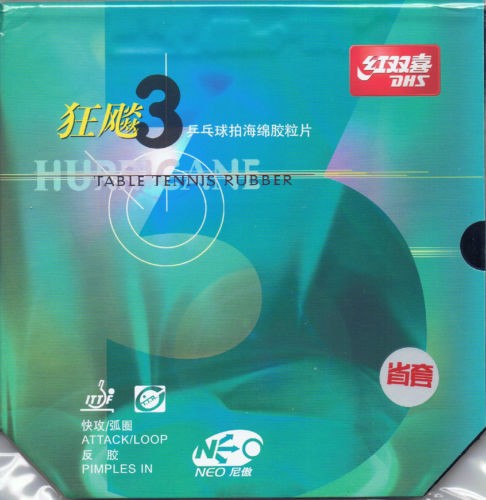 Topspin and sidespin are extremely easy to perform. I choose the hardness of 41 with 2.1mm for the thickness of the sponge. I have been using this rubber with Butterfly Innerforce ZLC blade and I really love it.
If you are interested in this rubber, you can get it from Megaspin.
DHS Hurricane 3 Neo National
The power and speed of the ball have become very powerful with the used of this rubber.
Blocking and pushing is quite good. But the best thing about this Neo National rubber is the control that it offers to players.
If you play with your backhand, you can feel the shot is particularly cool. Although the power may not as good as the Hurricane 3 NEO, it still can give you the power that you need.
In general, the overall performance of this rubber is very well. The NEO rubber should be a good one to restore the organic rubber series. The speed is slightly slower but the power is increased.
In summary, the DHS Hurricane series of ping-pong rubber is currently the most popular ping-pong rubber in China. It has stable performance, flexible control, and moderate price. It is a good choice for all ping pong players.