Table tennis, also known as Ping Pong is a favorite game for many people. To play this sport, you will need a table tennis table. For the latest fashioned, the counter-top needs to be made of solid wood according to international regulations.
Ping Pong Table Dimensions Measurement
For a full-size table tennis table, the upper surface is called the playing surface, and it requests a certain elasticity and even bounces of a ping pong ball. The dimensions of a full table tennis table size are 2.74 meters long, 1.525 meters width and 76 centimeters height measure from the ground.
In parallel with the horizontal, the table needs to paint with a dark color (must be the dark green or dark blue color of cellulose lacquer or paint which is set by International Table Tennis Federation (ITTF). No glossy surface should be found throughout the sideline.
There is a 2cm width of the white line at both border-end of the table. The long line is called the long edge line while the short line is called the end line.
There is a 3mm (1/8 inches) width of a white line in the mid of the table which is called the center line and is used when playing in doubles games. The area was divided into left and right portions and a net is placed between the 2 portions of the table.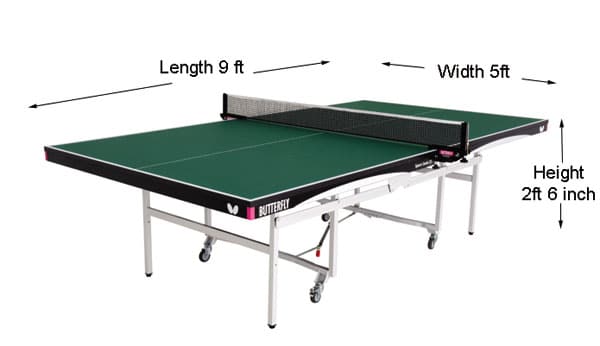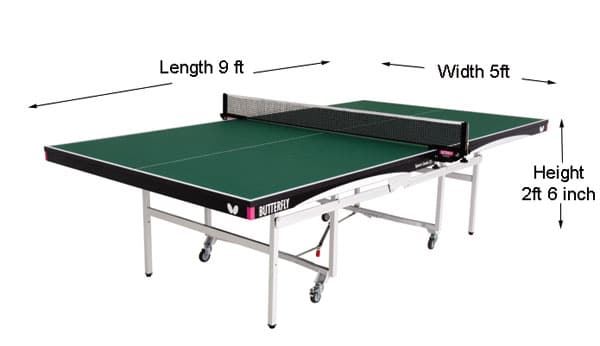 Standard Ping Pong Table Dimensions:
| | | | | |
| --- | --- | --- | --- | --- |
| Measurement | mm | cm | feet | inches |
| Length | 2740mm | 274cm | 9.0ft | 107.87″ |
| Width | 1525mm | 152.5cm | 5.0ft | 60.0″ |
| Height | 760mm | 76cm | 2.5ft | 29.92″ |
| Net Height | 152.5mm | 15.25cm | 0.5ft | 6.0″ |
While for folding or foldable type, the ping pong table dimensions when folded into half would be 22″(W) x 60.25″(L) x 65.75″(H).
The assembly of the net for the full-size table tennis table:
The setup includes a net, hanging rope, and net post. The net is secure at the clamp section on the table.
The net should be hung on a rope, and the rope was tied at both ends with 15.25 cm. The distance from the outer edge of the net post and the outer edges need to be 15.25 cm.
The net needs to have a distance of 15.25cm from the table surface.
The bottom of the net should be as close as possible to the table surface; Whilst both ends of the net should be as close to the net post.
Table Marking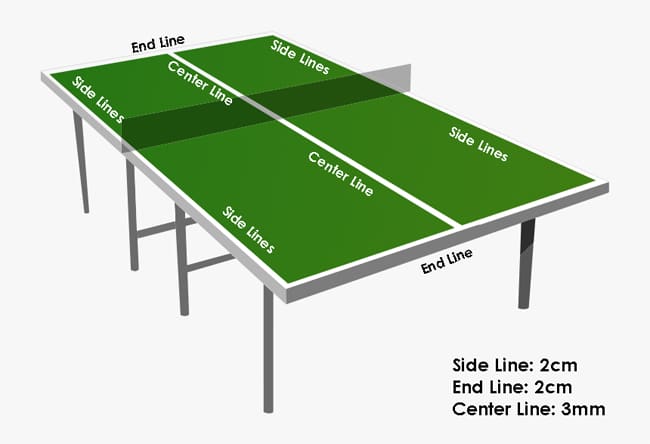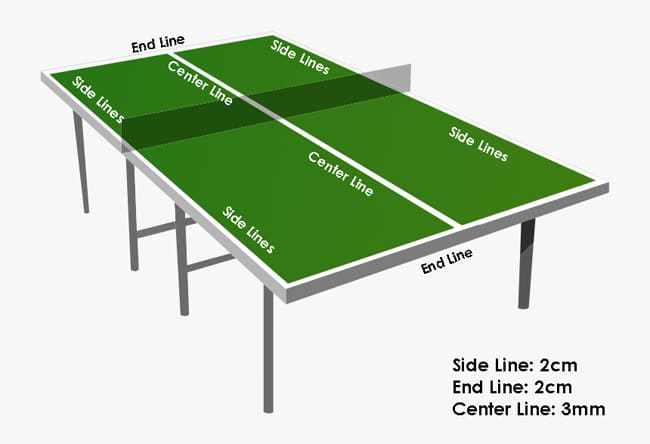 There are white sidelines along the length of both sides of the table. The width of the sideline is 2cm.
There is also a white end line along the width of both sides of the table. The width of the sideline is 2cm.
There is also a white center line across the table. The width of the centerline is 3mm. It is used to divide the table into equal halves when playing in double games.
How much space do you need for a table tennis table?
The table tennis space requirement for players to play is like this: it should be of the size of 1/73 of a soccer field, or 1/7 of the size of tennis courts. The table tennis court needs to surround by a 75cm high of cardboard and extend to make it a 14meter x 7meter rectangle field. The light has to place 5 meters high above the ground, and the brightness of the light needs to reach 1000 lux.
For playing at home, you will have to have enough space to accommodate the table as it is 10 ft longer and wider compared to the pool table. For amateur players, no huge space is required and you can place the indoor table tennis table in your vacancy room.
If there is no room for you to place the table, you can place them outdoor like put at your backyard or front yard. However, for expert players, such space is not enough as they need 25 ft more for them to run around.
What is the standard room size for ping pong?
This is a very important question in table tennis for beginners. If there is not enough space in a table tennis room, it will be frustrating and the players will not be able to enjoy the game.
However, the level of table tennis players will determine the amount of space that they will need in a game.
Professional table tennis players need enough space to be able to exhibit their table tennis skills, for instance, a defender would need a lot more space because they tend to play more away from the table.
Amateur table tennis players who are serious about improving their techniques must have to practice in standard room size.
table tennis room size
Table Tennis Court Playing Area
According to the ITTF rules of table tennis, room size or playing area for table tennis shall be a rectangle and not less than 14 meters long, 7 meters wide.
The playing area shall be enclosed by surrounds or table tennis barriers about 75cm high with all the same dark background color, separating it from adjacent playing areas and spectators.
table tennis barrier
Table tennis is a sport that can be played both indoor and outdoor. There are indoor tables and outdoor tables, and an indoor table tennis table requires a standard room size.
An official table tennis competition requires a standard table tennis court as specified in the official rules of table tennis.
Here is the required playing area for different playing condition:
| No | Event Type | Area Required |
| --- | --- | --- |
| 1 | World Championship and Olympic Games | 46 feet x 23 feet (14 meter x 7 meter) |
| 2 | National Tournaments | 40 feet x 20 feet (12 meter x 6 meter) |
| 3 | National League and Matches | 33 feet x 16 feet 6 inches (10 meter x 5 meter) |
| 4 | Local League and Tournaments | 30 feet x 16 feet 6 inches (9 meter x 5 meter) |
| 5 | Coaching | 28 feet x 13 feet (8.5 meter x 4 meter) |
Recreational Table Tennis Room Size
In the recreational level of table tennis, the standard room size is not too necessary. A game of ping pong can be played in the basement or garage or any other part of the house.
However, for recreational games, it is also important to have some amount of space for the players to enjoy the game.
If there is not enough space in the room, players can hit their rackets on the wall anytime they want to make a smash.
To enjoy a game of table tennis at home with family members or friends, the playing area should be able to contain a full-sized table tennis table.
If there are many family members in your house and there will be a lot of doubles games to be played by the family members and your invited friends, then the ideal room space for you to have is 24ft x 14ft. This will ensure that there is sufficient space for all 4 people to move around during gameplay.
Other factors you need to consider in a table tennis room is the lighting of the room and the floor covering. In a table tennis room, there should be enough light for all players to see the ball clearly so they can precisely make the shot. They may miss the ball if the light in the room is not clear enough.
For the floor, you should build with smooth concrete or wooden covering. You need to ensure that the floor is not slippery. Otherwise, the floor may cause people to fall which may have them injured while playing the game.
What is the standard thickness of a table tennis table?
Most of the tabletops you can find on the market are having the thickness ranged from 13mm (0.5″) to 25mm (1″). A standard table should have a thickness of at least 19mm (0.75″). The table that approved by ITTF for international tournaments needs to have a thickness of 25mm ( 1″).
When buying a tt table, you should get those that have a playing surface of at least 19mm (0.75″) for the thickness. If the thickness of a tabletop is less than 19mm, it may not offer you a consistent bounce and the table can easily get warp after playing for some time.
Are table tennis and ping pong tables having the same size?
Table tennis is the same as ping pong. Even some people said table tennis is an official name to the sport and ping pong is for recreation play, but for most people table tennis and ping pong are pointing to the same thing. Therefore, table tennis and ping pong tables are of the same size.
Unless the table is not a standard size table that is meant for formal tournament play. You can find other sizes of ping pong tables such as midsize, mini, or compact tables that cater to recreational play.
What is the dimension for the midsize table tennis table?
For Joola Midsize table, the dimensions is 71″ x 30″ x 36″ (L x H x W). The storage dimensions is 36″ x 36″.
How tall is a ping pong table folded up?
For a foldable table tennis table, the height of the table after it is folded into two halves is about 64 inches.
Are Olympic ping pong tables smaller?
Nope. It is the same size as all the standard tables that are qualified to play in world tournaments. All tables including tables used in Olympic need to compliant with ITTF's standard.
How much do ping pong tables weigh?
Some people are having a question on how heavy is a ping pong table? Well, different tables made by different manufacturers will have quite a huge variation for the weight. For example:
DHS T2828 model of table tennis table carries a weight of 115kg (253 lbs).
Double Fish 206 model is weighting 118kg (260 lbs).
The shipping weight for STIGA Baja Outdoor Table Tennis Table is 87kg(193 lbs).
The weight for Killerspin MyT5 Ping Pong Table 89kg (196 lbs).
The weight for the Stiga Outdoor Roller Table is just 54kg (119 lbs).
Read also: Review of different outdoor ping pong tables