If you have an RV and do a lot of camping or travel very often and need something to play with, you may consider getting this Hathaway Crossover Portable Table Tennis Table. Many people decide to buy this table because it is very compact and can bring it anywhere they travel.
Eco-friendly Powder Coating
The tabletop is made of unique resin with the composition of other additives through hot extrusion and sieving. Such technology makes the tabletop form a smooth and bright coating film. As a result, it offers users a decent bounce and good rubbing effect and good corrosion resistance.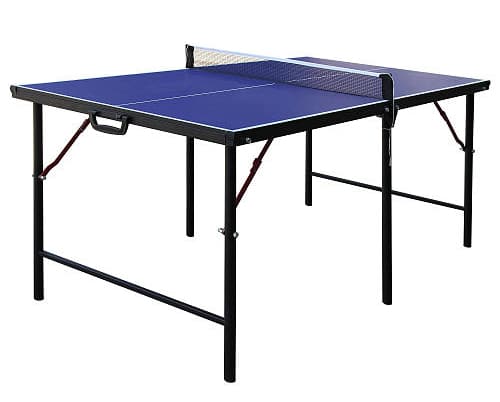 A lot of Curiosity For This Hathaway Crossover Portable Table Tennis Table
If you play ping pong with this fantastic table during your outing, it will be no surprise for curious people, asking for information on where you got this cutie compact table tennis table.
It is because the table is designed in very lightweight and easy to set up. You can set it up in no time and have fun with it right away.
Even though this table is designed for family entertainment, the craftsmanship is of a professional standard.
The table is constructed with lightweight material, and it can be considered one of the handiest compact table tennis tables that you can find on the market. The table can especially work out perfectly in an outdoor environment. It is featured with an easy-fold design and is having a convenient carrying handle.
The legs can be unfolded and perfectly lock in place so that you can have very sturdy gameplay. You can fold the net posts for optimal portability.
It can offer competitive fun for all ages, and you shouldn't let the size stop you from playing as it can give both children and adults a lot of fun.
Other than playing the game of table tennis, you do not just stop there. You can use the table to play a beer pong game as well. Thus, the table is perfect for a variety of outdoor activities.
Features:
Dimensions 60″L x 28″W x 29″H

1/2-in MDF table top with deep blue-purple finish

Foldable table tennis table has 1″ diameter steel frame with a black powder-coated finish

Easy fold design with convenient suitcase-style carrying handles

Complete with removable net and posts set, 2 paddles and 3 table tennis balls
By purchasing this table, you will also receive a removable net, 2 paddles, and 3 balls.
Do bear in mind that if you didn't play the game and keep the table in your store or basement for a long time, the table may fell apart.
To avoid damaging the table, you should check the table from time to time and do some simple maintenance like folding the table or doing dust cleaning to ensure that the table is working and is in good shape.
House Dilemma
For a house, there are many different required to cater for various purposes. In a house, you need a dining table, studying table, coffee table, working table, etc. With so many tables in need, there is no more space for you to allocate a ping pong table anymore if you wish to play the sport at home.
It is hard for you to find a universal table where you can dine, study, work, and play table tennis. It would help if you too had too many tables. It is very inconvenient, and the tables take up a lot of space.
If you can have a multi-purpose table where you can do all the activities with it, you will save a lot of your house space. It is the time for Hathaway Crossover Portable Table Tennis Table come into play. By having this table, you can have all your activities done on this table.
My Experience With The Table
The quality of the table is excellent. Although it is not a standard table tennis table, both adults and children can still play happily with the table.
Bounce Test
I do a simple bounce test when I try to place the ball at the height of approximately 30cm from the table, and then I let the ball drop on the tabletop.
The bounce of the ball is about 25cm. It is the bounce standard for table tennis. Thus, I conclude that this tabletop is to meet the bounce of a standard table tennis table.
Coating
The coating is solid with dedicated craftsmanship. The material used is non-toxic so that it won't do any harm to your body.
More importantly, after I bought this table, I just put the table outdoor with good ventilation for a whole day. By doing so, the table was odorless after one day, and you can place it in your room without worry about getting the uncomfortable smell.
I have tested the table with the formaldehyde detector that I bought. The result shows that the coating material is all within the safe range. So it is relatively safe and won't generate any risk that can threaten your health condition.
So I feel that although the price is low, the quality of the table is quite good. It is worthwhile for you to spend money on this table which will offer a lot of fun to you and your family!
I would recommend this Hathaway Crossover Portable Table Tennis Table is to anyone who requires a compact, fun game for their leisure time.
It is really small, but it is playable. It is perfect for small kids. They can spend hours to play with it without feeling tired, and you can also have some free time to do the thing you like to do.
If you love this table, you can get it from Amazon.
Related post: