Kettler Axos 2 is another quality table released by Kettler. It is an enhanced version from Axos 1. From what Kettler official website claimed the only difference between Axos 1 and Axos 2 is regarding the wheel.
The Axos 2 is constructed with a wheel upgrade that is lockable and has a slightly thicker frame. The assembly of the table is lightweight where it is having a very compact construction. This is a foldable table that is built with a rounded powder coated.
Durable Construction
This is a great quality table tennis table that built with a board that is having a thickness of 0.87 inches or approximately 22mm. The table can cope with high-impact play.
Assembly
There are many separate parts that come with it. You need to read the installation manual first become you start to assemble the table. The assembly process can be quite hard and will take you quite some times to complete.
It is not recommended for you to set the table up by yourself. You need to find another person to help you out as it required 2 persons to carry out the task.
If you would rather not wasting your time on figuring out the assembly process, then it is best for you to pay for the in-home delivery and assembly. You just need to pay some extra fee and you can make yourself hassle-free without the need to go through all the assembly process.
Table Top
The table top is constructed with non-glare waterproof aluminum. It features with Kettler patented technology which is ALU-TEC. The ALU-TEC has featured the UV resistant surface. This makes the table to be very sturdy for it to place outside to withstand all weather conditions.  The surface is also great where it can give you a tournament level of bounce.
Table Legs
The galvanized steel legs are constructed with the purpose of resist corrosion and added stability to the table. The design of the legs is quite sturdy that can offer you with a great foundation as well as playing characteristics.
Swivel Wheel Casters with Brakes
The table is designed and built with 4 swivel wheel caster with brakes where you can lock the table when you have placed at the right place to fix it on the floor.
The wheel can roll very smooth on the floor. So when you place the table in a storage position, you can move them effortlessly to anywhere you want to place the table.
Solo Playback Facility
It features the playback facility. Thus, if at the time you can't find anyone to play ping pong with you, you may simply fold one half of the table for solo play.
Easy Move for Storage
The two halves of the table can fold up. Therefore, after finish playing the table tennis game, you can move them easily to anywhere you want. It is also can help in saving space when you put the table in storage.
Safety Features
This table comes with superb-looking safety handles on the lock for the safety purpose. With the availability of the safety handles, it can provide you with good prevention on unintentionally opening or closing the table.
Accessories
When you make a purchase of this Kettler Axos 2 outdoor table tennis table, you will also get some free accessories and equipment that come together with the table. The equipment includes 2 Kettler Halo 5.0 paddles, 6 pack of 3-star ping pong balls, and a Kettler table cover.
Features:
ALU-TEC UV resistant and non-glare waterproof aluminum tabletop.
Lockable swivel wheel casters.
Detachable net.
Dual lever safety fold.
2 Halo outdoor rackets and 3 balls.
Assembled dimensions: 108 L x 60 W x 30 H inches.
Folded dimensions: 60 x 22 x 67 inches.
Price
The price for the Kettler Axos 2 is about $600. For an outdoor table tennis table, such a price is quite a bargain. And the quality that you can have with this table is well worth the money that you pay for.
Needless to say, this is a great table that is selling at quite a decent price. You can get this table from Amazon if you are looking for a quality outdoor table tennis table.
My View
You are somewhat well spent your money on this table tennis table. You may need to take time to comprehend the instruction manual which I think is vaguely written and many steps are not clearly stated. I consumed quite some time to figure out all the pieces in the box on how to put them together.
I embedded a YouTube video in this post to help you out if you are like me who are having the problem to understand the manual and have a difficult time to assemble the table. All I can say is this can be one of the most challenging table tennis table for you to assemble.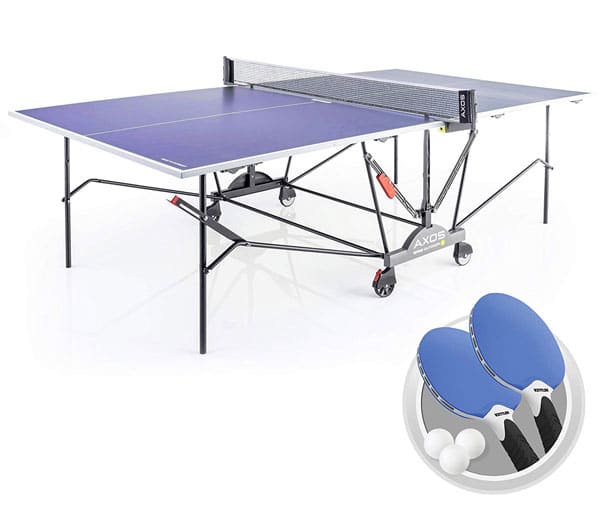 Even though the manual said it only required a person to assemble and the time has taken is about 2 hours. However, if you have no clue on how to put all pieces up, you may need more time than the manual stated.
It is highly recommended for you to drag to the end of this YouTube video, take a snapshot of it and print the table that is a complete assembly to have an idea how the table actual look like as a finished product.
Pros:
Quality and durable table with UV resistant surface.
Weather resistant and is very portable.
Can use for both indoor and outdoor play.
Lockable wheel to fix on the floor and for storage.
Cons:
Manual difficult to grasp.
Assemble take a long time.
Does not come with adjustable legs.
The free paddles and balls are quite low in quality.
If you are having an issue in assembly this table, you can refer to below video for the assembly guide to help you out.
This is a great table for players to play table tennis with. Other than the assembling of the table is not easy, you will find this table is in fact quite good for its performance where you can enjoy playing table tennis with it. It can offer you with quality and even bounce for each of your shot and you will have a very good feel and playing experience.
Related post: