The Stiga STS 275 table tennis table is without question an ideal table for households and serious ping pong players. This table that provided by Stiga is a good looking, sturdy, and of premium quality.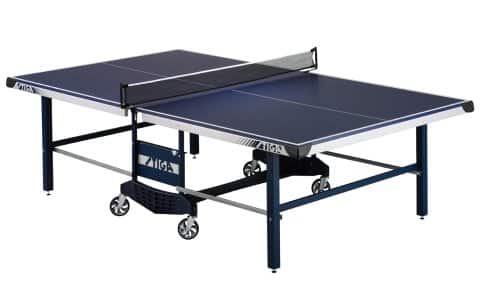 The company always ensures in keeping their brand and reputation as a top priority by consistently offering quality equipment to meet the needs of players of all level. There is no exception of this Stiga STS 275 as well.
You may find this table is really opponent-confounding and table-edge slam shot. It can provide you with durability, speed, even bounce, and quality spin for your shot.
What's So Cool About Stiga STS 275?
There are many features that you can have with this Stiga STS 275 table tennis table. Let's take a look at some features that are available in this table.
Playing Surface
The table is built with 3/4″ table top that painted in blue color and meets the international tournament requirement. The surface is installed on a steel apron to offer players with rock-solid steadiness. The steel is thick enough to make the table to be very sturdy one for anyone to play with it. The table can provide you with good quality of bounce with such quality material.
By completing the installation, the table will stand on 2" square steel self-opening legs. It has a corner slap-shot to protect the table from warping. Players are protected by well-construct corner pads and they can simply pay attention to their shot without having corner-poked.
Casters
The wheel casters are built with silver mag-ball which provides easy mobility of the table to playing location and for storage. When you purchase this table, you will have the 66″ net and posts shipped together.
Stiga has focused themselves to the portability issue of this table with the feedbacks that they received from consumers. As a result, this table has been equipped with a set of four 5-inch silver mag ball-bearing wheels casters that provide good looking and at the same time offering remarkably functionality.
With the availability of mag ball-bearing wheels casters, you will find it is effortless for you to move the table. The casters look great with modern design. They are stabilized by a molded beam panel.
Features:
Innovative outdoor table tennis table with 3/4-inch tournament blue top
Two-inch square self-opening legs and 2-inch steel support apron
Five-inch silver mag ball-bearing casters and stylized corner pads
Folds up halfway for individual practice or all the way for storage
1 year limited warranty
Weight: 240 lbs
Dimensions:
Playing dimensions: 5′ W x 9′ D x 30″ H
Playback dimensions: 60″ W x 71″ D x 74″ H
Storage dimensions: 60″ W x 28″ D x 74″ H
Net and Post
You will have the net and post shipped together when you purchase the Stiga STS 275 Table Tennis Table. The net is having a measurement of 66-inch. Nonetheless, the net is not of good quality. The tension of the net is not so good and it can easily tear off as well. It is best for you to order another net for spare in case this net get to break off.
There is a heavy-duty chassis which make the table incredibly sturdy and durable where you can buy and play with it for many years. The table is designed with dedicating craftsmanship from the ground up, with the use of quality materials and skillful workmanship to create one of the top quality tables in the world.
By the new implementation of stylized corner pads, players will no longer need to worry for suffering from an injury caused by sharp edges.
Also, there are no more injured legs and torn clothing happening after implementing of such cool element. You will receive a 66′ net and posts that come together from your purchase of this Stiga STS 275 table tennis table.
Pros:
The surface of the tabletop is very hard and leveled. It can give you quality and balance bounce.
Construct with quality heavy-duty chassis.
The mobility of the table is quite smooth with the availability of large dual caster wheels. They can withstand and carry the table right despite the heavy-weight of the table.
Cons:
It is a heavy table and transportation is not easy.
The net that comes with the table is not of good quality.
Assemble manual is not easy to understand and the assembly job is rather hard to carry out.
The table is come in 2 halves and is foldable. So, you can fold up one table vertically and play solo if you can't find anyone to play ping pong with you. However, when you fold one side of the table, you may found a gap between the two tables.
The ball may drop off from the gap if you play short ball but this is not a big deal for most people as they tend to use the table to practice their shots when they are playing against the table.
This is a portable table where you can move it around for setup and for storage. When you want to play ping pong with the table, you can simply take the table out from where you store it and place at the location where you want to set up the table. After playing, you can simply fold the 2 table halves up and move them for storage.
This is good if you are only having limited space in your house. If you get a permanent table that is not movable, the table will occupy the entire room and you can't use the room for other activities. With a portable table, you can spare out space when you are not playing ping pong. You can move the table for storage and your room will be available for you to use for other activities.
This table is a bit pricey when compared to other tables. However,  the quality that you get is well worth the price that you pay for.
If you have decided to buy this table, you can get it from Amazon.
More Stiga table models: