Last Updated on
Do you need advice on how to buy your table tennis balls in bulk like in 1000 pieces or you want to know what kinds of balls are available?
The ping pong ball is a very important table tennis equipment and you need to buy the right one and with certain quantity in order to save money on your purchase.
I will tell you all you need to know about ping pong balls and which type of ball is right for you according to your level of play.
Types of Table Tennis Balls
There are different types of ping pong balls; there are the training balls which are used for training purposes and there are balls that have the rating system that is classified by stars.
The training balls are softer practice balls which have different colors and shape and are made for recreational purposes or for fun players, they are not durable and break easily.
The Star Balls
1-2 star balls are of less quality but better than the training balls and are suitable for training purposes with players who are improving on their game but not yet in the professional level.
It is also suitable for use in table tennis robot or ball machines for practice purposes.
Balls with 3 star are exclusively used for official competition; the 3 star inscriptions indicate that it is of the highest quality.
As a beginner I would advice for you to use the 1-2 star TT balls to practice and improve your skills, but as you improve you can switch to the 3 star balls.
The 3 star TT balls are more expensive than the 1-2 star balls so it would be economical for you to practice with the 1-2 star balls which are less expensive.
The rules of table tennis specify that the game must be played with a 2.7 gram, 40mm diameter 3 star balls and the ball shall bounce up to 24-26cm when dropped from a height of 30.5cm.
The size of the TT ball was changed from the 38mm balls to 40mm balls after the 2000 Olympic Games. The 40mm ball is much slower in speed and produces less spin than the 38mm ball.
The TT ball is made of high bouncing celluloid or similar plastic material. The official color of the TT ball is white or orange.
Approved Table Tennis Balls
The International Table Tennis Federation produces a list of authorized 40mm balls, which have pass the testing program of the organization.
No ball is added to this list except it passes this testing program.
You will see in all the ITTF authorized balls the indication of ITTF logo, including the logo of the brand, the standard of the ball which is 40mm and also the country were the ball was made.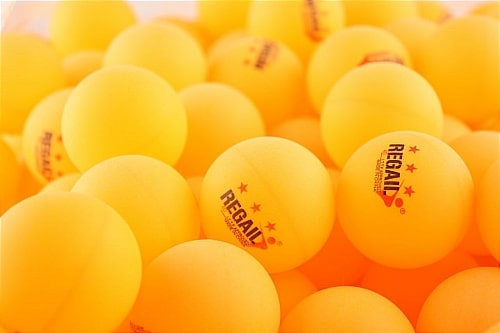 How do you buy your table tennis balls in bulk?
TT balls are always sold in bulk, they are sold inside packs and put in a bulk case.
Depending on the type of TT ball you want to buy, you will find bulk table tennis balls pack of 12 ball, 36 balls, some can also be 144 balls.
There are different types of ping pong balls, but as a beginner you can start with the training balls or the 1-2 stars ball as you improve on your game.
The official size of the ball is 40mm, the 3 star ball is for official games and the ITTF have a list of all the authorized 3 star balls.
To make you get the best of your table tennis balls, make sure to keep it away from direct sunlight, high temperature and moisture and always pick up the ball quickly when it falls on the ground so that someone do not mistakenly step on it.
There are ping pong balls bulk 1000 deals that you can find at Amazon if you are looking to buy in large quantity. These are advanced training balls which are suitable to be used in the training for professional players.
Read for more on ping pong balls:
* How to Choose and Buy Good Ping Pong Ball