For table tennis enthusiasts, playing your favorite game just got better and easier. Gone are the days when people have a whole hell of a time setting up table tennis table and trouble stocking the table for future use.
With the state of the art technology, Franklin Sports – a sports equipment making company based in the United States – came up with Franklin Quikset Table Tennis Table. Their idea was to help people turn their game room into table tennis central.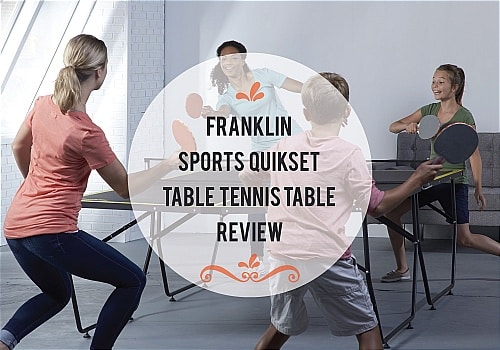 Franklin Sports' design of the Quikset was engineered to focus less time on building the tennis table for you to enjoy more playing time. The idea sounds great because it doesn't look alright wasting an enormous amount of time assembling a table which could have been invested in more playing time.
Franklin Sports Quikset Table Tennis Table features an innovative design you can set-up in minutes and folds up in seconds. Open the product box and you are ready to play in a matter of minutes.
The size of the table is that of a tournament size – 9 feet x 5 feet x 29.5 inches. It has a durable steel reinforcement on each edge and one-inch leg lever to ensure rock-solid stability making the table ready for many game nights to come.
Though the Quikset design allows for easy and fast setup, its built-in hinge system firmly locks the table in place and amazingly folds when you are finished. The table can be easily folded after gameplay and can be put in a closet or under a bed for storage.
Features of the Franklin Sports Quikset Table Tennis Table
Its design cuts setup time to half. In minutes, your assembly and in seconds, fold.
It comes with preassembled hinges for easy and effortless installation.
It comes with a ready-to-play attachable net.
It can be assembled to two separate halves (9 feet x 5 feet) which makes it ideal for use in smaller spaces.
It comes in tournament size which provides an authentic and professional play experience.
It has a 1-inch leveler which ensures an even playing field.
Durability and strength are provided by the steel reinforcement on each corner of the table.
It has a hinge system which firmly locks the table into place during gameplay.
It has a dimension of 108″ x 60″ x 29.5″ (9ft x 5ft x 29.5in).
It has a weight of 80 pounds
Having said all these, it important to say that the product was design with two sets of customers in mind – those who are space-limited but strongly want to play table tennis regardless and kids or beginners who just want to have some casual fun with ping pong.
You might encounter some minor problem when assembling the table, however. Trying to set up each half of the table upside down may give you some problem. You will have to flip them over and put them together. There are supports you have to put in place to keep the table from drooping. Putting the pieces in place upside down only makes the table fall out.
You might encounter another problem when you move the table as a whole once you connect the net with the halves of the table. This is so because the halves have been designed to be connected by the net. Trying to budge one side, however, just moves that side alone leaving the other side.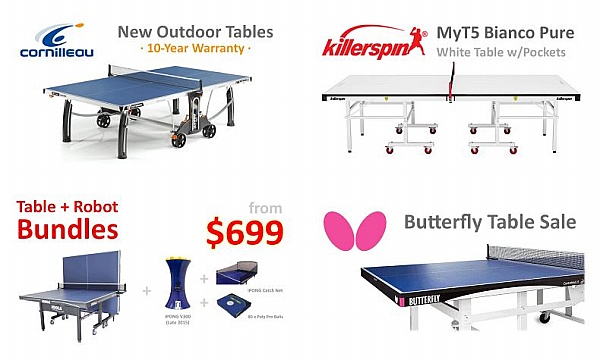 The Franklin Sports Quikset Table Tennis Table, regardless of whatever, is the best choice to go if you desire portability and want to ease yourself from the unnecessary stress of assembling and disassembling your table after use. In addition to this, you have a choice of keeping the table for any period of time you so desire without worrying about storage space.
Where can you get it?
The Franklin Sports Quikset Table Tennis Table can be gotten on many sport accessories stores online with price ranging from $240 to $330. Amazon is also a nice choice for you too.
Whatever the price you get this awesome table, be assured you won't regret your choice.

Related post: