Things You Need To Know About Indoor Table Tennis Tables
Just when you thought those tables were merely used for dining and office purposes, think again. This might have been the idea behind table tennis, a famous sport known nowadays.
In 1890, a group of upper-class Victorians played an after-dinner entertainment activity, transforming everyday objects such as tables, books, champagne corks, and cigar box lids into the Olympic game we now call as table tennis.
The typical tables were given a new face—as important sports equipment. Up to the present, more and more people are purchasing their own table tennis tables to play the sport.
Which Is The Best Outdoor Table? (

Answer Highlighted

)
I have tested a lot of different indoor table tennis tables. Every time I visit a table tennis club and play the game, I will check on the table and try to play some games on it.
After testing for many different brands and models of indoor tables, I finally pick one table which I think is the best for people to play table tennis no matter what level they are. You can read on to find out the winner which is highlighted in purple color.
Why Indoor Table Tennis Tables?
Although it can also be played outdoors, it would still be far better if table tennis would remain to be an indoor sport. It is suggested that table tennis enthusiasts invest in indoor table tennis tables because:
You'll need a lot of sunshine to play outside. Playing outdoors requires good, dry weather. Windy conditions might affect the flight of the ball, or even worse, the wind might just carry your neighbor's roof into your table tennis table and crack its surface. (Pretty bad, isn't it? And sad, too.)
But with the indoor table tennis table, you can happily play even while a storm is passing by your town, or even yet, while a tornado is hitting somewhere!
Better playing surface. While outdoor table tennis tables are already available in the market, it is still smarter to avail of an indoor table tennis table because it has a better playing surface compared to outdoor ones. Outdoor table tennis tables are typically smaller and are made of thinner materials.
Roll The Tables Away!
Now you know of the reasons indoor table tennis tables are more preferable than the outdoor ones, you might wonder next on what type of table to purchase. Here are the kinds to choose from:
Conversion top kit.
This indoor table tennis table is the "play-as-you-go" type. It can easily be assembled and set it up in an instant, and similarly, stored and folded right away.
Mini table tennis table.
Who said table tennis is for adults only? With the mini table tennis table, kids can learn their way into becoming table tennis stars.
Novelty mini table tennis tables.
These are miniature types, measuring 12″ x 8″ x 2″. If you are driving downtown and you feel bored, worry no more! You can always play your favorite game of table tennis even in the backseat.
Full-sized table.
Now, if you are serious about getting into the heart of this sport, then this indoor table tennis table is suitable for you. Spend good afternoons with a game or two, until dinner is served—at the dinner table, of course.
Now, all you need to do is to become like a racquet—be taken back and forth with energy, and like a ball, bounce off with happiness as you play the game!
Tips For Choosing An Ideal Indoor Table Tennis Table
Among all other indoor games, table tennis is known to be one of the most addictive and enjoyable games to play. It has been identified that the majority of the players who take up on this game end up getting addicted to it.
Apart from addiction, this game is highly helpful because it helps in proper exercising and flexing of the body muscles.
If you are an individual aspiring to become a professional table tennis player, consider buying your own indoor table tennis table. By owning your own table, you will have the privilege of enjoying ping pong for as long as you wish.
Things to Consider Before Buying Indoor Table Tennis Table
Before buying an indoor table tennis table, there are aspects you must remember and take into consideration for you to purchase the most ideal table for your gaming needs. Choosing the wrong table can be de-motivating.
When purchasing a table tennis table, it is important to consider the brand. With the many manufacturers of table tennis tables available, there is a great diversity in the tables you can get in the market. For this reason alone, it can be very easy for you to buy a table is below quality.
It is therefore important to have a specific brand of the table known for its impeccable qualities. You can look for a table such as a Butterfly or Stiga. One of the best indoor table tennis tables for Butterfly is Butterfly TR26 Playback Rollaway.
When purchasing an indoor table tennis table, it is important to consider the size of the room into which you will place your table. In most cases, it is advisable to have a table whose dimensions are proportional to the dimensions of your room.
Do not buy a very large table since it might end up not fitting in the desired room. In addition, the table you buy should leave sufficient room and space for players to move around as they play table tennis.
Buying Foldable Table
Another tip you can consider when buying a table tennis table is buying a foldable table tennis table. You want to play table tennis outside the house to break the monotony. In such cases, it is important to consider buying a table you can easily fold and move between different locations.
This means you can even fold it and put it in your car as you go camping. A table that can be easily folded is highly portable which makes ideal for people who are involved in the frequent movement. The best indoor folding table tennis table for sale is the JOOLA 3000SC Table Tennis Table.
When purchasing an indoor table tennis table, it is essential to consider the design. Table tennis tables normally come in different designs and make. Here, it is important to settle on a table whose design meets your needs and requirements.
For a table tennis enthusiast, buying a perfect table can be a very good stepping stone for a table tennis career. Indoor table tennis tables are not only meant for homes but can also be used in athletic clubs, sports centers, and schools.
Best Indoor Ping Pong Tables On The Market
Here is a list of top indoor table tennis tables that are recommended for you in case you are looking for one. You can read their respective review and conclude for the one that best suit you.
STIGA Advantage
The STIGA Advantage Table Tennis Table is constructed with the use of the finest raw materials. It is another entry-level indoor table created by renown ping pong equipment manufacturer with the norm of maintaining the highest standards of quality in the industry.
Continue to read the full review.

JOOLA Tour 1800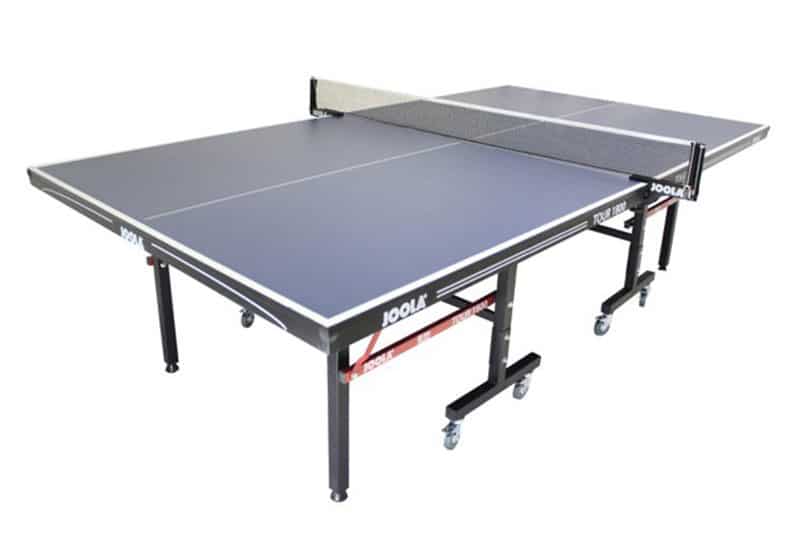 JOOLA is one of the table tennis suppliers that supplied their top quality ping pong equipment for Olympic game. Besides, the company also happens to be the endorsed sponsor of the U.S. Nationals Tournament and US Open Table Tennis Competition.
This is an awesome table that is being manufactured by JOOLA. The table comes with a regulation-height net-and-post set that is quick and easy to install.
This table is easy to assemble, and it may only take you a couple of minutes to set up everything. The bounce quality of the tabletop is also very good. If you do a price comparison, you will notice this is one of the tables that can offer you the best price.
Continue to read the full review.

JOOLA Inside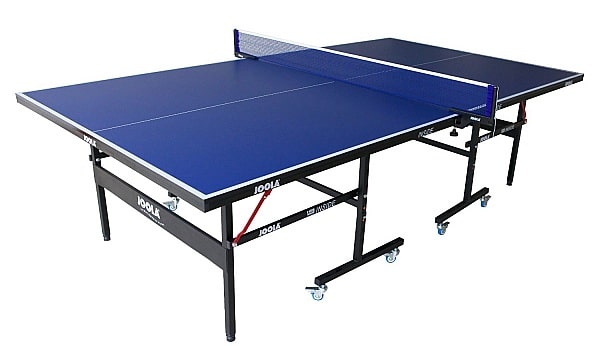 This JOOLA Inside Table Tennis Table is approved by USA Table Tennis (USATT) for certain international tournaments. It can provide very good quality and is highly convenient. The table is designed with a 5/8″ wood composite for the tabletop.
Continue to read the full review.

JOOLA Atlanta Olympic

Once you get this table assembled and start to play with it, you are going to enjoy the game very much and you will feel that the money you paid is totally worthwhile.
This is a very high-quality table and it is very sturdy for heavy usage. The table will not move, even if you accidentally bump into it.
Read a detailed review of this JOOLA table.

JOOLA Triumph 15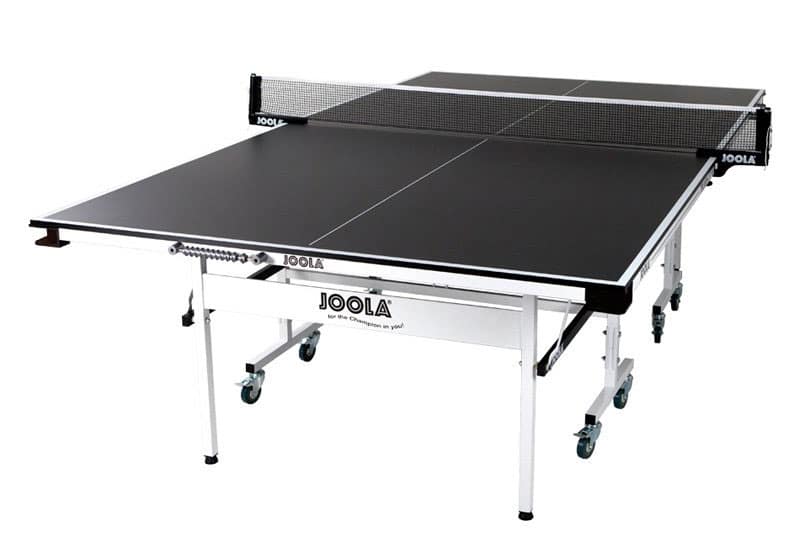 This table is being approved for USATT competition. It provides many optimal features and the offering price is very affordable for many people.
For added safety, each half of the inside table is held up by a powder-coated metal frame and undercarriage.
Read a detailed review of this table.

Butterfly Centrefold 25 Sky Rollaway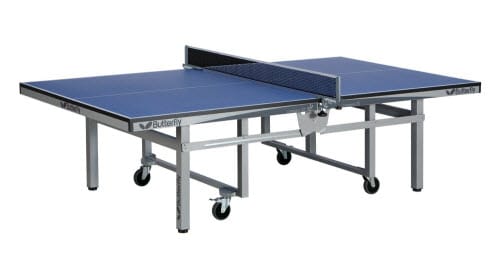 The Butterfly T2625SU Centrefold 25 Sky Rollaway Table Tennis Table is one of the truly superior qualities table tennis table that being released by the company. This excellent table is built for heavy duty. The special design of fold and wheel away for space saving make the table can be maneuver around easily.
Continue to read the full review.

STIGA STS 520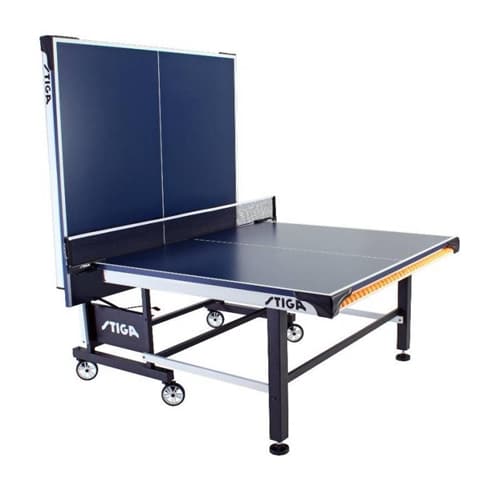 The STIGA STS 520 is a top quality model that will be a great addition to a family who enjoys playing at their home and also if they love the game. This indoor table tennis table is for home players who are serious as it is a good-looking table.
Continue to read the full review.

STIGA Expert Roller Table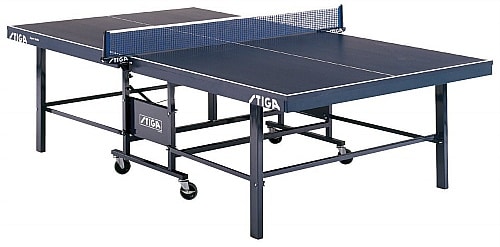 It is a competition one inch top table. The table has been used in a lot of tournaments around the world. The table is built with a chassis that is made out of steel. This makes the table very sturdy and heavy duty. Many people love this table is due to the bounce and durability that it gives to them.
Read the details about this table in our review.

STIGA STS 275 Table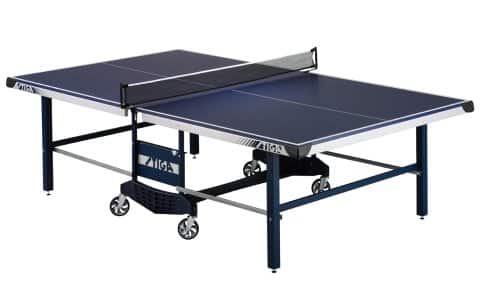 This table is designed and manufactured exclusively in North America. It offers true tournament performance quality and unmatched style at the best value possible.
The table features a silkscreened stripe ¾-inch top that is sanded and UV-filled prior to receiving multiple coats of specialty paint. You can put it in your backyard to play outdoors or in your garage if you want to play indoor.
Read the detailed review of the STIGA STS 275 table.

JOOLA Tour 2500 – Best of the Best
This is the winner that I mentioned earlier!
After the Tour 1500 and 1800 tables, JOOLA continues to release another Tour series of ping pong table which is JOOLA Tour 2500 Table Tennis Table. This table is made for recreational or intermediate players who have heavy usage.
This full-size table is made with a durable composite engineered material and is at the standard height for consistent play.
In addition to the 5/8-inch composite outdoor ping pong table top, the table sits on 1.5-inch-diameter powder-coated steel legs that fold up automatically for ease of storage. It is also built with eight wheels for easy mobility.
Price wise, this table will cost you about $600++. This price is just a little more than those average quality indoor tables.
To know why this table is the best of the best, you can read a more detailed review of this table.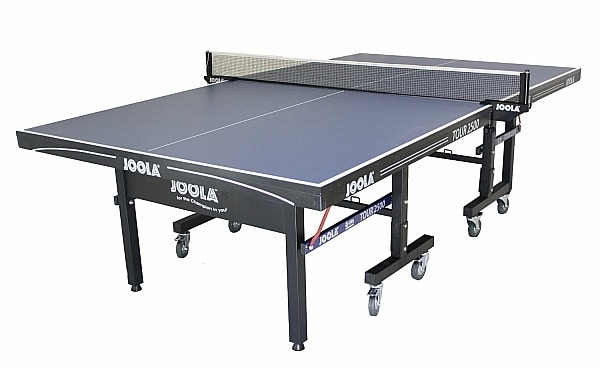 Double Fish 19MM 2.5 Inch Table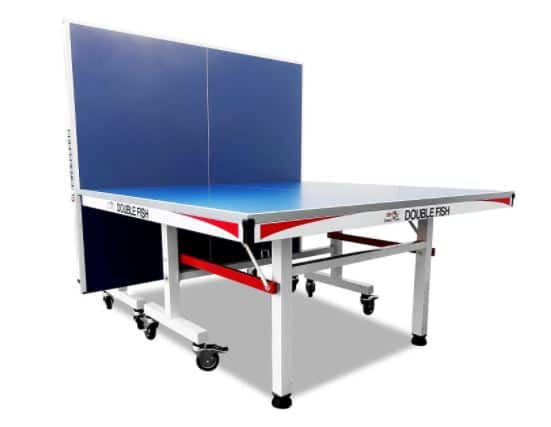 It is always crucial to the battle for a table that meets your expectations. Among the many tables found in the market, the Double Fish 19mm 2.5 Inch is a world-class brand. The technology applied in building this ping pong table is at another level.
Continue to read the full review.

Harvil I – Indoor Table Tennis Table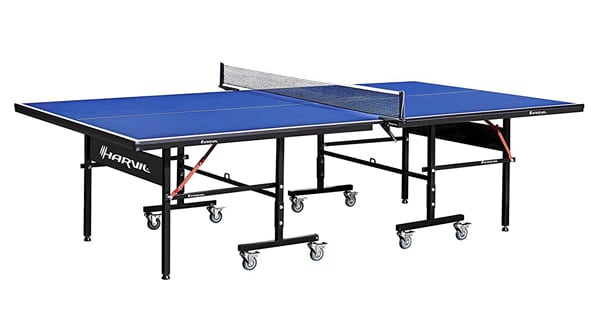 Harvil, 1 Indoor is a ping pong table suitable for dens, offices or game rooms. Its sturdy construction, playability, and versatility make it a game table to consider. It is also a folding table you can buy for your family to have fun. Despite being a middle range table, it has exceptional selling features and meets many people's expectations.
Continue to read the full review.

MD Sports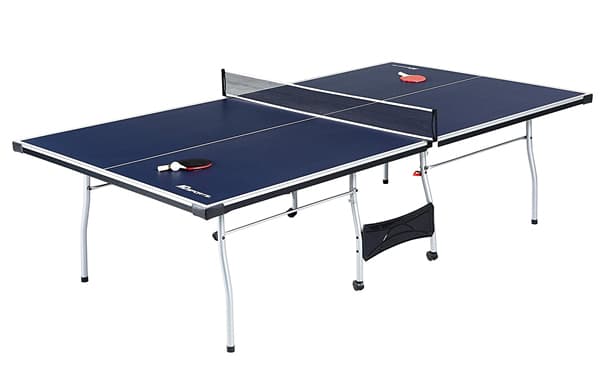 Continue to read the full review.
Whether you need to play with a colleague, family or alone, the MD Sports table tennis table meets your game needs. It is an official sized (size 9'x'5′) table that is also fit for a tournament. The table has all the accessories ready to assemble and play. It is a prime ping pong table. Here are reasons why you should go for the MD Sports (8 pieces) table.

EastPoint Sports 15mm Fold-n-Store Table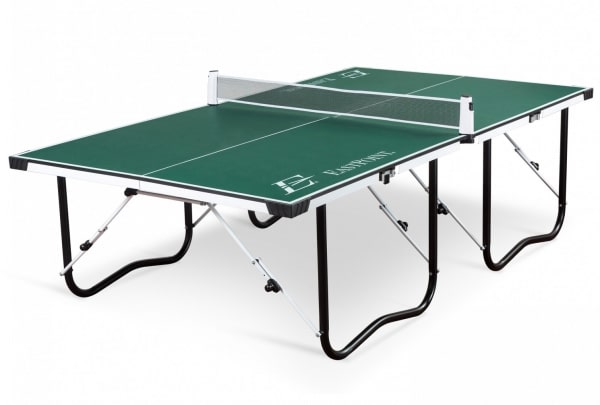 Just like its name, the ping pong table does not consume your home space. It is a fold and store table. It is one of the most storable table tennis devices in the market. You will not worry about storage space. It is convenient for the household. The EastPoint Sports 15mm ping pong table is recommended for home and tournament competition. Below are excellent reasons why you should have this exceptional table tennis table.
Continue to read the full review.

STIGA InstaPlay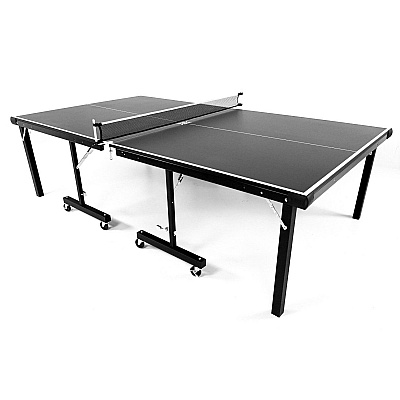 Bring your sport at the comfort of your home with Stiga Instaplay Table Tennis table as it is easy to assemble and gets you on the go with the game. It also has corner pads to ensure the player's protection from unexpected bumps.
Continue to read the full review.

Butterfly TR21 Personal Rollaway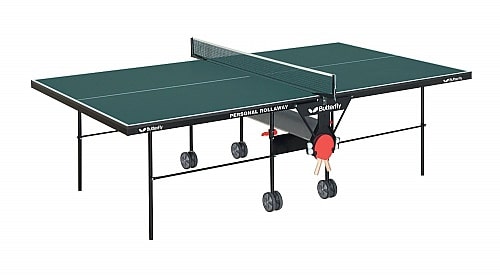 Butterfly TR21 Personal Rollaway Table Tennis Table is a product of Butterfly, based in Tokyo, a leading brand in technical items, worldwide. Highly qualified scientists have worked with the high-class player to develop this classic product with the awesome quality of rubber and blade technology.
Continue to read the full review.

Butterfly Easifold 19 Rollaway
Playing table tennis has become a lot easier with the new and improved design of Butterfly's Easifold 19 Rollaway Table as compared to Killerspin or Stiga. The table comes in excellent quality at an affordable price. It has options of two appealing colors of blue and green table top surface. With its simple assembling feature, you are ready to play in just 15 minutes. The table also built with a new logo and corner bits.
Continue to read the full review.

Hathaway Crossover Portable Table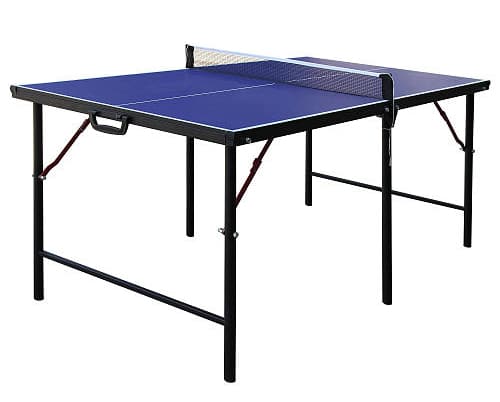 If you have an RV and do a lot of camping or you are traveling often and need something to play with, then you may consider getting this Hathaway Crossover Portable Table Tennis Table. Many people make their decision in buying this table is because the table is very compact and they can pack the table and bring it anywhere they travel to.
Continue to read the full review.

Franklin Sports
With the state-of-the-art technology, Franklin Sports – a sports equipment making company based in the United States – came up with Franklin Quikset Table Tennis Table. Their idea was to help people turn their game room into table tennis central.
Continue to read the full review.