Wearing suitable table tennis shirt and jersey is vital in determines the performance and comfort level of a ping pong enthusiast to a great extent. A good quality table tennis clothing that suits every season is an essential for serious players and complies with the sport clothing rules. A pair of sweat pants and a loose t-shirt is definitely not the best option. Ping pong t-shirt is designed with the wearer's safety in mind, and does not restrict movement.
Here are some points to consider before purchasing your table tennis shirts:
Weather – The quality, type and fabric of the attire is determined by the kind of weather it will be used in. Different weather conditions necessitate different kinds of fabric.
Time – Just ascertain colors and cloth types are preferred for use during different times of the day and at night, different clothing are recommended for different times.
Price – Compare the price of table tennis clothes offered at various stores before purchasing the right one when they are on sale. Branded ping pong outfit is expensive, but online retail stores offer the same products at lesser prices.
Some other factors to consider while purchasing table tennis apparel are:
Fabric – The quality of fabric must change according to the weather. During hot summers, ensure that the fabric is 'breathable'. The term, 'wicking' is used to describe a kind of fabric that soaks the perspiration and aids in maintaining a constant body temperature. This fabric may require special care and maintenance, but it greatly enhances the comfort level of the wearer.
The apparel used during the cold weather should not be very bulky. Wicking undergarments, a light-weight jacket to protect the body and a tracksuit for entire body will keep you warm, and at the same time, maintain a constant temperature.
Styling – Table tennis shirts can be loose or tight; however, summer style must include loose garments, which helps cool off easily. Wearing tight-fitting clothes during the winters helps in maintaining body heat. Make sure that the clothes do not cause friction because this can lead to chafing. The undergarments must be tight, but comfortable. Women players must make sure that the straps do not injure the shoulders and back.
Here are some reputable brands for table tennis clothing:
Butterfly T-shirt and Shorts
Most of the t-shirts are made of great quality fabric. Short sleeves have contrast color mesh fabric under the arms for maximum moisture wicking and evaporation. Dry fit technology eliminates odor and is antimicrobial, antibacterial, and helps you regulate body temperature.
JOOLA T-shirt
A fine cotton blend is creating a Community sport jersey that generates a sophisticated downtown vibe. The cloth is design with an eagle chest imprint, flag imprint on the right sleeve and a solid color back.
Killerspin Table Tennis Shorts
The apparels of clothing especially table tennis shorts keep you moving in the hot temperature with high-performance Quick Dry nylon (two special finishes provide wind and water resistance). It is ideal for a wide range of indoor and outdoor activities. It resists stains without compromising the relaxed, comfortable hand of the fabric.
Butterfly X-Stripe Table Tennis Socks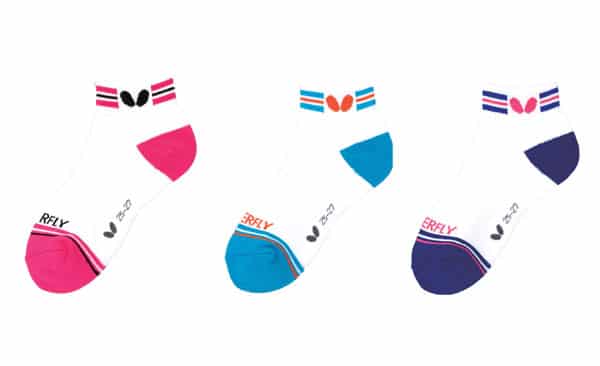 These Butterfly X-Stripe table tennis socks can help in reducing the appearance of blisters even after a lengthy match. Most of the players love to wear this sock is because there is no tight fit around the sock. These socks is features with mesh ventilation that will give the comfortable feel for your feet. It can breath inside the shoes while playing on the court.
Butterfly Table Tennis Skirts
Women players can be well-dressed even playing table tennis in a tournament. they shouldn't just to look like a sack of potatoes with their outfit. They can both be skillful and pretty as well by wearing with their table tennis skirts. Right? This can also attract more spectators to watch the game of ping pong.
The Butterfly skirt is made of light fabric so that their movement won't be restricted. The inner lining offers players with a lot of flexibility.
Other these table tennis uniform, you may also want to find out the basic types of table tennis equipment that is required for you to play the game of ping pong.
Related post: