Wearing suitable sportswear is vital in all sports. It helps ensure a high level of comfort and performance which you need if you want to win. In most cases, a pair of sweat pants and a loose t-shirt is just not going to cut it. In this guide, we break down everything you need to know about table tennis clothing and recommend some of our favorite garment choices.
Table Tennis Clothing Rules

In formal competition, players wear a table tennis uniform. These include short-sleeved jerseys, shorts or skirts, socks, and sneakers. You can also wear half-sets or full-length sportswear with permission from the referee. Here are some of the rules you need to know:
The primary color of short-sleeved jerseys (except for sleeves and collars), shorts, or skirts should differ from the table tennis ball's color

The back of a short-sleeved jersey can have several typefaces to indicate the player's name, association, and club the player represents. Some advertisements are allowed as long as they meet the rules

Any numbers required to identify a player should be located on the back of their shirt and take priority over advertisements

Any markings on the playing garments, accessories, or jewelry should not be conspicuous or reflective, as this would affect the opponent's sight

There must be no design or typeface on the sportswear that may disparage the sport's reputation

A team or players in the same association should wear the same clothing color, except for footwear

Opposing players should wear sportswear with significantly different colors so that the audience can easily distinguish them

If two players or two sports teams are wearing similar colors, and none of them is willing to change, a draw will take place to decide which party needs to change
Features to Consider When Buying Clothing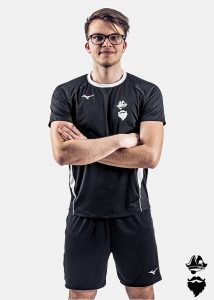 Price
Most branded ping pong outfits are quite expensive, so it's important to know your budget and shop around for the best deals. And remember, unless you are playing at a high level you can wear regular sports gear provided it follows the rules, which can save you a bit of money. However, I love to pick out table tennis clothes that match my style, and most players feel the same way.
Material
Consider what kind of materials best suit you. This is likely dependent on where in the world you live and what time of day you play. For instance, if you live near the equator you likely have very hot summers, therefore having a lightweight breathable material such as polyester is highly advantageous. You may have heard of the term 'wicking', this describes fabrics that soak up perspiration and help cool air to flow which keeps you cool. This feature is perfect if you are frequently overheating while playing.
On the other hand, if you live in cooler regions, play outside, or late at night, conditions will likely be much cooler. Therefore you have more options in regards to materials. You could perhaps go for something a little warmer and heavier like cotton. Alternatively, you can add a few layers such as a jacket and tracksuit to keep you warm.   
Style
Table tennis clothing comes in lots of different styles so there really is something for everyone. If you prefer an understated minimal look you can stick to dark plain colors. Alternatively, if you like to be the center of attention choose something bold and vibrant! Personally, I like abstract designs on my table tennis sportswear and there are plenty of those to choose from.
Fit
The fit of ping pong clothes mostly comes down to personal preference. Like regular clothes, you can purchase either fitted or non-fitted table tennis garments. It's kind of hard to go wrong here unless you go too loose or too tight. You don't want to feel your clothing being flung back and forth every shot you take, and similarly, you don't want your clothing so tight that it restricts your movement.
Table Tennis Clothing Done Right!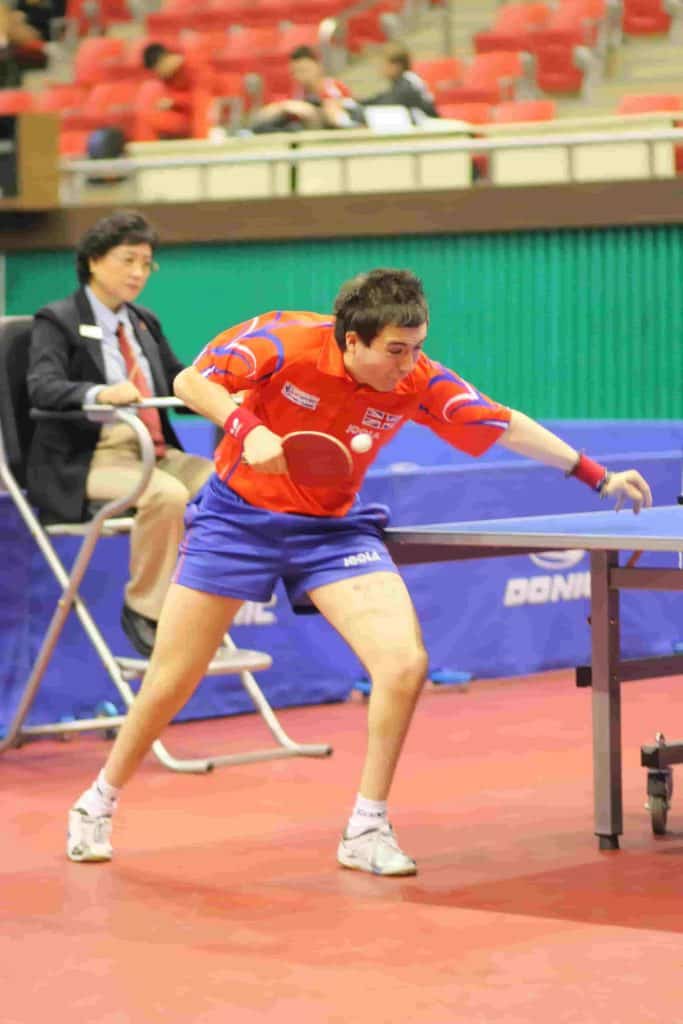 Before we get into the specific clothing items I thought we should first take a look at an example of a great table tennis outfit. Pictured above is Will Bayley of the UK. Immediately you can tell that he has a very coherent outfit. He has three colors at play: orange, mauve, and white, and they flow beautifully. His shirt has all three and holds the bulk of the orange, while his shorts carry most of the mauve with a nice white accent as the JOOLA logo. I also like the fact he hasn't just opted for black shorts as most players do, mauve shorts work better in this outfit than black shorts would.
And then to top it all off, he has predominantly white socks and shoes to keep to the color scheme and not overwhelm people with color. Great job Will!
Men's Ping Pong Clothing
Table Tennis T-shirts
Butterfly Tosy Shirt — Red
For our first pick, we have the newly released Tosy shirt in red. This Henley-style t-shirt features a small collar, a placket with three buttons, and a slit in the sides for improved flexibility. It's dry fit and made from 100% polyester making it very soft and breathable. We think it's a great-looking shirt, and with its somewhat minimal design, it can suit pretty much any player! It's also available in yellow, green, blue, and black.
Butterfly Higo Shirt — Khaki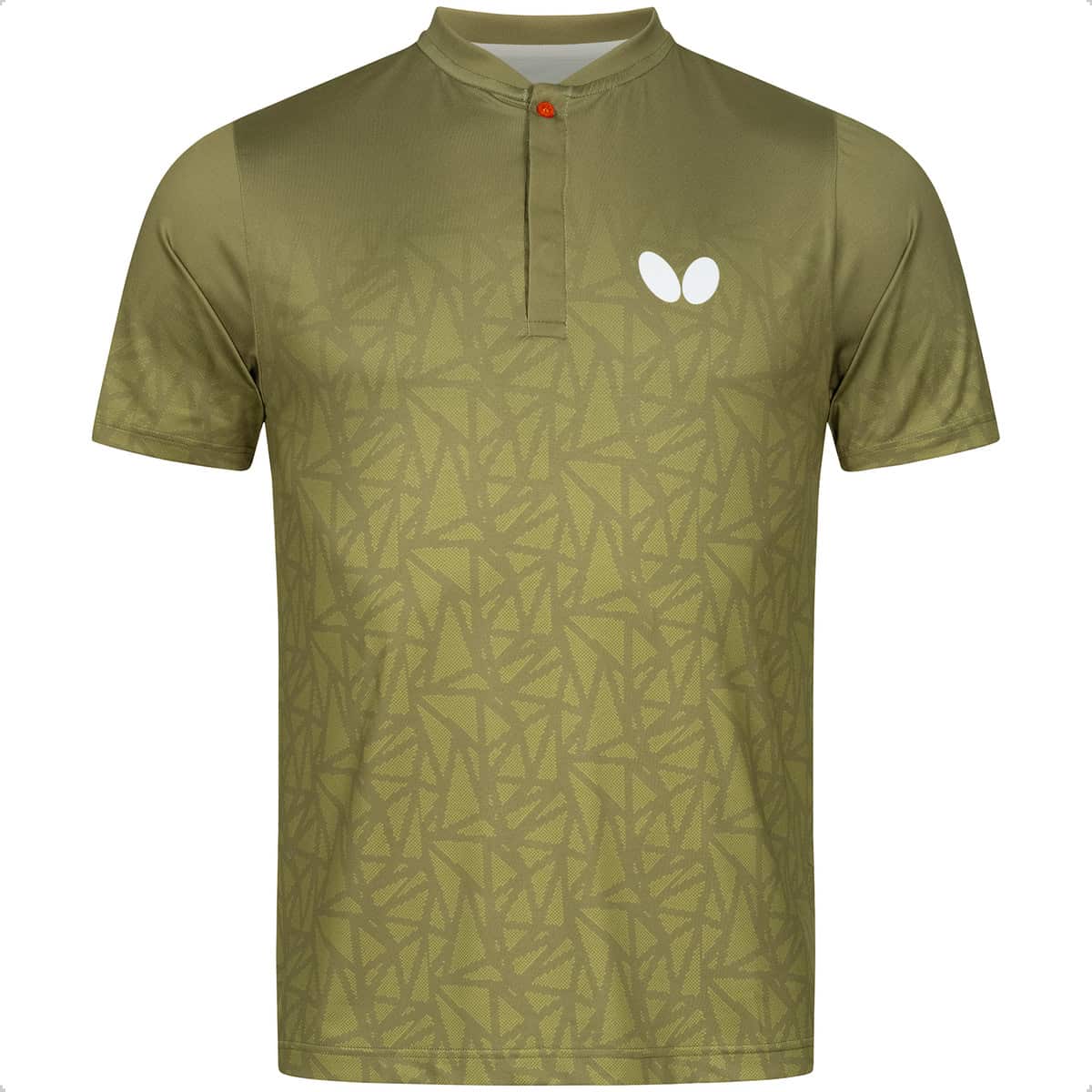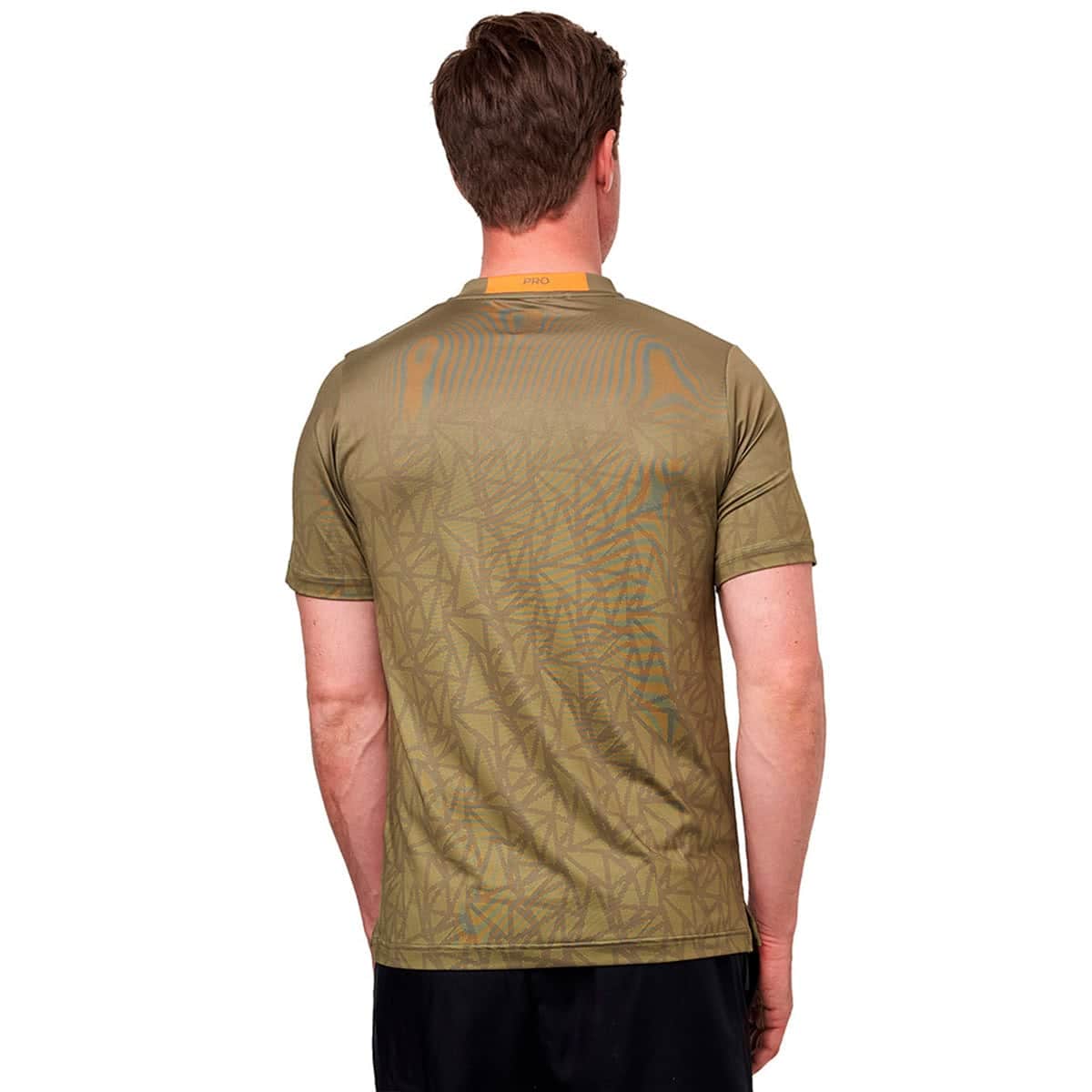 The Higo shirt is a premium shirt developed with the help of Timo Boll, Dimitrij Ovtcharov, and Patrick Franziska. Like the Tosy, it is a Henley-style t-shirt with three buttons. However, with the Higo, the placket hides two buttons. The standout feature of this shirt is the eye-catching geometric design. It is certainly one of the most stylish shirts we have seen to date, it's no wonder pros helped in making it! The back of the collar even has the word "pro" written on it.
The shirt is made from lycra mix which is 100% polyester. This means it's lightweight and has a bit of stretch to it. You can pick up the Higo in red, blue, and anthracite if khaki isn't your preferred color.
Table Tennis Shorts
Butterfly Higo Shorts — Black
For our first pair of shorts, we've stuck with the Higo line, meaning these go great with any of the Higo shirts! Of course, they are mostly plain black, so they go great with any table tennis shirt, the only visual signs that they are part of the Higo line are the small geometric patterns by the pockets and the printing of the word "pro" on the bottom right side.
The Higo shorts are elasticated and the drawstring is internally hidden for a more minimal look. They too are made from 100% polyester. The only other colour option available is blue.
JOOLA Sprint Shorts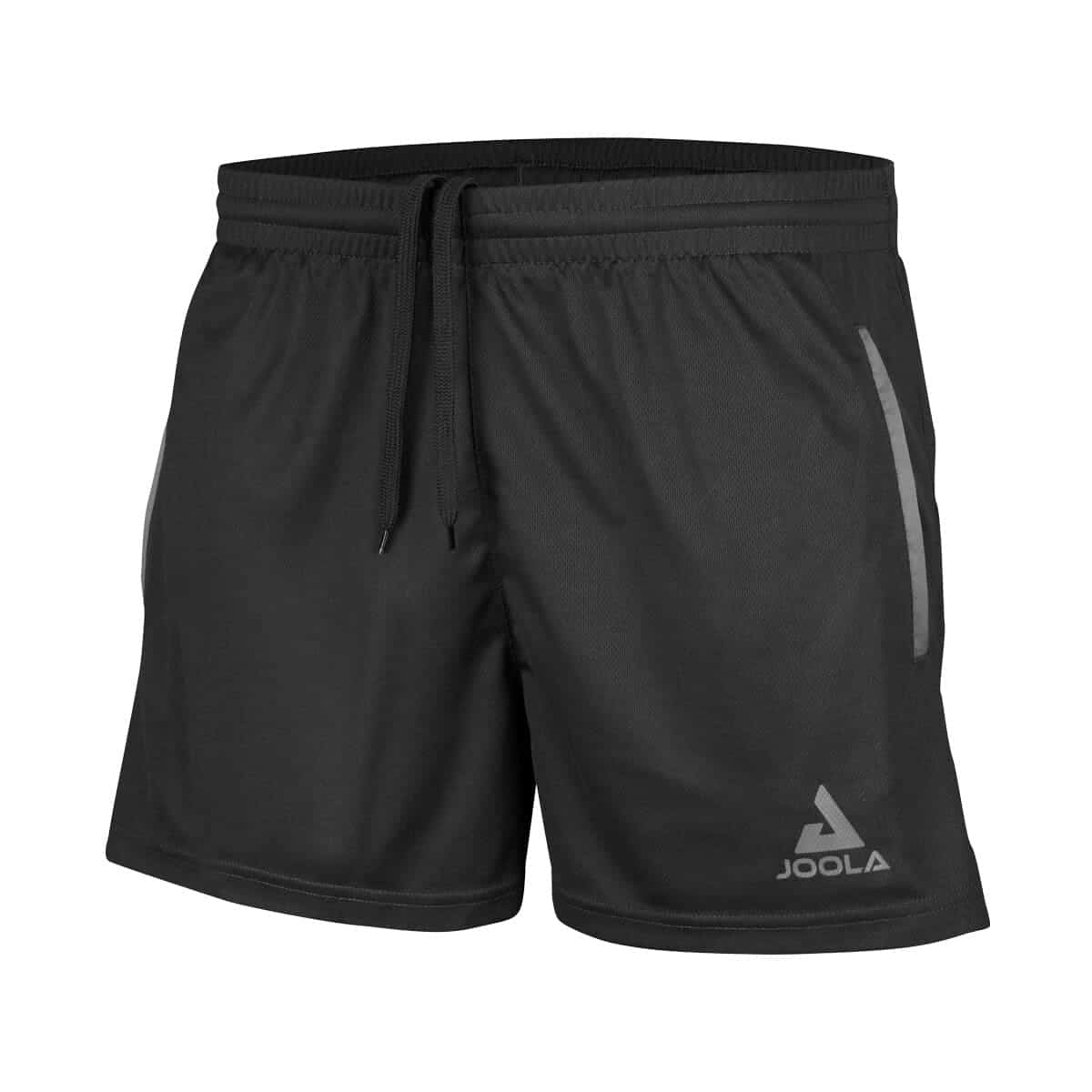 A more affordable choice to compliment your shirt are the JOOLA Sprint shorts. Only available in black, they feature the JOOLA logo on the lower left portion and the pockets are accented with a grey strip. They are also elasticated to ensure a snug fit. Made from 100% polyester micro mesh for maximum breathability.
Table Tennis Jackets
Butterfly Atamy Jacket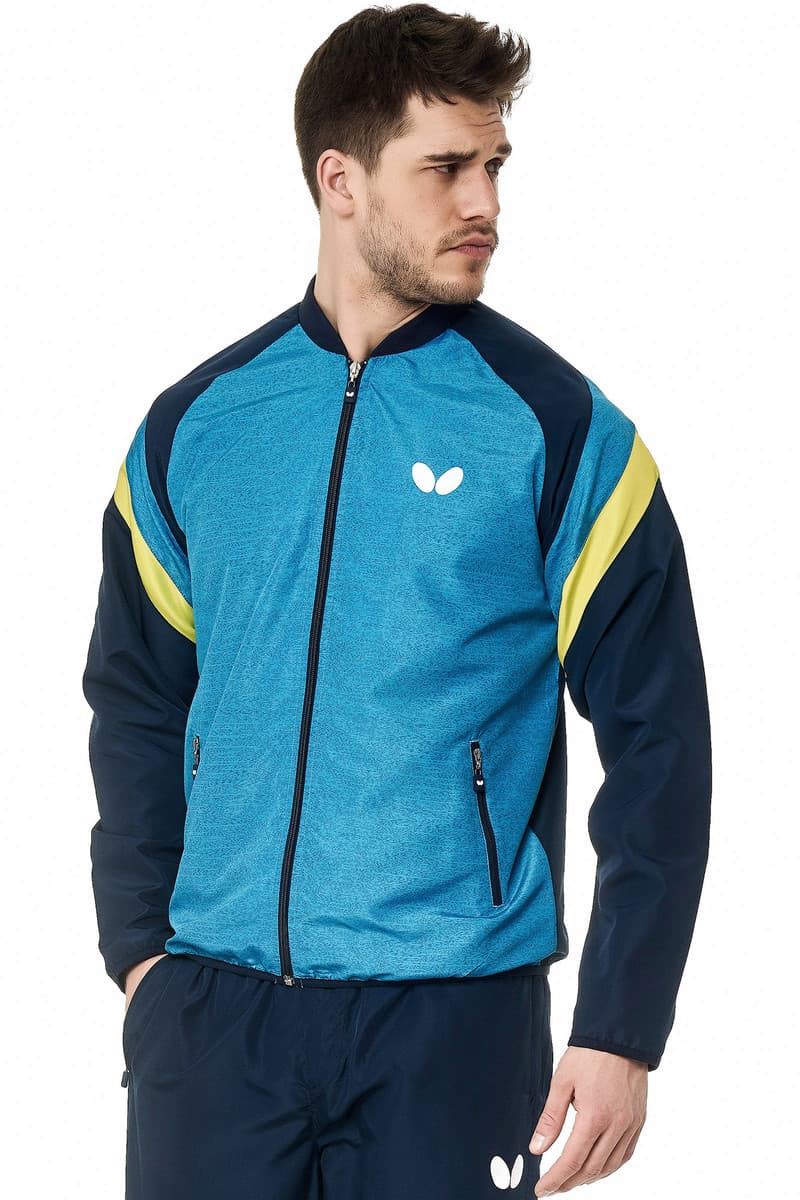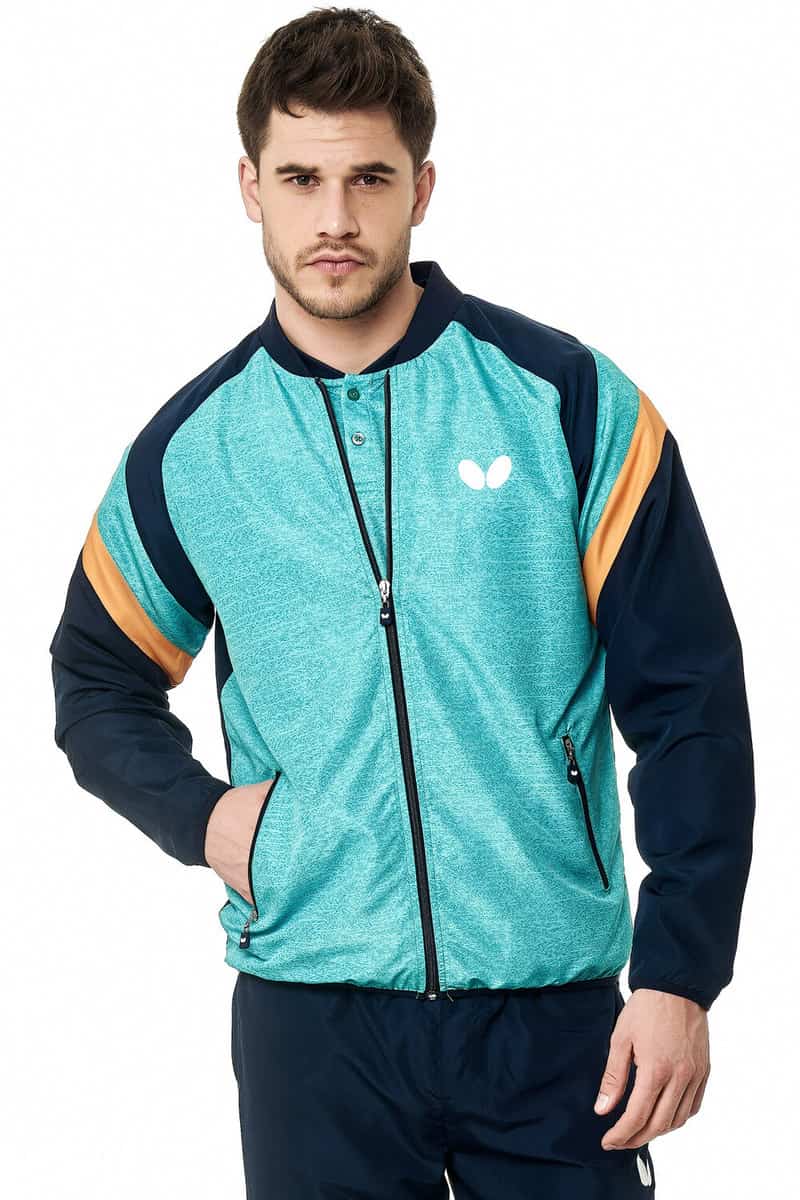 The Atamy jacket is a piece of clothing Butterfly released in 2020. It features a full zip closure and low cut collar. The cuffs and waist are also elasticated for a perfect fit. We particularly like the zipped pockets, nothing is falling out of those! Great for keeping a spare ball or two around. The Atamy is available in three colors: blue, green, and lime/anthracite.
Butterfly Kisa Tracksuit Jacket — Ice Blue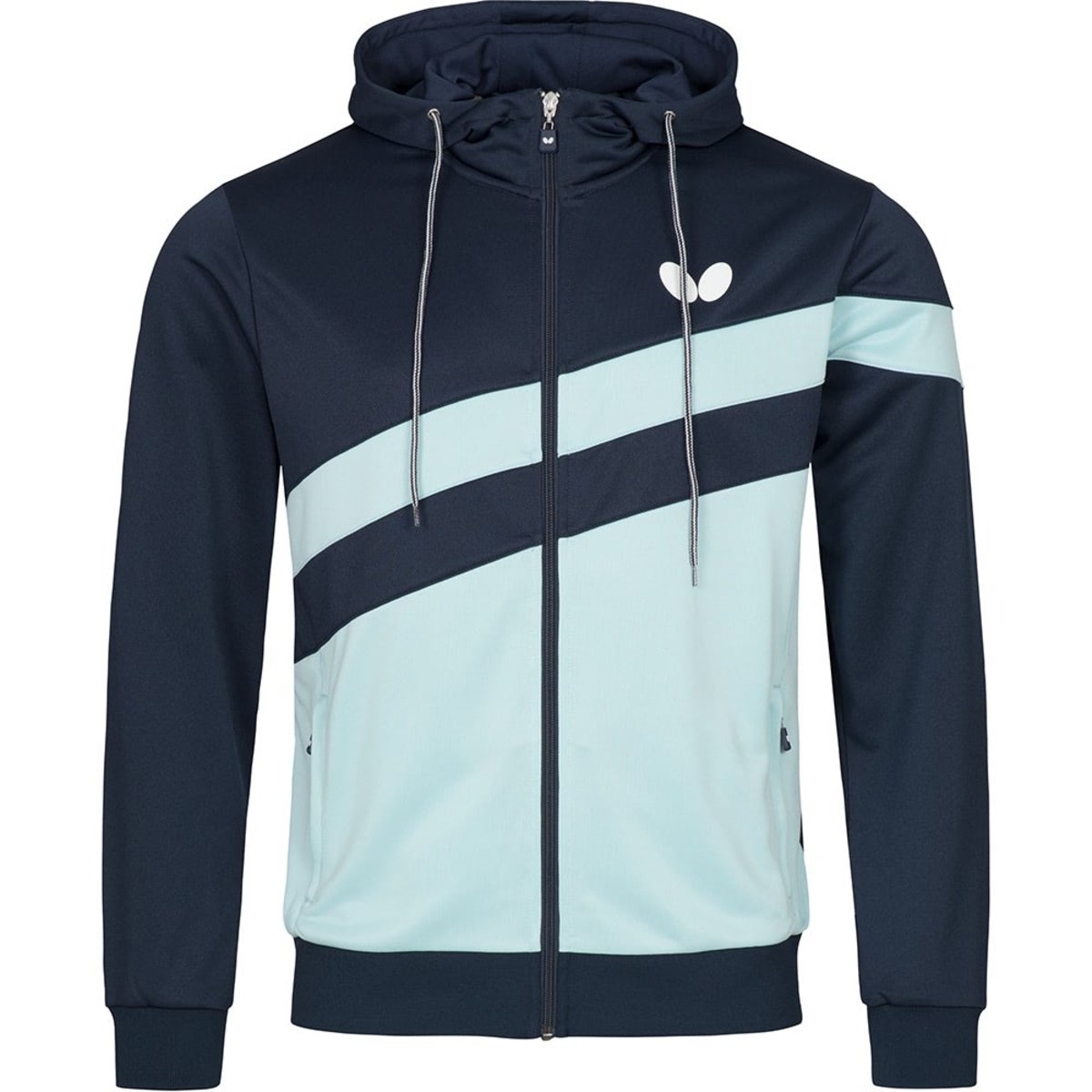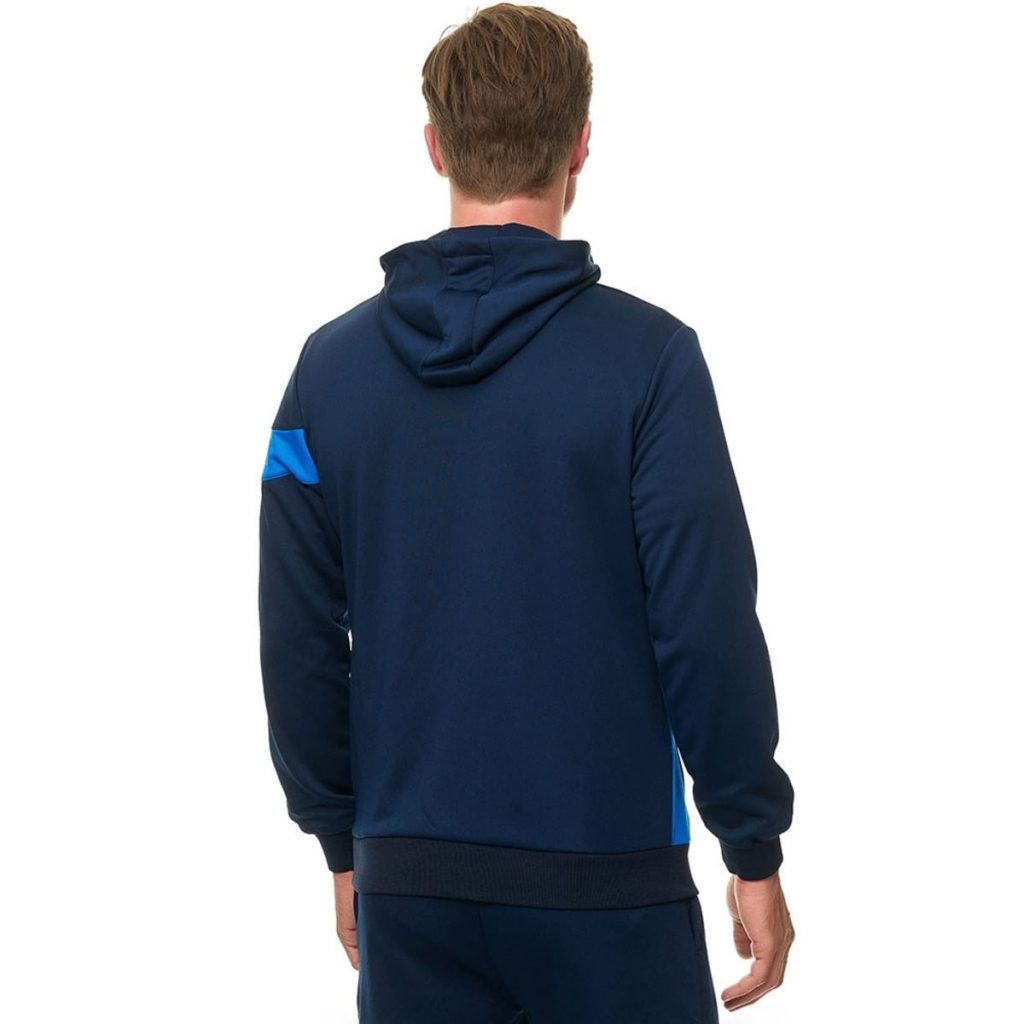 Next up we've got the Kisa tracksuit jacket ice blue, you can also pick it up in red, green, and azure blue, but you'll have to be pretty quick. Butterfly is clearing out their stock of this great-looking jacket so it won't be around for long! It features a ribbed waist and cuffs, a full-length zipper, and a hood.
Table Tennis Socks
Butterfly X-Stripe Table Tennis Socks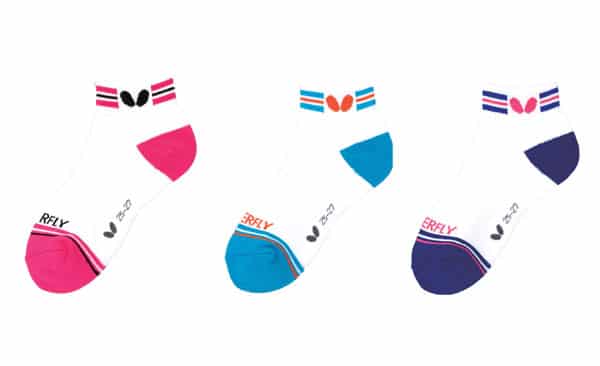 The X-Stripe table tennis socks by Butterfly are a solid choice for feet protection and comfort. Available in rose, sky blue, navy, and red. Just make sure to pay particular attention to the sizing, they tend to come a little smaller than you expect.
GEWO Step Flex II Socks — Blue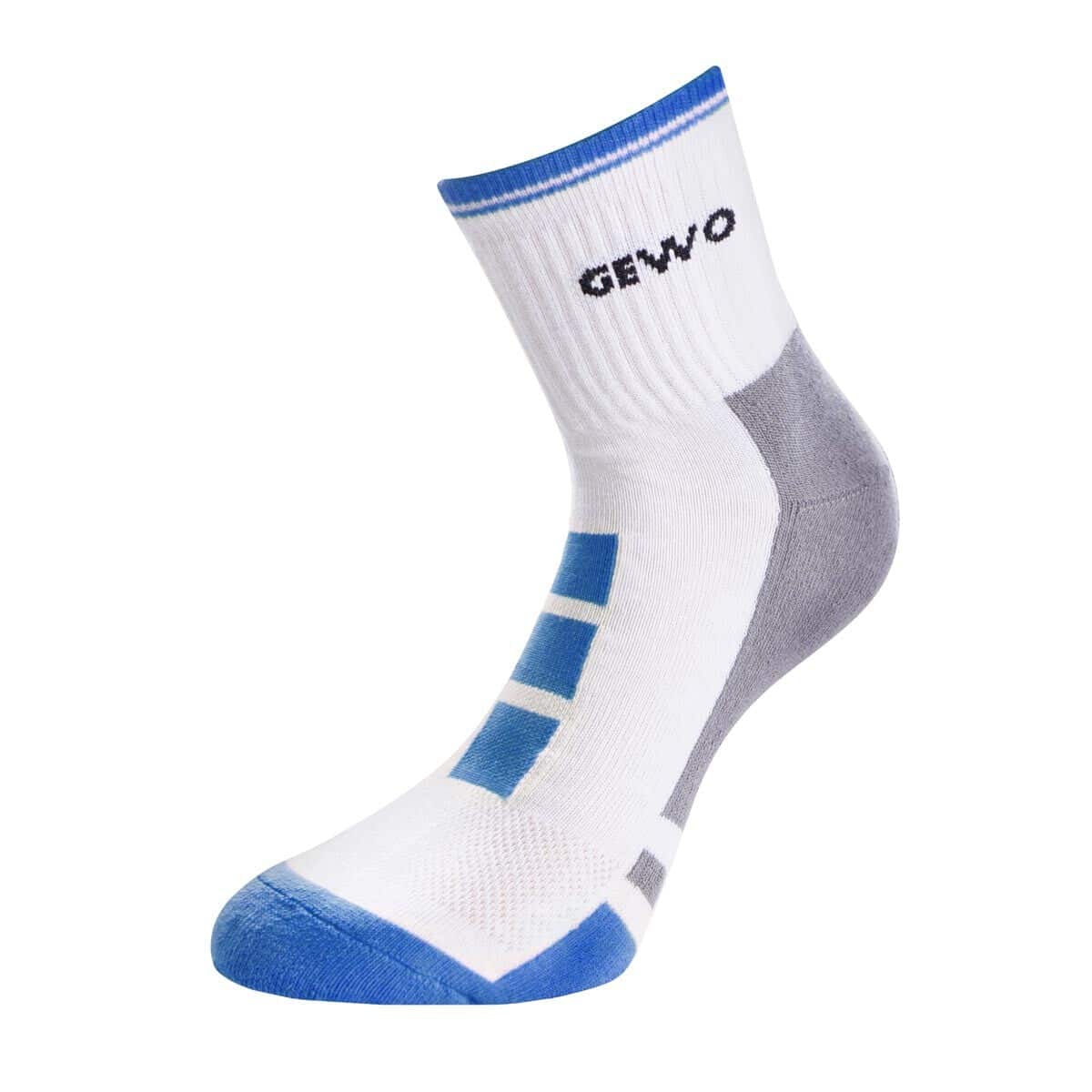 Designed to maximize footwork, the Gewo Step Flex II features a cushioned bottom that is the optimal thickness to provide adequate support while maintaining a high level of grip to the insole and foot. They are manufactured in Turkey and made from a cotton blend. There are a total of four colors to choose from: blue, grey/black, red, and green.
Table Tennis Hats
GEWO Snapback Cap
Love GEWO products? What better way to rep them than with this GEWO snapback cap? Highly stylish with embossed text. The cap is made from 100% cotton and fits any sized head thanks to its adjustable strap.
Ping Pong Hat
If you're looking for a more light-hearted fun hat then we think you'll rate this one. These baseball caps are professionally embroidered in Tampa, Florida, and are the perfect way to express your love for ping pong. They are made from 100% acrylic and have an anti-sweat band to help keep you dry.
Women's Ping Pong Clothing
Table Tennis Shirts
Butterfly Higo Lady Shirt — Red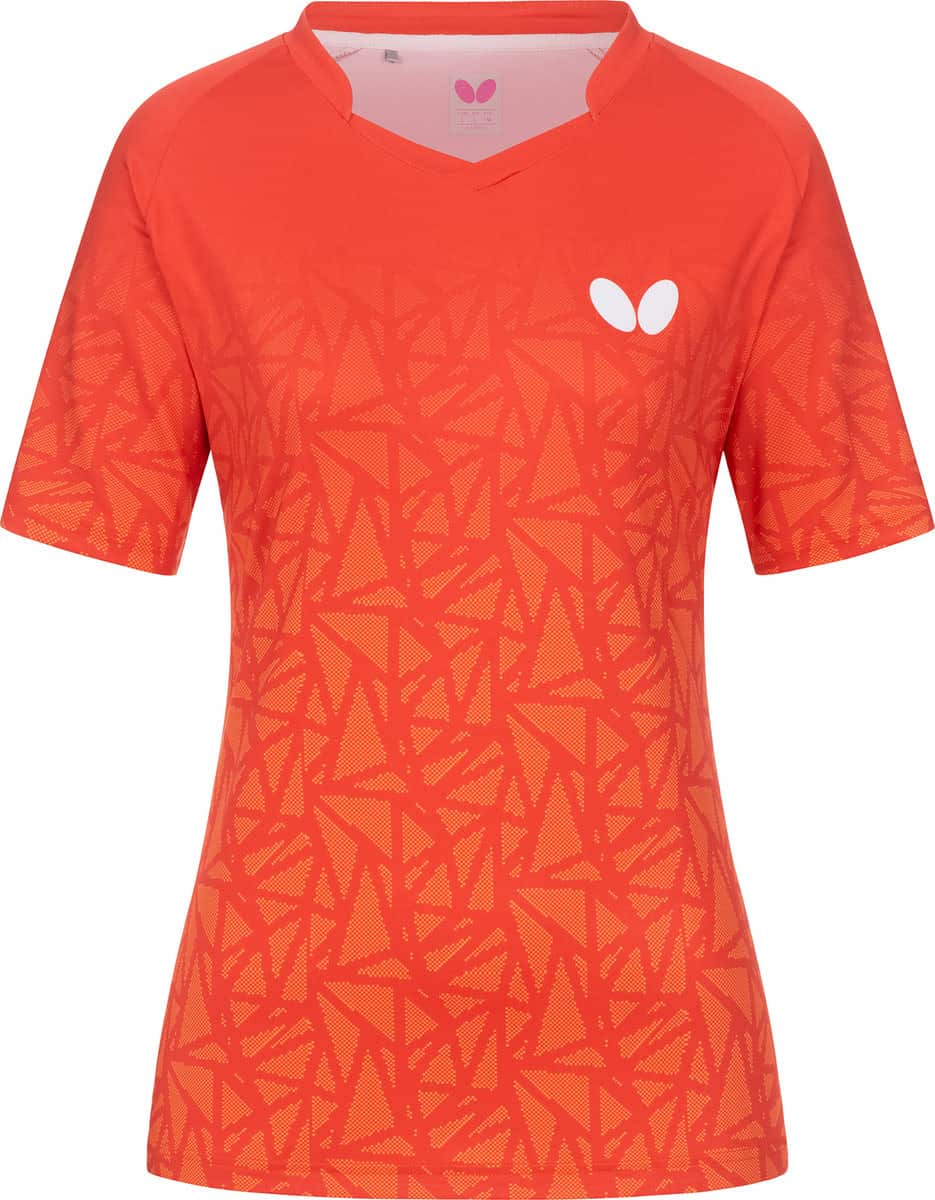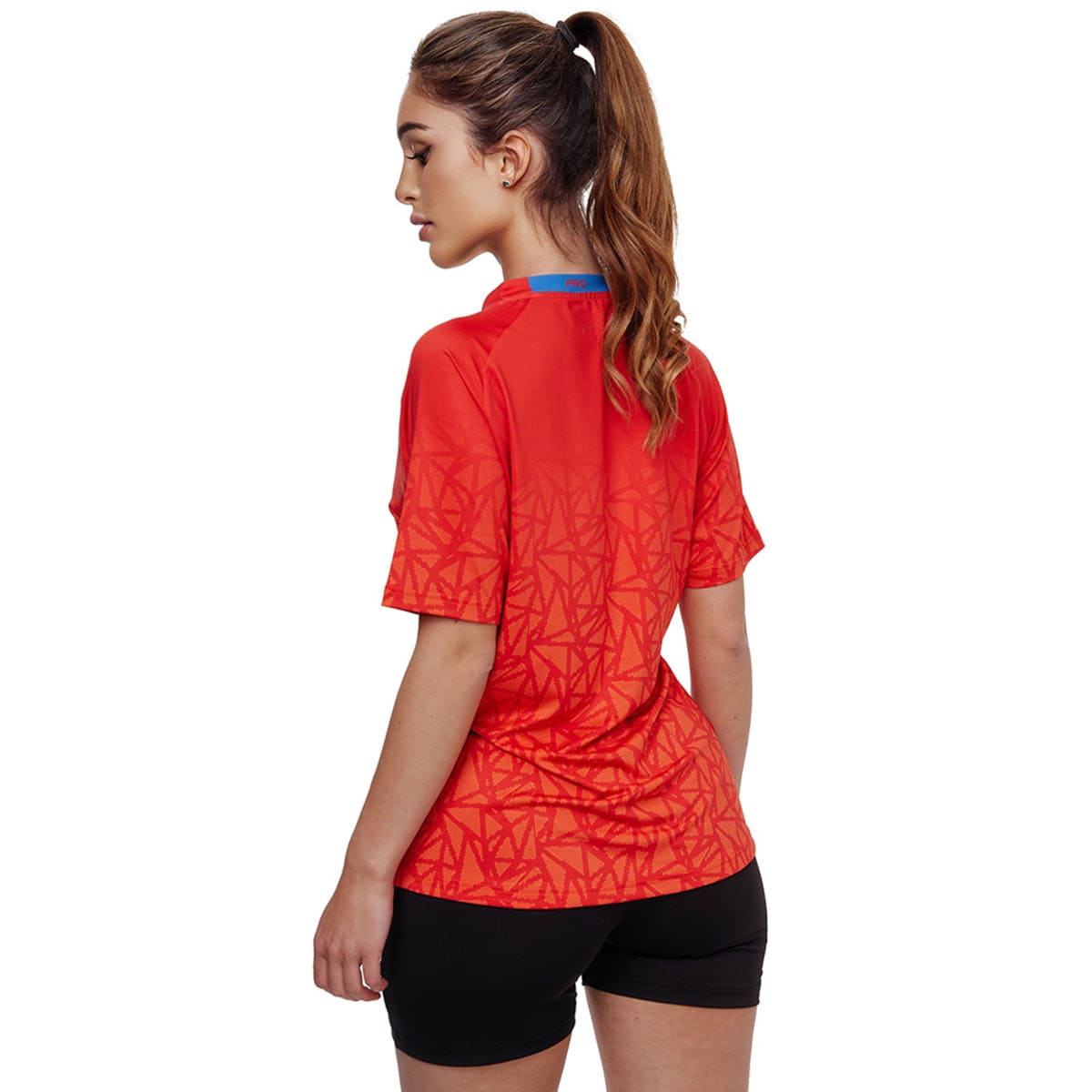 We just can't get enough of the Higo line it seems! The Higo Lady shares much of its design with the regular men's Higo shirt, namely the geometric design and material. However, the Higo Lady instead has a V-neck style collar with no buttons and has a tapered cut. It's also only available in red and anthracite. The anthracite version also differs a little visually from the men's version. The Butterfly logo is pink instead of white.
Butterfly Kosay Lady Shirt
Another super looking women's shirt is the Kosay by Butterfly. Available in blue and red it features a simple, elegant design that is flattering to wear. Made from Honeycomb material it shares properties with micro dry fit garments which most players are familiar with. However, it is softer to the touch and more durable. It's also highly breathable and can stretch a little which makes it very comfortable to wear.
Table Tennis Skirts
Butterfly Chiara Skirt — Black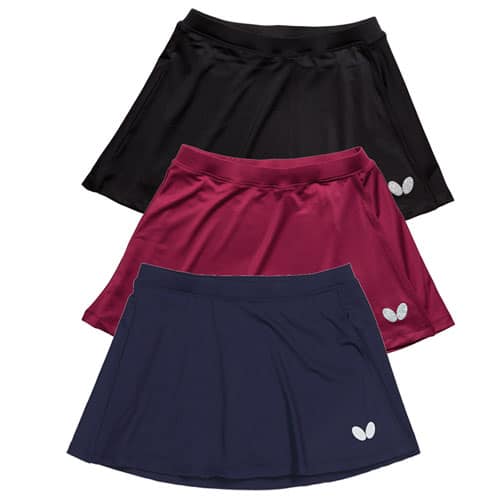 The Butterfly Chiara skirt is a highly comfortable skirt that has a lot of flexibility due to its elastic material. This ensures you never feel restricted regardless of what shot you are trying to play. It's made using a mix of 92% polyester and 8% spandex, and you've got a total of three colors to choose from: black, navy, and berry.
FAQs
Q. What is Table Tennis Attire?
Table tennis attire is anything you wear while playing the sport. This can be basic clothing such as a table tennis shirt and shorts or something a little more intricate like a headband or socks.
Q. Why Is It Important to Wear Proper Attire in Table Tennis?
Ever tried playing table tennis in jeans? I wouldn't recommend it. Proper table tennis clothing is suited to the sport and necessary to ensure comfort while playing. The last thing you want is for your clothing to distract you from your game. You need your undivided attention directed to your performance if you want to play well.
Related post: