There are many table tennis shoes for sale you can find in sports stores both online and offline. Depending on what type of player you are, you might not need to buy an expensive one but the most important thing is to buy the one that best fits you.
If you are just a recreational player who plays for fun in your home or garage, any sports shoe could just be right for you.
If you are a beginner player but wish to improve your playing skill to the next level, and you are serious about mastering the game, then buying your own table tennis shoe is highly recommended.
Recommended Table Tennis Shoes
A good table tennis shoe will help to keep your balance when playing a game or during practice.
It will help to protect your legs because if you play for long hours without a pair of good shoes, you might feel pain on your feet.
In addition, wearing them on your feet will help you improve your footwork and enhance your balance during a game or practice. There are some reputable sports brands that constructing shoes for men and women. You can look from the recommendation and review below and hope it can shed you some light and help you pick the best table tennis shoes for yourself.
Butterfly
Butterfly table tennis shoes can offer players to perform great footwear. Butterfly is well-known with their Lezoline shoes where many players love to wear on their feet.
Let's look at some shoe models.
Lezoline Rifones
This pair of shoes can be very comfortable to wear and playing ping pong on the court. It is constructed with great quality mesh and material which will be very grippy when you are wearing and playing the game.
There are some new constructions that being implemented on this shoe.
B-Armor: cover the front upper part and cushioning the forefoot.
B-Ridge: The bridge-shaped middle sole is made with the purpose of supporting sliding motion during footwork.
B-Absorber: There is a shock-absorbing sponge placed between outer and middle sole. This helps in cushioning and flexibility.
Wingrip: Such a design makes the outer sole feature a high ability of grip that can help to give you the correct movement.
STB: This feature can help to prevent your shoes from getting distort. At the same time, it can bring you stable footwork.
One-sided shoe tongue: This feature connecting only the inside part of the shoe tongue. It can help to prevent undesired movements when playing table tennis.
Available color: Black, green, navy, pink
Pros:
Very comfortable to wear.
No bad odor even after wearing it for a long time.
Able to react instantly to stop or start the movement.
Cons:
May get tired if worn for a long time.
Lezoline Sal
This is one of the high-end ping pong shoes that you can get from Butterfly. It is stylish and can last for long. You can comfortably put them on your feet.
It has a very soft insole with air intake. You can get a very good grip on any surface. Despite my body weight of 100 kg, it is still stable and comfortable to wear and playing table tennis.
The mesh-surface material can offer you with good breathability when playing ping pong.
The grip offered by the shoes is great. It is a lightweight shoe that featured a light shock absorption where it will not add any burden to your feet.
Available color: white, pink, lime, grey, blue
Pros:
Design with a flexible structure.
Nice feel when first put the shoes in my feet.
 Low profile sole that can provide you with great flexibility.
Cons:
The insole and bottom of the shoes can be too thin for some people.
Lezoline Trynex Shoes
The shoe is built with a quality rubber sole which will give you a superb grip no matter which playing surface you are playing on. It is another lightweight shoe being constructed by Butterfly.
The non-marking outsole provides great ground contact.
All I can say is that this is a pair of footed athletic shoes are of great quality. It tends to be very flexible when wearing them to play the game.
Available color: red, blue
Pros:
The shoe is built with quality material.
Very light and very comfortable to wear.
Cons:
 The shoelaces can be too short for some people.

Mizuno
Mizuno Wave Drive 8
This Mizuno Wave Drive 8 is a very popular shoe in the Wave Drive series. The flexibility of the shoes doesn't give much throughout, so it can put your foot nice and stable while you are playing table tennis.
This shoe has brought a new contemporary look. This pair of shoes keep the basic characteristics of the prior versions of Mizuno Wave Drive shoes.
This shoe can power you. The cushioning of this shoe is features the full-length infinity wave technology. With their innovative technology, it can give you the perfect amount of shock absorbency.
You can feel it yourself by putting in a fresh pair of socks and the design of this shoe will give you a perfect fit. Not only the flexibility of the shoes allow your foot to adapt to its natural gait, but the enhanced midsole will also give you a soft and responsive feel.
Pros:
Fashionably look.
You can get a very good grip with the shoes.
Cons:
The design is quite simple.
Mizuno Chaussures Wave Medal 6
Mizuno Wave 6 is a high-quality sports shoe. It has a lightweight and grippy sole with great balance and a waterproof layer. The design is simple but is built with thoughtfully upper. When you wear it, it is highly breathable. Another great advantage of this shoe is that it is responsive which you can wear for the firm ride for maximally cushioned.
The shoe is sewing in good shape which appears to be quite tight and neat.
The fabric used to produce the shoe is of good quality. The bottom is built with lightweight material for quick movement. It is non-marking which means it won't leave black scuff marks on the floor.
The side areas are a little bulge which makes you easy to stop when you are moving around.
These table tennis shoes are categorized as high-performance shoes. The removable cup insole made it very comfortable when put on your feet while the AIRmesh upper provides good breathability.
Pros:
High-performance shoes.
It is very breathable.
It is a non-marking shoe.
Cons:
The laces can seem to be a bit weak and "noisy".
You may want to read more details of Different Mizuno Wave Drive Shoes.

Stiga
Stiga Instinct
It is a lightweight shoe with breathable fabric design which makes it very cozy to put on your foot. Virtually most of the part is covered with nylon uppers. When you wear it, it is comfortable and you won't feel hot.
It will instantly catch your attention when you first spot it even the design isn't flashy. The footwear is extremely grippy on the floor which provides you a good move when practicing your footwork.
Pros:
lightweight.
Very breathable.
Cons:
Stiga is famous in producing ping pong equipment but not famous in making shoes. Therefore, this shoe is not so appealing to table tennis players.
The shoe is selling at Paddle Palace
.
Stiga Liner Shoe
This new shoe that being released by Stiga. It is constructed with durable, flexible polyester fabric. designed with breathable material that allows for air ventilation. The foot can move easily in the correct position during multi-directional movements.
There are various pressure points that make movement very feasible and keeps the foot dry all the time.
Designed with champions in mind, the Stiga liner shoe is featured with great natural rubber grip. It's reinforced sides provide the player with a great level of comfort and stability.
Pros:
Neat design.
Very durable.
Cons:
Not so famous and not many players are wearing them.
This shoe is for sale at Paddle Palace
.

ASICS Table Tennis Shoes
ASICS did release a few or great shoes for ping pong. Among the good ones are:
ASICS Gel Rocket 8
This shoe is good for you to play on the hard surface. It can be a much better shoe than most of the others you find in the market. It has a great insole design which will offer you good protection from getting pain in the shins and heels.
Besides, this ASICS Gel Rocket 8 is a shoe that can provide you with very good support. The durability is the thing you can count on. There are other ASICS shoes you can find on this site. You may check out more by click on the respective link.
You can get these ASICS Gel Rocket 8 shoes in many colors. ASICS usually will continue to add new colors to the range. You can get different features in different regions of the world when you are buying a pair of shoes.
If you are interested, you can read more about this shoe by following this link.
ASICS Gel Rocket 9
Asics Gel Rocket 9 is released to the market in 2019. These are part of ASICS's Gel Rocket Series and this is the 9th version of them. These shoes are quite popular because they are of good quality. The price is quite reasonable and many professional players are wearing them.
The Gel Rocket 9 is still the same shoe you would expect. They are not that different from the Gel Rocket 8. When I put my foot in these I feel like the footbed is raised on the outside like it's banked almost like it wants you to push off to the inside. This is fine for table tennis because you are always moving side to side. That's just a feeling I got inside the shoe. The fit was spot-on.
The Rockets do not have an easily removable insole. You can remove it but it's glued down so it feels like you're gonna have to rip it out and I've done it before. It can come out cleanly but you do have to kind of tear it out of there.
It's not easy to slide out. The weight of these shoes are pretty light, they only carry 372 grams.
The comparison to the Gel Rocket 8 is as follows, they are pretty much identical. I've worn down the 8 so that in the front of the shoe may seem to be different but in fact they are not. You can see on Rocket 9 the gum rubber sole is coming up over the top of the toe but it does wear down as compared to the Rocket 8.
I think they look pretty much identical except for some slight differences in the way of the fabric and the stitching. But I believe for table tennis that would be 100% cosmetic. The Rocket 9 is showing the Gel Rocket on the heel at the bottom. While Gel Rocket 8 only had the little Asics logo.
The inside part of the shoe is again very similar. The sole is looking identical other than the Rocket 8 had a black coloring on it. Basically the composition is the same.
So overall these are just a continuation of the Asics Gel Rocket line. If you're used to them this is not a dramatic departure. This is still a good deal and will get you playing table tennis without spending too much money on the shoes. If you are looking for something even less expensive, you can look for the Upcourts, but they are just not as durable as the Gel Rocket.
Even the Gel Rocket also not really super durable, but the Upcourts are even less. The only good thing about Upcourts is that they are just less expensive. If you just want to try out playing table tennis and you want a pretty cheap pair of shoes, then that's a good way for you to go.
Pros:
Available at a reasonable price.
The sole secure very well inside the shoe.
Having a very good cover-up for your feet.
Cons:
A bit stiff in the sole.
Not washer-friendly.

JOOLA
JOOLA Cuckoo
JOOLA Cuckoo is specially created for the demands of best table tennis, the good quality made of the shoes is perfect for table tennis players with the top demands.
This pair of JOOLA shoes are high-end shoes constructed with a grippy sole. It is a standard shoe among table tennis shoes and it is enhanced with a brand new attractive look.
It has implemented a classic non-slip sole that has long been properly used in the sport of table tennis for many years.
A grippy and sturdy shoe that incorporates a lot of advanced technologies. It is a shoe made to optimally distribute weight and pressure for joint protection.
Pros:
Lightweight with a weight of only 0.5lbs for size 43.
Very flexible when performing footwork.
Cons:
The outlook may not be too classy.
There are more JOOLA shoes in this post.

DONIC
DONIC Speedflex II
This shoe is a classic and very high performing table tennis shoe. It is great for recreational table tennis players. This shoe is made with great quality material and specially designed for table tennis players. The upper area of the sneaker is constructed from long-lasting, breathable material.
With the distinctive design of a non-slip sole and quality natural rubber, it makes the sneaker to have a great grip. Overall, the shoe is lightweight, adaptable, and will provide you with a perfect balance for your footwork. Thus, if you treat and keep the shoes well, they will last for a long period.

Other Quality Shoes For the Games
LI-NING Table Tennis Shoes
These shoes made by LI-NING are features with microfiber PU and nylon uppers to provides great support for players. With the non-slip grip design, it is a high performance, stable, breathable, and durable. With the sophisticated rubber and EVA outsole, it will help you have a very flexible shuttle when you are playing the game.
This is a pair of good quality shoes. It is sturdy and comfortable to wear.
Killerspin Hermes shoes are lightweight. Unfortunately, compromise in any of the other characteristics almost always adds weight to the shoe. This does not affect your ability to perform well in the game.


Characteristics For A Pair Of Nice Shoes
Flexible
Some players consider flexibility and ground feel, along with the stability they provide, to be of paramount importance. A lot of room for variation exists for this characteristic because it does not interfere with the forefoot landing. Reasons that people compromise flexibility.
Sole toughness
Let's face it. The primary reason for wearing shoes, especially table tennis shoes, is to prevent injuries while playing the game. Therefore, flexibility is the sole needed. If you play often, you may need an even softer sole.
Support
Some people need arch support or anti-pronation control devices. These devices reduce the flexibility of the shoe considerably.
Cushioning
Some people just feel uncomfortable with the thin soles found in the shoes, and they want to cushion in their shoes. Such cushioning will reduce flexibility. Cushioning, by itself, does not affect the ability to perform the forefoot landing unless that cushioning is mostly in the heel.
Lightweight
Your bare feet carry no extra weight. Wearing the right pair of shoes, your feet should carry as little weight as possible. This is especially true while playing in a tournament. Speed and endurance are adversely affected by carrying extra weight on your feet.
Know Your Foot Types
You shouldn't rush to get the shoes that you think is good even you first put them on your feet. You need to know that there are actually 3 types of foot morphology and they are needing different shoes to match.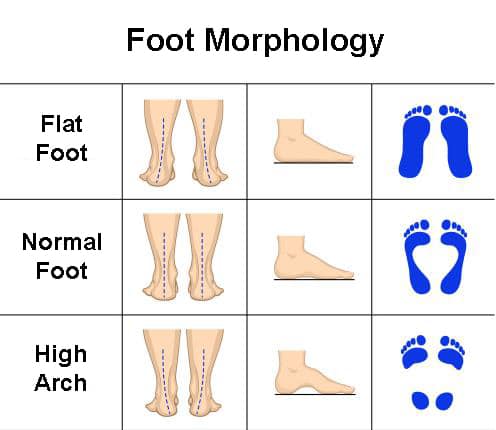 You get a blank paper, then wet your foot and step on the paper. You can then know what type of foot morphology you have.

Once you know your foot type, it is easy for you to buy the right shoes that best fit you.
Foot Measure
Prepare a blank sheet of paper and a ruler.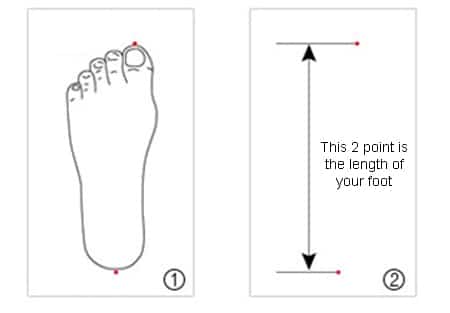 Step on the white paper with your foot. Use a pen to mark the heel and the longest toe. Take the distance between the two points as the correct foot length as shown in the picture.
If the measurement is not equal for the left and right foot, you should take the foot that has a longer measurement.
Size Chart
You need to know the size of the shoes as well before buying. As different countries are having different types of measurement for the size, so you need to make sure that you are getting the right size for the shoes that having the measurement that follow your country standard.
Below is the size chart for different continents. Make sure you are referring to the right one.