There are many table tennis shoes for sale you can find in sports stores both online and offline. Depending on what type of player you are, you might not need to buy an expensive one but the most important thing is to buy the one that best fits you.
If you are just a recreational player who plays for fun in your home or garage, any sports shoe could just be right for you.
If you are a beginner player but wish to improve your playing skill to the next level, and you are serious about mastering the game, then buying your own table tennis shoe is highly recommended.
Recommended Table Tennis Shoes
A good table tennis shoe will help to keep your balance when playing a game or during practice.
It will help to protect your legs because if you play for long hours without a pair of good shoes, you might feel pain on your feet.
In addition, wearing them on your feet will help you improve your footwork and enhance your balance during a game or practice. There are some reputable sports brands that constructing shoes for men and women. You can look from the recommendation and review below and hope it can shed you some light and help you pick the best table tennis shoes for yourself.
Butterfly
Butterfly table tennis shoes can offer players to perform great footwear. Butterfly is well-known with their Lezoline shoes where many players love to wear on their feet.
Let's look at some shoe models.
Lezoline Zero Shoe
This pair of shoes can be very comfortable to wear and playing ping pong on the court. It is constructed with great quality mesh and material which will be very grippy when you are wearing and playing the game.
The sole is made of gum rubber. However, because there is too much leather at the upper which may cause these shoes to be less breathable.
The ripping may happen to the shoe after wearing them for sometimes. The material that is used may not withstand the lateral movement.
Lezoline Sonic Shoes
This may not be the greatest-looking shoes you can get from Butterfly. However, they are durable and can last for long. They are very comforted to wear as well.
The grip offered by the shoes is great. It is a lightweight shoe where it will not add any burden to your feet. The flap may not stay right in the place. I have to re-adjust the flap a couple of times when playing the game. This is somehow quite annoying.
Lezoline Trynex Shoes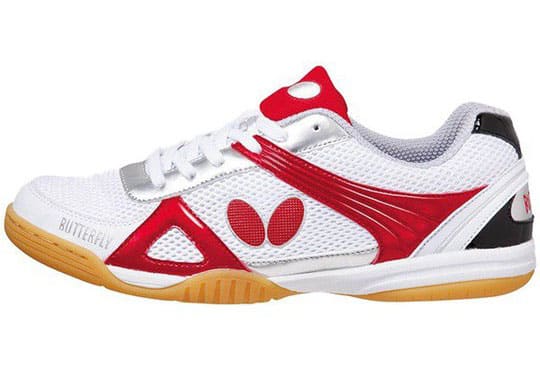 The shoe is built with a quality rubber sole which will give you a superb grip no matter which playing surface you are playing on. It is another lightweight shoe being constructed by Butterfly.
All I can say is that this is a pair of footed athletic shoes are of great quality. It tends to be very flexible when wearing them to play the game.
Lezoline TB Shoe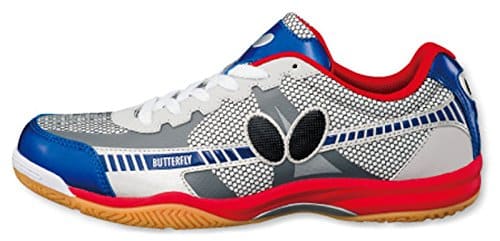 This is very good footwear. It is very comfortable to wear, and it has a very soft insole with the air intake. You can get a very good grip on any surface. Despite my body weight of 100 kg, it is still stable and comfortable to wear and playing table tennis.
You can read more about this shoe by following this link.
8001 Classic Shoes
If you want to get a cheap shoe to play table tennis, then this Butterfly 8001 classic shoe is the perfect choice for you. The price is less than $30 and is comfortable to wear and play around.
There are many more on Butterfly table tennis shoes you can get. Follow the link to read on.
Mizuno
Mizuno 2015 SS Unisex Wave Drive A7
The Mizuno 2015 SS Unisex Wave Drive A7 Table Tennis Shoes is a high-quality sports shoe. It has a lightweight and grippy sole with great balance and a waterproof layer. The design is simple but is built with thoughtfully upper. When you wear it, it is highly breathable. Another great advantage of this shoe is that it is responsive which you can wear for the firm ride for maximally cushioned.
You can see the Mizuno logo that attached on top of the shoes. The shoe is sewing in good shape which appears to be quite tight and neat.
The fabric used to produce the shoe is of good quality. The bottom is built with lightweight material for quick movement. It is non-marking which mean it won't leave black scuff marks on the floor.
The side areas are a little bulge which makes you easy to stop when you are moving around.
There are two colors available that you can choose from which is blue and red. The size range from 24.5, 25, 25.5, 26, 26.5, 27, 27.5, and 28.
Mizuno Wave Drive 4
You can feel it yourself by putting in a fresh pair of socks and the design of this shoe will give you a perfect fit. Not only the flexibility of the shoes allow your foot to adapt to its natural gait, but the enhance midsole will also give you a soft and responsive feel.
Mizuno Wave Drive 5
This shoe can power you. The cushioning of this shoe is features the full-length infinity wave technology. With their innovative technology, it can give you the perfect amount of shock absorbency.
Mizuno Wave Drive 6
This shoe has brought a new contemporary look. This pair of shoes keep the basic characteristics of the prior versions of Mizuno Wave Drive shoes.
Mizuno Wave Drive 7
It is the most well-known Mizuno lightning volleyball shoe in the marketplace today. It features brand new designs.
Mizuno Wave Drive 8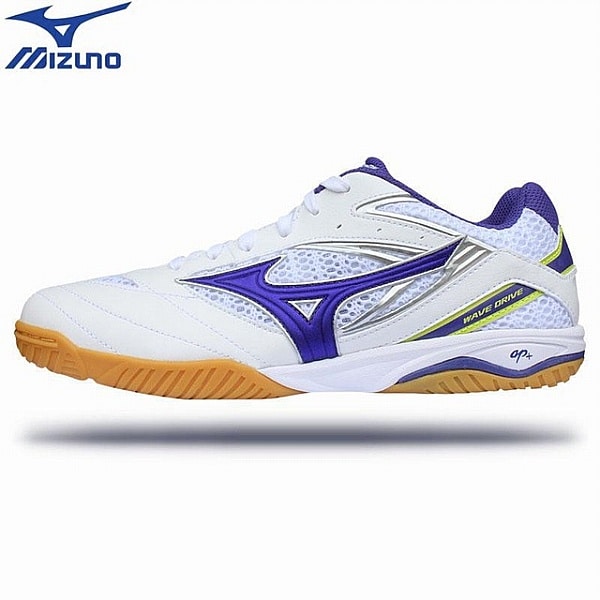 This Mizuno Wave Drive 8 is a very popular shoe in the Wave Drive series. The flexibility of the shoes doesn't give much throughout, so it can put your foot nice and stable while you are playing table tennis.
Mizuno Wave Drive Z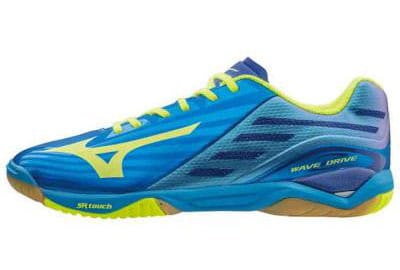 This shoe was launched specially for the 2016 Rio Olympics. It features a unique design that embedded with Japan's National Team colors.
Mizuno Wave Medal 5
These table tennis shoes are categorized as high-performance shoes. The removable cup insole made it very comfortable when put on your feet while the AIRmesh upper provides good breathability.
You may want to read more detailed of Different Mizuno Wave Drive Shoes.

Stiga Instinct
It is a lightweight shoe with breathable fabric design which makes it very cozy to put on your foot. Virtually most of the part is covered with nylon uppers. When you wear it, it is comfortable and you won't feel hot. It will instantly catch your attention when you first spot it even the design isn't flashy. The footwear is extremely grippy on the floor which provides you a good move when practicing your footwork.
The shoe is selling at Paddle Palace.

Stiga Liner Shoe
This new shoe that being released by Stiga. It is constructed with durable, flexible polyester fabric. designed with breathable material which allows for air ventilation. The foot can move easily in the correct position during multi-directional movements.
There are various pressure points which make movement very feasible and keeps the foot dry all the time.
Designed with champions in mind, the Stiga liner shoe is featured with great natural rubber grip. It's reinforced sides provide the player with a great level of comfort and stability.
This shoe is for sale at Paddle Palace.

ASICS Table Tennis Shoes
ASICS did release a few or great shoes for ping pong. Among them are:
ASICS Attack Excounter
For this ASICS Attack Excounter, the upper body is constructed with artificial leather and synthetic fiber. It is reinforced with steel. The outer sole is made of rubber while the inner sole is having to replace the expression.
It is resistance with forefoot inner side of the outer sole multi-contact edge. The edge can provide a sturdy grip to the coat. The outer sole can have an excellent grip and further stabilize the shoes within feet. It can give you the comfort you want. It is looking great and is of lightweight. It is a shoe that can last you for long.
ASICS Attack SP 2
This shoe is good for you to play on the hard surface. It can be a much better shoe than most of the others you find in the market. It has a great insole design which will offer you good protection from getting pain in the shins and heels.
Besides, this ASICS Attack SP2 is a shoe that can provide you with very decent support. The durability is the thing you can count on. There are other ASICS shoes you can find on this site. You may check out more by click on the respective link.
ASICS Gel Upcourt Indoor Court Shoe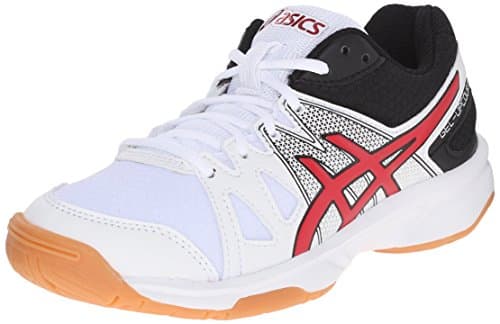 I have been trying out a pair of ASICS Gel Upcourt Indoor Court Shoe and I have written a brief review of the shoe. This is the lowest cost range of ASICS shoes you can have. You can read the review by following the link here.
ASICS Gel Hunter 2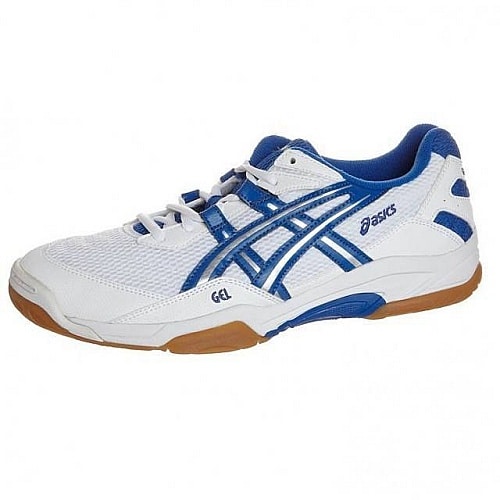 This is the shoes that can offer you good support and cushion. Besides, it can also provide you with a lot of jumping, shot, moving and pushing. You can read further review through this link.
ASICS Gel Court Control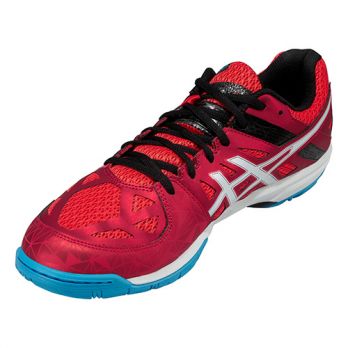 It is one of the top performance ASICS shoes that well-match for most of the players. The Gel Court Control has been designed to meet the needs of the courts, and its own foot, with the look, grip, stability, cushioning, soles and breathability. Find out more about this show by following this link.
ASICS Gel Rocket 7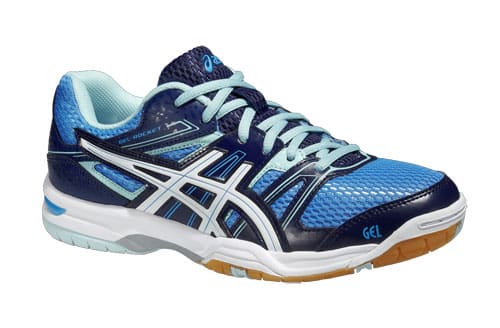 The ASICS Gel Rocket 7 shoes are part of the very popular Gel Rocket series from ASICS. This is on the 7th generation now and they are a big hit year after year because the price is right. Read about the review of this shoe via this link.
ASICS Gel Rocket 8
You can get these ASICS Gel Rocket 8 shoes in many colors. ASICS usually will continue to add new colors to the range. You can get different features in different regions of the world when you are buying a pair of shoes. If you are interested, you can read more about this shoe by following this link.

JOOLA
JOOLA Atoll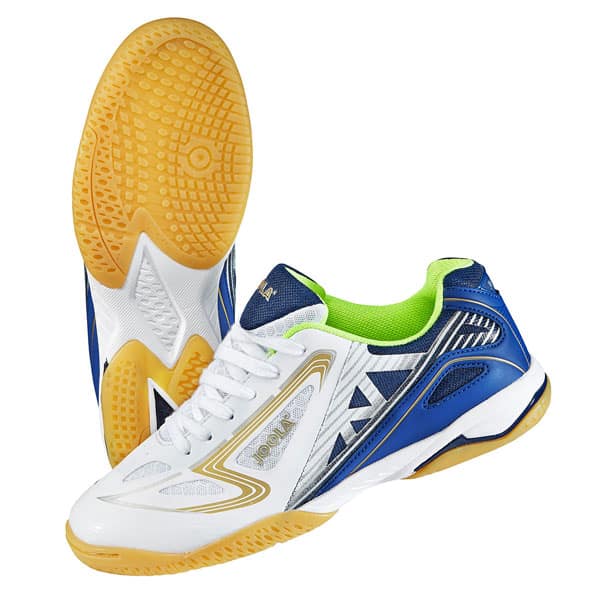 Specially created for the demands of best table tennis, the good quality made JOOLA Atoll the perfect table tennis shoe for players with the top demands.
JOOLA B-Swift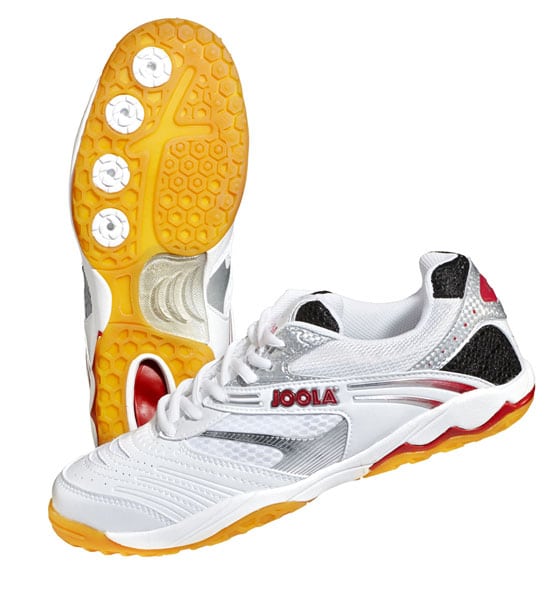 This pair of JOOLA shoes are high-end shoes constructed with a grippy sole.
JOOLA Touch 16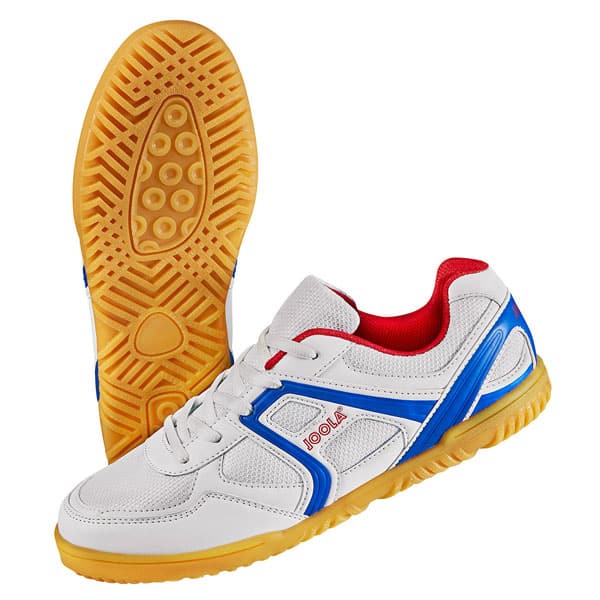 This is a standard shoe among table tennis shoes and it is enhanced with a brand new attractive look.
JOOLA Pro Junior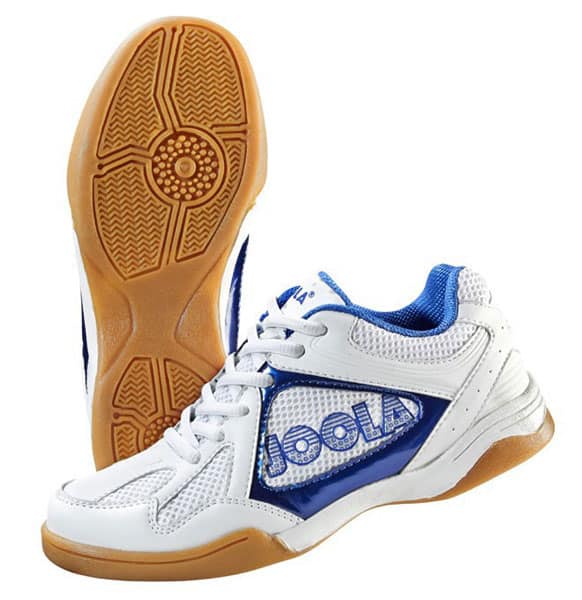 The Pro Junior has implemented a classic non-slip sole that has long been properly used in the sport of table tennis for many years.
JOOLA Track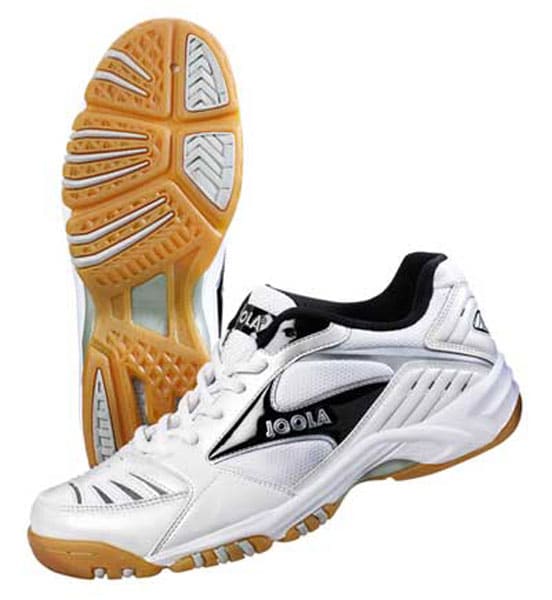 A grippy and sturdy shoe that incorporates a lot of advanced technologies. It is a shoe made to optimally distribute weight and pressure for joint protection.
There is a more detailed description of these JOOLA shoes in this post.

DONIC Waldner Flex II
This shoe is a classic and very high performing table tennis shoe. It is great for recreational table tennis players. This shoe is made with great quality material and specially designed for table tennis players. The upper area of the sneaker is constructed from long-lasting, breathable material.
With the distinctive design of a non-slip sole and quality natural rubber, it makes the sneaker to have a great grip. Overall, the shoe is lightweight, adaptable and will provide you with a perfect balance for your footwork. Thus, if you treat and keep the shoes well, they will last for a long period.


Other Quality Shoes For the Games
DHS Table Tennis Shoes
These shoes made by DHS is features with microfiber PU and nylon uppers to provides great support for players. With the non-slip grip design, it is a high performance, stable, breathable, and durable. With the sophisticated rubber and EVA outsole, it will help you have a very flexible shuttle when you are playing the game.

Butterfly Win-5 Shoe
These shoes made by Butterfly are a pair of great performance footwear with the economical price it asked for. It grips the concrete floor well. It features EVA mid-sole which make the footwear very comfortable and provides good breathability. The shoe is mostly covered with a mesh which makes the ventilation of the shoe well.
Other than this Win-5 Shoe, Butterfly still released a lot of great shoes that are specially designed to wear to play table tennis. You may check out all the Butterfly shoe models here.
Among the great shoes being discussed there including 8001 Classic, Lezoline Lazer, Lezoline TB, Lezoline Sonic and Energy Force.


Killerspin Hermes
This is a pair of good quality shoes. It is sturdy and comfortable to wear with.
Flexible
Some players consider flexibility and ground feel, along with the stability they provide, to be of paramount importance. A lot of room for variation exists for this characteristic because it does not interfere with the forefoot landing. Reasons that people compromise flexibility.
Sole toughness
Let's face it. The primary reason for wearing shoes, especially table tennis shoes, is to prevent injuries while playing the game. Therefore, flexible is the sole needed. If you play often, you may need an even softer sole.
Support
Some people need arch support or anti-pronation control devices. These devices reduce the flexibility of the shoe considerably.
Cushioning
Some people just feel uncomfortable with the thin soles found in the shoes, and they want to cushion in their shoes. Such cushioning will reduce flexibility. Cushioning, by itself, does not affect the ability to perform the forefoot landing unless that cushioning is mostly in the heel.
Lightweight
Your bare feet carry no extra weight. Wearing Killerspin Hermes shoes, your feet should carry as little weight as possible. This is especially true while playing in a tournament. Speed and endurance are adversely affected by carrying extra weight on your feet.
Killerspin Hermes shoes are lightweight. Unfortunately, compromise in any of the other characteristics almost always adds weight to the shoe. This does not affect your ability to perform well in the game.
Nike TT Star Classic – Pro Table Tennis Sneakers
Few people realized Nike ever released a pair of shoes for table tennis. Nike has created these hot pair of sneakers the Sportswear Star Classic TT. They were brought back in all different materials and colorways.
But now Nike no longer made any sneaker for table tennis. This is the same as Adidas which has to withdraw themselves completely from making any table tennis related products.