There are many great table tennis shoes that you can find in stores both online and in-store. Which model you choose to go for, depends on what type of player you are and how often you play. 
If you are just a recreational player who plays for fun at home, any sports shoe could be right for you. Yet if you want to improve your playing skills or master the game, you should only consider the best table tennis shoes.
Best Table Tennis Shoes
A good table tennis shoe will help to keep your balance and protect your feet when playing for long hours. Each model comes with its benefits and drawbacks which we have clearly outlined for you to make your decision-making process simpler.
We've broken up our selection by the top table tennis shoe brands:
Butterfly
Mizuno
Asics
JOOLA
Donic
There are many high-quality women's table tennis shoes as well, but we've focused on men's shoes for this article.
Butterfly Table Tennis Shoes
Butterfly table tennis shoes are great footwear choices. 
Lezoline Rifones — Best Overall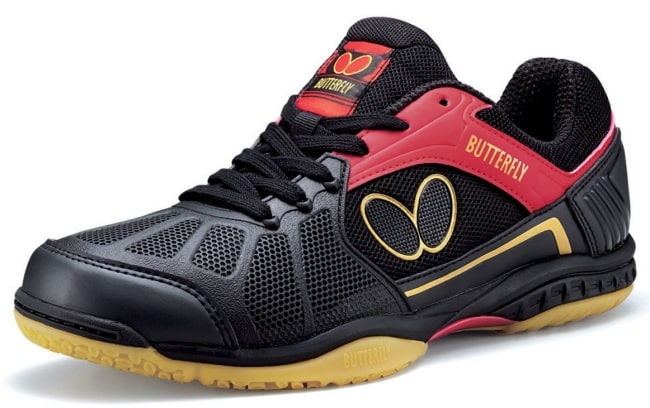 Specifications:
Size: 4.5-12
Material: Synthetic material, rubber
Weight: 2.3lbs
Colour: Black, blue, lime green, pink
Pros:
Very comfortable to wear

No odor even after wearing it for a long time

Good flexibility
Cons:
The Lezoline Rifones are very comfortable. They are designed with quality mesh material that provides good grip when you are playing.
It features a one-sided shoe tongue: this feature connects only the inside part of the shoe tongue. Helping prevent undesired movements when playing table tennis.
Used by professionals and available in multiple colors, these are the best shoes for table tennis in our opinion.
Our rating: 9.7

Lezoline Gigu
Specifications:
Size: 4.5-12
Material: Synthetic fiber, synthetic leather, rubber
Weight: 1.32lb
Colour: Black/red, white/silver
Pros:
Super shock absorption
Great grip
Cons:
If thick soles are important to you, this may be the pair of shoes you need. The Lezoline Gigu table tennis shoes have the thickest sole of the Lezoline series. its B-Absorber specializes in shock absorption and is located between the outer and middle sole. Absorbed impacts are also redistributed to assist with quick foot movements.
The outer sole uses Wingrip, a uniquely designed texture that provides maximum grip and helps develop correct movement.
Our rating: 9.6

Lezoline Sal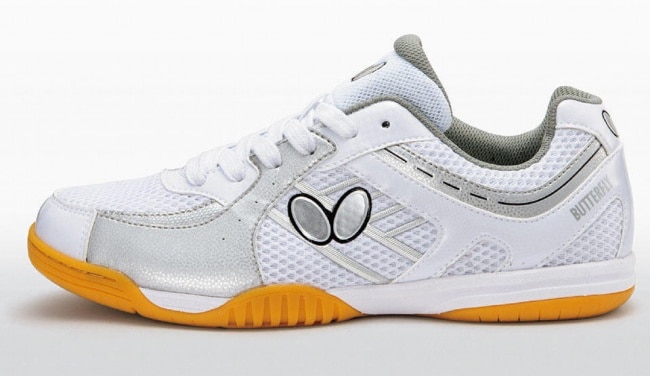 Specifications:
Size: 4.5-12
Material: Mesh, leather, rubber
Weight: 1.7lb
Colour: White, blue, lime green, gray, pink
Pros:
Has a flexible structure
Very comfortable
 Low profile sole
Cons:
The insole and bottom of the shoes can be too thin for some people.
The Lezoline Sal is another high-end ping pong shoe that you can get from Butterfly. It is stylish and long-lasting. Available in a variety of colors to meet the preferences of any player. The mesh-surface material offers breathability.
It has a very soft insole with good air intake. It is also very grippy despite my body weight of 100 kg. They are very stable and comfortable.
Available in five different colors, there is a lot of options to choose from to fit your style, but we feel the pink edition may be more of a woman's table tennis shoe than a man's!
Our rating: 9.3

Lezoline Trynex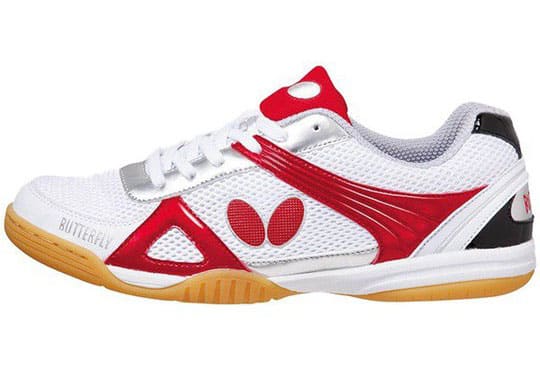 Specifications:
Size: 4.5-8.5
Material: Mesh, rubber
Weight: 1.2lb
Colour: Black, blue, navy, red
Pros:
Built with quality material
Very light and very comfortable to wear
Cons:
 The shoelaces are too short
The Lezoline Trynex features a quality rubber sole that gives you a superb grip on any surface. It is also incredibly lightweight — it is one of the lightest shoes we could find making it ideal for young players or anyone that fatigues quickly during training.
The non-marking outsole also provides great ground contact. I love the quality and flexibility of this model; they are great shoes for table tennis.
Our rating: 8.9

Mizuno Table Tennis Shoes
Mizuno Wave Drive 8 — Most Breathable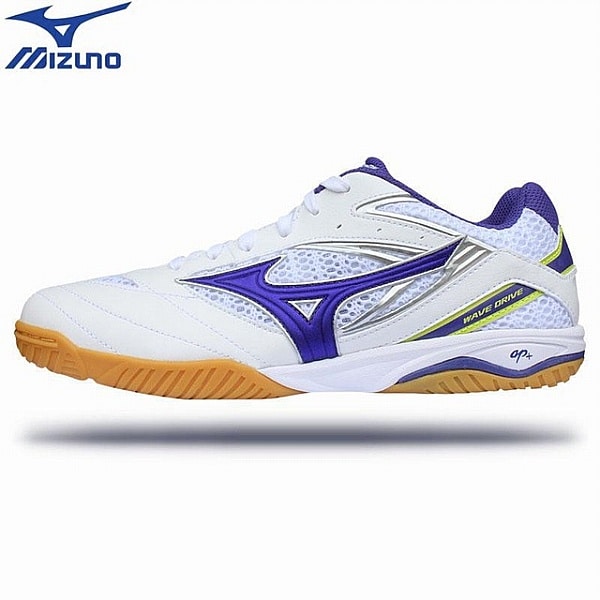 Specifications:
Size: 8
Material: Synthetic material, rubber
Weight: 1.3lb
Colour: Blue
Pros:
Fashionable look
Has good grip
Very good airflow
Cons:
This Mizuno Wave Drive 8 is a very popular shoe in the Wave Drive series. The flexibility of the shoes gives stability while playing table tennis.
The Wave Drive 8's have maintained the basic characteristics of the prior versions of Mizuno Wave Drive shoes but look far more aesthetically pleasing.
We rate the cushioning of this shoe which uses infinity wave technology. This innovative technology makes it shock absorbent placing less stress on your feet mitigating soreness and injuries.
These table tennis sneakers also offer a perfect fit and flexibility to allow your foot to adapt to its natural gait. The enhanced midsole gives you a soft and comfortable feel.
Another good selling point is the super ventilation this shoe provides. The use of AirMesh materials helps prevent your feet from overheating and encourages cool air to flow which keeps you cool. We think it's the best men's table tennis shoes for breathability.
If you're interested, we also have more details about the Best Mizuno Table Tennis Shoes.
Our rating: 9.4

ASICS Table Tennis Shoes
Here are a couple of our favorites. If you want to see more, we wrote a full review of ASICS table tennis shoes.
ASICS Gel Rocket 8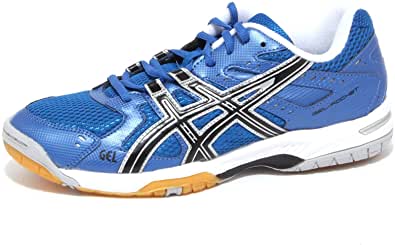 Specifications:
Size: 7.5
Material: Synthetic material, rubber
Weight: 1.63lbs
Colour: Blue
Pros:
Good support
High durability
Cons:
Designed for running, not table tennis
The Asics Gel Rocket 8 is a good shoe if you play on a hard surface. While it is not specifically designed for table tennis, it is better than most shoes available in the market. It has a great insole design which will offer you good protection from getting pain in the shins and heels.
Another area the shoes shines in is in term of durability. They are well-built and last a very long time.
However, it is quite an old shoe now and has largely been replaced by the Gel Rocket 9.
If you are interested, you can read more about this shoe by following this link.
Our rating: 8.4

ASICS Gel Rocket 9
Specifications:
Size: 5-14
Material: Synthetic material, rubber, ethylene vinyl acetate
Weight: 1.63lbs
Colour: Black sunrise red, black/white, white pure gold
Pros:
Available at a reasonable price
The insole is very secure
Has very good cover-up for your feet
Cons:
A bit stiff in the sole
Not washer-friendly
Not specifically designed for table tennis
Asics Gel Rocket 9 was released in 2019. These are part of ASICS's Gel-Rocket Series and are the 9th version. The Gel Rocket 9's are quite popular because they are of good quality and reasonably priced. These shoes are in fact made for volleyball, we would never usually recommend volleyball shoes as they tend to have thick outer soles and are overly heavy for table tennis. However, we've made an exception for this model as they are not too thick and are well-weighted.
It seems players from other sports have recognized their versatility as well, as they are proving popular in sports such as badminton and squash.
In comparison to the Gel Rocket 8, they look pretty much identical except for some slight differences in the fabric and stitching.
Our rating: 8.7

JOOLA
JOOLA Cuckoo — Most Lightweight
Specifications:
Size: 6-7
Material: Fabric, mesh
Weight: 1lb
Colour: Blue/orange
Pros:
Incredibly lightweight
Very flexible
Cons:
JOOLA Cuckoo is specially designed to meet the demands of the best players. They are high-end shoes made with a grippy sole.
They feature a perforated toe box, upper, and tongue for high levels of breathability. They also use a shock-absorbing midsole which helps reduce stress on your feet and joints which keeps you playing for longer.
The ultimate selling point of these shoes is their weight. They are the lightest shoes on this list, so if you like are pursuing a lightweight shoe it is certainly one to keep in mind. My only peeve with these shoes is the design. I personally prefer something a little more glamorous, but to each their own.
There are more JOOLA shoes in this post.
Our rating: 9.3

DONIC
DONIC Daytona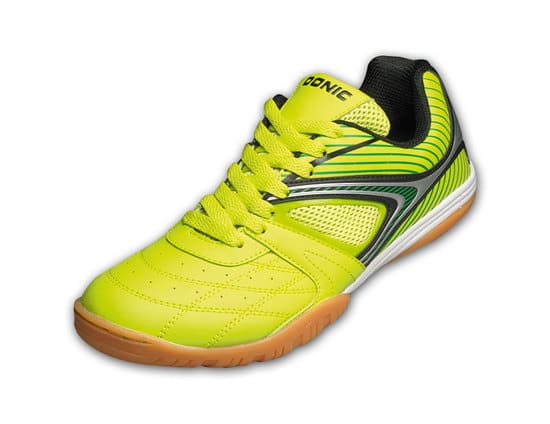 Specifications:
Size: 7
Material: EVA, nylon, synthetic material
Weight: 1.14lb
Colour: Lime-green
Pros:
Lightweight
Eye-catching
Very flexible
Cons:
Style not to everyone's taste
Available in lime-green, the Donic Daytona is a vibrant shoe for players looking to make a statement in the sports hall. The highly flexible middle sole provides ample cushioning for heavy impacts while the grippy outer sole gives you a strong foundation.
The shoe uses both breathable nylon mesh and soft synthetic leather for maximum comfort and to keep your feet cool. It is another very light shoe making it suited for quick movements and long training sessions.
Our rating: 9

Other Quality Shoes for Table Tennis
LI-NING APT001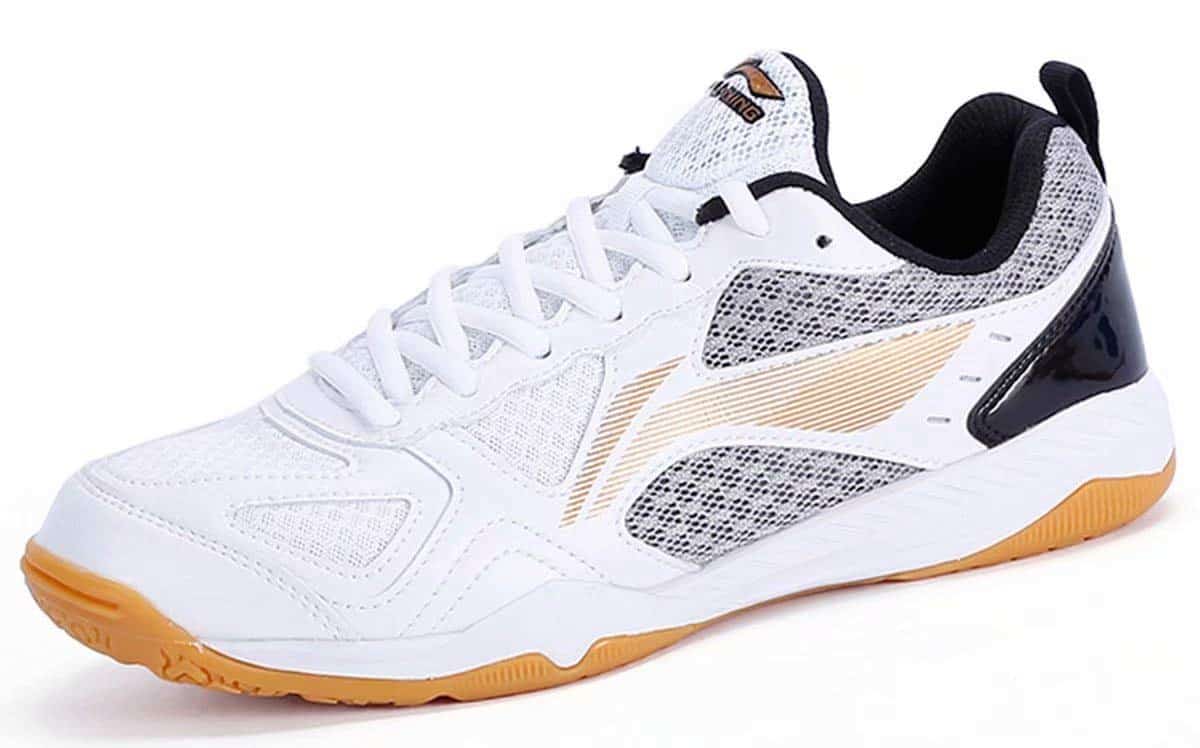 Specifications:
Size: 9
Material:
Weight: 1.7lb
Colour: Grey/black, red
Pros:
Highly breathable
Anti-collision toe cap prolongs life
Cons:
Not a specialized table tennis manufacturer
The APT0001's are a great shoe for breathability. Much of the shoe uses mesh material and the sole also features ventilation holes allowing more air to escape them from most other shoes. The outer sole also provides optimal grip. It is textured with three-dimensional irregular geometric figures that are anti-skid and resist wear.
Another great feature is the anti-collision toe cap. The inner lining features additional support to enhance comfort and extend the shoe's life. A great choice for players who often vary the depth of their positioning such as lobbers and choppers.
Our rating: 9.4

Characteristics For a Quality Pair of Shoes
Flexible
Some players consider flexibility and ground feel, along with the stability they provide, to be of importance. Shoes need to be flexible as table tennis involves a lot of irregular movement and you don't want to be restricted by your footwear.
Sole toughness
Let's face it. The primary reason for wearing shoes, especially the best ping pong shoes, is to prevent injuries while playing the game. Therefore, the strength of the sole is important. If you play often, you need a sole that is highly resistant to wear.
Support
The best ping pong shoes provide good support. However, some people need arch support or anti-pronation control devices. These devices reduce the flexibility of the shoe considerably.
Cushioning
Some people feel uncomfortable with thin soles and want to add cushioning to their shoes. Such cushioning reduces flexibility. Cushioning, by itself, does not affect the ability to perform the forefoot landing, unless that cushioning is mostly in the heel.
Lightweight
With the right pair of shoes, your feet should not feel labored when moving. Speed and endurance are adversely affected by carrying extra weight on your feet. Having a pair of shoes that are heavy is the biggest mistake you can make when choosing footwear.
Know Your Foot Types
Before you rush to buy new shoes, know that there are 3 types of foot morphology. All need different shoe structures.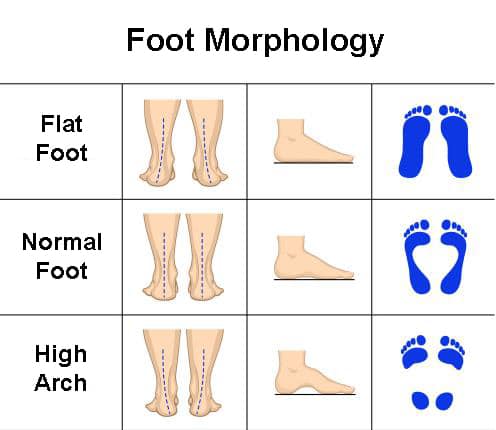 To determine your foot morphology, grab a blank sheet of paper, then wet your feet and step on it. The imprint your feet leaves will indicate what type of feet you have.

Once you know your foot type, you know whether you need to buy specialized shoes or insoles to correct your feet.
Foot Measure
Prepare a blank sheet of paper and a ruler.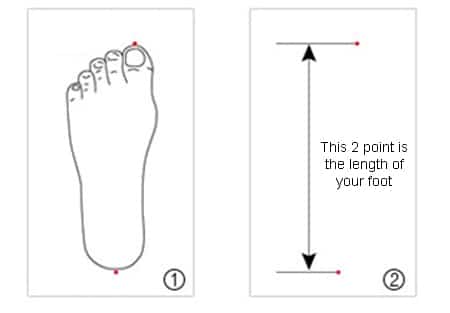 Step on the white paper with your foot. Use a pen to mark the heel and the longest toe. Take the distance between the two points as the correct foot length, as shown in the picture.
If the measurement is not equal for the left and right foot, you should take the long foot as the real measurement.
Size Chart
You need to know the size of the shoes before buying. Certain areas use different types of measurements for shoe sizes. Make sure you convert the size if needed.
Below is the size chart for different continents.


FAQS
What is Special About Table Tennis Shoes?
Table tennis shoes are specifically tailored to the movements of table tennis. This makes them more suited to ping pong than other types of sports shoes you can buy. Predominantly, table tennis shoes are comfortable and lightweight. They do not need thick outer soles as some other sports do. They also shouldn't have a high heel cap as this can restrict sideways movement and lead to ankle rolling or other injuries.
Are Badminton and Table Tennis Shoes the Same?
Badminton shoes are fairly similar to table tennis shoes. Being an indoor sport, their shoes are grippy and fairly lightweight. However, badminton incorporates more jumping and running than table tennis. As a result, their shoes have thicker outer soles and they are a little heavier. But most of the time they are not bad substitutes for table tennis shoes.
Can You Use Tennis Shoes for Table Tennis?
Tennis shoes are less suited to table tennis than badminton ones are. This is because tennis is an outdoor sport so the functionality of the shoe differs. The main drawback to these styles of shoes are the outer soles. They are not made from the same specialized rubber that is used for indoor sports. I advise that you avoid tennis shoes for table tennis when possible.
What Table Tennis Shoes Do the Pros Wear?
Mizuno and Butterfly shoes seem to be particularly popular among the pros. We believe Dimitrij Ovtcharov is currently using Lezoline Rifones while Timo Boll is using Lezoline TB's.
Conclusion
That about wraps up our review of the best table tennis shoes. We've detailed a lot of different shoes we love and some weren't even specifically designed for table tennis. This shows that there are gems that you can unearth, but of course, it is much easier to stick to more reliable shoes created by reputable table tennis manufacturers.
In our opinion, the best table tennis shoe of 2023 is the Lezoline Rifone. They excel in almost every category and are used by professionals. If it's good enough for them, it's almost certainly good enough for us. We understand they are a little pricey, so if you are on a budget perhaps consider the JOOLA Cuckoo or the LI-NING APT001 instead. They are some of the best budget ping pong shoes.