Table tennis shoes are a very significant piece of equipment. Table tennis is one of the few sports, where the equipment and clothing you wear are limited. Because of this, the quality of individual items become passed on, as opposed to being spread over quite a few distinctive pieces of clothing.
Shoes determine your ability to stop as well as how your movement will be restricted. Also, how supported your ankles and feet are whenever you land from a strong forehand smash or backhand attack.
To get a great pair of table tennis shoes, you need to get a pair with decent reviews. The good thing about the internet these days is that you can go online and Google just about anything and locate unbiased reviews (usually).
When you know what model and brand name, search and see what comes up. Obviously, if it is the brand name web page, they'll be promoting their own shoes, but you will usually get a couple of review sites that show how excellent the shoes are.
Additionally, look for something that has breathable material, one which is lightweight, well constructed, and looks good. ASICS and Mizuno are well-known for having the best tennis shoes. However, that doesn't mean that you will not get good top quality shoes from other, smaller more affordable manufacturers.
Keep in mind to match your skill level with the funds you invest in the shoes as well; do not go out and the most expensive shoes in the market if you're unsure of whether you want to play the game.
Mizuno Table Tennis Shoes
A lot of shoe companies are coming up with a variety of shoes to fit individual needs. The shoes range from informal use, running, and sports types. There are several companies out there to choose from but based on constant critiques, Mizuno is rated one of the top manufacturers of quality shoes. Their most popular footwear is the table tennis shoes, particularly the Mizuno Wave Drive shoes.
The Mizuno Wave Drive shoes come in distinct designs. The Mizuno Wave Drive 4, 5, 6, plus the latest Mizuno Wave Drive 7 both for men and women. Each type has various features and designs. They also come in a variety of colors with improvements in every design.

Mizuno Wave Drive 4
The shoe was created from lightweight synthetic leather material. It has a padded ankle liner and mesh tongue. It has three layers of AIR MESH TM that make feet breathe easily while wearing these shoes. A pair includes a toe guard to protect your toes from an injury that could happen while playing table tennis. You can be confident of its durability as it is a high-tech design.

Mizuno Wave Drive 5
This shoe is designed for enhanced agility. It features the Pebax Parallel Mizuno Wave Technology shock-absorbing ability as it ensures light-weight cushioning and balance. It is available in a variety of colors that you can choose from. The design of the shoe has improved flexibility and grip using the SG rubber sole.

Mizuno Wave Drive 6
This shoe has a new contemporary design. It has maintained the basic characteristics of the previous versions of Mizuno Wave Drive shoes. Because of its amazing performance and durability, it is one of the most popular shoes. It comes in different colors and styles.
Additionally, boosting the midsole of this shoe has increased performance and agility and its light-weight characteristics. One of the best features is relieving tension and strains on ankles and leg joints.
The Mizuno table tennis shoes that use the VS-1 technology provides added convenience with their vibration absorption material. In the men's earlier version, the SG rubber outsole has enhanced flexibility.

Mizuno Wave Drive 7
Wave Drive Z
This is another pair of shoe in the Wave Drive series the Wave Drive Z. It was launched specially for the 2016 Rio Olympics. It is also uniquely designed in Japan's National Team colors.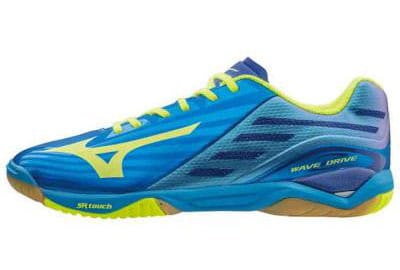 You can be assured of great cushioning with its heel wave plate and ap+. The shoe is light and the anatomically molded removable cup insole makes it very comfortable to wear. The shoe is designed with all of Mizuno's latest technologies which include Mizuno Wave, PrimeSkin, SR Touch, DynamotionFit, and PoWnCe.
The artificial leather weight for this shoe is approximately 260g. This is a great sneaker that can provide you with good lateral support and ventilation. They are worth the money.

Mizuno Wave Medal 5
These table tennis shoes are categorized as high-performance shoes. The removable cup insole provides comfort to the feet. While the AIRmesh upper material provides good breathability. This shoe is designed to offer players great traction and stability.
Features:
Extension of the Wave Plate technology into the mid-foot to enhance support.
SR Touch insert supports quick and powerful movements.
The unique white-blue design gives it a sleek look. This is a pair of excellent table tennis shoes. The sole is very soft and firm. But you need to be aware of your sizes before you purchase. It is better to fit the actual shoes as the size chart might be not so accurate.

Mizuno Wave Drive 8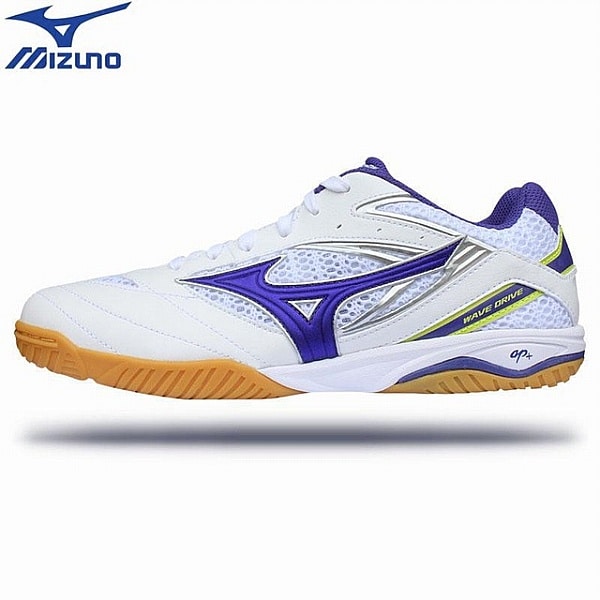 This Mizuno Wave Drive 8 is a popular shoe in the Wave Drive series. The flexibility of the shoes provides good stability while you are playing table tennis.
The shoe is covered with mesh which helps the feet to breathe. When you are playing be assure the shoe will keep your feet comfortable in the heat. It will provide good foot movement and ease of speed. You can focus on playing the game
The shoe is quite comfortable with a firm grip.

The main concern is to choose the exact size and it can differ depending on the model. In my friend's case, he was previously wearing a shoe size of 42.5. But for this one, with the same size of 42.5, it differed by half the size. Drive Z is smaller (by 42 in fact), although the manufacturer is the same, and they structurally very similar.
It is very important which you select the most effective shoes so you can execute your skills and also have an incredible performance in playing ping pong. Mizuno table tennis shoes will absolutely offer remarkable efficiency in any ping pong game. Men and women will love the shoes. The price of each design is definitely worth it.
More on Shoes: