Let's discuss a bit about the right shoes to wear when playing a table tennis game. We will focus on the various Butterfly table tennis shoes.
The most important thing for a pair of shoes is they must be low profile. They need to stay as low as possible to the ground to have a better grip and traction with the floor.
The shoe should be non-marking, non-slippery, and pretty dependable so that you can have a lot of motion in your foot at the front shoe. At the back, you can have padding that is pretty wide to provide you with a lot of good stability from side to side.
Some of the Butterfly table tennis shoes have a ventilation hole straight at the front so your foot won't slide. All of the shoes are pretty wide over the side as well as low profile.
Great Shoes For Great Footwork
To have great footwork, you need a great table tennis shoe. Are you probably wondering, what type of shoe do I need to play table tennis? If you are serious about playing table tennis, you need the perfect table tennis shoe.
The shoes don't need to be expensive. Here are some characteristics to consider when getting a pair of table tennis shoes.
First, the shoe needs to be grippy. You will be moving around the table a lot, and you will be doing fast footwork. So, you don't want to slip.
The second thing is, you can't be a runner when the shoe is spongy because you do a lot of sideways movement in table tennis. A spongy shoe will trip you. So you need to have a hard sole.

Lezoline Zero Shoe
The upper body is made of synthetic fibers and reinforcing parts with artificial leather, which offers players flexibility.
The bottom is made of rubber, which provides players with a better grip. The sole, soft finishing is excellent, lightweight, and absorbent polyester mesh material keeps the foot comfortable and dry all the time. It offers the utmost flexibility and is specially made for table tennis.
It provides fantastic grip and stability for players. It is suitable to wear and play on any floor surface. It gives you excellent support, and the look of the shoe is excellent. The design is simple and timeless.
All I can see is this is an elegant and practical table tennis shoe. The shoes don't have arch support, but that is not a big deal at all.

Lezoline Sonic Shoes
This shoe is made of EVA midsole, which provides good cushion and breathability. The shoe comes in 4 colors white, blue, pink and yellow.
Many people find them quite attractive. The shoes provide good grip and flexibility. However, the quality is not good.

Lezoline Trynex Shoes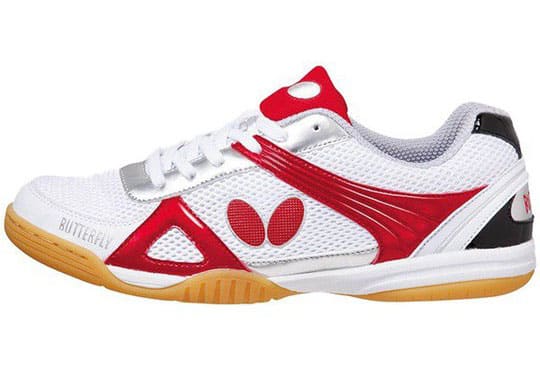 The Lezoline Trynex shoe is quite comfortable for people with wide feet. The shoes give you excellent value for money. The shoe has a durable rubber sole that gives you a good grip no matter the playing surface.
The shoe has an exceptionally stylish and sporty design, which will offer you a modern look. The shoe is very lightweight, weighing 270g. With all mesh construction, it provides you with good breathability.

Lezoline TB Shoe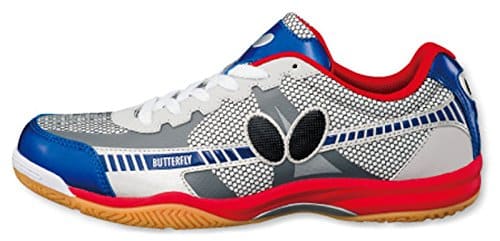 The Lezoline TB shoe is the top model table tennis shoe series  released by Butterfly. You can read more about this shoe by following this link.

8001 classic
Some people love the Butterfly 8001 Classic shoes. It is a very lightweight shoe and made with a canvas body. It also has a high friction rubber sole. However, the shoe's quality is not so good and durable. However, if you want a pair of inexpensive shoes to play ping pong, then you can consider buying them.

Win-5
The body of this Butterfly Win-5 shoe is made with senior microfiber material and cloth network. It has a novel design and is a low-profile shoe. It is made using good quality material and is considered a new model ping pong shoe suitable for professional players. It is an elegant and practical ping pong shoe for players.The body of this Butterfly Win-5 shoe is made with senior microfiber material and cloth network. It has a novel design and is a low-profile shoe.

Utop Shoes
This shoe is comfortable and lightweight. The grip is excellent, and provides players with optimal stability.
The support on the stress zone makes it highly reliable. The strong shock absorption balances the foot as well as significantly cuts down on stress. Since the shoe is light, you can move around easily.

Lezoline Lazer Shoes

It is yet another excellent table tennis shoe released by Butterfly. The shoe features extreme flexibility and grip. Besides the superb quality, the design is innovative, and you are going to love them. It is accented with a variety of eye-catching textures.
The shoe is available in 4 colors, blue, green, purple and red. It is lightweight, weighing approximately 230g.

Radial Cross Shoes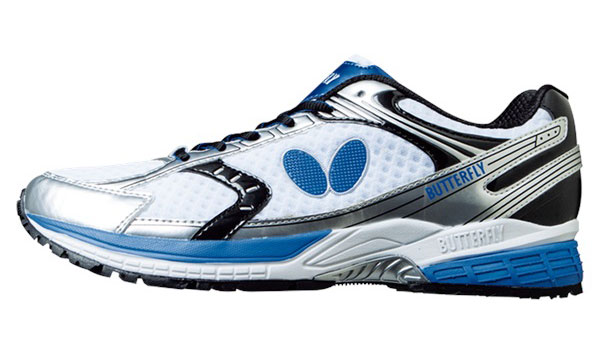 This shoe is featured with dynamic and flexibility. It is comfortable to wear and provides a sturdy grip on any floor surface.
Going for a walk simply becomes better by wearing these shoes. Every step is excellent. You're going to move and act with more confidence since the shoes are designed with a comfortable fit and breathable material.

Energy Force Series
Energy Force III
These pair of shoes offers players various functions and are considered great performance shoes. Many professional players wear these shoes as they are very comfortable and keep the legs in good shape. It is especially fit for players who have a wider foot, and wearing thick socks gives a snug fit when playing on a concrete floor.
https://www.tabletennisspot.com/review-of-butterfly-energy-force-x-table-tennis-shoes/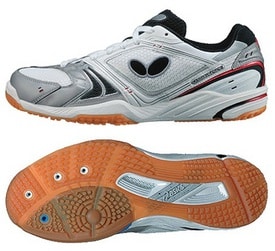 This pair of shoes offers players with topmost flexibility. The shoes are made with very lightweight absorbent mesh material. When you wear the shoes, you will feel cozy and dry all the time.
The shoes can provide you with excellent stability and grip. It is suitable for you to play on any floor surface, if it is a gym floor or vinyl concrete.
Energy Force XII Blue
Energy Force XII Pink


Win-7
The Butterfly Win-7 is a casual shoe. The upper material is built with synthetic material, and the outsole material is made with cow muscle.
It has a breathable feature and lace-up closure. The shoes cater to both male and female players. These shoes allow better footwork to move faster and have a better grip and traction with the floor.

Radial 808
This shoe has an excellent heel cushion and arch support. It is very lightweight, as  do almost all Butterfly shoes. The shoe is low to the ground and very grippy. If the side gets torn, you can always use superglue to repair them.
This shoe has a hole at the front, which makes your foot stays ventilated and cool all the time. The mesh material you find in most Butterfly shoes has such functionality as well.

General Butterfly table tennis shoe size chart
You may refer to the size chart below for different Butterfly shoes. They are measured according to different country's measurement. By doing so, you will have an accurate figure for you to pick the right size for your table tennis shoes.

It would help if you had good shoes. Even if you can't afford expensive ones, you should buy yourself a pair made by Butterfly because they meet the criteria for good table tennis shoes.
Amazon is a good site for you to get an idea about different shoes' price and decide which shoes to go for.
If you want to go for a cheaper price, you should wait for a promotion for shoes offered at a discounted price. Then you can get your ideal shoe at a lower possible price.

More about shoes: