Ensuring you get the right footwear for table tennis is a big deal. The wrong shoe can have you sliding all over the place, or worst-case scenario, cause you an injury.
Don't make the same mistake I did! I spent years wearing an old worn-out pair of trainers and it really hurt my game. I was constantly losing my footing and praying to play at venues with a grippy floor. Eventually, I purchased a pair of quality table tennis shoes, and needless to say, I never looked back.
But what brand of shoe should you get I hear you say? Well, any table tennis brand is a good idea really. But as the top table tennis manufacturer today, Butterfly stands out as the most reliable choice for your precious feet. So today we will be covering the top Butterfly table tennis shoes that are currently available.
Featured Products:
Best overall — Lezoline Rifones
Best looking — Lezoline Gigu
Most Breathable — Lezoline Trynex
What Should I Look For in a Shoe?
Before you add the best-looking pair of shoes to your online basket consider functionality. Sure, a great-looking shoe is super appealing, but if it doesn't perform its job effectively it isn't worth purchasing. 
Table tennis is a fast-paced sport involving a lot of quick sideways movement, but unlike sports like badminton and volleyball, there aren't a lot of heavy impacts. Therefore table tennis shoes have unique requirements, you should seek footwear that has the following properties: 
Thin soles
Lightweight
Adequate cushioning
Grippy
Durable
Breathable
Top Butterfly Table Tennis Shoes
Lezoline Rifones — Best Overall

Pros
Choose from five different colors

Comfortable

Great looking shoe

Grippy

Breathable
Cons
The Lezoline Rifones are Butterfly's most high spec athletic shoe. They incorporate various B technologies such as B-Armor, B-ridge, and B-Absorbed. This ensures your feet are adequately cushioned but have the flexibility they need to produce intricate movements. The Rifones also use a one-sided tongue. This means the tongue only connects internally which limits its movement and enhances the feeling of the fit of the shoe.
If quality is your top priority, then you need to look no further than the Rifones. Available in five colors, we prefer the black shoe, however, they all look great.


Lezoline Gigu — Best Looking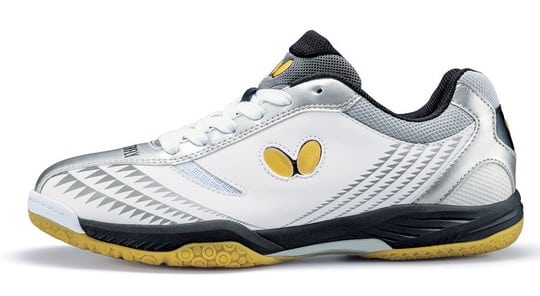 Pros
Max shock absorption

Comfortable

Stunning looking shoe

Grippy
Cons
Expensive

Only two color options
The Lezoline Gigu's are the second most expensive Butterfly ping pong shoe. It features many of the technologies present in the Rifones, but not quite all. And like the Rifones, this shoe is catered to top table tennis players. It uses a thicker sole; the thickest sole among the whole Lezoline series in fact. This means you get a lot of cushioning and shock absorption relative to other shoes. The trade-off here is that they are a little heavier, but not overly so.
Besides the function of the shoe, we are a big fan of its aesthetics. Visually speaking, the white/silver variant is our favorite shoe!

Lezoline Mach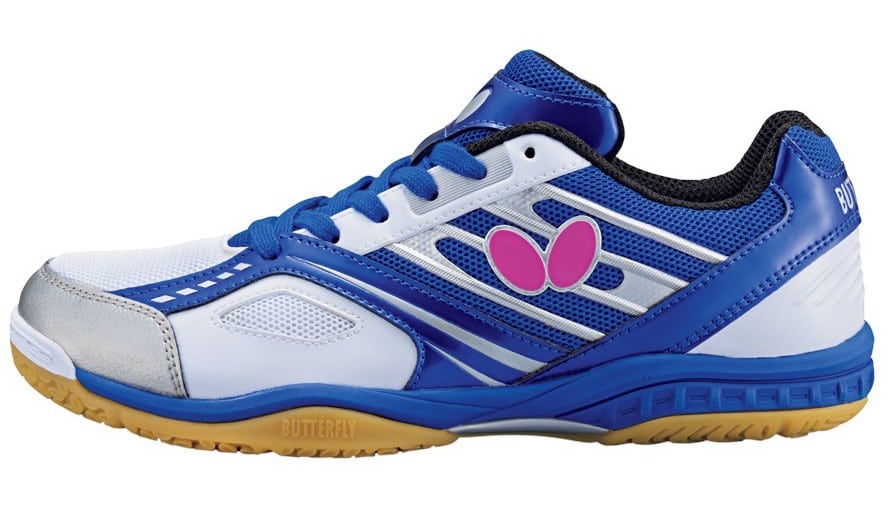 Pros
Choose from three different colors

Balance between weight and support

Comfortable

Fairly breathable

Grippy
Cons
The Lezoline Mach's are the final Butterfly shoes for table tennis in the top range designed for elite players. As the lightest shoe of the three, it is best for players who play close to the table and demand quick movements. However, in comparison to the other shoes on this list, its balance between weight and support is fairly average. This gives you the best of both worlds and is great for high-level players that are not set on either a very light or heavily supported shoe.

Lezoline Groovy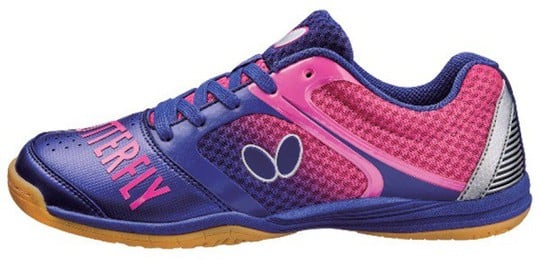 Pros
Choose from five different colors

Lightweight

Comfortable

Durable

Grippy
Cons
While still fairly expensive, the Groovy table tennis shoe by Butterfly is a moderate step down in price from the Rifones, Gigu, and Mach. The main distinction between this shoe and those aforementioned is its weight. It has a much thinner midsole which gives you more of a barefoot feeling while playing. However, it still provides enough cushioning that it is comfortable to wear for long periods.
The Groovy is also more of an eye-catching shoe. It's available in five colors, many of which are very vibrant. The front portion also features the word "Butterfly" as well as the logo, to really drive home that these are a pair of Butterfly shoes. Great for die-hard Butterfly fans!

Lezoline Unizes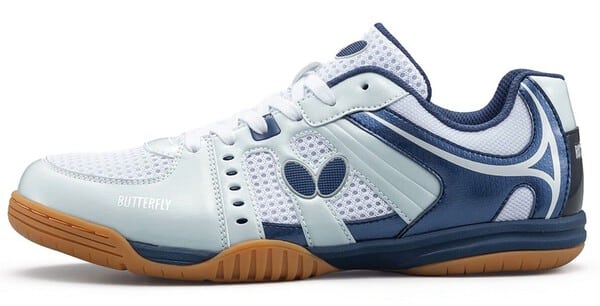 Pros
Balance between weight and cushioning

Comfortable

Breathable

Grippy
Cons
The Unizes are a great pair of table tennis Butterfly shoes that blend durability and breathability rather well. This ensures you are getting good value for money. Our main issue with this shoe is the limited color options. While they look very stylish, you only have black and navy to choose from. Both very dark colors. Players who are fonder of vibrant shoes will have to look elsewhere.

Lezoline Sal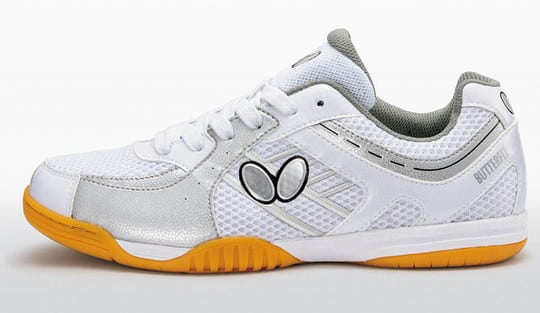 Pros
Available in five different colors

Balance between weight and cushioning

Comfortable

Highly breathable

Well-priced

Grippy
Cons
The Lezoline Sal shoes are a more affordable footwear choice that still delivers the quality you would expect from a top brand like Butterfly. While inferior to the Mach, they provide the same balance between weight and cushioning which leads to a great all-around shoe. The Sal also excels when it comes to breathability. Mesh is present throughout the majority of the shoe which allows your feet to breathe which is a very desirable quality for those extra-long training sessions. However, this comes at the cost of durability. Mesh doesn't stand the test of time as well as stronger material so it requires more care.

Lezoline Trynex — Most Breathable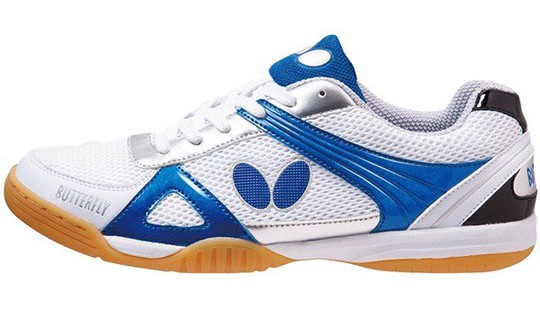 Pros
Balance between weight and cushioning

Comfortable

Highly breathable

Well-priced

Grippy
Cons
Only available in blue

Durability
The Lezoline Trynex is among the cheapest Butterfly shoes. If you're trying to save money for other table tennis equipment it could be a good choice. Like many of the other shoes we have looked at, it is fairly light and has just the right amount of cushioning. The design of the shoe is very sporty and does not look all that dissimilar from non-table tennis footwear. Like the Lezoline Sal, the prevalence of mesh material makes it highly breathable. Great for players that sweat easily.

Radial Cross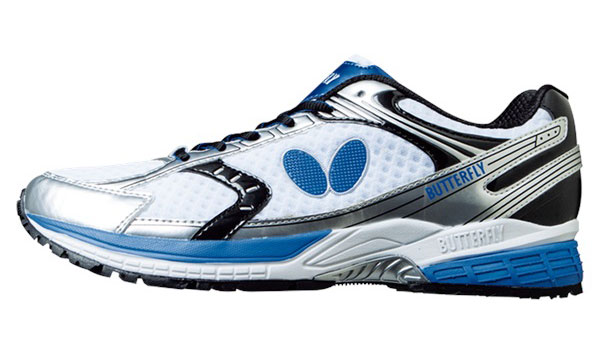 Pros
Use indoors and outdoors

Comfortable

Well-priced
Cons
Only available in blue

Not specialized for indoor use
The Radial Cross is a rather different shoe from the rest on this list. Butterfly developed it both for indoor and outdoor use which is a rarity for table tennis footwear. Of course, this has the benefit of being a great shoe for other outdoor sporting activities. Or perhaps you like to play table tennis outdoor occasionally too? If so, the Radial Cross could be great for you. However, as it's intended for use outdoors it does not use the same grippy yellow soles that you see among most indoor footwear. This means it's not quite as effective indoors as we would like.

Butterfly Shoe Size Chart
Ensuring you select the right size is important so we recommend you refer to the size chart below before making any purchases.


Final Thoughts
Butterfly table tennis shoes are very high quality and you can't really go wrong by purchasing any of the shoes on this list. They are far better than the vast majority of non-table tennis brand shoes. That being said, our favorite pair are the Lezoline Rifones. As the pinnacle of Butterfly's engineering, the Rifones simply feel incredible to wear which is hardly surprising given they are aimed at the pros. If you don't mind forking out the money they are the perfect shoe for most people.
However, for many of you, they will be far too expensive. So if you are trying to save a bit of money perhaps instead consider either the Lezoline Groovy, Lezoline Sal, or Lezoline Trynex. All of these shoes offer far better value for money and where the Sal and Trynex have really good breathability, the Groovy is more durable and is available in lots of different colors (as is the Trynex).
Not sold by any of the shoes on this list? Check out our ultimate table tennis shoe buyer's guide.
More about shoes: