It would be best if you chose the right shoe for you to play table tennis. The shoe required for you to play table tennis is different from other shoes. Learn how to choose the right one to protect your feet well without getting injures. Many players their ankles injured because of not wearing the right shoes for table tennis.
Table tennis shoes are not the same as a running shoe because when playing table tennis, there are many small steps and movements involved, not like running where the step is instead striding wider. It would be best to get a pair of shoes that can give you a good grip and cushion.
You should remember not to wear running shoes to play table tennis. It is because most of the running shoes are built with a high heel cap and thick outsole. Such a design will prevent you from moving side by side. While playing table tennis required you to do many side steps, this will increase the chance for you to get injured.
Lezoline TB – Shoe that you can consider
The Lezoline TB shoe is the top table tennis shoe series released by Butterfly. It is an incredibly stable and cozy shoe, and it meets all the requirements of an advanced table tennis player.
It accommodates just about all requirements of the world professional ping pong playing. It has a substantial grip and shock dampening. The shoe is made from exceptionally breathable material and is features a fascinating design with attractive colors.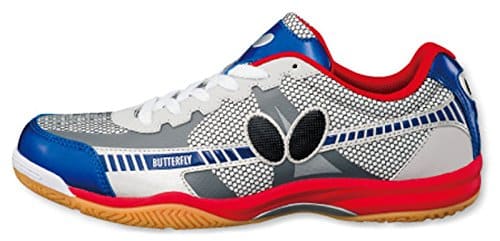 Features:
Lezoline TB Shoes is one size larger in the United States' sizes compared to other Butterfly Shoes.

The weight of the shoe is about 300g.

The color is available in Sky Blue or Navy.
Construction of The Shoe
The shoe is built with KPU material, which can offer players high stiffness. It can also provide great help in cushioning the forefoot and protect it from rapid movements.
The bridge-shaped middle sole support sliding motion during footwork. It is beneficial when you are carrying out your footwork training in the court, as the Butterfly Lezoline TB Shoe can bring you stable footwork when you put them on your feet.
The grip, which is specially formed at the outer sole, has a high ability to correct your movement and prevent distortion of the shoe, which happens through the particular movement when you play table tennis.
The unique shock absorbing sponge placed between the forefoot's outer and middle sole can provide good flexibility and cushion for your feet.
The shoe is having a thin outer sole and grippy sole. Remember, you don't need a thick sole because the floor is normally built on the sprung floor or ger floor for the venue you play table tennis. These types of floors are good at absorbing shocks and giving players a softer feel.
The other features of the shoe are built with a one-sided shoe tongue that connects only the inside part of the shoe tongue. Such design prevents players from undesired movements and at the same time enhances the feeling of a perfect fit.
The shoe can offer a player a specific extension of their body. You can strengthen your playing style without worrying about the separation of the shoe when you are moving around the table.
A pair of quality shoes is essential for a player to play table tennis since the entire performance depends on small and speedy footwork. It can only be possible with a pair of excellent Butterfly table tennis shoes to drive to their limit.
The Lezoline TB shoe is perfect. It is very comfortable and soft with the air intake. You can have an excellent grip on any surface. Besides, the shoe also considers very light as the weight is not more than 200 grams. It features low landing and comes with a fantastic design.
But as you say, maybe they are some poor quality shoes that you wear and hurt your feet! If those shoes continue to hurt your feet after 3-4 times, you should throw them away immediately!
I am very strict in shoes because I am heavier than average, and I always look the shoes that will not damage my knees and feet generally. I use butterfly VIII with GEL and are made by ASICS, so I have less vibration and hurt my knees!
Conclusion
It is always recommended that table tennis players buy a pair of shoes with lightweight because you can have fast footwork. I bought the shoe a few months ago. The shoe size is slightly larger to fit my feet, So I purchased an insole to let it fit well with my feet.
I have an excellent feel for it. It just makes my footwork fast, and I can now play a faster stroke.
When you choose a lightweight shoe, you should also check if the shoe is built with lightweight mesh fabric. Light mesh fabric without much leather makes the shoe to be more breathable. So it can have good ventilation and circulation which can vent out the heat and make your feel to remain calm always.
And the Butterfly Lezoline TB Shoe is considered a good shoe for you to wear to play table tennis. The price can be more than $100, not a pair of cheap shoes for some people. But if you need to have a pair of good protection shoes for your feet, this Butterfly Lezoline TB shoe is the shoe that you can count on.
Price is what you pay, but the value is what you get.
If you intend to buy this shoe, you need to bear in mind that the TB Shoes about one size larger in U.S. sizes than other Butterfly Shoes.
More about shoes:
Buying The Right Table Tennis Shoe