The Lezoline TB shoe is the top model table tennis shoe series that released by Butterfly. The shoe is R&D together with German professional table tennis player, Timo Boll. It is an incredibly stable and cozy shoe. It accommodates just about all requirements of the world professional ping pong player with substantial grip and shock dampening. The shoe is made from exceptionally breathable material and is features with fascinating design with attractive colors.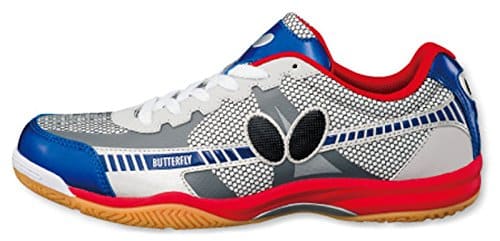 Features:
– Lezoline TB Shoes is having one size larger in the sizes in United States compares to other Butterfly Shoes.
– The weight of the shoe is about 300g.
– The color is available in Sky Blue or Navy.
The shoe can offer player with certain extension of their body. You can strengthen your playing style without having to worry about the separation of the shoe when you are moving around the table.
A pair of quality shoes are very important for a player to play in table tennis since the entire performance is dependent upon small and speedy footworks. This can only be possible with a pair of great Butterfly table tennis shoes to drive to their limit.
The Lezoline TB shoe is very good shoes. It is very comfortable and soft with air intake. You can have a very good grip on any surface. Besides, the shoe also consider very light. It features with low landing and come with cool design.
But as you say maybe they are poor in quality and hurt your feet!If they continue to hurt your feet after 3-4 times, you should throw them away immediately!I am very strict in shoes because I am heavier than the normal and I look always the shoes which will not make damage on my knees and my feet generally.I personally use the butterfly VIII which have GEL and are made by ASICS so I have less vibration and hurt in knees!
More about shoes:
Buying The Right Table Tennis Shoe