ASICS is a company widely known by ping pong players that makes excellent quality table tennis shoes. The shoes made by ASICS provide ideal performance for players for both men and women. They are some of the highest quality shoes you can buy.
They are popular with recreational players worldwide, and there are lots of professional players who use them. ASICS is a Japanese athletic company specializing in athletic clothing and footwear.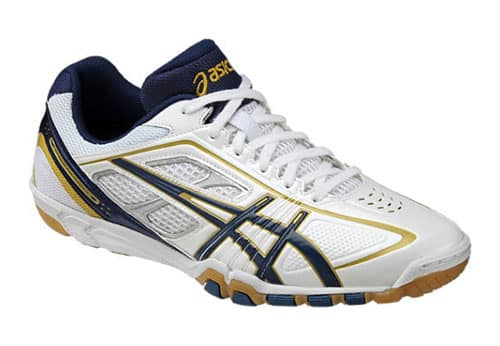 Great Looking and Superb Performance
ASICS table tennis shoes not only perform superbly, but their look and feel are unique also, especially when playing on the courts. What most people enjoy about shoes is how comfortable they are. No one can deny that when wearing a pair of ASICS shoes, their feet will stay comfortable and stabilized throughout the entire match.
Many hours were put into the design of these shoes since the amount of optimization is incredible. They provide fantastic support for the arches of your feet, which will help a lot when moving and crossing. They are also lightweight, which is an essential factor for any table tennis player.
When making table tennis shoes, ASICS keeps many essential factors in mind. Thus, the shoes can be used for whatever kind of court and floor surface you're playing on. Whether it's plastic, wood, dirt or concrete cement, the amount of traction you get can be impeccable. Since quick pivoting and movement are so important to players, anyone who plays ping pong will benefit heavily if wearing a pair of ASICS.
Quality Gel Attached On ASICS Table Tennis Shoes
One defining aspect of ASICS table tennis shoes is that most of the latest models are made of gel-like materials. Look on the internet for a pair of ASICS shoes being sold anywhere, and the name of the shoe will most likely have gel in it. You may check out ASICS Gel Court Control shoes to figure out more about them.
It is an innovative part of their line of shoes, and the gel design helps to maximize comfort and manoeuvrability. When you think of the word gel, it brings to mind soft but flexible material, and this is precisely how ASICS shoes feel to the touch.
That material feels great when playing a game, and it provides stability and flexibility in the movement to maximize your performance.
Another aspect of ASICS table tennis shoes is that they are durable and will not break even after hundreds of long stressful games. Since ping pong is a game that might put a lot of stress on your shoes with constant movement, ASICS is made to withstand tons of stretching and damage.
Below, I summarize a product description for a pair of ASICS table shoes. It gives an example of they put how much technology into them.
Rubber soles.

Synthetic and mesh.

Contains a system called the Impact Guidance System, which enhances the foot's natural gait from toe-off to impact.

Has GEL cushioning in the front and back of the shoe, places strategically at the areas which receive the most stress to absorb shock.

Personal Heel Fit features memory foam around the heel area to create a personalized, different mold for the user.

Biomorphic Fit upper, which provides better function and fit.

Solyte midsole material, combined with improved durability and cushioning.
ASICS is a company that takes the creation of table tennis shoes seriously. The only company that can rival them in producing top quality shoes would be Mizuno and Butterfly, but they are both excellent companies.
Among the famous table tennis shoes you can find on the market are included:
ASICS Gel Blade 5
These shoes are ideal for indoor courts sports. You have a breathable mesh at the upper that will allow your foot to breathe while playing with some supportive synthetic overlay.
For durability, the shoe has light padding around that collar and tongue, but not too much that way won't hinder your mobility. The soft fabric interior with a rearfoot cushioning system in the heel excellent for edge shock absorption and a smooth transition throughout your step.
There is a trusted system in there that will help reduce the overall weight of the shoe without compromising the structural integrity.
You can see an AHAR(ASICS High Abrasion Resistance Rubber) rubber outsole that design for long-lasting and comforting down to the very bottom. The ASICS Gel Blade 5 shoes can keep you nice and steady on all types of courts while you are playing.
ASICS Gel Rocket 7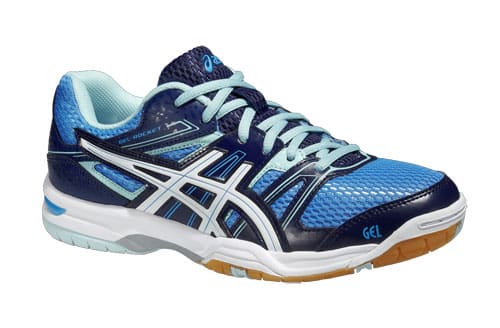 The ASICS Gel Rocket 7 shoes are part of the popular Gel Rocket series from ASICS. It is on the 7th generation now, and they are a big hit year after year because the price is right.
You can read the ASICS Gel Rocket 7 Shoes Review.
ASICS Gel Upcourt Indoor Court Shoe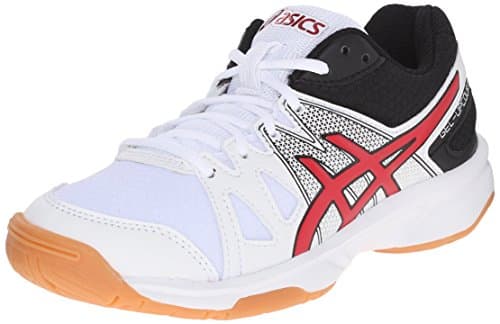 This is the lowest cost table tennis shoes that you can get from Asics. You can read the Asics Gel Upcourt Indoor Court Shoe Review.
ASICS Gel-Hunter 2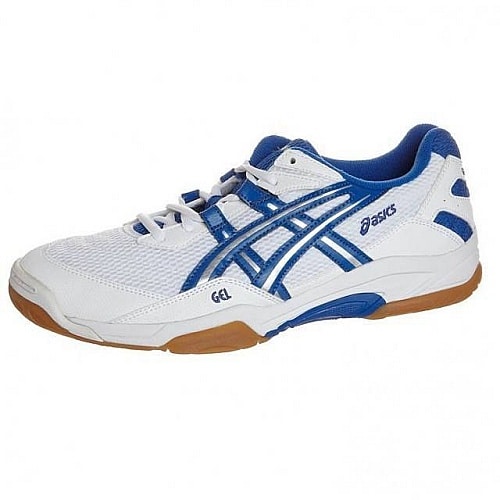 This is the shoes that can offer you with good support and cushioning. You can read more about this shoe by following this link.
ASICS Gel Court Control
You can read more about this shoe by following this link.
For ASICS Attack Excounter and ASICS Attack SP 2, you can check out their brief description at: Buying right table tennis shoes
ASICS Gel Rocket 8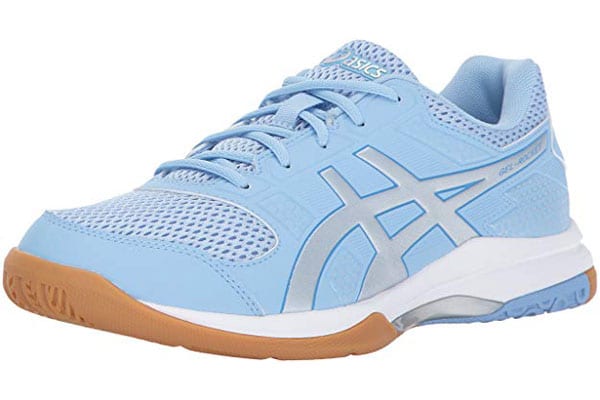 The ASICS Gel Rocket 8 is another pair of shoe to add on to the ASICS Rocket range. You can read the ASICS Gel Rocket 8 Shoes Review.
If you are wondering where to get ASICS shoes for sale, you can always check online or look at Amazon to compare the price as Amazon seems to be a huge marketplace for you to get the shoe you want more quickly.
Whether you are looking for women's or men's table tennis shoes, you can always find what you want as long as you do searches on the internet.
Other relevant posts: