ASICS is a Japanese company widely known for producing excellent sports footwear. While their shoes are not specifically developed for table tennis, many players have found their shoes to be a great fit for the game. This is why today we will be breaking down our favorite Asics shoes.
Asics shoes for table tennis are great for most players because their technology like FlyteFoam makes their shoe cushions 55% lighter than standard cushioning.
I imagine only those at an advanced level will stick to table tennis only shoes (I used non-table tennis shoes for years). The right shoes can help a lot though so if you want more, check out our guide for the best table tennis shoes of this year.
Without any further ado, let's dive into some key features to look out for and then our top Asics table tennis shoes.
Best Asics Table Tennis Shoes for Men
1. Gel-Rocket 10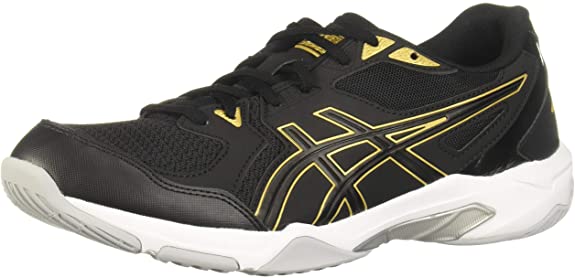 Pros
#1 best seller on Amazon

Grippy

Breathable
Cons
The Gel Rocket 10s are a popular indoor sports shoe, so much so in fact, that they are currently the #1 best seller in the "men's volleyball" category. Despite this fact, they are not overly heavy which is vital for an Asics table tennis shoe. This is in part due to the TRUSSTIC™ technology in the midsole which helps keep the shoe light but firm.
It also features a wrap-up outsole and outrigger which aids with quick side-to-side movements — perfect for table tennis. Finally, as with many ASICS shoes, GEL™ technology cushioning is present in the heel. This gives you a lot of comfort and provides more than enough cushioning.
Read more: Joola's table tennis shoes are also very popular and we reviewed their top models.
2. Gel-Fastball 3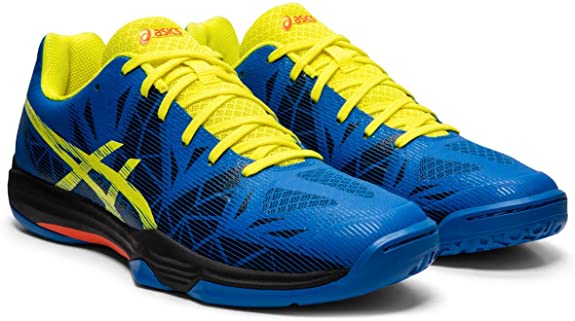 Pros
Cons
Expensive

Not very breathable
Next up, we've got quite the eyecatcher: the Gel-Fastball 3s. Now, this pair of shoes are damn pricey, but they look amazing and could be a great choice for table tennis. They are made for handball which arguably makes them a better fit for table tennis than the Gel-Rocket 10s which are made for volleyball.
I love the fact that they are lightweight, and the newly designed NC rubber outsole provides plenty of grip which is a must. Just be aware that they are not the most breathable, as they only have a small section of mesh located at the toe box area.
3. Blast FlyteFoam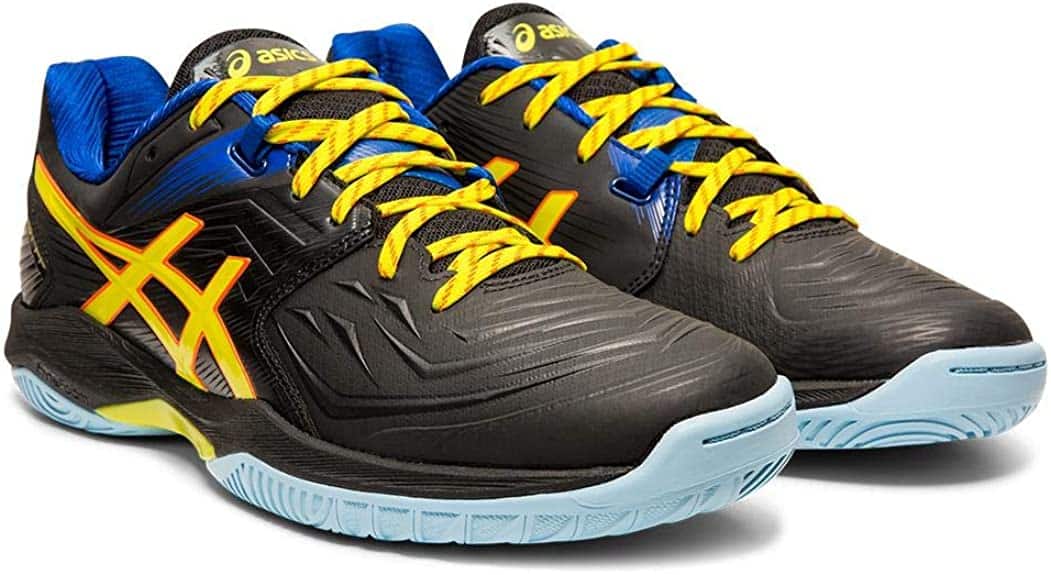 Pros
Eye-catching

Popular with professional athletes

Uses cushioning that is up to 55% lighter than its competitors
Cons
The Blast Flytefoams are another eye-catching shoe that are great for a range of sports. Previously known as the Asics Gel Blast FF, they have proven popular with badminton and squash players, with many squash professionals using them in tournaments. What makes these shoes so great is the revolutionary FlyteFoam® technology. It's a new type of cushioning which is up to 55% lighter than standard cushioning while maintaining maximum levels of support and performance.
These shoes also keep your feet low on the ground. Both of these traits equal a great Asics shoe for table tennis. It's just a shame they are a bit pricey, but a great choice nonetheless if you are serious about improving your game.
Best Asics Table Tennis Shoes for Women
1. Upcourt 4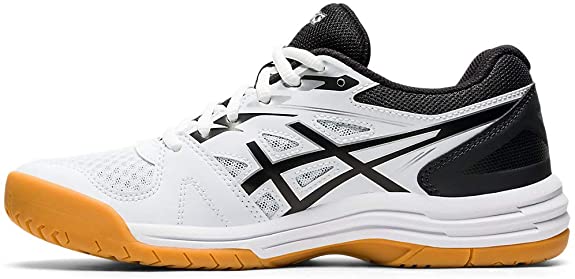 Pros
Cons
Not a lot of room in the toe area
For the first women's shoes, we have the Upcourt 4s. They are stylish white/black indoor shoes that are currently the bestseller in the "women's volleyball" category. Designed universally for indoor sports, they are lightweight, flexible, and provide great support. They also use a lot of mesh to enhance breathability.
Asics cleverly break up this mesh into recessed segments which they protect with firmer material. This ensures the shoes last for a long time. You also don't have to worry about grip. The tailoring of the rubber sole to indoor court surfaces means you can play to the best of your ability without worrying about slipping.
Read more: Butterfly table tennis shoes are some of the best you can buy, so we reviewed them in a full article.
2. Gel-Renma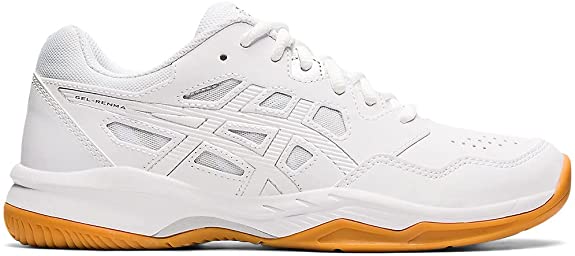 Pros
#1 best seller on Amazon

Quality tread
Cons
Another great choice of Asics footwear for table tennis are the Gel-Renma shoes. You might notice their design is quite similar to the Upcourt 4s, however, the Gel-Renma is a more advanced shoe.
The midsoles feature TRUSSTIC™ technology which provides support while preventing excessive twisting. The wrap-up outsole and wider gauge also facilitate more balanced movements. Another neat feature are the flex grooves on the outsole. These are tactically placed to aid movement in any direction. This makes the Gel-Renmas especially great for players who play at varying depths away from the table.
3. Gel-Rocket 10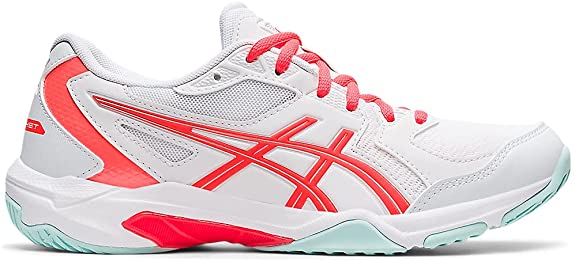 Pros
Lots of color variations to choose from

Grippy

Breathable
Cons
It should come as no surprise that being as popular as they are, the Gel-Rocket 10s appear in both the men's and women's sections. Not much to add here as I've already covered the details of the shoe. Just know that you've got a greater amount of color availability with the women's version. However, they are quickly selling out. So if you're sold on this table tennis shoe by Asics I wouldn't wait.
What to Consider When Buying Table Tennis Shoes
Lightweight
Table tennis is a sport that demands some of the quickest reflexes in the world. This means you have to move incredibly quickly, and unlike many sports which require extended movements, table tennis involves shorter, more precise movements. These factors strongly favor a lightweight shoe.
Breathable
While not essential, a breathable pair of shoes is a big plus as it helps to keep your feet cool and prevents them from sweating too much. Look out for Asics ping pong shoes with mesh and small holes if breathability is important to you.
Thin Soles
Table tennis is a fairly low-impact sport. Therefore there is no need for a thick sole. In fact, a thick sole is counter-intuitive as it considerably increases the weight of the shoe which is a problem. You also want to be as low to the ground as possible as this helps mitigate injuries associated with quick sideways movements.
Comfortable
Ultimately your shoes need to be comfortable! You'll be wearing them for many hours at a time moving in all kinds of directions which places a lot of wear on your feet if the shoes are not adequately padded. The last thing you want are blisters which will cut short your training sessions early. Now let's see if Asics shoes for table tennis will work for you.
FAQs
Is Asics a Good Brand for Tennis?
Asics is a top brand for tennis shoes. They have an expansive range of shoes specifically designed for tennis both for men and women. Their footwear is far more fitting for tennis than table tennis for this reason.
Where are Asics Shoes Made?
Asics shoes are predominantly made in Cambodia, Vietnam, Indonesia, and China. The company is responsible for employing almost 9,000 people directly and pays its workers a fair wage.
Which are the Best Shoes for Ping Pong?
In our opinion, the best shoes for table tennis are the Butterfly Lezoline Rifones. Designed for table tennis professionals, they are one of the most expensive shoes that Butterfly makes and are among the best when it comes to comfort, grip, and style. You can read more about them in this review of the best table tennis shoes. Table tennis shoes by Asics can also be used effectively as you've learned in this article.
Conclusion
While Asics table tennis shoes aren't built exclusively for the sport, they are a great fit. Having looked at a variety of the models on offer, we find the Blast Flytefoam to be the best Asics table tennis shoe for men. What clinched it for us was the FlyteFoam® technology which makes the shoes up to 55% lighter, and the fact that the shoe has a thin sole that keeps you low to the ground. These factors equal a great Asics ping pong shoe.
As for our favorite women's footwear, that title goes to the stylish Gel-Renma shoe. It's comfortable, durable, and features TRUSSTIC™ technology which helps to support your foot while preventing over twisting. We also like the flex grooves on the outsole which aid movement in any direction. It's simply a top Asics shoe for table tennis.
Read more: Another Asics sports shoe that could work for table tennis is the
Asics Gel Court Control Shoes. Read our full review now.