I think most of the ping-pong enthusiasts are having the same experience: If you want to play well in table tennis, you must be flexible and go step by step to get ahead of the tactics. Therefore, good footwork is inseparable from a pair of good quality table tennis shoes that make you feel comfortable.
First of all, let's take a look at the current classification of sports shoes on the market, generally including table tennis shoes, basketball shoes, badminton shoes, soccer shoes, running shoes, casual sports shoes and so on.
A friend ever asked me: "Is badminton shoes or basketball shoes suitable to wear to play table tennis?" Strictly speaking, these shoes cannot replace table tennis shoes, why? This is to be analyzed from the characteristics of different sports.
Badminton or basketball is fast and large amplitude sports. There are a lot of sudden stops. In order to cushion the vibration of these athletes, generally the sole design is thicker and the upper is higher.
For table tennis, it is a totally different sport. The difference is that the amplitude of table tennis is smaller and the range is small, especially for the starting speed.
If the sole is too thick and the buffering time is too long, this will be not conducive to have a quick start. Therefore, when choosing table tennis shoes, you should choose a professional table tennis shoe with moderate hardness and a certain thickness, which not only can offer you with good buffering and protection, but also maintain the rapid starting ability required by table tennis.
JOOLA Table Tennis Shoes
JOOLA is one of the famous manufacturers of various table tennis equipment. Other than tables, blades, and nets, there are also some quality JOOLA table tennis shoes you can get. Here I would love to share with you some shoes you can find in the market.
JOOLA Atoll
Specially created for the demands of best table tennis, the good quality made JOOLA Atoll the perfect table tennis shoe for players with the top demands. The breathable mesh cloth, besides the additional gentle, ergonomic inner sole offer a comfy fit.
It is distinctively made for table tennis specifications created MD/rubber sole convinces with great grip and also helps to offer the player with good balance. The JOOLA Atoll provides the very best credentials for that, what great footwork in table tennis distinguishes: a sound posture and also shortchanges in guidance!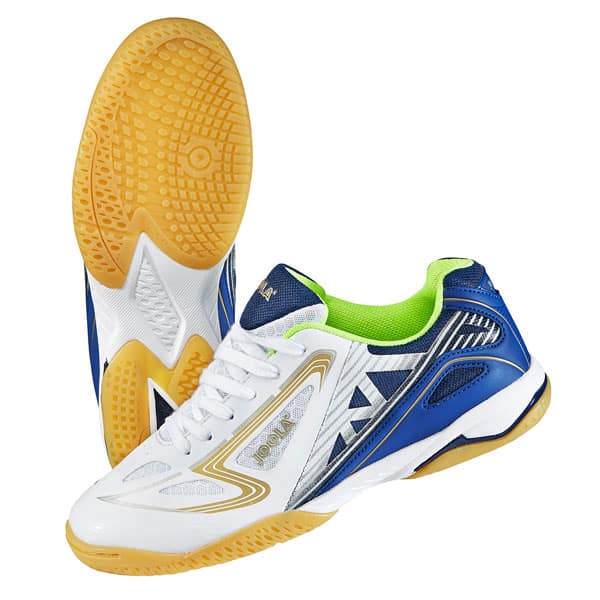 JOOLA B-Swift
This pair of JOOLA shoes are high-end shoes constructed with a grippy sole.
Brand new footwear featuring a high-end sole. Created with a serious professional in mind. The B-SWIFT focuses on speed absorbing properties and excellent construction to provide maximum footwork. This JOOLA table tennis shoe is preferred by a majority of professional JOOLA players. You can consider getting a pair if you are a loyal JOOLA's fan.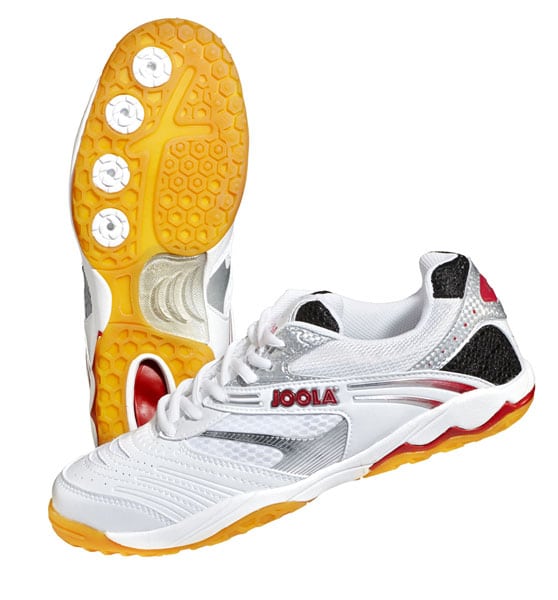 JOOLA Touch 16
This is a standard shoe among table tennis shoes and it is enhanced with a brand new attractive look. The sole been manufactured with the same fashion for decades which allows for outstanding non-slip features. The top content has now been improved and also updated. As of now, it remains to be the shoes for most ping pong players.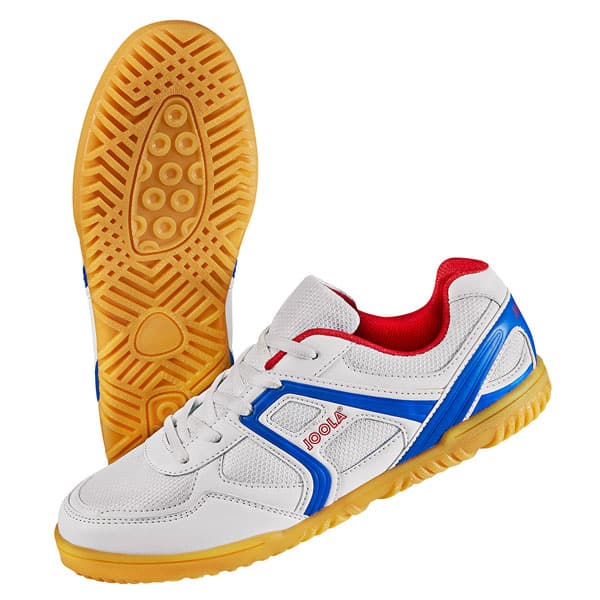 JOOLA Pro Junior
The Pro Junior has implemented a classic non-slip sole that has long been properly used in the sport of table tennis for many years.
The EVA inner sole provides good protection for the kids' growing join from extraordinary strains. While the additional feature of this shoe which is lightweight, making it possible to move fast and make sudden direction changes. Besides, the shoe also supports the organic motions in ping pong.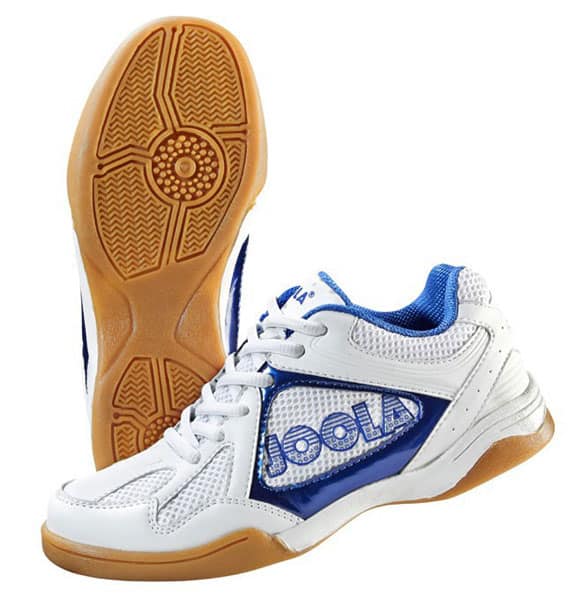 JOOLA Track
A grippy and sturdy shoe that incorporates a lot of advanced technologies. It is a shoe made to optimally distribute weight and pressure for joint protection. It can help to relieve the pressure. With the special materials being used to make the shoes, It is breathable and keeping a good balance during extreme movements.
It is a mix of established technologies and the newest innovations in the development of JOOLA table tennis shoe. The EVA inner sole being constructed inside the shoe offers the player with more dampening and giving optimum joints protection.
A grippy sole is created from established rubber plus phylon mix. The top part of the shoe is making from a mix of PU and mesh maxing it equally robust and breathable.
The effect is a grippy and stable shoe for severe match competitions.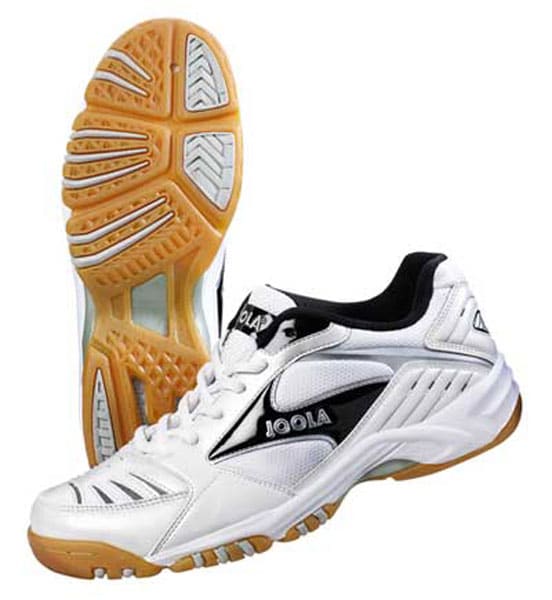 If you are interested in buying these shoes, you can get them from Megaspin.
Experience With Joola Shoes
I bought a pair of Joola Atoll table tennis shoes a few months ago and I love the shoe very much. My former shoes were being torn off after playing for just less than a year.
When I first look at the shoe, I can see that it is a pair of good-looking shoes. The size that I bought just fit my feet well. When I first put them on my feet, I feel very comfortable and flexible. The shoe is very light. I try to play some games with the shoes and it offers me with very well grip and is non-slip.
It is a good shoe for table tennis players. If you intend to buy this shoe, there is a gentle reminder as there are some trimming on the shoe, so it is best for you to choose a larger size so that it can fit your feet well.
I stormed many times with the shoe is the effect and feel is quite nice. The arch part is also well fit with my feet.
Overall, it is a pair of good table tennis shoes! I am ready to buy another pair! In the case of when I notice good table tennis shoes, I love to buy a spare one to prevent this version from discontinuing to produce any more.
Other related posts: