The ASICS Gel Rocket 8 is another pair of shoes to add to the ASICS Rocket range. The shoes are available in many colors, and they usually continue to add new colors to the range. You can get various features in different regions of the world when you are buying a pair of these shoes.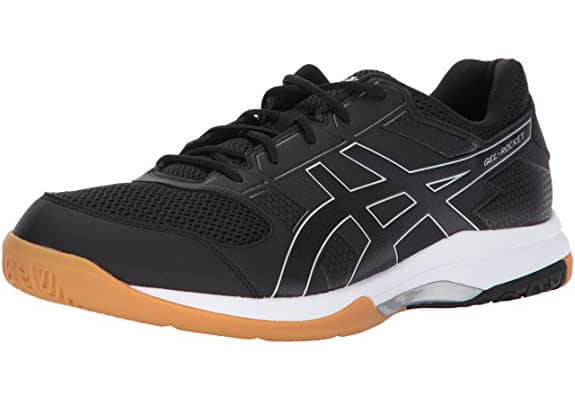 If you are a down-to-earth player, you may choose the black and white shoes. It is suitable for players looking for a simple version. The shoes are designed to cater to different users. There are ASICS Gel Rocket 8 for unisex, men, women, and ladies.
My first impression, they are very comfortable and look good.
Color Choices
There are plenty of color choices you can get with this model. The colors include black, indigo, blue, white, pink, red, orange, yellow, green, and more.
Features of ASICS Gel Rocket 8
They feature the design of the shoe with full lace-up closure. It has the classic ASICS stripes on both sides.
They are made of a lightweight mesh upper and have synthetic overlays. With such construction, it can give you structured support and comfort.
The shoe has padding in the tongue and collar, so you will feel very nice and comfy when you wear it on your feet. There is no irritability.
The soft, breathable mesh lining will keep your foot nice and fresh, plus you will have a lightly cushioned and removable insole.
It also has a great molded EVA midsole to offer players some shock-absorption from heel strike to toe-off.
The shoes also feature the Trusstic System R Technology, which reduces the weight without compromising the shoe's structural integrity.
The rubber and gum outsole offers you more natural rubber content than traditional solid rubber for enhanced court systems' traction. The outsole is non-marking.
My Experience With The Shoes
I got my ASICS Gel Rocket 8 last week and managed to run a quick test on them. They are a little stiffer than some other shoes as there's not much padding as I have been used to. But it is still a comfortable shoe.
I played with them for about 5 to 6 table tennis games, and I felt a very excellent grip immediately. It took none breaking in. All I can say is another successful shoe for ASICS, for it continues the same idea of the Rocket 7.
There are some slight changes in the construction, but I don't think they will make a huge difference. Inside the shoe, on the outer edge, it felt like the sole was banked up a little to the side, so it was a familiar feeling but still felt good on the court.
The ASICS Gel Rocket 8 is a continuation of the Gel Rocket 7. It is pretty comparable, and this is one of the ASICS best-selling shoes.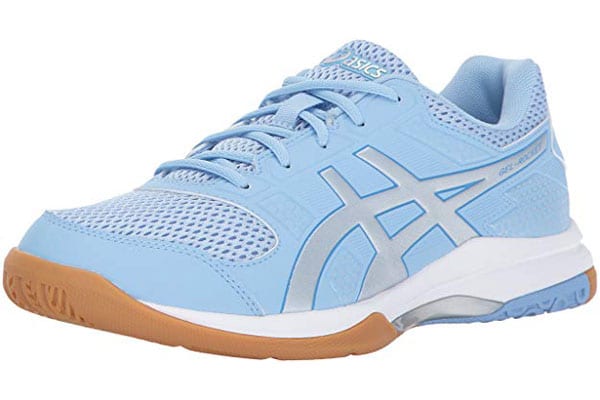 Many table tennis players are using this shoe because it is not that expensive with its quality. It is also widely used in the sport of volleyball, squash, and other sports.
Gel Rocket 8 vs. Gel Rocket 7
As mentioned earlier, Gel Rocket 8 is the enhanced version of Gel Rocket 7. Gel Rocket 8 has some cosmetics upgrades, but I believe there is not much difference between them.
Gel Rocket 8 vs. Gel Upcourt
From the shoe release, I would say the ASICs line of shoes that range from the lower range to the higher range is with this sequence: Upcourt, Gel Rocket, Gel Blade, Gel Domain, Gel Sensei, Gel Blast. Thus, Gel-Rocket is one range higher than Upcourt. Therefore, the Upcourt ranks at the lowest end while Gel-Rocket is right in the middle of quality.
On or off the table tennis court, these shoes will treat you right. If you are looking for a pair of quality shoes at a reasonable price, this ASICS Gel Rocket 8 is a good choice.
Pros:
A great value of money for you get a pair of these ASICS shoes.

They are offering players with good grip and traction while playing on the floor.

Your feet will feel secure by having this shoe covering your feet. You can wear them and play table tennis for a long day without feeling any discomfort.
Cons:
They may not stay 'stickily' on your foot, and not much cushioning is provided. Your Achilles tendon may have a sore feeling after wearing for long hours.

The included insole may not feel good enough to support your arch as ASICS Gel Rocket 8 only has 5 pairs of eyelets compared to Rocket 7 with 7 pairs.

It is a flat arch, and you can only find mesh on the top.
Where To Buy?
There are many places you can get this pair of shoes for sale. Besides getting them from a local sports store, many reputable online retailers sell this brand and model of shoes. Besides Amazon, other retailer platforms you can try to source are eBay and Decathlon.
Generally, this shoe model sells at a price range of $40 to $160 if you are looking for a pair of ASICS limited edition men's indoor court shoes for just $80 at Amazon.
If you are living in the United States, you can get a good bargain from Zappos. However, Zappos doesn't ship internationally. Therefore, you cannot get one if you are living in other countries such as Hong Kong, Singapore, or the United Kingdom. For Canada, I am not sure about it. You may try to ask the customer service on Zappos.
If you are in Australia, you can get them from Rebel Sport.
You can find more table tennis shoes that may be more suitable for you if you think this ASICS shoe is not the right shoe.
Related post:
Butterfly Lezoline TB Shoe